The Hindi film buff in me was thrilled at some of them. I almost hooted when Raka (Dheeraj Kumar) from Ramsay Brothers' Purana Mandir (1984) appeared to make a longish cameo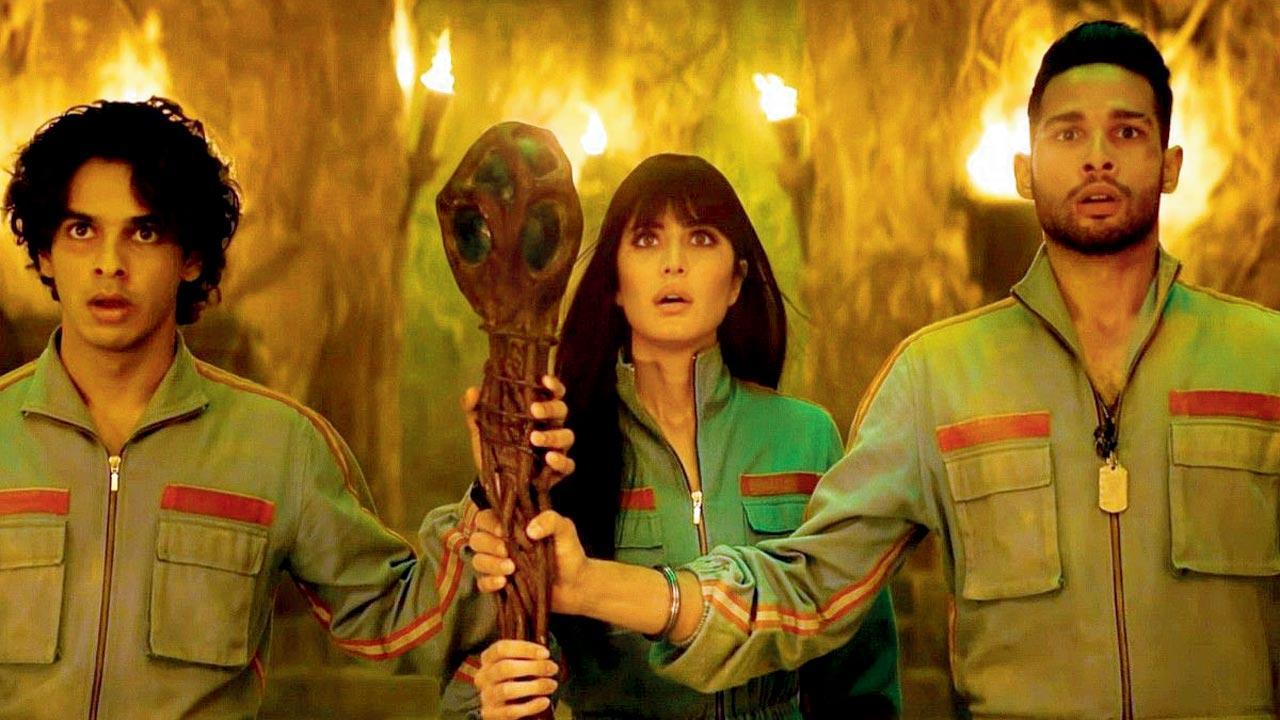 A still from the film
Phone Bhoot
U/A: Horror, comedy
Dir: Gurmmeet Singh
Cast: Katrina Kaif, Ishaan Khatter, Siddhant Chaturvedi
Rating:3/5
As I was guzzling down my second cup of coffee wondering, what is the point of this film, someone next to me couldn't stop laughing as they watched Katrina Kaif re-enact her romance with a mango from her popular Slice ad. The laughter around me got louder, and I decided to give in to the whole experience and have a good time, without looking for logic. Much to my surprise, the film got better thereafter. Phone Bhoot is a long reel of spot-the-pop-culture-reference trying to be a coherent movie. The Hindi film buff in me was thrilled at some of them. I almost hooted when Raka (Dheeraj Kumar) from Ramsay Brothers' Purana Mandir (1984) appeared to make a longish cameo.
Creator-director Gurmmeet Singh returns after the overwhelming success of the Mirzapur series to tell the tale of two aspiring ghostbusters. Looks like Singh needed a break from the world of gore and grime. Apologies for trying to pin the insanity of this film on Singh's post-Mirzapur trauma, but nothing else explains it, really.
Also Read: Childhood pal Tanisha Santoshi tells Janhvi Kapoor: 'You are phenomenal'
Gullu and Major are fans of the horror genre who devour Conjuring with a side of greasy Chinese. Their pad is a shrine to the famous and infamous movies of the genre. Their non-existent careers boom after Ragini (Kaif) enters the scenario. Ragini is a spirit hoping to get others, like her, moksh aka salvation. The success of their boutique business, Phone Bhoot, draws the attention of evil tantric Atmaram played by the eternal cool cat Jackie Shroff.
Singh and writers Jasvinder Bath and Ravi Shankaran Raj don't seem to run out of references or one-liners, they just keep coming. Some wicked ones evoke the chuckles, and a few are just strategically placed to bring forth the reference game. One has to laud Kaif for her cheeky sense of humour when she treats her own stardom with a light-handedness, a quality most A-list celebrities lack. From taking potshots at herself, her lack of fluency in the Hindi diction, befriending a Chikni Chudail (Sheeba Chadha is sensational in the role), to the Slice reference and so much more. 
Also Read: Something big on the way? Vivek Agnihotri, Sukumar, Abhishek Agrawal collab
Every piece of critique thrown her way has been whipped into a joke. It is a delight to see her enjoy herself so wholeheartedly on screen. Wonder if this devil-may-care attitude will fill her next few years with the roles she deserves? It's equally enjoyable to watch Ishaan Khatter and Siddhant Chaturvedi forge a fantastic camaraderie with her. The boys are the new age Jai-Veeru on screen. Their performance is evidently inspired by the Aamir Khan-Salman Khan act of the 1994 cult comedy Andaz Apna Apna. We also hear a reference to A Suitable Boy (2020) and Chaturvedi's 'Bohot hard' from Gully Boy thrown in. Even at this stage, there is no attempt to make sense, just instances to make you laugh. The one who delivers the most laughs is Jackie Shroff, who, in his own words, is the original Hero. Oh, yes he is!
Singh's film is tricky because there is no plot. In fact, there are long spells of nothing happening on screen and a lot of it makes little sense. Best guess is, they were going for the Go, Goa, Gone (Raj and DK creation) experience with Phone Bhoot. Singh and the writers' team don't deliver on the smarts quite as well. There seems to be a sequel in the offing, which I hope is sharper. Having said that, I didn't mind spending a lazy afternoon watching a lazy film, comfortably tucked in a lazyboy at the multiplex near my house. There's something so carefree about laughter and sometimes, that's all you need! Are you planning to watch Sonakshi Sinha- Huma Qureshi's Double XL?