Suuraj Sinngh opens up about the journey behind Salaam Venky and why he opted for a theatrical release for the Kajol-starrer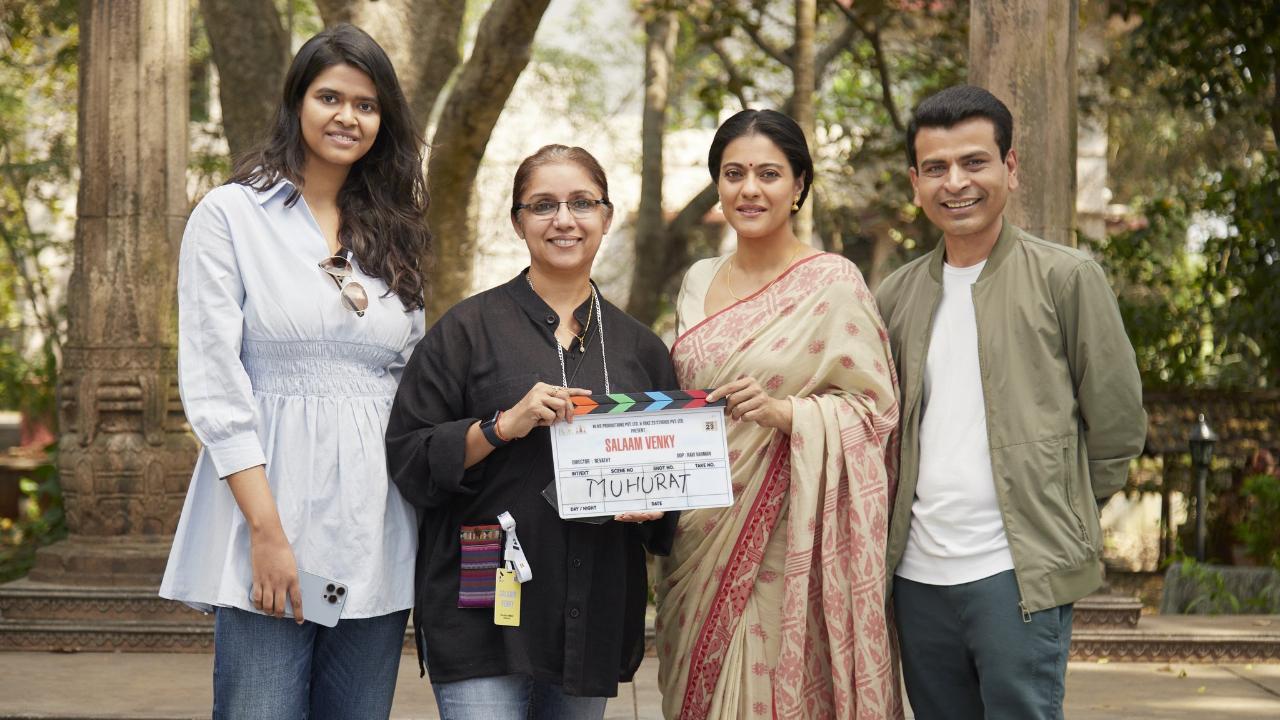 Team of Salaam Venky
Revathi's directorial 'Salaam Venky' had gone on floors in the latter half of 2021. However, the journey of the film began in 2016 when producer Suuraj Sinngh of BLive Productions came across the book 'The Last Hurrah'. After reading the book he suggested his writer Sameer to read it who said that it would make a great film and wrote the script for the same. The film narrates the story of a mother who does everything she can to let her son, diagnosed with Duchenne muscular dystrophy, live life to the fullest. Kajol plays the role of the mother while Vishal Jethwa of 'Mardaani' fame plays the son. Their characters are based of real life person Sujata and her late son Venkatesh. 
"We went to Revathi ji and gave the narration. It took me two years to get Revathi ji on board. But I wanted only her to direct the film. I was very clear that I wanted a female director and a director who is also a mother. I had also seen her film, 'Phir Milenge'. After two years, she gave me her time. We went to Chennai, narrated it to her. She loved the script and she said yes immediately," shared Sinngh talking to mid-day.com.
After getting Revathi on board, the Sinngh along with her went to Kajol to narrate the film. Even before hearing the narration, Kajol had refused to do the film. "She said that she is just hearing because it is Revathi's film. When the narration got over, she asked for two days to get back to us. But by the time we were down in our car she called and said she wants to do the film". Sinngh also shared that every cast and technician whom they approached said yes to the film. 
Also Read: Kajol reveals why she rejected 'Salaam Venky' despite finding script 'fabulous and well-written'
Despite theatres running at the 100 percent, several films have taken the OTT route this year including commercial films like 'Freddy', and 'Govinda Naam Mera'. When asked what prompted him to take 'Salaam Venky' through the theatrical route despite its emotional subject, the producer said, "We have tried to make a sensitive film in a commercial way. We have taken full care of the entertainment quotient also. It is not a preachy film. We are not here to preach. The music of our film is done by Mithoon. All the songs are very soulful, progressive. The DOP Ravi Verman is a complete mainstream DOP. Our narrative is very entertaining. Obviously, it  has a certain message but it is very subtle. It's not on the face." Will you be heading to the theatres to watch Salaam Venky?