Walking into Hitlist OTT Awards with two Best Actor: Series nominations, Shriya Pilgaonkar reflects on the shows that put her on the map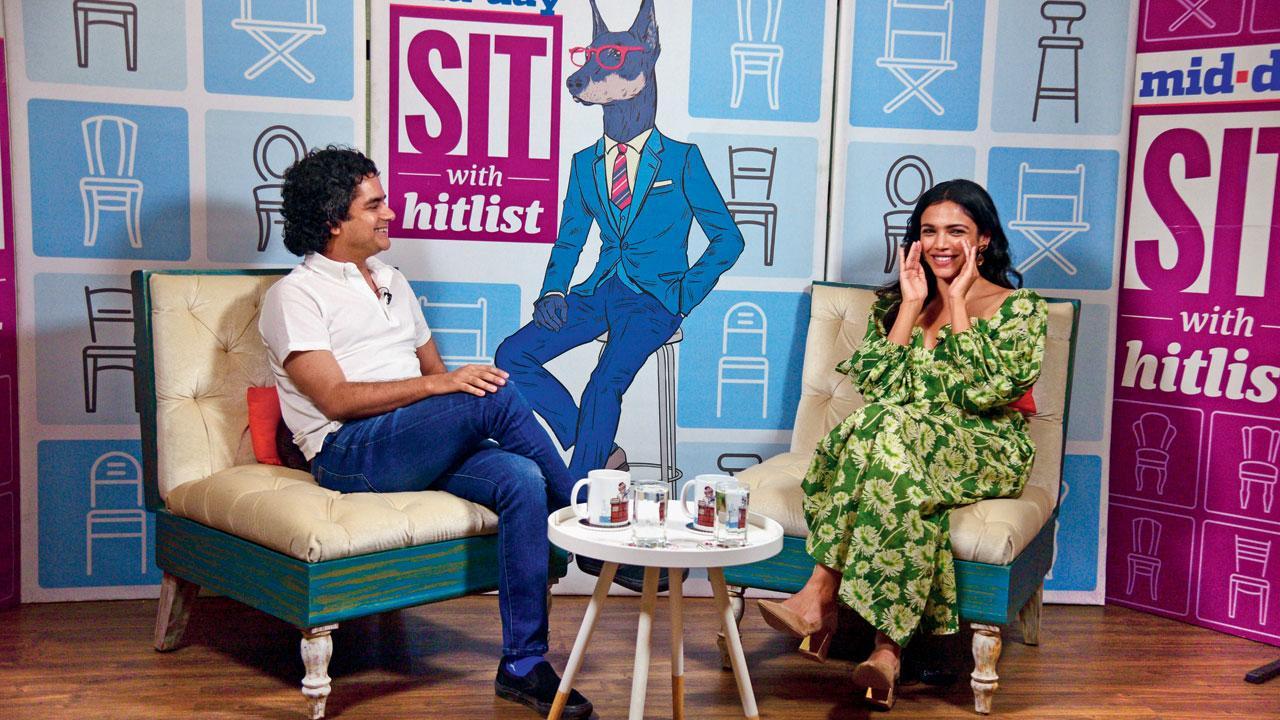 Shriya Pilgaonkar with mid-day's entertainment editor Mayank Shekhar at the latest edition of Sit with Hitlist
Serendipity, I suspect, plays the starring role in most lives. But it's something we kept going back to, over an hour-long conversation with actor Shriya Pilgaonkar, 33, who's legitimately an OTT star in her own right, and has been a film buff forever. Enough to bleed her eyes bingeing on five back-to-back films on the big screen at Mumbai's MAMI festival.
One of which was The Artist (2011) — i.e. before the French tour de force became the toast at the Oscars, and indeed before Shriya was an actor herself.
ADVERTISEMENT
There is a strange connect she felt with the film's lead actor Jean Dujardin on the screen, which went beyond the fact that she obviously found him attractive. She told her mother about it later, and 'journaled' it at night — about being inexplicably drawn towards this man.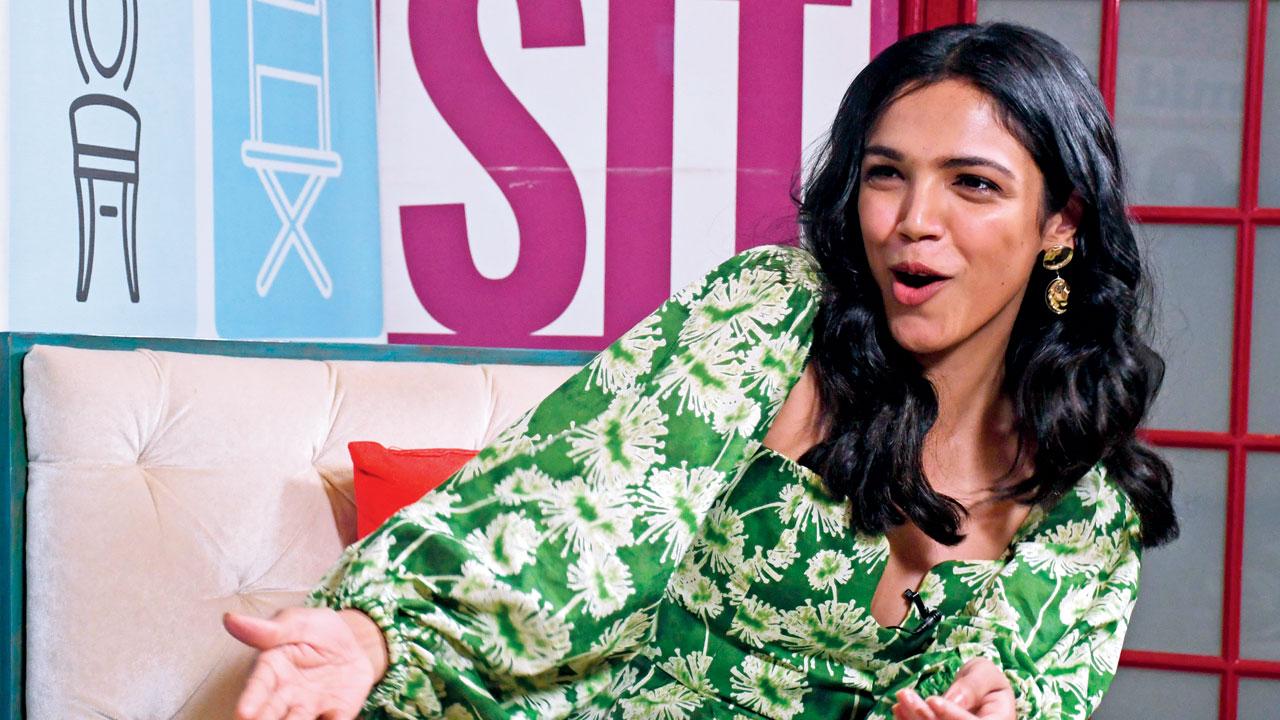 "Cut to," Shriya says — as all readers of screenplays are prone to narrate their anecdotes — she had cracked an audition for a part, that turned out to be for a French production, set in India, starring Dujardin.
Likewise, before she took up acting as a profession, like many film aspirants, Shriya was assisting a director, Megha Ramaswamy, on a short film, being shot at the Yash Raj Films' (YRF) studio, where Shah Rukh Khan was shooting as well. Ramaswamy, also Chak De! India director Shimit Amin's wife, knew SRK, and introduced Shriya to the superstar.
The nation's charmer number one, and the actor to have cornered all desi female hearts, looked at Shriya, whispered, "Mashallah, so beautiful!" At that moment, Shriya recalls, she died!
Cut to, 2015: There was a moment in Shriya's life, when during the day, she was shooting with Dujardin, and at night, with SRK — for Maneesh Sharma's YRF production, Fan (2016), her Bollywood debut.
How did the latter happen? With auditions over three months, where she was testing for multiple parts, and even sitting in for cues for other actors, hoping to be cast, at YRF. It was one such tape — that wasn't hers, and so she was totally relaxed on the screen — that "Maneesh (director) and Adi Sir (Chopra, producer) saw," and selected her.
Also Read: Shriya Pilgaonkar: My parents taught me to deal with uncertainty of being a professional actor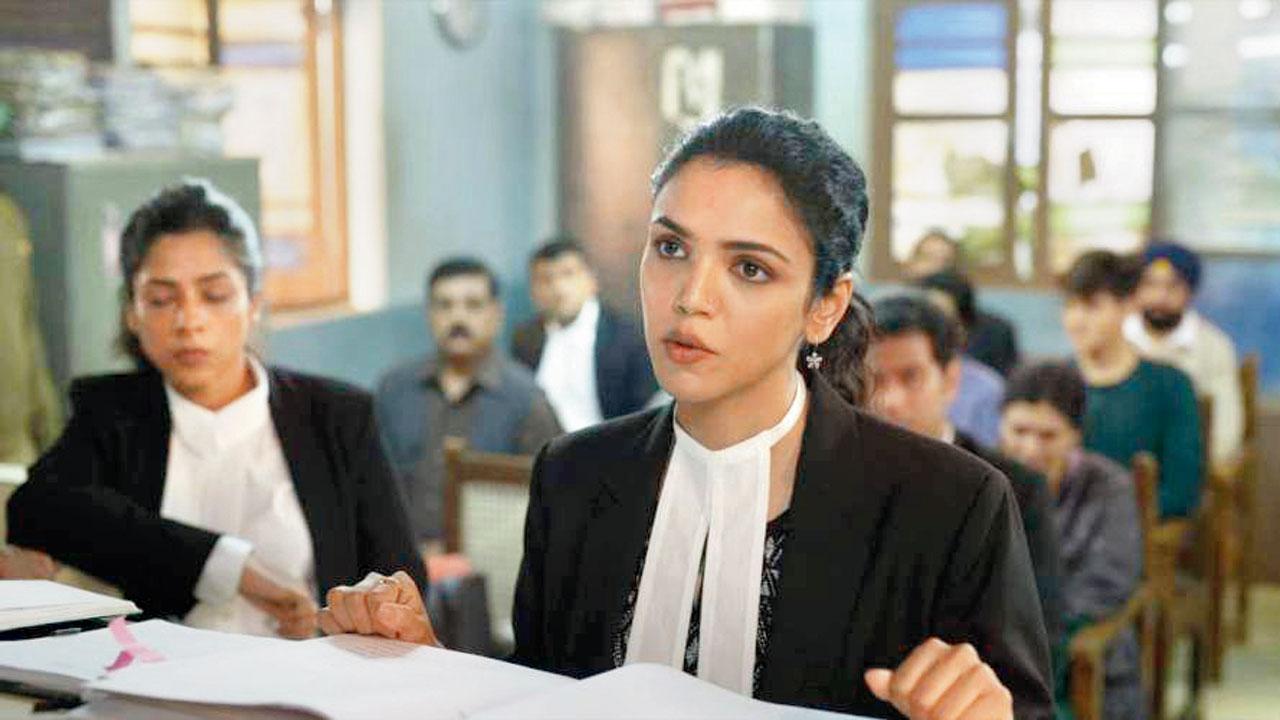 "I like how all these stories happen late at night — I got a call from Shanoo Sharma (YRF's casting director). I just went over to my parents' room, told them I've been cast as Shah Rukh's love-interest. And I just shut their door, without waiting for their reaction! Didn't know what to say."
The parents being Sachin, and Supriya Pilgaonkar. Both of whom are prominent, professional actors. She belongs to the third generation in the film industry. Shriya's paternal grandfather, Sharad Pilgaonkar, who she never got to see, was a producer. That explains how Sachin himself started early as an actor in his father's film — that paved his path as a career child-actor, Master Sachin, from thereon.
Sachin, 65, has been an actor for 60 years! Supriya debuted with the Marathi film Navri Mile Navriyala (1984), directed by Sachin. Shriya herself appeared as an infant in one of Sachin's movies. She doesn't remember which one: "He's directed 21 films!"
Reversing movie history, if you may — since men played female parts on screen once — Shriya first spoke for the screen as a little boy, basically "kid with boy cut", to say, "Aunty, mummy ne achaar mangaya hai!"
That was her cameo in the hit TV show, Tu Tu Main Main. Those of a certain vintage might instantly remember the sing-song way Tu Tu Main Main was said in the title sequence, after which director Sachin would yell, "Action", before the episode started.

A still from Guilty Minds. Pics/Ashish Raje
Shriya followed director Sachin's instruction in her debut film, in Marathi, Ekulti Ek (2013), too — which fetched her Maharashtra government's film award.
Given the self-sufficient family unit of filmies, one would assume Shriya as an actor is an obvious career move. And yet, when she'd taken up a part in a short play as a stage debut of sorts, her mother simply looked at the adult child, for where she was headed, and sighed: "How predictable." 
Until 14, Shriya was set to be a professional swimmer; her days centred on training for the sport that she was participating at the state-level: "The sportsperson's is a tough life. Even in swimming, a difference in micro-seconds sets apart the winner from others. It consumes you." She was training at Bandra's Otters' Club, and gave up on the sport, shortly after her coach passed away.
And it's not like she had a Plan B, or any particular plan at all. As someone scoring high in class, she did what most over-achiever type kids do, in school, and later in college — everything. I learnt later that she was also the student-boss of Malhar, St Xavier's College annual festival — it's the kind of designation collegians, I notice, flaunt even on LinkedIn!
Also Read: Shriya Pilgaonkar's style diary: A riot of colours and glam
A big move she did make, Shriya admits, was actually the one that she did not — that is, to pursue her master's at Columbia University, where she had secured admission. Columbia was her trying to postpone/evade the question about what she really wants to do next. Instead she enrolled in a film appreciation course at FTII, began acting in plays, directing short films, documentary, eventually auditioning for acting parts for movies.

Shriya Pilgaonkar in The Broken News
That she is multi-talented could have a lot to do with her father Sachin. Best way to describe Sachin is as Rajshri Productions' OG Prem. He was the lead in the super-hit Nadiya Ke Paar (1982), that got remade into Hum Aapke Hain Koun (1994), with Salman Khan.
Another way to describe Sachin is as a singer, writer, producer, director…  Between her parents, Shriya rightly insists her father is the star — all about showmanship — while her mother is the 'actor', who can detach herself from her work as well.
What's common between them is they can break a leg! For proof, the Pilgaonkar couple had famously won the maiden season of dance-reality show, Nach Baliye (2005), surprising many with their killer moves.
Which is also in common with the daughter, we learn. Shriya extensively trained in kathak, growing up — that, in fact, pretty much all Bollywood female actors do, at some point. As we speak, she's finally put that talent to test in a "full dhamaal" song-and-dance routine, "for an unannounced film, produced by Emmay Entertainment."
From her mother, Shriya says, she's acquired 'body-language' as an important acting lesson. At some point in the conversation, she effectively shows us how her three well-known characters — lawyer Kashaf Quaze, from Guilty Minds (2022); journalist Radha Bhargava, from The Broken News (2022); sex-worker Madhubala, from Taaza Khabar (2023) — would sit, if they were in the same room.
And that's self-awareness at the level of where the legs are placed, how the head moves, whether she is leaning-in (Kashaf), straight, and attentive (Radha), or totally carefree (Madhubala).
When she was offered the part of Sweety Gupta, on the other hand — a girl from the hardcore, Hindi heartland, namely Mirzapur, meaning Uttar Pradesh (UP) — an advice/warning she got was not to come across as the Maharashtrian girl that she is.
This is where her dad would've been the inspiration: "Unki zubaan bahut saaf hai (he has clear diction). One thing he told me is to always master the dialect, before you play any part."
Sweety is as UP as they get. Shriya jokes people have come up to Sachin to suggest he couldn't be Sweety Gupta ke papa. It's this role of Guddu Bhaiya's girlfriend in Mirzapur, she admits, that gave her "the taste of pan-India fame. Till today, there's the Sweety-love everywhere I go, and I love that," although her character died in the first season of Mirzapur (2018).
Guilty Minds, though, she reckons, is what brought her "critical appreciation" as an actor; she came into her own. There is some serendipity here too. In the sense that dad Sachin, all her life, she tells me, had wished to play a lawyer. It's never happened. He's drawn to law as a hobby as well — reads books, goes through minutiae of contracts, etc. 
It's Shriya who got to dive deep into the world in ways that Indian screen hasn't before. In terms of movies, Chaitanya Tamhane's Court (2014) was a masterpiece on India's legal system. Shriya agrees. That apart, for long-form content, the realism and authenticity of Guilty Minds is refreshingly first-rate. 
Much of it comes from the series creator, Shefali Bhushan, daughter of prominent jurist, ex law minister of India, Shanti Bhushan; sister of top lawyer and activist, Prashant Bhushan. Can't get more insider than that! 
The writing was such, Shriya recalls, that there is a scene in the show, where her character Kashaf, and her team, along with the opposing lawyers, are in a village, fighting against a power plant coming up, that will wreck lives of locals. 
Somehow, while performing that (third episode's) monologue, detailing the human cost of development, Shriya broke down on the shoulders of Sugandha Garg (co-actor), after the director called cut: "I felt something. Maybe the line between the actor and character broke."
As an actor, she says, she actively practices an attachment-detachment relationship with her work, given that the outcome, in terms of success, is out of everyone's hands. But it's hard to pretend you don't care, after all the effort that's gone in. 
Going back to her journal that night after Guilty Minds shoot, she wrote about what she had experienced doing the emotional scene. And that it doesn't matter how the show is received, in terms of numbers of reviewers' nods — this is something special that will stay, regardless. 
The Broken News, likewise, enters the world of television journalism, with Shriya's character at the centre of the newsroom, navigating nuances, if not serious dilemmas of this profession. The apprehension, Shriya confesses, about being typecast as this everyday/important professional, did cross her mind. 
"Even my friends say which profession is left to play? But that's not the point. Even among lawyers or journalists, there are different types." To prep for her part of a reporter, she in fact spoke to (mainly former) journalists on how they'd respond to life's choices, rather than intricacies of the newsroom itself. 
Not be an 'ageist' about it — I'm an old man myself — but there is a rejuvenating aspect to hosting long chats with younger guests, as they delve into their early experiences. The memories are firstly fresh, rather than jaded from having gone through these same interviews/questions, over years. Shriya is one of the youngest to feature on the Sit with Hitlist series of conversations, before a live audience.
Also, you can probe — without, hopefully, coming across as a nosey uncle — on random fun stuff, like her favourite drunken story? Involved lots of wine, during the India-Pakistan match, at Melbourne Cricket Grounds — she had to keep drinking, because once India scored, you're supposed to stay put in the same position, and repeat exactly what you were doing before!
Or how about check on important issues, like who's she dating? Well, this chat took place on Feb 13. She said she didn't have a date for Feb 14. So I'm guessing she's single. Although she'll be happy, she mentioned, if she somebody made a plan. If you search for this chat on YouTube, we've left her number there (of course, I'm kidding). 
Most elementally though, the fact of a young star is you're catching them on the curve. There's so much to look ahead. I had looked up Shriya's TEDx talk, from 2019, and already her professional life has transformed enough to render that talk premature. As would be this interview. 
Considered the past year alone for Shriya — The Broken News on ZEE5, Guilty Minds on Amazon Prime Video, Taaza Khabar (2023) on Disney+ Hotstar — you can't escape on her on OTT. 
So much so that there's stuff of hers on other platforms that I haven't had the chance to catch: new season of The Gone Game on Voot, a show called Murder in Agonda on Amazon Mini? She's the only actor to be nominated twice for Best Lead (Female) at the Hitlist OTT Awards.
The first time most Indians, including me, saw Shriya on screen was, of course, in Fan. I kept wondering where I'd met her before. It was at a party in Pune, when she wasn't an actor, and she was pissed with movie critics, in general. I reasoned that film reviewing was indeed a low form of writing, because it often lacked empathy. 
"At that time obviously I didn't know I was going to be an actor, and that I'd have to change my opinion on critics," Shriya laughs, pointing out that what had irked her after Fan were actuallyreviews that didn't mention her at all. 
Which is fair. Indifference is the opposite of love, not hate. While the film was a YRF production, starring SRK, it wasn't exactly the proverbial launch vehicle, associated with star-kids. In this case, Sachin's daughter. 
Shriya says, "[There are star] children, who get papped, groomed, branded, for two years, before they come as movie stars [on screen]. I didn't want to be on a magazine cover, even before I was an actor." That's also Instagram all right. 
But the actual scene among screen talents has changed too dramatically to count on tested measures. And is it even about Bollywood anymore, as one supposes? 
Look at the galazy of stars getting created in the OTT space, starting with Shriya, for instance. It's a medium that isn't 'television' enough for actors to surrender their identity to their character, that carries on playing itself, over hundreds of episodes! 
Although exhibiting similar aesthetics, it isn't exactly film, that is centred on the male lead, hustling over box-office returns. Let alone conversations on nepotism for debutants.
"Every role I've got is through passing an audition," Shriya reveals, on the real serendipity surrounding her — right talent, at the right time. It's like being an actor with a great voice, just when silent films have given way to talkies!
More about Guilty Minds
The legal drama is helmed by Shefali Bhushan and Jayant Somalkar.
Cast your vote for the Hitlist OTT Awards
Shriya Pilgaonkar has been nominated in the Best Actor (Female): Series category for Guilty Minds and The Broken News. The other nominees are:
>> Amruta Subhash (Saas Bahu Achaar Pvt Ltd)
>> Fatima Sana Shaikh (Modern Love Mumbai)
>> Huma Qureshi (Maharani S02)
>> Masaba Gupta (Masaba Masaba S02)
>> Sakshi Tanwar (Mai: A Mother's Rage)
>> Shefali Shah (Delhi Crime S02)
There are 16 categories that the public can vote in. Log on to www.radiocity.in/hitlistott to cast your vote.
Voting lines close on February 22.