In a sense, reminding you right away of Govind Nihalani's directorial debut, Akrosh (1980), similarly set in the boondocks, inspired by a true incident, scripted by the stalwart Vijay Tendulkar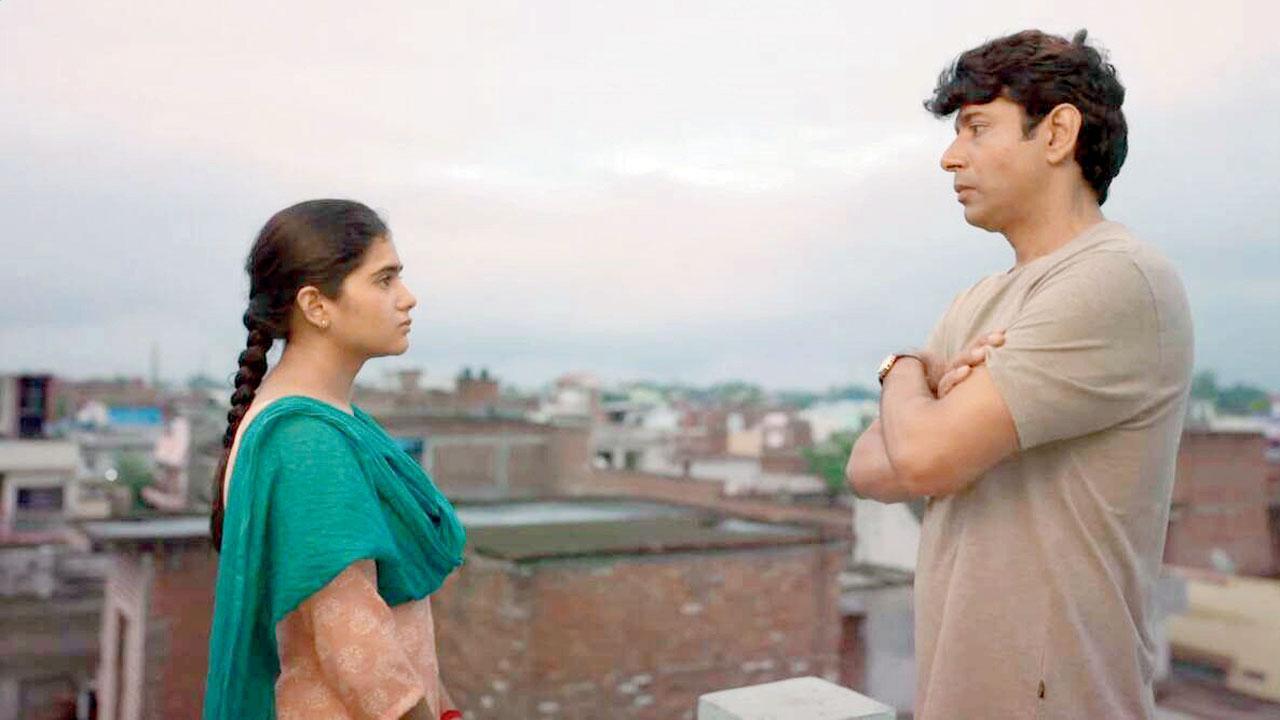 Siya
Siya
A: Drama
Dir: Manish Mundra
Cast: Pooja Pandey, Vineet Kumar Singh
Rating: ***
In a film like this, first frame onwards, you sit in anticipation of a tragedy foretold. Meaning, as it opens to the shot of the female lead on whom the film is titled — peeing in the open field, before dawn, as is quite common in India's villages — you feel as if the inciting incident might just take place right then. It doesn't. And not for a few minutes, anyway.
ADVERTISEMENT
Siya is centred on the rape, further gang-rape, over multiple days, of the eponymous lead character (Pooja Pandey), based in a village, in Uttar Pradesh. More than that, it's the story of power equations and atrocities that follow, for the survivor and her family, once a gruesome crime is committed already. The options before the oppressed are either to remain silent, or push back. The latter appears even worse! 
So you can begin to check the usual boxes, when it comes to the under-privileged in a feudal land, wherein it's nearly impossible to even register a missing girl's complaint, for a police report (FIR). Because this implies the cops in the local station are ordained by law to crack that case. It shows up in their records. They hope instead the issue gets settled on its own.
Also Read: Makers of 'Masaan' and 'Newton' bring yet another human story, 'Siya'
Left to themselves, it's not like the police aren't empowered enough. What could get them to act? As in turns out, a minor story, in page eight, of a local newspaper. The cops get into action alright. 
The survivor is found; remaining thoroughly muted, almost throughout. The script, at least perfunctorily, goes into the collusion between local politics, judiciary, and the police. 
In a sense, reminding you right away of Govind Nihalani's directorial debut, Akrosh (1980), similarly set in the boondocks, inspired by a true incident, scripted by the stalwart Vijay Tendulkar. Not to be confused with Priyadarshan's Aakrosh (2010), an overblown thriller, also set in a village.
 
This is, in fact, Manish Mundra's directorial debut. He's a producer, originally employed with the petrochemical industry in Nigeria. We first heard of him on Twitter, where he responded to director Rajat Kapoor seeking finance for Ankhon Dekhi (2013). Mundra instantly/publicly got onboard.
Ever since, he's produced over a dozen films, including Masaan (2015), Newton (2017), that Bollywood studios presumably didn't show much interest in. Heralding Mundra as quite the (unlikely) backer of independent cinema in Mumbai! Even if the cinema he's commendably championed, including his first film as director, may have found permanent residence in OTT platforms, at present.
But this also explains why Siya doesn't feel at all like a debut work. The shot-taking is pretty much spot-on. The camera is placed at subtly smart angles. The key scenes seem executed with finesse. The story, sincerely told, more or less, flows at a natural pace. The cast, with mostly new faces, looks sorted; none of them devolving into caricature.
Mundra has clearly learnt it on the job. Only in the reverse direction, as in, from the top, actually producing pictures — rather than the usual bottom, like an assistant/intern, moving up on a movie set! He's evidently surrounded himself with some fine talents, notably the male lead here (Vineet Kumar Singh). 
What's the task at hand, though? Besides shining a light on a 'kakistocracy' (rule of the least scrupulous/sincere) that surrounds us? It is, of course, to humanise what's otherwise a news story, for most — a rape case, of which there are apparently a score of them, on an average, recorded in India every day.
How does one humanise such a story? By getting more and more specific, rather than staying generic. Also, going deeper and deeper into the parts, as in their past/background, to start with, and what takes place thereafter, down to the minutest detail. Basically, to give the case a complete, unique face. 
On those fronts though, it feels like there isn't enough plot in this picture, after a point — to either hold your attention as a clever police-procedural, or engage with a vast array of characters, and their shifting motivations, to serve the purpose of a phenomenally engaging thriller. 
The picture remains laudably subtle, hence suitably visual. The heinous crime in this film, set in a fictional town called Devganj, first gets highlighted, because of a post on social media. Which has really been the harbinger of hope for crimes of such nature, especially from the darkest parts of India, that's fallen off the map. 
Public outcry has hence followed. Those places — whether Badaun, Unnao, Hathras, or more recently, Lakhimpur Kheri — that you wouldn't have heard of otherwise, have been pushed up in collective imagination, for that particular, eye-opening incident it got associated with. It's a great thing. So is a film like Siya, where you can rightly sense reminiscences of all of the above!
*YUCK  **WHATEVER  ***GOOD  ****SUPER  *****AWESOME
Play Quiz: This viral video of Vineet Kumar Singh helping a Patna vendor is winning hearts
"Exciting news! Mid-day is now on WhatsApp Channels

Subscribe today by clicking the link and stay updated with the latest news!"
Click here! Are you excited to watch Tamannah Bhatia beatboxing in `Babli Bouncer`?