The actress took to social media to reveal the truth behind those pictures with the diamond ring and the mystery man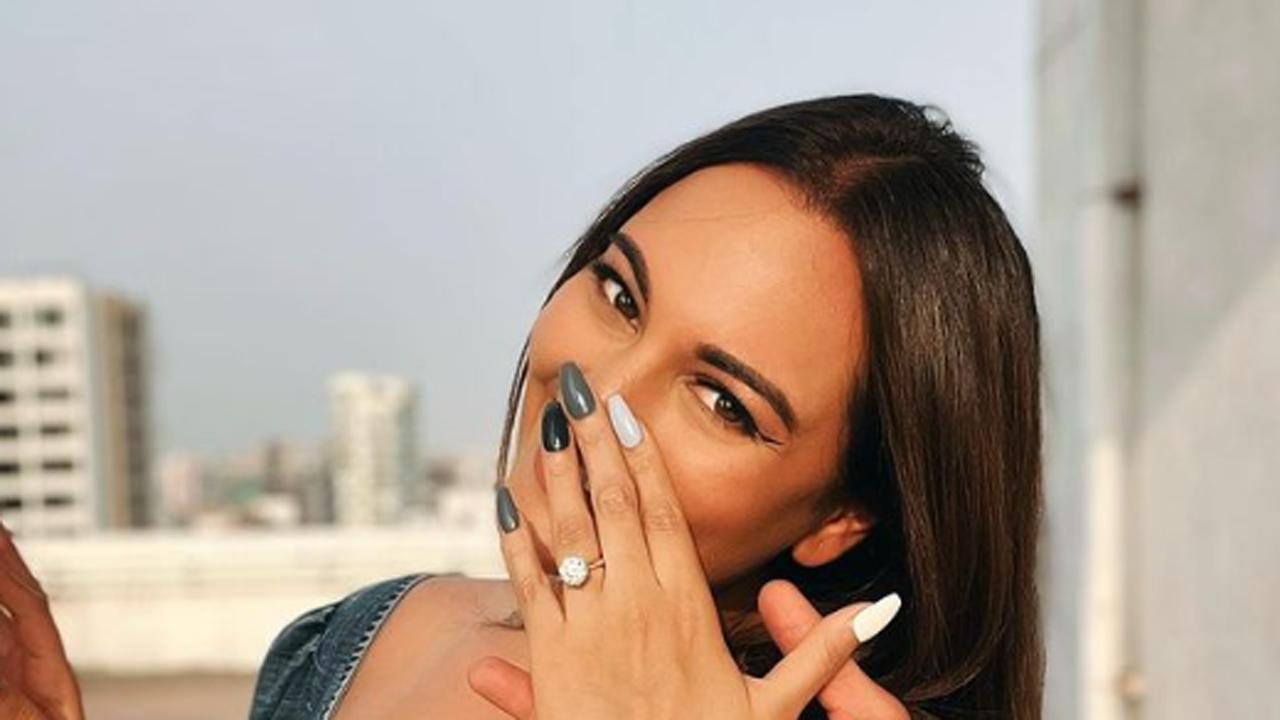 Picture Courtesy: Official Instagram Account, Sonakshi Sinha
Sonakshi Sinha on Monday shared a social media post flaunting her huge ring which left netizens and many actors wondering, 'is she engaged? The Bollywood diva, on Monday morning, took to her Instagram handle and shared a series of pictures of herself, in which she can be seen posing next to a man while flaunting her huge diamond ring.
The actress now took to social media to reveal the truth behind those pictures with the diamond ring and the mystery man. No, she's not engaged. Merely anyone paid attention to her mismatched-coloured nails and the mystery pertains to that. Sonakshi has launched her press on nails brand So Ezi! She shared a picture of herself and wrote- "Ok ok, i think ive teased you enough!! Lots of hints were dropped and not a single lie was told! Big day for me because im launching my very own brand SOEZI @itssoezi… every girls one stop shop for amazing nails, all day everyday!!!"
ADVERTISEMENT
 

 

View this post on Instagram

 
She added, "One of my biggest dreams coming true because finally i step into the world of entrepreneurship!! and i couldn't wait to share it with YOU!! And lastly I was actually just flaunting my new love - my @itssoezi NAILS in the pictures… what did you think??? Hahahaha love you guys! Thank you for the immense support always."
She also shared a video giving fans a glimpse of her new beginning. 
 

 

View this post on Instagram

 
That's not all, the actress has featured in a new campaign for People for the Ethical Treatment of Animals (PETA) India that encourages fans to ditch leather and wear vegan.
For the campaign, Sonkashi is seen holding a bag that's dripping with "blood", she calls attention to the more than 1.4 billion cows, dogs, cats, sheep, and goats and millions of other animals who are slaughtered for leather each year.
"Cows and buffaloes are intelligent, emotional animals who mourn the loss of and separation from loved ones, so I choose vegan leather and other compassionate materials when I shop,a says Sinha.
"Through this campaign with PETA India, I hope to inspire more people to keep fashion fun, not grisly, by wearing vegan."
Sonakshi has previously joined other stars in calling for the strengthening of animal protection laws, starred in a pro-adoption campaign for PETA India, and penned a letter on behalf of the group pushing for the transfer of an abused elephant near Jaipur.