Kareena Kapoor and Saif Ali Khan appear in shock as illusionist surprises them with tricks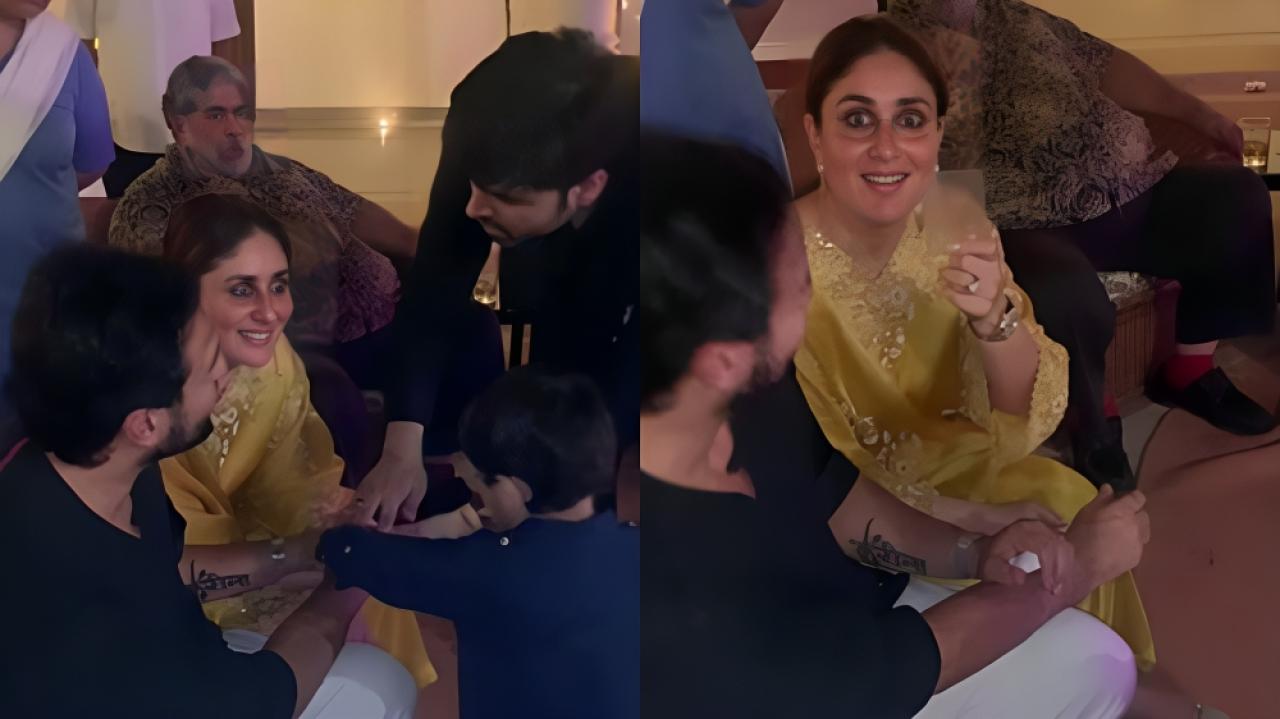 Source/Instagram
Listen to this article
WATCH: Kareena Kapoor and Saif Ali Khan in shock as illusion artist surprises them at Pataudi palace
x
When it comes to Bollywood royalty, Kareena Kapoor Khan stands at the forefront, and her 43rd birthday celebration was nothing short of 'magical'. The actress, known for her charm, marked this special occasion with a family reunion amidst the grandeur of the Pataudi Palace. A glimpse into the festivities emerged online, capturing a magical moment that left Kareena and her loved ones in sheer awe.
In a video shared by the incredibly talented mentalist and illusionist, Karan Khanna, on his Instagram, Kareena and her dashing husband, Saif Ali Khan, were seated together, surrounded by an air of anticipation. Karan Khanna, a master of his craft, took center stage, ready to weave his spellbinding magic.
ADVERTISEMENT
The magic trick that unfolded before them was nothing short of mesmerizing. Karan began by holding a seemingly ordinary deck of cards, and with a flourish, he plucked one from the deck, making it materialize within Saif's palm. The look of amazement on Saif Ali Khan's face mirrored the astonishment of those watching. But the real enchantment came when Kareena Kapoor Khan's turn arrived.
With a graceful flick of the wrist, Karan Khanna placed a card in Kareena's hand. As she opened her palm to reveal the card, the room was filled with gasps of astonishment. It wasn't just any card; it was the one Kareena had chosen moments earlier in her mind. Her wide-eyed expression spoke volumes about the sheer wonder of the moment, and it was a testament to Karan Khanna's extraordinary skills.
Karan Khanna, filled with gratitude for being a part of this extraordinary celebration, shared his feelings on Instagram, saying, "Super Duper Grateful to be invited to perform at the Pataudi Palace for kareenakapoorkhan mam's birthday bash. Super amazing to perform for saif sir, kareena mam, therealkarismakapoor mam and their lovely family. Still feels like a dream. Super nice people and really good vibes."
 

 

View this post on Instagram

 
As we celebrate Kareena Kapoor Khan's 43rd birthday, it's impossible not to reflect on her remarkable journey in the world of Indian cinema. Just recently, she graced the digital screens with her OTT debut in the highly acclaimed film 'Jaane Jaan.' Her portrayal in the film garnered rave reviews, further solidifying her status as a powerhouse performer.
Meanwhile, her husband, Saif Ali Khan, had his own cinematic journey in 2023 with the release of 'Adipurush.' However, the film faced mixed reviews from audiences and critics alike. Despite the varied reception, Saif Ali Khan's commitment to his craft remains unwavering.
"Exciting news! Mid-day is now on WhatsApp Channels

Subscribe today by clicking the link and stay updated with the latest news!"
Click here!