It's a weird experience no doubt, but it also manages to connect with the chaos within you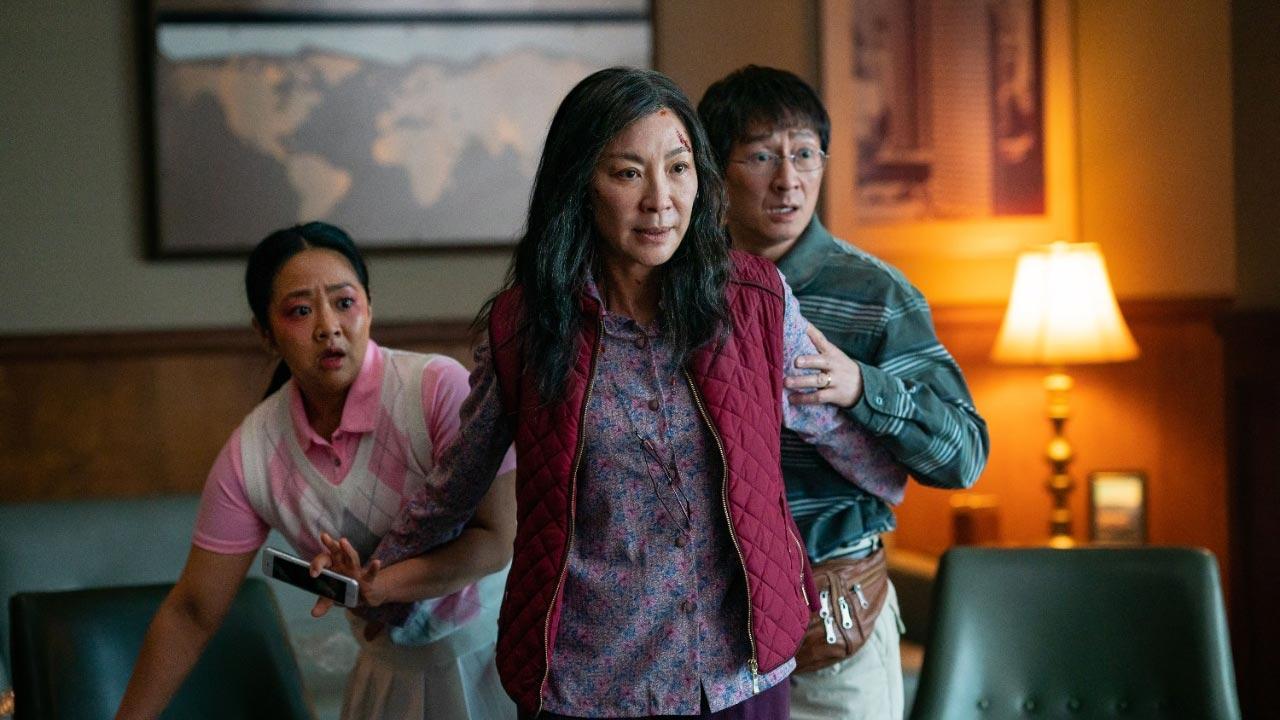 Everything Everywhere All at Once still
Film: Everything Everywhere All at Once
Cast: Michelle Yeoh, Stephanie Hsu, Ke Huy Quan, Jamie Lee Curtis, James Hong, Tallie Medel, Jenny Slate, Harry Shum Jr.
Director: Daniel Scheinert, Daniel Kwan
Rating: * * *
Runtime: 140 min
This film directed by Daniel Schienert and Daniel Kwan is a hyper-imaginative representation (by way of a multiverse analogy) of the chaos that reigns in our everyday modern existence.  We see an aging Chinese immigrant swept up in an insane adventure, where she alone can save what's important to her by connecting with the lives she could have led in other universes. It's a mind-boggling concept based narrative that revels in your discomfort while it goes about finding its resolution of love, family, empathy and bonding. It's a weird experience no doubt, but it also manages to connect with the chaos within you.
Evelyn Wang (Michelle Yeoh), along with her husband Waymond (Ke Huy Quan) run a laundromat that is now under IRS audit. We see her enjoying a happy moment with her husband Waymond (Ke Huy Quan) and their daughter Joy (Stephanie Hsu) and then quite literally chaos reigns. The camera zooms in, and Evelyn is seen juggling bills hoping to pull a fast one on the IRS auditor (played by Jamie Lee Curtis) while also putting together the bits and ends for a Chinese New year party that the family celebrates annually. With her father Gong Gong (James Hong) also visiting and casting his disgruntled eye around, her sullen daughter Joy (Stephanie Hsu) wanting to bring her girlfriend Becky (Tallie Medel) to the party and her husband wanting to talk about the state of their marriage, it's becoming a tough ask for the seasoned, though now weary, multi-tasker.
Also Read: 'Beast' movie review: Preying on Genre movie mechanics
Evelyn begins to feel overwhelmed but the chaos gets more complicated by another version of Waymond from the Alpha verse where humans "verse jump" as they get threatened by an omniverse agent of chaos known as Jobu Tupaki.
This is a film that plays out like a complicated multi-dimensional puzzle and all credit goes to Editor Paul Rogers' hurried pace, the frenzied dialogue, ace cinematography, and  Jason Kisvarday's crafty production design that makes this a discomfiting lived-in experience. We become party to Evelyn's emotional, philosophical, and deeply weird internal journey before she discovers metaphysical wisdom. Unfortunately, it's not all fun and games. The overly long runtime does prove wearisome and sitting through the experience of Evelyn's jumbled-up mind is not exactly a happy journey - even though it has its fair quota of fun elements!
Also Read: 'Dragon Ball Super: Super Hero' movie review: High on tech but missing heart Are you excited to watch Tamannah Bhatia beatboxing in `Babli Bouncer`?