'BTS FESTA 2023': One of the most awaited special events of the evening was a radio show hosted by group leader, Kim Namjoon titled 'It's 5 pm and this is Kim Namjoon'. Namjoon aka RM took his place at the centre of a massive 'ARMY Lounge' at the head of the park and read several letters sent in from anonymous ARMYs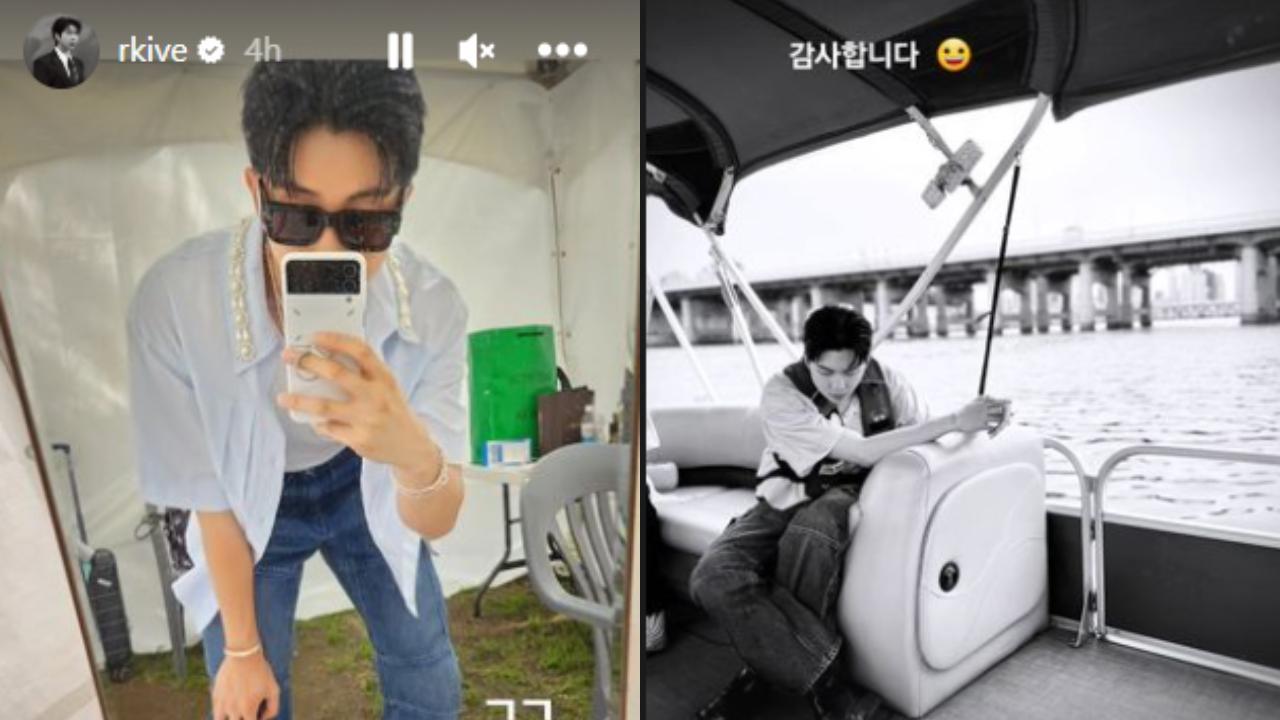 Namjoon gearing up for his Yeouido event, Pic/Rkive Instagram
BTS celebrated their 10th anniversary on June 13th, 2023. Although the group is officially on hiatus, pursuing personal projects and enlisting for their mandatory military service, the group released special content throughout the month. 
But the biggest surprise was quite literally 'yet to come'. Throughout the month, BTS dropped cryptic teasers about a fan event that would be hosted in Yeouido Park, where the group had had their very first fan meeting. 
ADVERTISEMENT
One of the most awaited special events of the evening was a radio show hosted by group leader, Kim Namjoon titled 'It's 5 pm and this is Kim Namjoon'. Namjoon aka RM took his place at the centre of a massive 'ARMY Lounge' at the head of the park and read several letters sent in from anonymous ARMYs ranging from memories with BTS to mundane moments from their day to even heartbreak. In his signature understated humour, RM responded to each letter in quirky ways.
One of the highlights of the event was when Jeon Jungkook, the maknae (youngest) of the group called in posing as a fanboy. However, his prank was soon foiled as ARMYs almost instantaneously recognized his voice. After all, who wouldn't recognize JK's honeyed voice from even a mile?
However, Namjoon seemed not to recognize Jungkook until he explicitly introduced himself even though he referred to RM as 'hyung'. ARMYs know that Jungkook is unashamedly Namjoon's biggest fanboy and draws inspiration from him on everything - from songwriting, composition to discipline. He has mentioned on several occasions that it was RM's charismatic rap that encouraged him to audition for BigHit, the label that manages BTS. 
We will never know whether the prank was pre-planned and Namjoon was just messing with ARMYs all along, or whether he genuinely forgot his fellow member's voice. We know you can recognize each other just by the sound of their breathing!
The event also included Taehyung and Jimin calling in to greet ARMYs, RM being goofy and pretending to play a flute, reading out letters in dramatic intonations. However, we know that our Joon can never quite restrain from expressing his inner sincerity. He teared up a little bit during his ending comments and said "Thank you ARMY for visiting Yeouido on such a hot day for BTS' 10th anniversary. Stay healthy and I promise I will see you soon".
 

 

View this post on Instagram

 
"Exciting news! Mid-day is now on WhatsApp Channels

Subscribe today by clicking the link and stay updated with the latest news!"
Click here!