Get ready for the ultimate musical collaboration: Jungkook drops MV teaser for '3D (Feat Jack Harlow)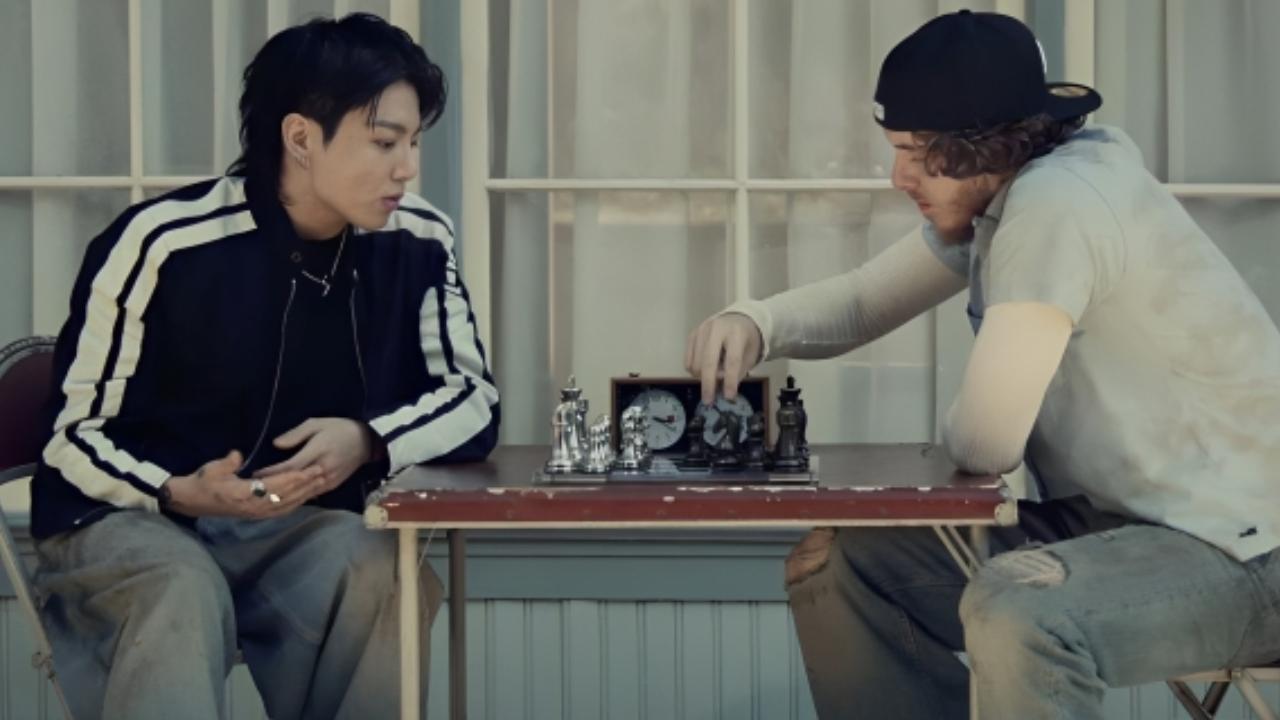 Source/Instagram
Listen to this article
BTS: Jungkook teases ARMYs with his gangster self in MV snippet for new single '3D'
x
At the Global Citizen Festival, BTS member Jungkook announced his next solo project. After a striking performance at the Golabl Cizen Festival 2023 in New York, the 'Seven' singer unveiled the first teaser of his upcoming project titled '3d'.
Shortly afterwards, BIGHIT MUSIC officially announced that "3D" was a new solo digital single featuring Jack Harlow. In their English statement, the agency wrote, "Jungkook's second solo single, '3D (featuring Jack Harlow),' is a pop R&B track with clever expressions of feelings toward an unattainable person from the perspectives of first, second, and third dimensions. Get ready to meet an even more mature side of Jungkook following 'Seven (featuring Latto).'"
ADVERTISEMENT
We were previously questioning what it was going to be exactly. Was it an album title or a single? Well, our questions have been answered. 
BIGHIT MUSIC set the entertainment world abuzz with a captivating teaser on Twitter. This teaser, clocking in at just 30 seconds, offered a glimpse into what promises to be an unforgettable musical collaboration between Jack Harlow and the ever-fashionable Jungkook.
The teaser commences with an electrifying surge of hip-hop beats, a signature hallmark of Jack Harlow's musical artistry. These beats not only set the stage for what's to come but also serve as a testament to the synergy between these two musical powerhouses. Jungkook, known for his multifaceted talents, makes a striking entrance in his most stylish avatar yet. The visuals are nothing short of breathtaking, as the South Korean sensation effortlessly combines fashion-forward elements with his innate charisma. The lyrics which can be heard, "I just wanna see you like that..I wanna see it in motion in 3D" sent fans into an absolute tizzy. We were promised Jungkook at his "most mature" and it sure seems like we're getting that.

However, the true pièce de résistance arrives towards the end of the teaser: a mesmerizing game of chess between Jack Harlow and Jungkook. This unexpected twist adds a layer of intrigue to the upcoming release. Chess, a game of strategy and intellect, hints at a deeper narrative that the artists might be exploring in their music. 
ARMYs took to Twitter to express their delight over this news:
Lyrics of #JungKook_3D

"I just wanna see you like that
See you like that
See you like that
I wanna see it
In motion
In 3D"
pic.twitter.com/n1o5oBBCRl

— BTS Charts Daily⁷ (@btschartsdailyx) September 27, 2023
THE WORLD IS NOT READY FOR "3D"

3D IS COMING SEPTEMBER 29 #3DbyJungkook #JungKook_3D

pic.twitter.com/PI1o9231U1

— DAILY_JK97ʲᵏ (@Daily_JK97) September 27, 2023
"I JUST WANNA SEE YOU LIKE THAT" JALQNSLSNSSKSJ LIKE WHAAAAT JEON JUNGKOOK??#JungKook_3Dpic.twitter.com/Bkd1eEbllI

— rayo³á´° (ia) (@taegisgod) September 27, 2023
Everything about 3D is a whole different from seven !! The sounds! The vibes and the attitude!!
Even the mv looks like an action movie!!

I am so excited … obsessed already!!

3D IS COMING SEPTEMBER 29 #3DbyJungkook #JungKook_3D

pic.twitter.com/W0WDizDGM2

— ミ ♡ ミ (@ayjk97) September 27, 2023
The teaser leaves fans and enthusiasts alike on the edge of their seats, eagerly awaiting the release of this collaborative masterpiece. The anticipation is palpable, with social media platforms buzzing with excitement and speculation. What lyrical gems will Jack Harlow and Jungkook unveil in their upcoming single? Only time will tell, but one thing is certain - it's bound to be nothing short of extraordinary.
"Exciting news! Mid-day is now on WhatsApp Channels

Subscribe today by clicking the link and stay updated with the latest news!"
Click here!