Is this an indication of tremors in Anuj and Anupamaa's selfless and flawless relationship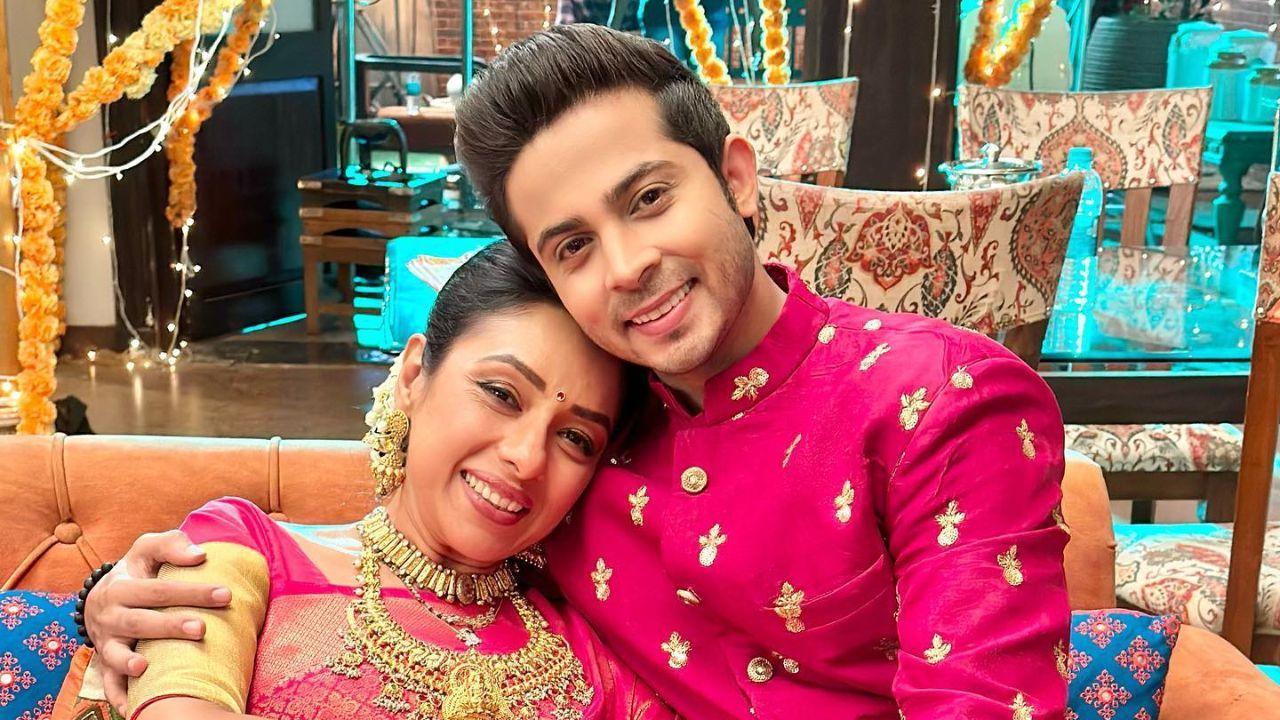 Official Instagram Account of Rupali Ganguly
The day starts off with Anuj consoling and pepping up Anupamaa who feels awkward when she compares her age with the age of the other parents who are young. All become super excited and are just about to leave for chhoti Anu's most-awaited school function. That's when, much to the displeasure of Adhik, Barkhaa and Ankush, Paakhi also gets dressed up and says that even she is ready (to attend the school function). When everyone is just about to leave, Baa plays the spoilsport by saying that, 'because there will be huge crowds in the school function, baby Pari may just fall sick again and that's why she will remain home with her'.
Also Read: Anupamaa Update: Paakhi terms the threatening voice note as a very 'CASUAL THING', doesn't understand the reason for commotion!
ADVERTISEMENT
Then comes the 'turn' of Baa's food. As always, Anupamaa steps forward and tells everyone to go ahead and that she will join them later after making food for Baa and baby Pari. Out there, time starts ticking like a bomb when chhoti Anu, Anuj and all others are eagerly and anxiously waiting for Anupamaa to come. Besides making 'kichdi' for Baa, Anupamaa also lands up making a couple of more dishes for her as well as for baby Pari, which furthers her delay.
Because she is extremely late, Anupamaa rushes from her house to reach the school function. That's when she gets hit by a table's edge in the house. Unable to bear the pain, Anupamaa sits down on the chair. That's when Baa tells Anupamaa that she will apply some medicine and then she can leave. In a typical 'Baa style', she also taunts Anupamaa that no school function is more important than the life of baby Pari, which shocks Anupamaa.
Meanwhile, in the school function, Paakhi seizes an opportunity and tries to get close to Adhik by holding his hand and clicking a selfie together. When Barkhaa sees this, she gets angry and tells Ankush to shift his place and sit next to Paakhi, which the latter just does not like. Seeing Anu still not come, Chhoti Anu starts becoming restless with every passing minute. After Anuj calls Anupamaa and tells her to come fast, Anupamaa leaves as fast as she can. That's when Baa again stops her and tells her to take care of baby Pari as she has started vomiting. Once again Anupamaa finds herself being sandwiched between multiple situations.
Also Read: Anupamaa Update: Anupamaa unleashes her 'rudra roop' and lands up at the house of the notorious guy to meet his family
Even though she is running extremely late, Anupamaa ensures that she takes care of baby Pari and then leaves for the school function. Sensing Anupamaa running extremely late, Anuj steps in and tries to handle the 'delayed' situation by coming up on stage and trying to do a stand-up act. Anupamaa, on the other hand, is driving as fast as she can so that she can reach the function on time.
SPOILER ALERT: The school function gets ended by the time Anupamaa reaches there. She, immediately, goes up on stage and requests all the parents to remain seated as she wants to show them the dance that she had practiced with her daughter (chhoti Anu). Meanwhile, chhoti Anu is extremely sad as they lose the first prize. That's when Anupamaa tells chhoti Anu to find happiness in others's happiness. Seeing all this, Anuj withers away his hand from Anupamaa, shocking her totally.  
"Exciting news! Mid-day is now on WhatsApp Channels

Subscribe today by clicking the link and stay updated with the latest news!"
Click here! Has Bigg Boss 16 lived up to your expectations?