If you're looking for a binge guide, your quest has ended as we present to you the most awaited releases this weekend to watch across Sony MAX, Netflix, discovery+, Prime Video and Disney+Hotstar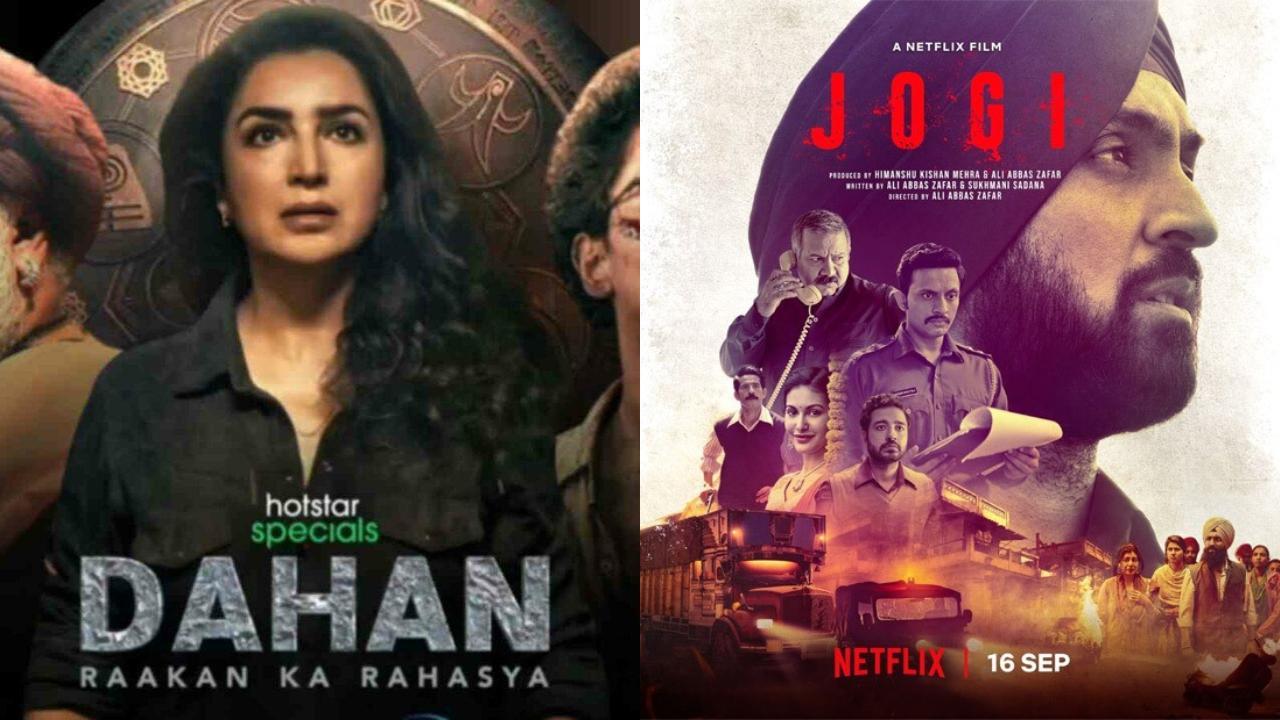 Dahan and Jogi posters
With the festive season dawning upon us, the excitement to unwind is imminent. Taking the celebrations a notch higher are OTT platforms & television channels with exciting new releases in the second week of September that will keep the audiences on the edge of their seats. If you're looking for a binge guide, your quest has ended as we present to you the most awaited releases this weekend to watch across Sony MAX, Netflix, discovery+, Prime Video and Disney+Hotstar.
1.    KGF: Chapter 2- Sony MAX
'KGF: Chapter 2' had a mammoth run at the box office and the movie continues to captivate audiences all across the world, especially those who thrive on action thrillers. Starring Yash, Sanjay Dutt, Raveena Tandon and Srinidhi Shetty in prominent roles, 'KGF: Chapter 2' showcases Rocky's journey as he becomes the head of the gold mafia. While the government views him as an impending threat to law and order, his allies look up to him. Rocky must now contend with the fury of his adversaries Adheera, Inayat Khalil, and Ramika Sen while he makes an effort to fulfill the promise he made to his mother.
KGF- Chapter 2 is set for a World Television Premiere on Sony MAX on 18 September 8 PM. You can also watch the film on Amazon Prime Video.
2.    Jogi- Netflix
Diljit Dosanjh is prepared to make his OTT platform debut with his eagerly anticipated movie, 'Jogi'. The film captures the story of three close friends' bravery and camaraderie in Delhi during the 1984 riots. It highlights people's suffering and experiences while attempting to travel to Punjab for safety or figure out every legal exit from Delhi during that time.
'Jogi' is currently streaming on Netflix.
Also Read: Must call 1984 riots genocide: Diljit Dosanjh
3.    Devlok With Devdutt Pattanaik Season 3 - discovery+ 
The new season of the show, hosted by renowned author and mythologist Devdutt Pattanaik, will feature several intriguing conversations between him and actress Rasika Duggal. The new season will take audiences on a fascinating trip through the numerous stories, symbols, and rituals that form the foundation of Hindu culture while exploring and interpreting the questions from Hindu mythology.
Devlok with Devdutt Pattanaik Season 3 will air on Discovery+ on 16 September 2022.
Also Read: 'Dahan': Saurabh Shukla shares his belief and experience about supernatural things that happen around universe
4.    Dahan: Raakan Ka Rahasya - Disney+ Hotstar 
Dahan - Raakan ka Rahasya is an upcoming supernatural thriller series on Disney+Hotstar featuring Tisca Chopra as an IAS official. Showcasing a sinister tale of superstitions and beliefs, the series features paranormal activity and is directed by Vikranth Pawar. Dahan - Raakan ka Rahasya is set in the rural village of Shilaspura, popularly known as "The Land of The Dead." 
Dahan: Raakan Ka Rahasya is currently streaming on Disney+ Hotstar.
5.    Goodnight Mommy- Prime Video
Goodnight Mommy is one of the new releases on Prime Video that you just can't miss. Starring Naomi Watts in the lead role, the story showcases twin brothers who relocate to a new home after their mother has facial reconstruction surgery. They soon develop doubts about their mother when they see a woman they don't recognise behind the bandages. 
The movie is releasing on 16 September 2022 on Amazon Prime Video. Are you excited to watch Tamannah Bhatia beatboxing in `Babli Bouncer`?