Playing a father in Yeh Meri Family 2, Rajesh Kumar on how he doesn't align with the new-age parenting approach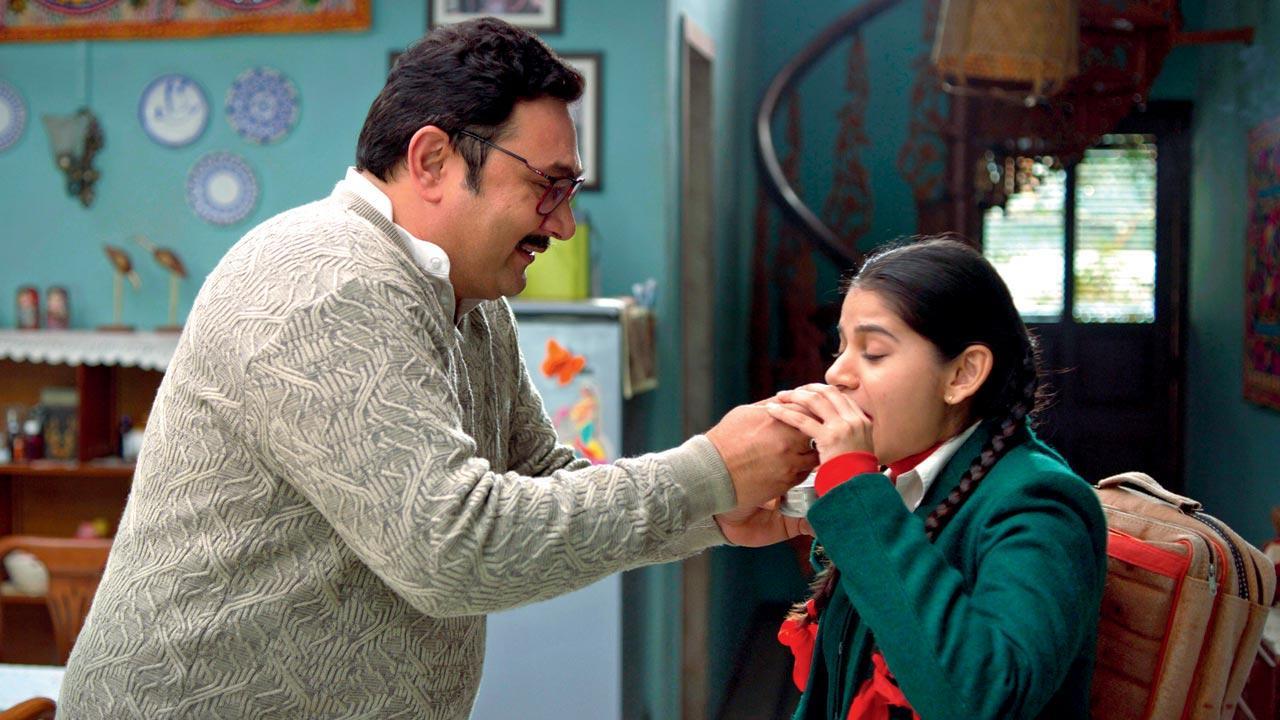 A still from Yeh Meri Family 2
With his endearing roles in Baa Bahu Aur Baby and Sarabhai vs Sarabhai, Rajesh Kumar wormed his way into the audience's hearts. Off screen, he is equally endearing, as he takes the time to ask this writer about her day before getting into interview mode. The actor is back with the second instalment of TVF's Yeh Meri Family. Kumar, who plays a reserved father in the Amazon miniTV series set in the '90s, talks about the different parenting styles of the generations, and his learnings from the show.
Edited excerpts from the interview.
ADVERTISEMENT
You play a reticent father in Yeh Meri Family. How do you relate to a father-daughter relationship?
I have seen my father have an awkward relationship with my sisters, where he is more protective about them, and trying to get them married at an early age. I think '90s fathers were like that because they just wanted to get over with [the responsibility]. There was never too much of a conversation between daughters and fathers, at least in my family. They all were there for each other's happiness, but the girls were closer to their mother. So, this awkward relationship where they barely talk as shown in Yeh Meri Family came easy and naturally to me.
What about the '90s did the show remind you of?
It reminded me of everything — from the values, to the fact that we never got bored or sat idle. Either we were reading comic books, or playing games. Nowadays, kids [are enrolled in] drawing, guitar, swimming classes, one after the other. Back in the day, we didn't go for so many classes. If a kid was sent to [drawing classes], no one cared whether s/he could draw. [The parents' motivation was not that] the kids will be in front of the TV or phone, instead let's enrol them in classes. I never saw parents under pressure [to take care of the child].
Do you think parenting was easier back in the day?
We never took up parenting as a challenge. This generation is taking it [too seriously]. They are trying to do everything [through the kids] that they couldn't. They are forcing too much on their kids, who are becoming more dependent. [All parents need to do] is maintain a balance, but do not keep holding their hand. The kids should be made aware that they can fly. Today's style of parenting is scary. Sometimes, it's difficult to understand if they are talking about their kids or pets.
Did you learn any parenting tips while filming this series?
I often tell people that my father has taught me a lot about what not to do. He did so many things that made me think, 'Oh my god, I won't do this to my kids' [laughs]. In this show, the communication angle has been brought to the fore. It's good to watch over what is happening in the house rather than interfere in everything. If Neerja [Juhi Parmar's character] handles the kids' studies, as a  father, I should not interfere. But at the same time, [I should ensure] that she doesn't slap the child in anger. This is what I have learnt [from the show].
Do you believe in the concept of spare the rod, spoil the child?
It all depends on your conditioning. If you are too imposing as a parent, want your child to be a certain way, and want him to achieve what you have not in life, then it is a hardship. But as humans, we don't need [to rely on] screaming or beating to discipline children.
Also Read: Rajesh Kumar recalls 90s era, shares experience working in 'Yeh Meri Family'