Indian actor Anupam Tripathi is receiving adulation from all corners for his portrayal of Pakistani migrant Ali Abdul in Netflix most popular Korean drama, Squid Game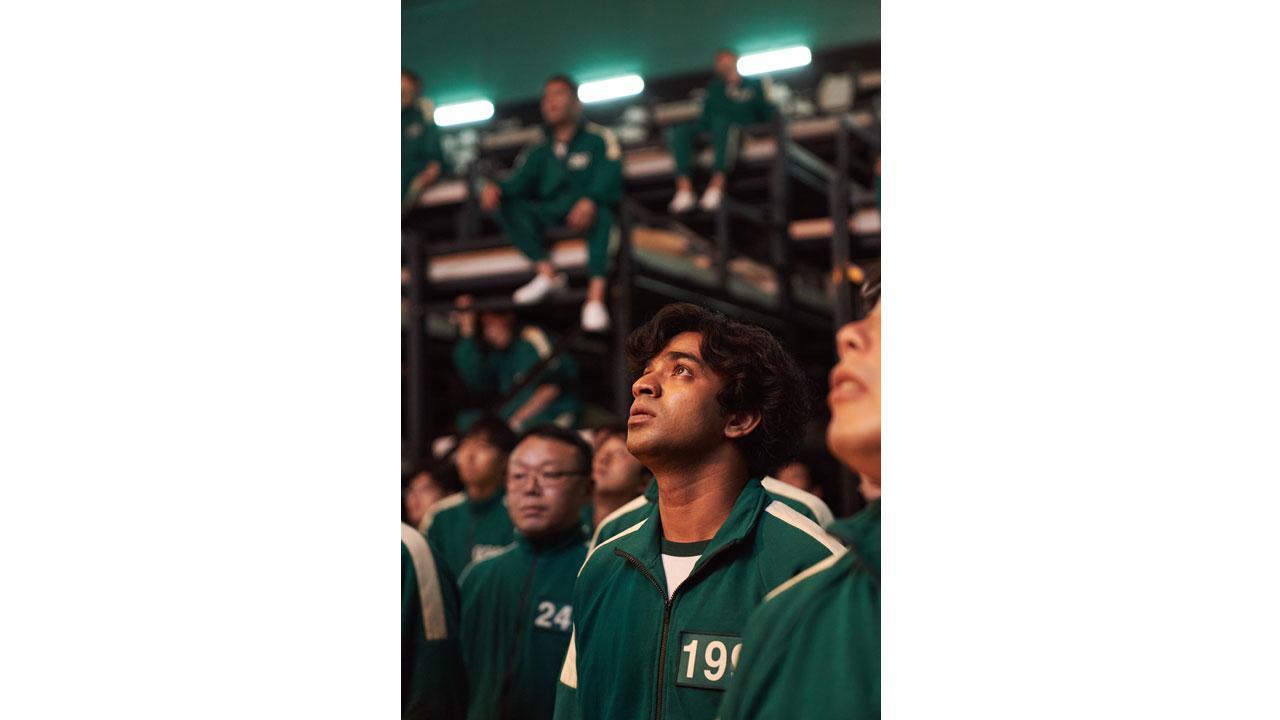 A still from Squid Game/ Pic: PR
Delhi boy Anupam Tripathi's fan following is skyrocketing each minute ever since the premiere of Netflix's latest Korean drama Squid Game on September 17. Anupam played the character of Ali Abdul, a Pakistani migrant in Squid Game, who participates in the game to win the coveted cash prize of 45.6 billion Won. In an interaction with mid-day.com, Anupam Tripathi opens up on how he is fascinated by the whole development, how he landed the role and transformed into Ali and more. He also chooses six childhood games for an Indian adaptation of Squid Game, if it was ever made...
Anupam who gained over 3 million Instagram followers within 20 days, exclaims, "I still remember the date September 17, 2021, around 4 pm in South Korea, there were around 3000 Instagram followers. Suddenly, within an hour, it started growing and people were talking about Ali! (The count grew to) 50 thousand... 1 million... 1.5 million... 2 million... it was fascinating! I was not expecting this kind of response."
 

 

View this post on Instagram

 
For Anupam who has lived in South Korea for about 11 years, it was a dream role and also a challenge to transform himself into the character of Ali. Elaborating on the same, he says, "For me as a student of acting, living in Korea for 11 years... there are not many options for us. I just got a call from an agency and they said there is an audition. I went through several rounds with the assistant director, then director... This is how it started and once they said yes, after that the whole thing changed. I have done a similar character earlier as well. For Ali who was a healthy guy, I worked hard on the physique, gained 6 kg. I watched documentaries, read articles, constantly thinking how I can go to the inner humane of the character. From the outside to inside, I kept filling my body and mind through meeting people, reading articles and watching documentaries, behaving in a way that I can be Ali. For someone like me, who can speak Korean fluently, it was difficult to go back and undo things and be someone who came just one and a half year ago in Korea. I tried to find the right tone of the character."
Should there be an Indian version of Squid Game in the making, what childhood games would Anupam like to choose? (Laughs) "In India, there are so many games... I used to play Gallery (a games of boxes built from chalk), Pitthu (the game of piling up stones), Hide-n-seek is always there. Lattu... Kanche or marbles. These are the games I played in my childhood. An Indian version would be more fascinating to watch. I would love to be a part of that too!" says Anupam.
Also Read: Squid Game: Netflix's Korean survival drama becomes the most-watched series globally