What's new on OTT: Shahid Kapoor starrer Bloody Daddy, Avatar: The Way of Water and Never Have I Ever Season 4 are among the highlight anticipated releases of on OTT this week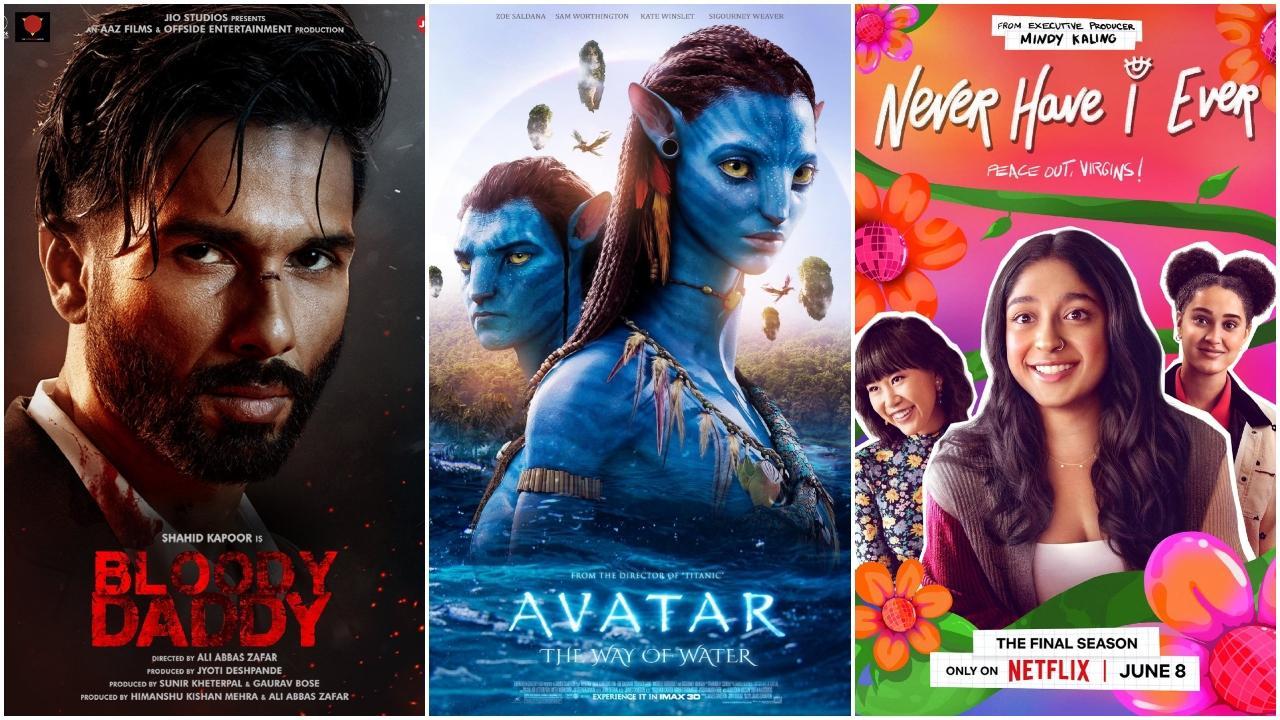 New releases on OTT this week
The first week of June 2023 has brought with it a number of exciting releases across various OTT platforms. From Netflix and Disney+Hotstar to Prime Video, MX Player, ShemarooMe, and more, there's a diverse array of content to cater to every viewer's preferences. Whether you're in the mood for thrilling suspense, laugh-out-loud comedies, gripping dramas, or adrenaline-fueled adventures, this weekend's lineup has it all.
Check out these highly anticipated releases and add them to your watchlist. It's time to indulge in the best of OTT entertainment.
ADVERTISEMENT
Bloody Daddy (Jio Cinema)
Prepare for an intense cinematic experience with Bloody Daddy, directed by Ali Abbas Zafar, which released on June 9. Starring Shahid Kapoor in a gripping role, the film follows an NCB officer determined to rescue his son from the clutches of a notorious drug lord. As the story unfolds, unexpected twists and turns ensnare the officer in a web of complexities. Brace yourself for a thrilling ride filled with suspense and action. 
Avatar: The Way of Water (Disney+Hotstar)
In the eagerly awaited Avatar: The Way of Water, directed by James Cameron, audiences are transported back to the captivating world of Pandora. Led by Jake Sully, the Sully family embarks on a thrilling new adventure, venturing into uncharted territory after their escape from their previous home. This highly anticipated film promises to immerse fans in a visually stunning and mesmerizing cinematic experience. 
Indian Summers Season 2 (MX Player)
Step into the mesmerizing world of 'Indian Summer Season 2', a captivating historical drama that transports viewers to the breathtaking landscapes of the Himalayas and tea plantations of Northern India. Set three years after Season 1, this 10-episodic series unfolds in 1935, in the enchanting Indian retreat of Shimla, nestled in the Himalayas. The assassination attempt on Viceroy Lord Willingdon and the unexpected arrival of Lord Hawthorne throws Ralph's future into uncertainty. Meanwhile, Cynthia's Royal Simla Club becomes the setting for a momentous visit from Maharaja Maritpur and his elegant and enigmatic mistress, Sirene. Experience colonial India's romance and rich tapestry as 'Indian Summer Season 2' streams exclusively on MX Player in Hindi from June 7, 2023.
Aum Mangalam Singlem (Shemaroo Me)
Popular Gujarati romantic comedy 'Aum Mangalam Singlem' has released on the OTT platform ShemarooMe. The film follows the captivating journey of Vaani and Siddharth as they navigate the ups and downs of newfound singlehood. As they face the challenges of work and explore the many facets of life, their love, friendship, and dedication are put to the ultimate test. Starring the talented ensemble cast of Malhar Thakar, Aarohi Patel, Bhamini Oza Gandhi, Tatsat Munshi, and Darshan V Jariwalla, this film promises to immerse viewers in a story filled with emotions and transformation. 
Never Have I Ever Season 4 (Netflix)
Get ready to bid farewell to a beloved series as Never Have I Ever Season 4 makes its highly anticipated debut on Netflix this week. Created by the talented Mindy Kaling, this coming-of-age dramedy takes viewers on a journey through the senior year of Devi Vishwakumar and her close-knit group of friends. As they navigate the complexities of relationships, school, and family dynamics, the characters experience a whirlwind of emotions. Prepare for laughter, tears, and heartfelt moments as "Never Have I Ever" delivers its final season, offering a relatable and engaging portrayal of teenage life. 
Arnold (Netflix)
Get ready to witness the extraordinary journey of Arnold Schwarzenegger in the captivating three-part documentary series, 'Arnold,' released on June 9, 2023. This compelling series unveils never-before-seen footage and untold stories, chronicling Schwarzenegger's path from rural Austria to achieving the pinnacle of the American dream. Experience the highs and lows, the triumphs and struggles, as Arnold Schwarzenegger rises to become a global icon. With a blend of personal anecdotes and remarkable visuals, 'Arnold' offers an intimate exploration of an inspirational life. Don't miss the chance to delve into the captivating story of one man's remarkable journey, streaming soon on Netflix.