Udayan Art Studio's installation art at Kala Ghoda Arts Festival is a response to the increasing acts of art vandalism in various parts of the world. The team has crafted "Art Attack" as a statement against the violent acts the destroy the culture of art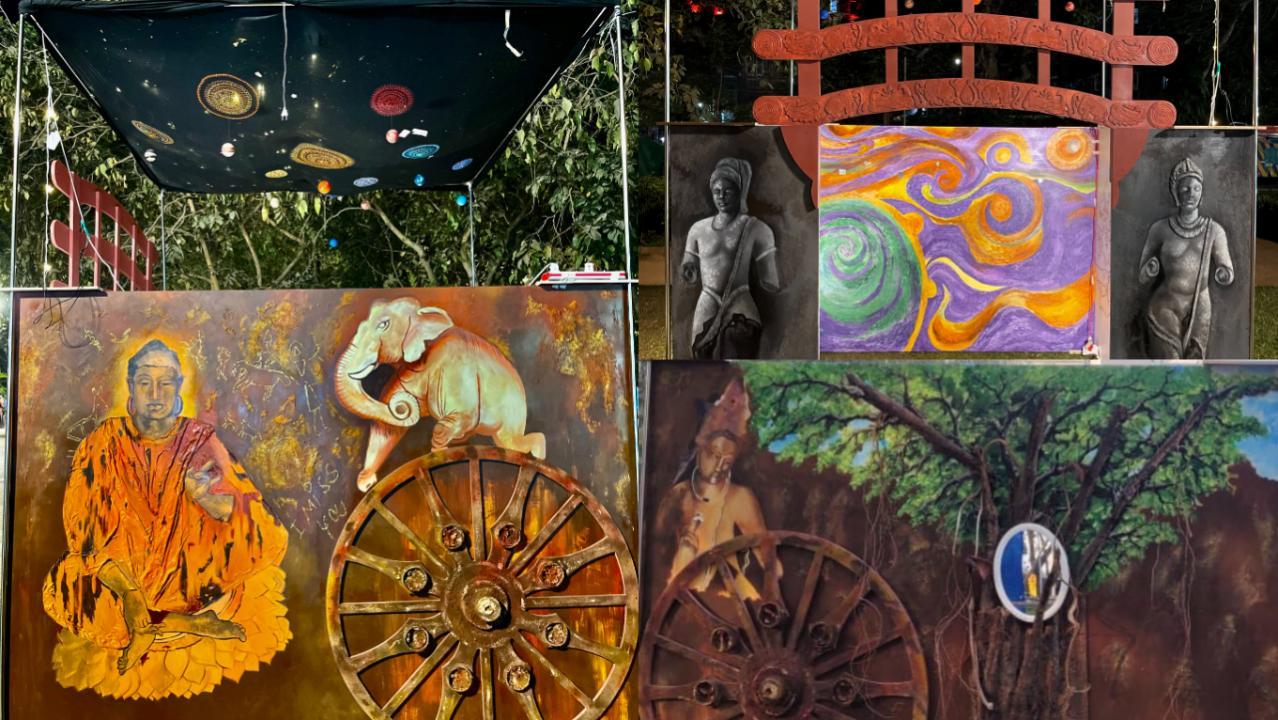 The installation art called "Art Attack" is displayed at Cross Maidan, near the Fort area. Photo Courtesy: Arti Raj
The iconic Kala Ghoda 2023 is a raging delight amongst art lovers with its diverse itinerary spanning theatre, cinema, dance, music, literature, food, and much more. Returning after a two-year hiatus due to the pandemic, artists present a fresh wave of a renewed and engaging line-up for their patrons.
India's largest multi-cultural extravaganza is now colouring the streets of South Mumbai with its artistic expression across 15 iconic venues across the precinct of Kala Ghoda in Mumbai from February 4-12.
Midday Online scoured the festival to interact with Arti Raj, a professional artist, art curator, and the founder of Udayan Art Studio. Her studio focuses on establishing art amongst the masses through art exhibitions, workshops, and talk sessions and by providing a platform for budding artists.
Art in the time of Pandemic
In a candid conversation, Arti shares that KGAF23 is a shining ray of hope for the art industry. "Many industries suffered a huge blow in 2020 when the pandemic broke out. Artists were the worst of the lot. With no avenues to display our artwork and regale art enthusiasts, we were sent indoors and our imaginations capped. Now, finally KGAF23 has returned after two long years to amp up our spirits and revitalise the arts community."
"This festival is a testament to establishing art as a medium to comment on the social, cultural, and environmental issues that plague our existence. At Kala Ghoda, we transform our ideas into a tangible form of art that is aimed at sensitising the masses over issues that people in authority choose to maintain a lull over."
On the festival's theme: Art <> Forward
Elaborating on the visual art theme of this year, Arti reveals the motto Art <> Forward, which implies how one can move forward without forgetting the glory of our past.
"This is very relevant in the current scenario as the world evolves at a lightning pace owing to technological innovations. The introduction of tech advancement acts as a double-edged sword.
"On the one hand, they provide ease and automation in our daily lives while on the other, they are damaging the environment with electronic waste, and marring society with weakening ethics and values. Hence the theme becomes a symbol of the juncture that we are in as the new world order evolves post-pandemic.
 Art in its contemporary sense has always reflected the social climate and its environs. The curators of KGAF 2023 came up with the idea to showcase Art <> Forward in its futuristic avatar with a focus on movement and progress." 
Watch: Mumbaikars throng to south Mumbai's beloved art district on day 1 of the festival
On navigating the screening as a team
Arti's team is a diverse one, each with its own area of expertise. "From the stage of concept ideation to complete execution of the project, each artist has contributed their best to the project "Art Attack". With our team's expertise in figurative art forms to abstract artwork, innovative ideas for the usage of waste products in artwork, and concept writing for digital work, we have concocted the perfect team with complementing skills. This truly helped us in the smooth execution of our project well within time. 
She found the entire selection process to be very well organised, transparent, and properly communicated. "The screening process started with a virtual meeting followed by online submission of our concept paper, presenting our concept to the curators in person, and then the final selection. The entire process of selection took around 15-20 days."
Mentation behind the installation art: "Art Attack"
"Our thought process was spurred by the growing concerns shared by artists and society at increasing acts of art vandalism in various parts of the world. To highlight some recent incidents in European countries, we saw the vandalism of Monalisa, Girl with The Pearl Earring, Sunflowers by Van Gogh, The Last Supper, Haystacks by Monet, etc. 
Although the protestors say that they believe in non-violent protest to force people to quit the production of fossil fuels, the attempted vandalism is in fact an act of violence against the culture of art. We also wanted to share a deep concern over other forms of art vandalism that happen across India in places of historic and cultural importance where we see people writing, defacing, painting, and spitting that really destroys not just a piece of art but the very culture of art. 
The art installation by Udayan Art Studio and the associated artists wanted to focus on this misguided culture of art vandalism. We believe that art is a vehicle for change and progress while remembering and learning from our past and traditional art forms. This also resonates with the theme for Kala Ghoda Art Festival - Past Forward and Art Forward. It is because of this resonance that we believe it is necessary to talk about the culture of art vandalism in all contexts and hence that is what the installation focuses on."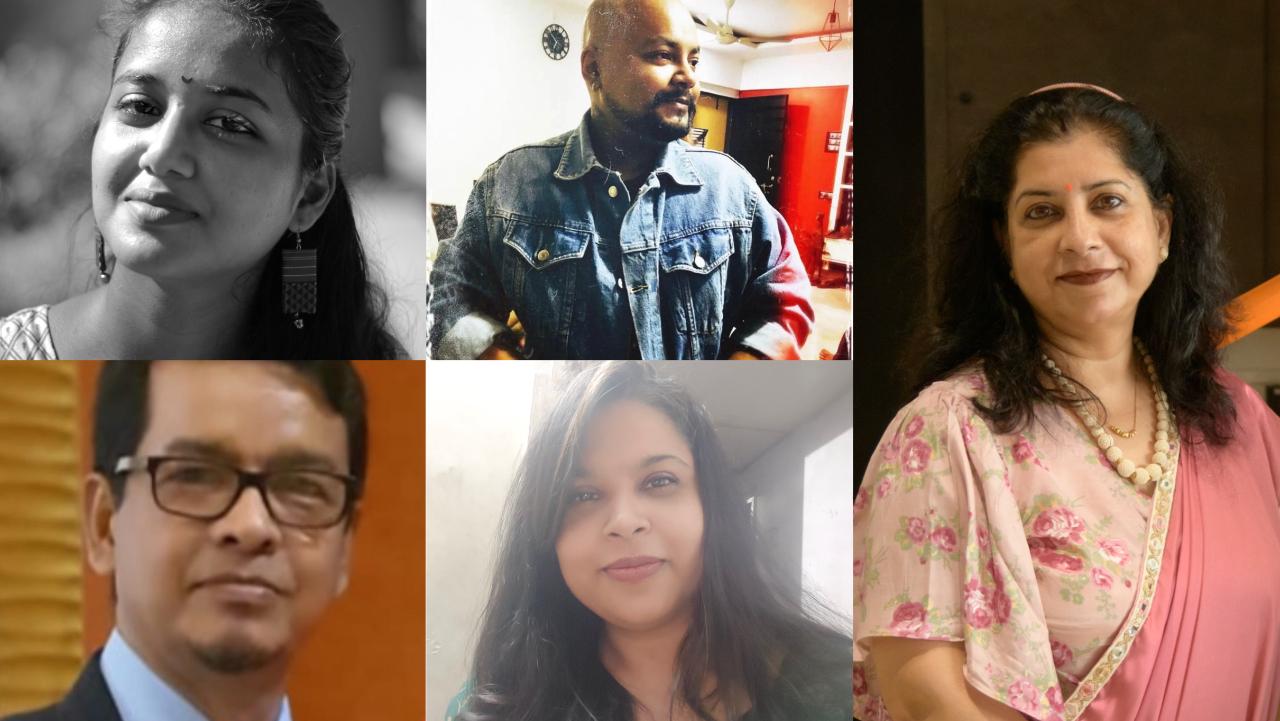 Top row: Aishwarya Parab and Spandan Nath, Bottom row: Satinath Das and Anjali Nair. Right column: Arti Raj
You can indulge in her team's installation art called "Art Attack" at Cross Maidan, near the Fort area. The installation art has been crafted by a team of 5: Anjali Nair, Aishwarya Parab, Spandan Nath, Satinath Das, and herself. 
Read More: As Kala Ghoda Arts Festival returns to Mumbai, here is a curated list of unmissable events