While the Supreme Court of India reviews petitions recognising same-sex marriage, we speak to a Bengaluru-based couple to deepen our understanding of what a queer partnership is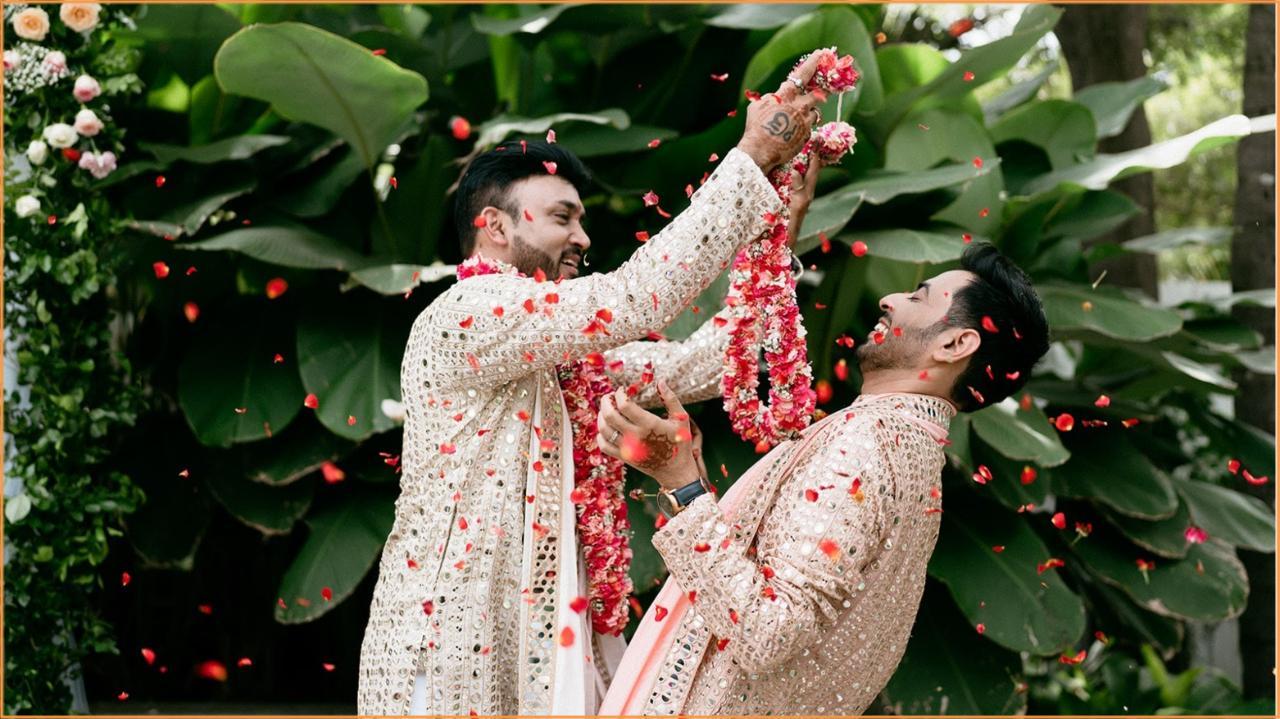 Mayank Kalra (R) and Sougata Basu(L) tied the knot in 2022 infront of their family and friends. Photo credits: Mayank Kalra and Sougata Basu
"Marriage is a magic word. And it is magic throughout the world. It has to do with our dignity as human beings, to be who we are openly," said late Edith Windsor. The LGBTQIA+ activist was a lead plaintiff in the 2013 case in the Supreme Court of the United States, which yielded a landmark win for the same-sex marriage movement across the world. A decade has passed, and millions of queer Indians are waiting for what is their fundamental right to live an authentic life with dignity as the Supreme Court of India is reviewing petitions for the recognition of same-sex marriage.
While the abolishment of section 377 in 2018 was a watershed for the Indian LGBTQIA+ rights movement, the Central government filed an affidavit stating, "Living together as partners and having sexual relationship by same sex individuals [which is decriminalised now] is not comparable with the Indian family unit concept of a husband, a wife and children which necessarily presuppose a biological man as a 'husband', a biological woman as a 'wife' and the children born out of the union between the two – who are reared by the biological man as father and the biological woman as mother."
This case—which seeks fundamental human rights—has caused much uproar, and conversation across different strata of society. To those who comment on the incomparable nature of a family unit, or cite India's rich cultural and religious traditions, might not fully understand that their prejudice and lack of wisdom impacts millions of human lives. The better question to ask would be, why do cis-gender heterosexual individuals get to debate, and decide about the lives of queer individuals who seek equality? It would be comparable to an all-men's committee making decisions about women's health, safety, and education.
It is human to be wary of what we do not know. To deepen our understanding of what a same-sex marriage in contemporary India looks like, we spoke to 33-year-old Mayank Kalra and 37-year-old Sougata Basu who have graciously offered us a glance of their lives—which remain a far-fetched reality for most Indians.
Bengaluru-based Kalra and Basu met online, and have been together for over 10.5 years. Hailing from Modinagar, and Jamshedpur, both of them weren't even seeking a long-term relationship when they met, but things moved organically, and they moved in together shortly after meeting in 2012. "We didn't put any extra effort, it was organic. Love will find you at the most unexpected corners," says Kalra coyly over the phone.
Coming out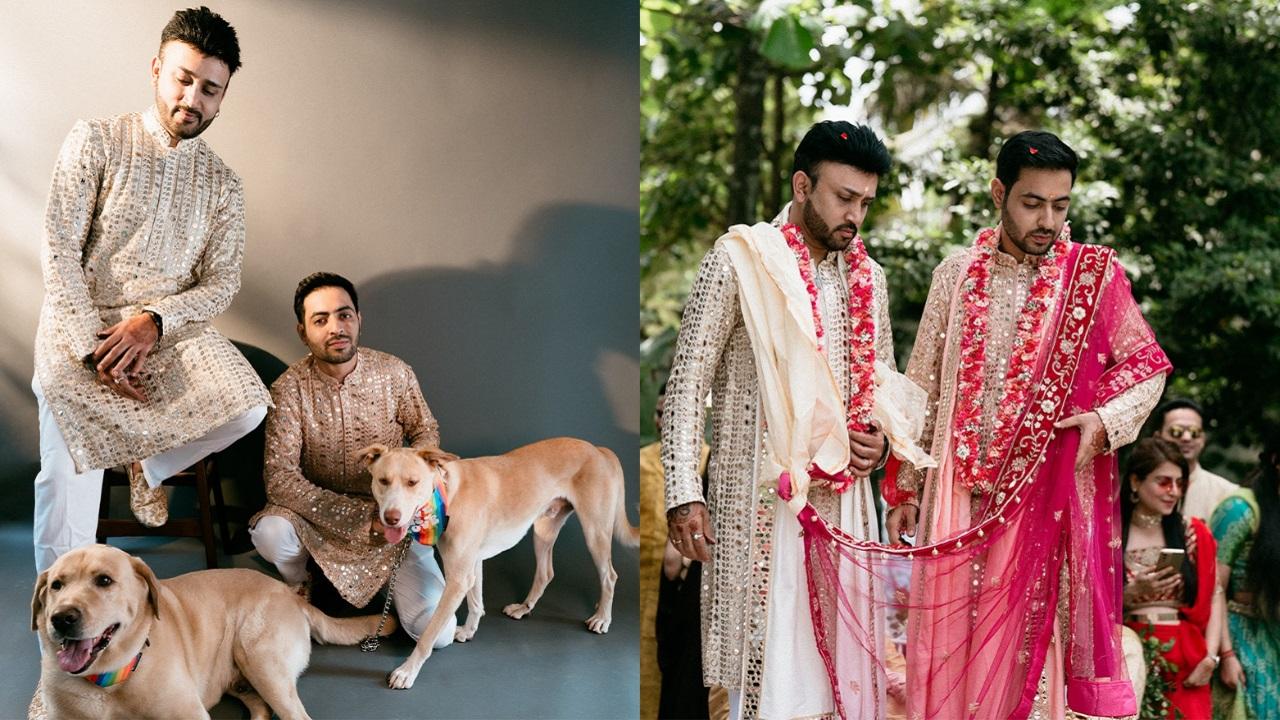 The couple with their dogs Zico and Tin-Tin on their wedding day(L), and taking pheras (R). Photo credits: Mayank Kalra and Sougata Basu

After four to five years of living together, they came out to their families who accepted them with time. Kalra says patience is critical when coming out, as the families have to manoeuvre through unknown territory, "When we come out to our parents, we need to be patient. It is an acceptance journey for them. There are some families that get into mental and physical abuse, we shouldn't let anyone harm us but if your parents are trying hard to adapt, we suggest it is best to be patient and explain it to them. Initial days might be volatile, but the dust will settle. Everybody's coming out story is unique, and there is no perfect time or way. It helps if you are financially stable."

Life after section 377
To elaborate on how laws impact lives, we asked them how their day to day lives changed post abolition of section 377, Kalra shares a simple anecdote, "When we walk hand in hand in a pub in Bengaluru today, we do not get stared at weirdly. We can be out and proud in public feeling safe, without fearing backlash. It makes us hopeful. The speed at which things are changing has been very fast. Homophobic people are now scared of expressing their opinions in public spaces, which is a reversal. Offices have become inclusive as well, they do not tolerate homophobia."
Beyond urban spaces, Basu stresses on the acute lack of representation when it comes to same-sex couples, "There is a long distance to cover, especially in smaller towns. We get a lot of messages from our followers from small towns who feel inspired looking at us, because our family is beyond their imagination."
Family ties
Today, their vibrant home echoes with the laughter of their twins, the barks of their dogs, and the chatter of their parents—all of whom live together. Theirs, like many queer families, is one created through surrogacy.
"We always wanted to become fathers, but had no idea how," shares Basu. With the support of their families, the couple welcomed their twins, Yatharv, and Saiksha in 2021. While Kalra is 'papa', and Basu is 'daddy', they admit they needed a couple of villages to raise their babies.  "We believe relationships are genderless, and based on love. Gender is born out of language not human emotion. Both grandmothers are called 'mum-mum' and 'daadi', and both grandfathers are 'daadu'. When the kids grow up, they will decide who they will call what. We are fluid. I don't think we will bring them in a way that they will associate certain traits with certain behaviour," explains Kalra.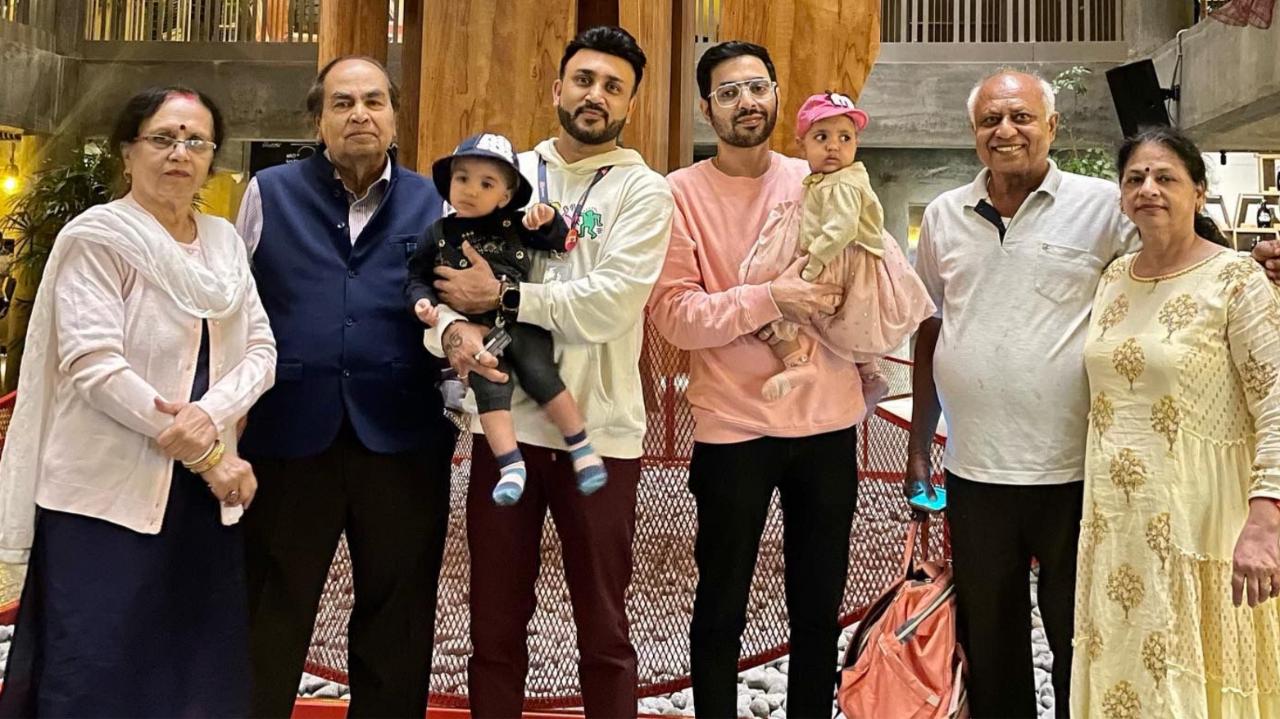 Kalra and Basu live in Bengaluru with their parents, kids, and dogs. Photo credits: Mayank Kalra and Sougata Basu
It is important to note that as per the change in Indian surrogacy laws that have come since, only married couples where one of them is medically infertile can opt for surrogacy. "Law is depriving people of being parents. I believe there can be different ways to address concerns, perhaps by making laws stringent instead of outlawing it. It's as if curfews are imposed if the police are unable to maintain law and order in the city," poses Basu. 
Tying the knot
Much like their journey to parenthood, marriage is what Kalra and Basu both deeply yearned for but never allowed themselves to dream of. "We always wanted to get married in front of our family and friends, we could never imagine that could happen because it wasn't allowed," admits Basu. After years of being together, and building a family, the pandemic made the couple dwell on the fragility of life which pushed them to take the plunge. On the day of their twins' first birthday, Kalra and Basu got married ceremoniously in 2022.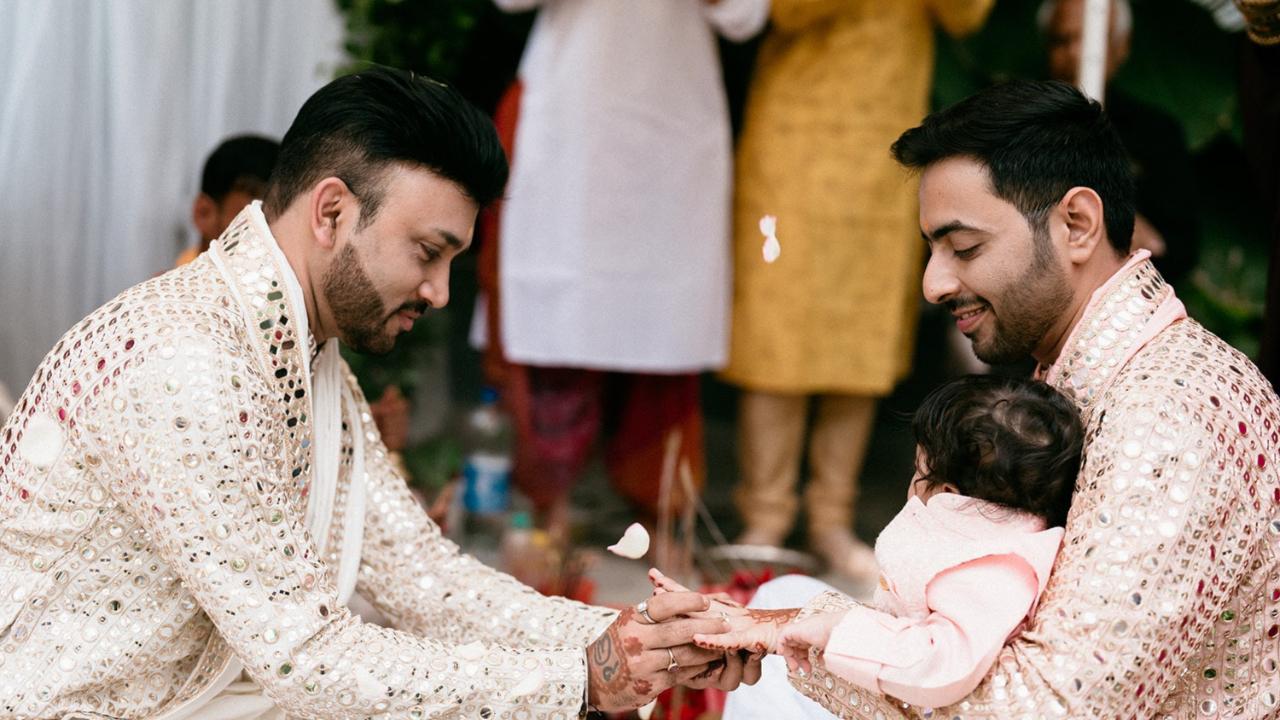 After being together for over a decade, the couple decided the tie the knot on the first birthday of their twins. Photo credits: Mayank Kalra and Sougata Basu
"We have no fixed gender roles in our relationship. We have never even thought of it, we both work, take care of the house, and share responsibilities. We complement each other, but as a couple we never take efforts for granted," says Kalra gleefully. The couple ditched the kanyadaan ceremony, and even applied a bit of sindoor on each other's foreheads.  
"We are often told, we are more of a couple than many straight couples when it comes to how our family functions in a loving environment. As a couple, we want a right to property, financial, health decisions. We want the same rights as a cis-heterosexual couple. It is painful that we are still not legally recognised," says Kalra.
When asked about their worries surrounding non-recognition of their marriage, Basu says, "We will have to empower our kids, who will have to face this question, to face difficult situations regarding our different family. We believe if our intentions and efforts are honest, things will fall in place."
It is their conscious effort towards improving visibility for different types of families which has led them to share their intimate stories. "Visibility is the first step to normalisation, as the community has been marginalised for far too long. To hide for survival is not easy, and we believe now is the time for us to come out, command and demand the respect we have always deserved," adds Kalra.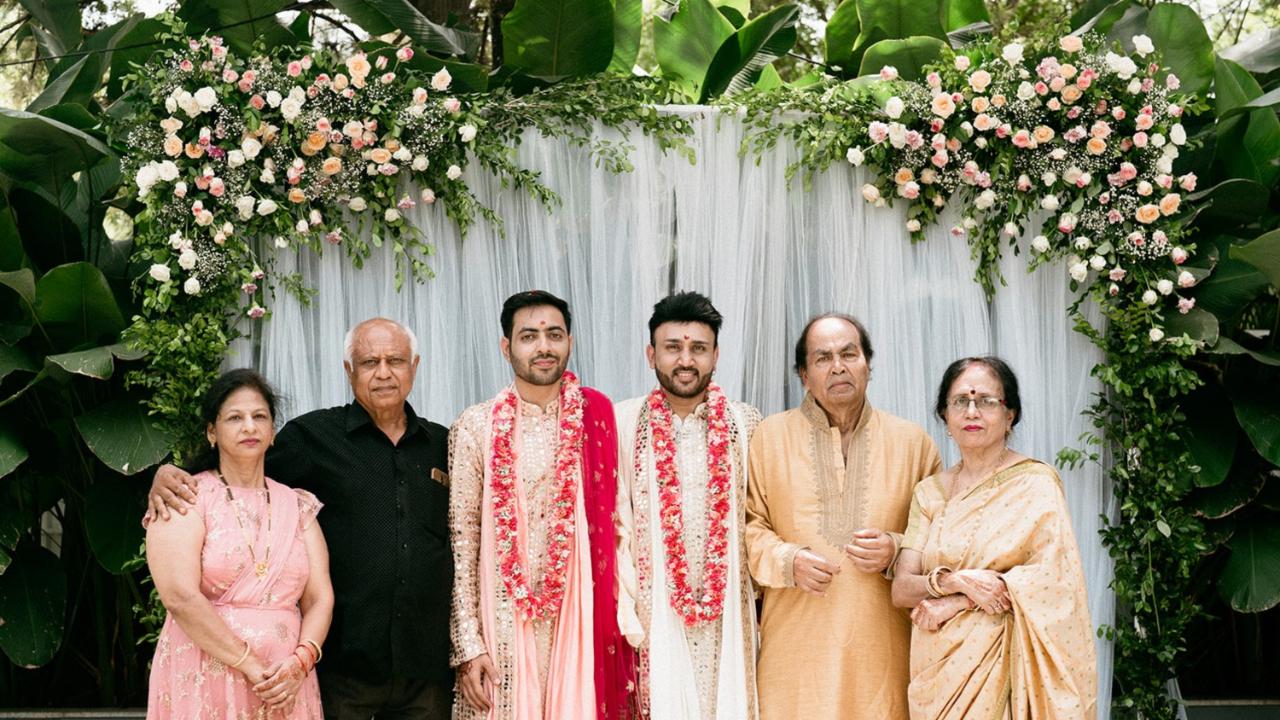 Kalra and Basu pose with their parents after the wedding. Photo credits: Mayank Kalra and Sougata Basu
They both conclude the interview by saying, "We don't hate those who are different from us. We are all the same—be it cis-het or queer individuals. God has made us all equal. Our family has love, trust, faith—and we even have grandparents—just like any other family in your neighbourhood. We hope that laws are changed for the better."

Also Read: Celebrating queer love: Together, against all odds