In a very engaging first session on the second day of Jaipur Literature Festival 2023, Sudha Murty dived into her learnings, how she broke the glass ceiling by being the first female engineer in her college, and why her daughter Akshata is her guru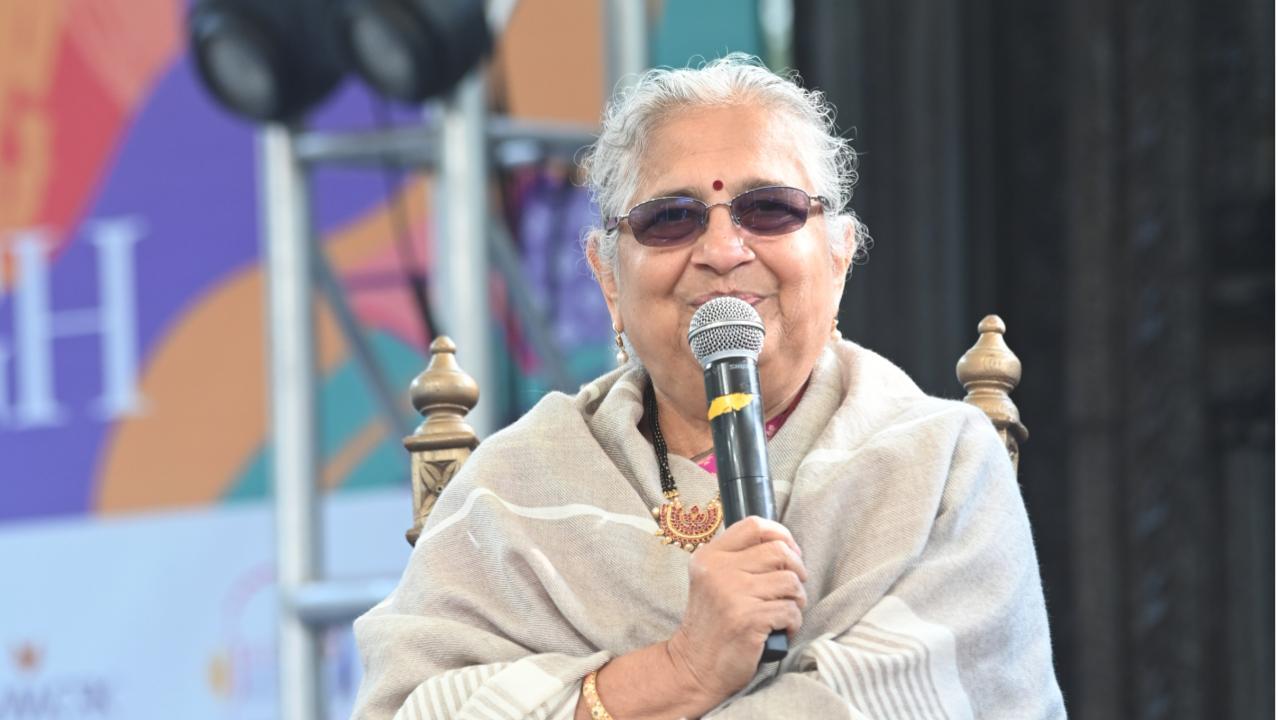 Sudha Murty delved into her life growing up and how she pursued engineering even when many in her family weren't okay with it during the session 'My Books And Beliefs' with Mandira Nayar. Photo Courtesy: Jaipur Literature Festival 2023
In a session full of laughter and wisecracks, Indian children's book author Sudha Murty conducted the crowd like a teacher in a classroom during her session 'My Books And Beliefs' with Mandira Nayar. It was one of others that got Day 2 of the Jaipur Literature Festival 2023 off to a refreshing start. While sharing her wise words with the audience that included not only children but also parents and other young adults, she narrated several instances of how she learned from her daughter. One of which involved helping a talented individual but did not make her get into action the first time she heard it.
At the time, Murty's daughter Akshata, who was 15 years old, reminded the author about her privilege. Murty narrates, "My daughter said if you don't want to do social service, don't expect anyone to do it. She was upset about it and went away." However, her daughter's words troubled her as she went for a university meeting. Since it was delayed, Murty had some time to ponder over her words and realised quite a lot. She explains, "My daughter had asked me, 'What's your aim in life?' The first 25 years I had worked for myself to get the first rank because I wanted to show in engineering college that girls are as good as or even better than boys. I joined engineering college 55 years ago and there was not a single lady." Over the next two decades after that, Murty says she did different jobs without a salary at Infosys with Narayan Murthy, her husband and founder of the company.
ADVERTISEMENT
After she let go of her responsibilities at the technology company, she had a lot to ponder about. "So, what do I look forward to in life? I thought about it for three days and then started my foundation. So, my daughter is my guru. She woke me up and said 'Amma, what is your duty? And that duty has given me tremendous fulfilment in life." One that she says could never be given by any awards, rewards or even the Padma Shri that she was awarded by the Government of India in 2006. "The reward or joy from helping poor people has given me tremendous satisfaction. Thank you to my daughter Akshata for waking me up and asking me the question," she adds. It is also the reason why the Indian educator and philanthropist says she often tells mothers that their children are smarter than them and the parents can take a cue from them that could change their life. 
Interestingly, Murty's learnings come from years of dealing with different kinds of situations, and one that seems to have had a competitive streak where she went against her family's wishes to pursue engineering. A time in her life she explains, after a prod by Mandira Nayar. She says, "I finished my pre-university in 1967 and I got very good marks," continuing to joke by saying she was born in a good time because there wasn't too much competition.
She explains, "I come from a small town in northern Karnataka where people thought a woman can't become an engineer and that something was wrong with my brain and said it is a man's domain. When I said I like Applied Science, there was so much of a shock in my house in Hubbali. My father was a doctor and said if you speak well, you connect with people, you will be a good lady doctor. My grandfather said you are very fond of history, you can do History and a PhD and be a teacher, he said 'ras' nahi hai engineering main."
It was not only her father and grandfather but also her grandmother who had concerns, but those that were different from them. "She said who will marry me in my community, but she didn't know across the river existed Narayan Murthy," she shares. On the other hand, her mother who was a school teacher had said she could do MSc (Master in Science) in Mathematics and become a professor. She adds, "She said that will be accepted and you will get three months holiday and you can look after the family but I said no, I want to do engineering because any change in society is with the help of applied science." Murthy not only went on to get the first rank in the first semester but also helped the boys in their assignments in the future at the university. "Knowledge is not anybody's domain; it is not a boy's domain or a girl's domain. It is the domain of the people who study with honesty," she reminds.   

Also Read: Chitra Banerjee Divakaruni: Feisty women seem to arouse controversy
"Exciting news! Mid-day is now on WhatsApp Channels

Subscribe today by clicking the link and stay updated with the latest news!"
Click here!