Speaking during a session at the Jaipur Literature, the Indian politician delved into what inspired him to write 'Ambedkar: A Life' and how he sees him as an icon today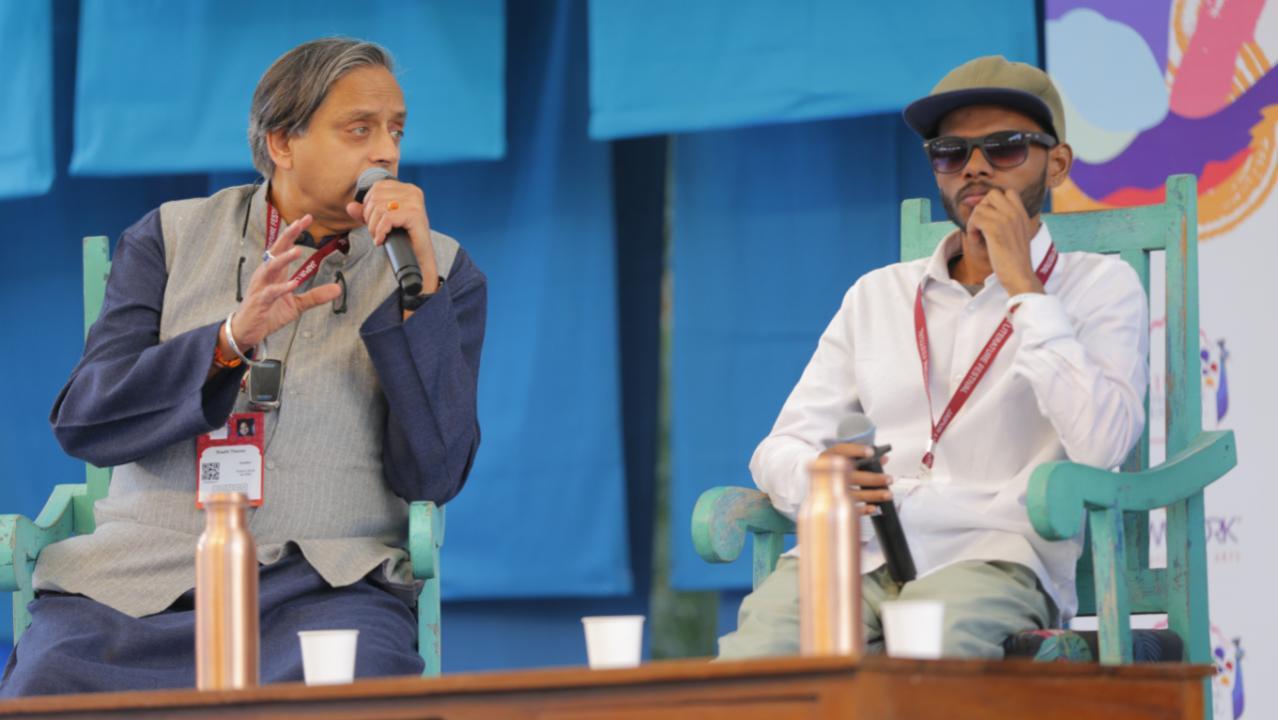 Shashi Tharoor and Sumit Samos during the session 'Dr Ambedkar: Life and Times' at the Jaipur Literature Festival 2023. Photo Courtesy: Jaipur Literature Festival 2023
The Jaipur Literature Festival 2023 got underway in the Pink City at Hotel Clarks Amer for its 16th edition earlier on Thursday. The day started on a powerful note with a keynote address from Nobel laureate Abdulrazak Gurnah on 'writing as a form of resistance' and carried on to many interesting topics including one session that had Shashi Tharoor and Sumit Samos discuss 'Dr Ambedkar: Life and Times' with Pragya Tiwari. It comes months after both Tharoor and Samos have written books about Ambedkar, with 'Ambedkar: A Life' and 'Affairs of Caste' respectively in 2022. Both the authors shared their extremely unique understanding of the Indian social reformer and jurist, who inspired the Dalit Buddhist movement.
Talking about the inspiration behind his autobiography, Tharoor said there were two things particularly that struck him when he was contemplating starting to work on the project. "The Indian that had the most statues to him around the country is Dr Baba Ambedkar. There is a debate that it must have been Mahatma Gandhi, but journalists travelling around the country said that every village at least has a bust of Ambedkar." For Tharoor, this was extraordinary at many levels because for the Indian economist and social reformer, in his own lifetime, it was unthinkable. "He was somebody who was controversial, lost more elections that he won, was frequently attacked in his own lifetime and that such a figure has become an unchallengeable icon with every party trying to lay claim to some aspect of his life," he adds.
Like many others in the country, Tharoor revealed admiration for Ambedkar and one that develops the more one reads about him, for his intellect and his strikingly original mind. "He had gone through hell and faced awful discrimination and humiliation at various stages of his childhood and youth and to rise above that in a series of distinctions that people born to a life of privilege have come close to," he explains, continuing, "He is a gentleman whose life definitely takes your breath away and is worth knowing about." 
Feminism, constitution and politics
It was not only the aspect of Ambedkar's intellect and aura but also his speeches that made Tharoor believe that Ambedkar was a feminist way ahead of his time. He shares, "It is really striking to hear Ambedkar's speeches to the female audiences in the 1930s and 40s and you are hearing a voice that would be considered very progressive in 21st century India. He tells women, don't marry early, don't let your parents push you into marriage, when you do get married, stand up to your husbands and you are not just there to serve them, make sure you are not coerced into having too many children too early, you should have control of the children you have." A case in point being when Ambedkar tried to introduce a bill in the Mumbai legislature to promote birth control for women, and the idea was shot down by the conservatives. It is only one among other instances of his actions to bring about change.
When one talks about Ambedkar, it is hard not to talk about his contribution to the country's law and politics too. So, Tharoor when asked about his view on the influence of Ambedkar on laws of the constitution and the politics of the country said it was notably considerable. "Ambedkar struck an extraordinary balance between standing up for the rights of his oppressed community on one hand and insisting on individual agency and autonomy for the citizens on the other." He went on to add that while the British saw Indians as a collection of different groups of people, and ruled us that way, the Constitution shifts India away from that kind of thinking into a land of individual citizens with their own rights and that every adult had a right to cast their own vote. Secondly, as Sumit Samos pointed out liberty, equality and fraternity, the Indian politician said it was particularly equality and fraternity he emphasised on more. On his contribution of reservation for Dalits and scheduled tribes, he shared, "His argument was that it was the only way to undo millennia of discrimination and injustice so you are needed to guarantee access to opportunity but guarantee outcome. So, you reserve seats and that has now become universal."

Also See: IN PHOTOS: Jaipur Literature Festival 2023 gets underway in the Pink City