India's largest multi-cultural extravaganza is back on-ground with 14 verticals and more than 15 iconic venues across the precinct of Kala Ghoda in Mumbai from February 4-12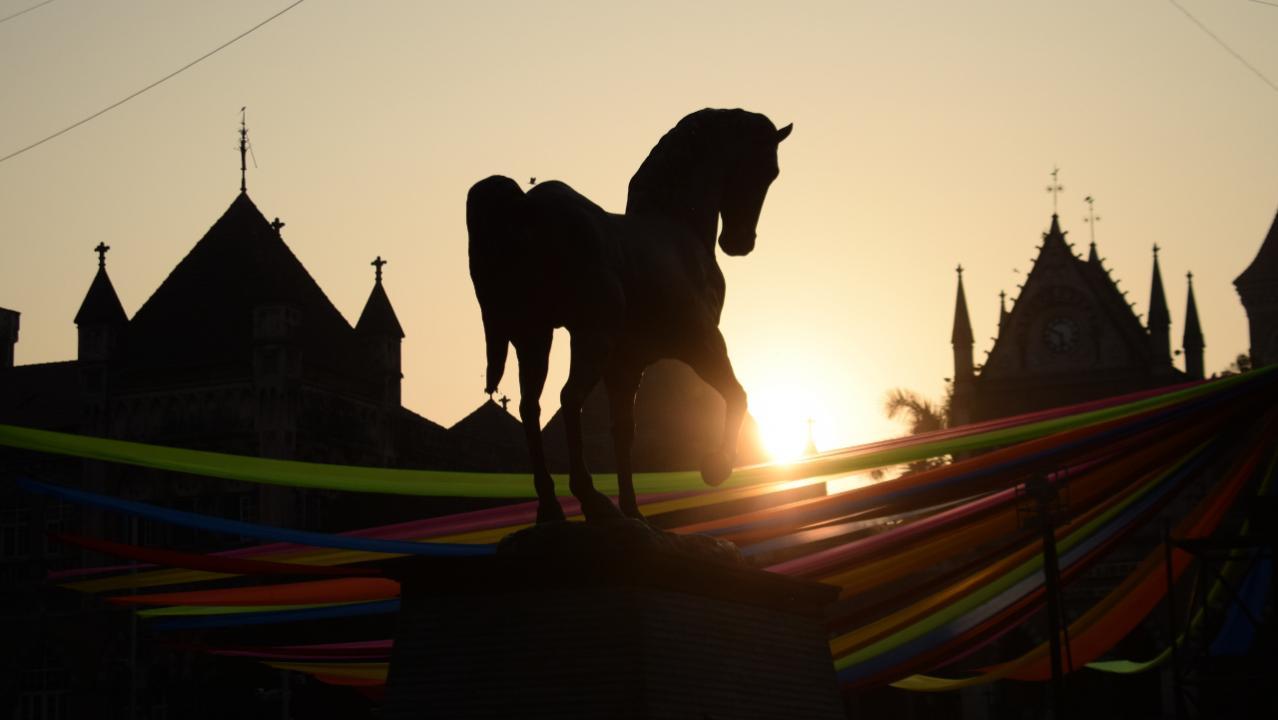 The wait is over! Make the most of your weekend with Kala Ghoda Arts Festival 2023. Pic/Kala Ghoda
The highly-awaited annual Kala Ghoda Arts Festival is ready to take over the streets of Mumbai from tomorrow till February 12 this year. Uniquely themed Past <> Forward, the festival will host a myriad of programmes across 14 verticals – Dance, Music, Visual Arts, Theatre, Literature, Food, Children's Literature & Workshops, Cinema, Heritage Walks, Stand Up Comedy, Street Art, Urban Design & Architecture, Visual Arts and Workshops – at more than 15 iconic venues.
The venues for this year's festival include K Dubash Marg or Rampart Row, Chhatrapati Shivaji Maharaj Vastu Sagrahalay, YB Chavan Centre, Cross Maidan, Cooperage Bandstand, National Gallery of Modern Art, Max Mueller Bhavan, Kitab Khana, IF.BE, Ministry of New, Café Knead, Smoke House Deli, Sequel, Ideal Corner, Blue Tokai, and I45 Kalaghoda, to name a few.
Speaking about the festival, Brinda Miller, Hon Chairperson – Kala Ghoda Association shared, "The Kala Ghoda Arts Festival is a vibrant example of what can be achieved through community collaboration. It is a festival for the people and by the people. We are very excited that the city's beloved festival will be back on the ground after a gap of two years. Much has changed in this time, and our theme Past <> Forward is an ode to our legacy of 22 years while designing a festival of the future.
"It is indicative of the gradual emergence from a period of inactivity to an era heralding positivity, change, and progress. Each year, individuals and enterprises across the country come together to make this celebration possible, and this year is no different. The festival, every year, helps the Kala Ghoda Association raise funds for their year-round restoration projects that are carried out across the precinct. We have some very exciting partners who have come on board this year to support the festival, and we are grateful to every one of them for their contribution to setting the Kala Ghoda off on a canter once again."
Watch: Kala Ghoda 2023: Mumbaikars throng to south Mumbai's beloved art district on day 1 of the festival
The Kala Ghoda Arts Festival is hosted by the Kala Ghoda Association which was formed in 1998 with the aim of maintaining and preserving the heritage of the Kala Ghoda area – South Mumbai's beloved art district. The Kala Ghoda district is renowned for its rich concentration of heritage buildings, art, and cultural spaces, such as museums, art galleries, boutiques, restaurants, and educational institutions.
The precinct attracts food connoisseurs, fashion designers, and architecture enthusiasts among a host of creative talent. The constant bustle of heritage aficionados is an ode to the rich legacy of the precinct. With the aim of promoting arts, crafts, and cultural heritage in the precinct, all funds raised from the Festival every year are directed towards the restoration efforts undertaken by the Association in the precinct.
Read More: Top nine things to do at Kala Ghoda Arts Festival in Mumbai