If you are looking to attend a gig this weekend, there are a plenty happening in the city. However, if you want to avoid the crowd, then head to this intimate gig happening in a house this weekend and there is no fixed entry fee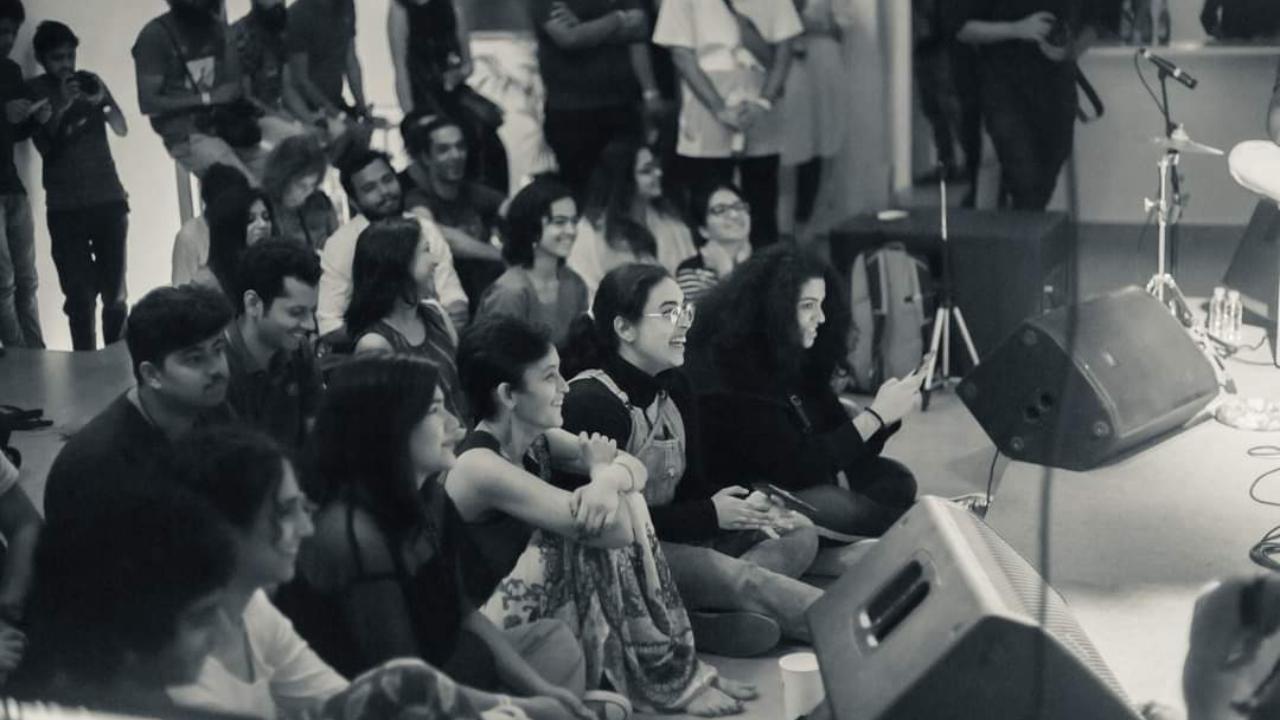 The house gig in Andheri is only one of two gigs organised by Little Sounds in June, with the second one scheduled on June 18 later this month. Photo Courtesy: Tell-A-Tale studio
If you have been looking for something to do in Mumbai, there are so many different kinds of gigs to attend. Especially because open mic nights have opened up a whole new different world that not only includes comedy but also music and poetry. Interestingly, it isn't limited to that because the number of intimate music gigs also have been growing, with different properties curating a wide variety of performances. These not only promote popular musicians but also lesser-known good musicians in the city, who definitely deserve the stage. And, Little Sounds happens to be one of them. 
It was started in 2018 by Mumbaikar Romel Dias, who is currently based in Bengaluru, with a former business partner. Over the years, the intimate gigs have been conducted in different venues including yoga studios and the basements of technology institutes in the city – those that aren't traditionally associated with a performance space. The gigs aren't even limited to the popular hubs for such gigs and can happen literally anywhere in the city – from Thane to Mira Road too. This weekend they have one that is happening in a house in Andheri. This will be only the second gig since Little Sounds relaunched after the Covid-19 pandemic played spoil sport. "We relaunched and had our first gig on April 28. The main gigs will be happening once a month, but we also have house gigs," Dias explains. 
ADVERTISEMENT
The intimate gig as Dias, who runs a digital agency, calls it, will see some of India's upcoming musicians, one that Dias is glad about, perform at Dafney Productions, theatre and photo studio. The night will see Bengaluru-based soul and hip-hop artist Lojal take to the stage followed by Mumbai-based Anisha Lakhsmanan, better known by her stage name, Niche. They will be performing for a small crowd. "It is not more than 30 people and we do not have entry fee because we follow a pay-as-you-like model," he shares, adding, "It is so that it is accessible. I remember we had a gig and there was an artist called Shubham, who came in and there were students who travelled from town for the gig. Together, they put only Rs 100, but you could see how much they liked the experience." 
Ever since they started out, Dias says they have had some good following of musicians who come for most of their gigs. "There are some who come even if they don't know who is performing on the night because they trust the curation," he says happily. Interestingly, while both the musicians have performed in bigger settings, this one is going to be different. Set in a house in Andheri, it is unlike your usual large festival setting which sees thousands of people and if that is something that you like, then it is definitely going to be a soulful and musical night. 
Date: June 10 
Time: 8 pm onwards
Location: Dafney Productions, Andheri West