Nowruz is famously celebrated in Iran and South Asia but it is just as special to the Persian-speaking countries of Central Asia. From 'haft mewa' to family picnics, Afghan refugees and students in India reminisce about their New Year traditions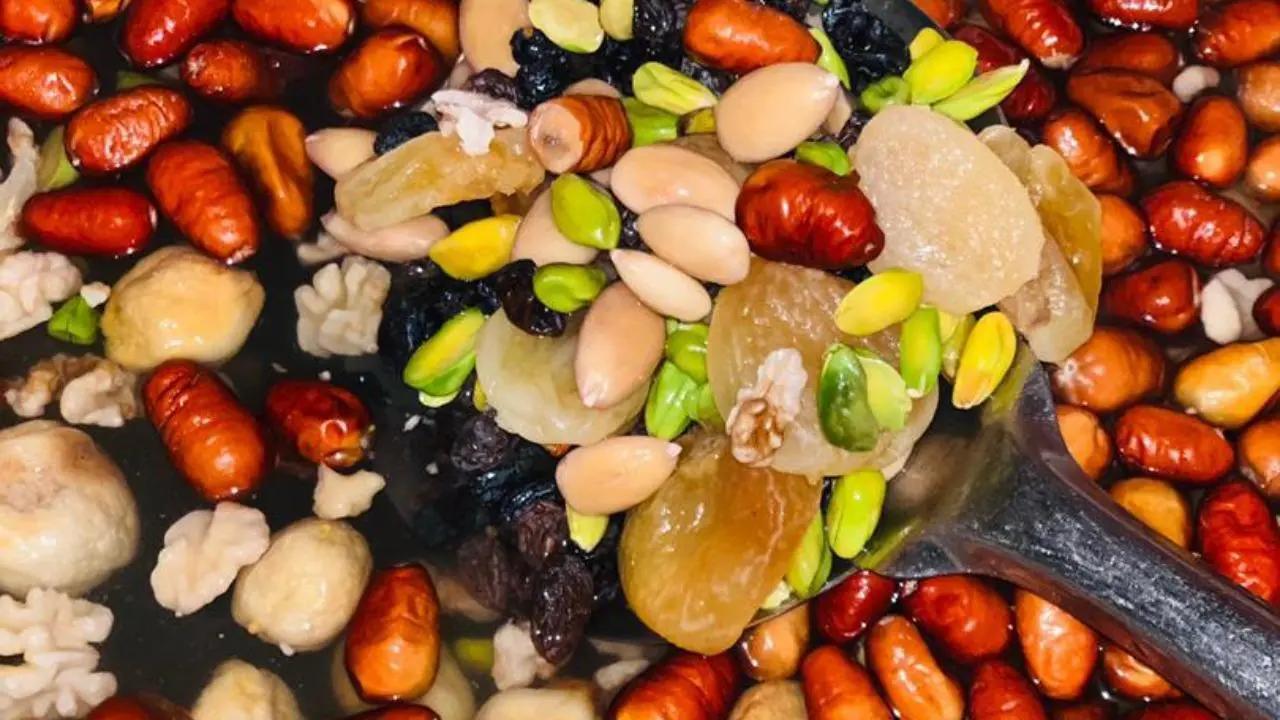 'Haft mewa', a drink featuring seven dried fruits and nuts, replaces chai on Nowruz for Aghans. Large quantities are made two days before the festival. Photo courtesy: Nasir Ahmed
The kishmish tastes different in India. For Nowruz, Shabnam Haidari's family usually shops at Khari Baoli in Old Dilli, where many Punjabi traders stock fruits and spices from Afghanistan, yet the raisins are nothing like the plump, diabetically saccharine ones she remembers savouring back in Kabul. Kishmish is often the only sweetener required for haft mewa — a medley of seven dried fruits and nuts including apricots, sultanas, walnuts, almonds, pistachios and Persian olives that are rehydrated in a vat of water — which forms the centrepiece of the Afghan New Year celebration. "We have to add extra sugar now. It is a bit bland otherwise," says the 23-year-old, who moved here in 2015.
Away from home, for refugees like Haidari, festivals can seem less flavourful. "We are physically here but emotionally in Afghanistan," says Jamil Batoor, who completed his Masters in Public Administration from a Pune university last year. He has not been able to return to his family after the Taliban seized power as US troops withdrew in August 2021. Festivities were muted even in Afghanistan this year, as the new regime cancelled the public holiday but said it would not stop people from observing the occasion.
Nowruz, usually falling on March 21, marks the start of spring and the beginning of the Solar Hijri calendar. An ancient festival with Zoroastrian origins, it is celebrated by much of the Persian-speaking world including Iran, Central Asia and parts of South Asia. Afghanistan is no exception. Although conservative clerics express objections to the tradition calling it un-Islamic, that has rarely prevented Afghans from buying new clothes, sharing sweets with relatives, and setting off on customary picnics.
Nature and nourishment
By all accounts, Mazar-i Sharif in Balkh, the birthplace of Jalaluddin Rumi, is the destination many Afghans head to on Nowruz. For its famous Blue Mosque decorated with blue balloons on the day and for its plains and hills covered in tulips this time of year. In India, visits to local sites with family and friends are common. Hamed Atayi, an MBA student from Pune, travelled to Pawna lake and Mahabaleshwar hills last New Year but had to defer the vacation this time because of exams. "It is difficult. I am thinking of home but I have to study. In student life, it is also hard to access things so I have to go without a sofreh (traditional table setting)," he says.
His family must be busy making the samanak, Atayi guesses, speaking on the eve of Nowruz. That rich brown pudding is cooked out of flour and wheat sprouts, sown in drums 10 days earlier, which are stirred patiently over a flame late into the night by the women of the house. "The men help too."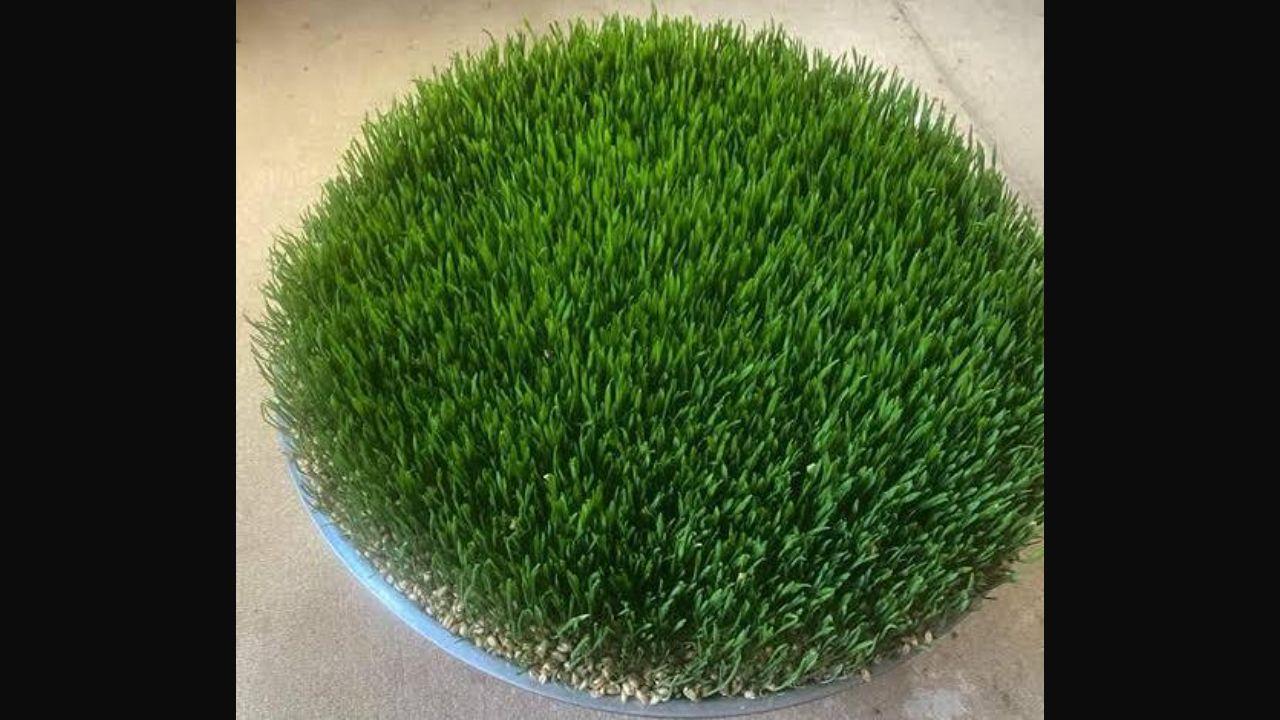 Wheat sprouts are grown for 7-10 days and cooked down with flour to make the Nowruz special 'samanak'. Photo courtesy: Nasir Ahmed
Haidari used her Holi day off to tidy the house, scrub the carpet and dust the furniture. No matter how small the celebration, haft mewa is a must. "It is nazr (commitment). On Nowruz day, no one drinks chai. Only this," she says, of the dried fruit steeped in a tightly-covered bowl, only to be opened on the morning of the festival. She picked up all her Hindi from watching Bollywood movies in Pakistan, where her family moved for some years in the early 2000s during the previous Taliban rule. After arriving in India at 17, she worked in a beauty parlour before joining 'Silawali', a social enterprise that sells upcycled handicrafts to support Afghan women, in 2019.
The young woman indulged in two new outfits this year: a heavy Afghan kuchi dress with six-metres-of-fabric pyjamas, and a lighter salwar kameez for going out in the hot weather.
On Nowruz, a prayer for Afghanistan
Some estimates, released by the head of the Afghan asylum-seeking community in August 2021, said there were 21,000 Afghan refugees in India. During the same time, there were about 14,000 Afghan students in the country. India is an intermediate point for many, until they can get to work or study in Europe or North America. While there is relative safety here, there is not yet a sense of belonging or openness. Both Batoor and Atayi cautiously requested that we use changed names.
"I wish for my country to have a type of government that works for the people and not one that restricts basic human rights," notes Batoor, who is aspiring to do his PhD in India. He spent Nowruz with fellow revellers from Iran and Tajikistan, sharing food over poetry and making a video for his YouTube channel. He states his hopes simply: "I want it to be like other countries. Peaceful, rich and happy. Without electricity and internet problems."
Saving enough for further education, a house and a car is the dream she hopes to inch closer to every year. "We are always hanging in the middle. Work, pay rent, work, pay bills. Life has not started," says Haidari, who would like to move to Canada someday, if not back to Afghanistan. As she spoke the night before Nowruz, Haidari's father, a chef who is between jobs now, was marinating meat for kebabs. These were to be enjoyed in a picnic lunch with rice, Afghani roti, salad, fruits and soft drinks. "We will do gupshup at the park and post Insta Stories."
Every Nowruz, the Afghan immigrant community is put in mind of the people and places they left behind. But, the festival also provides moments that help them forget.