Despite the fact that June is recognised as Pride Month, the need for allyship goes beyond posts on social media sites during a single month. LGBTQIA+ individuals and a certified queer mental health practitioner share the value of allyship and what people can do to be better allies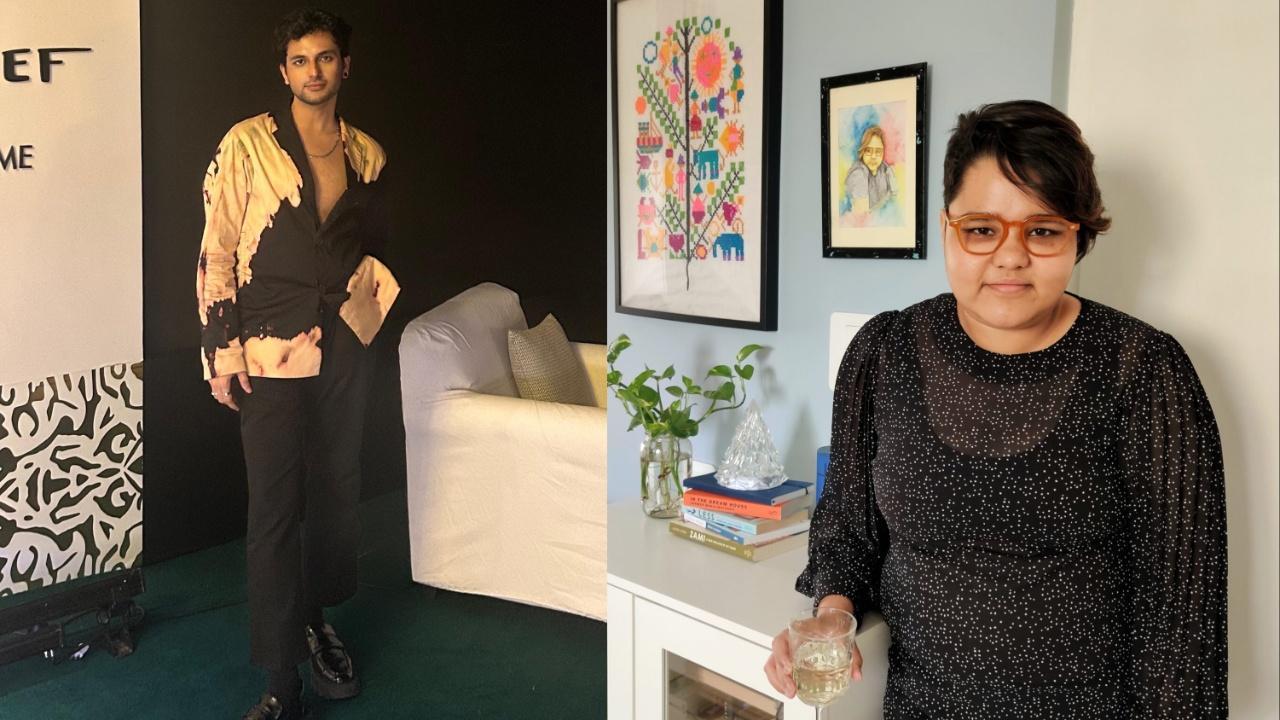 Beauty creator Suunny Pandey (L), and author K Vaishali (R) on the criticality of allyship, and how can people go beyond performative, and become better allies. Photo courtesy: Suunny Pandey/K Vaishali
Being an ally refers to an individual from a non-marginalised group who uses their privilege to lend support and advocate for a marginalised group. For example, allyship could be a cis-gender man advocating for equal rights for women. It can be a strategic mechanism used by the non-marginalised to promote equity and fight discrimination through supportive personal relationships as well as public acts of sponsorship and advocacy.
Whether it is in-person or online, being an ally equates to lending explicit support. While marginalised communities have found solace and support within virtual spaces, it is also the platform where performative allyship has the strongest presence. What is often a marketing gimmick, or a self-promotion post for many, ends up stifling attempts to foster genuine efforts of creating inclusive spaces and environments. In this age of social media, performative allyship has become a problematic issue, especially during events such as Pride Month. Organisations, and privileged individuals pretending to lend solidarity to the marginalised LGBTQIA+ community ends up doing more harm than good. Instead of actually transferring the benefits of their privilege, performative allyship maintains the status quo, and makes no attempt to change processes that support structural discrimination.
ADVERTISEMENT
To better understand what allyship means to LGBTQIA+ and how can you become a better ally — all year round, we spoke to queer individuals who share lived experiences and a certified queer affirmative mental health practitioner who lists actionable initiatives.
Suunny Pandey (he/him)
Beauty creator
Beauty creator Suunny Pandey has been creating waves on Instagram with his fashionable content. Recipient of numerous awards, the Mumbai-native who identifies as a cis-gay man is often at the receiving end of queerphobic comments and bullying. "Identifying as a queer person, I have encountered hurtful comments, derogatory slurs and exclusionary behaviour from faceless profiles. Of course, it sits with me for a while but I get over it as they don't define me," shares the 25-year-old.
He further elaborates upon the kind of hateful messages he receives. "There are still many people out there who don't even understand the difference between transgender individuals and gays. They don't understand the freedom of expression through beauty and fashion; they are so hard-wired that anything outside the heteronormative norms is a good enough reason for them to feel threatened and use verbal violence to express their thoughts."
All isn't lost on social media platforms, Pandey says, "Social media provides a virtual safe haven where you can openly express your identity and connect with like-minded individuals who understand your journey intimately. These platforms are a tool for creating solidarity, fostering a sense of belonging and developing a robust support system."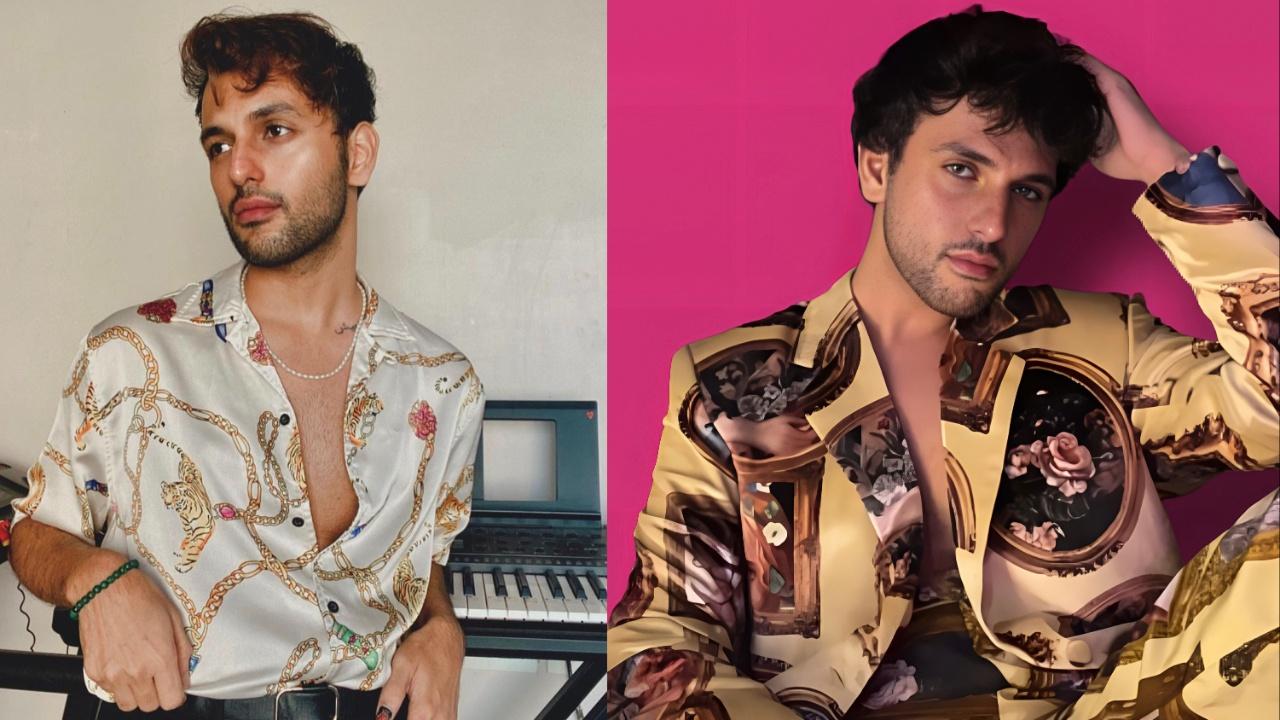 Suunny Pandey receives a ton of unpleasant messages  on his Instagram, but he has also found a community that he connects with, and is deeply grateful to them. Photo courtesy: Suunny Pandey
Solidarity is the essence of allyship — the importance of which cannot be overstated in the LGBTQIA+ movement. "Being an ally means having our backs and standing up for us, recognising that we face unique challenges and actively supporting us in our fight for equality and acceptance. Just like how you can't overlook a road kill, you can't overlook a joke on queer individuals in any form - in person, social media and even in movies or shows portraying LGBTQIA+ persons in a stereotypical limp-wristed way," says the content creator.
Pandey sees the hollowness of performative allyship when he says that being an ally to the LGBTQIA+ community is an ongoing process that involves education, empathy and action that goes beyond just sharing a post on social media."
When asked what can cis-gender heterosexuals do to become better allies, he says, "Gender identity and pronouns are fundamental aspects of a person's identity. Respect and use the pronouns individuals specify for themselves. It is important to speak up against homophobia, transphobia and any form of discrimination or hate speech. Address offensive jokes or derogatory comments when you encounter them, even in casual conversations."
K Vaishali (she/her)
Author, diversity and inclusion expert
Author, diversity and inclusion expert, and podcaster, K Vaishali has spent years curating, hosting and speaking at events aimed at spreading awareness about the LGBTQIA+ community. Her latest book, Homeless: Growing up Dyslexic and Lesbian in India (Yoda Press and Simon & Schuster, 2023) is a memoir of her experiences as a neurodiverse queer individual. The book speaks of extreme isolation, lack of familial support and discrimination she is subjected to.
As a doubly marginalised person, the criticality of allyship runs deeper in her Vaishali's life. "When I was deliberating whether I want to come out of the closet or not, the most important thing for me was to know who will stand with me and fight for me, because as queer individuals, we have to constantly fight and negotiate for basic human rights and it's great to have allies advocating for us," the 29-year-old says.
Allyship for Vaishali is an active show of support through action and reaction; action in support of the LGBTQIA+ community and their human rights and reaction against the hate, violence and discrimination queer persons are subjected to. She insists, "Those who find allies in their family, friends and surroundings have a greater chance of surviving through their adolescence to adulthood. For queer individuals, having allies on their side can sometimes even be a matter of life or death."
As the conversation around marriage equality continues to make headlines, Vaishali poses, "We need our allies now more than ever, as more and more homophobic people are coming out of the woodwork to voice their biases and unfounded claims against the LGBTQIA+ community in India particularly during the recent marriage equality hearing in the Supreme Court."
When asked what kind of actions cis-gender heterosexual individuals can undertake on an individual level to create more inclusive dialogue and spaces, she says, "We can start by not assuming anyone is an able, cis-gender heterosexual person even if they look able, cis-gender or heterosexual. We must also examine our lives to see if it reflects the diversity of our regions. Whether this is in the friends we have, the books we read, or who we work with. It helps to intentionally add more diversity to our company. Once we create diverse groups, we must create safe spaces by celebrating differences, building trust and giving everyone a voice to express their thoughts and needs."
She concludes by reiterating the importance of informing oneself, "We can be better allies by educating ourselves by listening to the lived experiences of those with disabilities and those who are queer to understand the different difficulties they face in everyday life. It's also very important that we create spaces that are inclusive by default and not as an afterthought."
What can cis-het people do on an individual level to create inclusive spaces?
Allies can be important voices in creating a safe and secure place while also challenging systems that rely on binaries as the only way to operate, according to psychotherapist and neuropsychologist, Vishwa Modi. She acts as chief psychologist and supervisor at The Mood Space and is certified in queer affirmative counselling practice. Modi echoes the sentiment of solidarity and says, "Allyship emphasises the significance of trust and support for the LGBTQIA+ community. It is not about walking for them but more about walking with them."
The mental health expert lists everyday actions cis-gender heterosexual persons can do to create more inclusive conversations and spaces:
Not subscribing to cis-gender heteronormativity
This includes not assuming what someone's gender or sexual identity is based on. Ask the person about their preferred pronouns and discourage use of gender-biased terminology. When it comes to stereotypes, clothing, make-up and hobbies, they are all gender neutral and hence do not fall under the binary.
Inform yourself
As an ally, you will come across multiple instances when your biases are challenged. Continue to seek information through reliable sources and by listening to the lived experiences of the LGBTQIA+ community. Don't worry if you do not know everything, as long as you remain respectful in your conversations and conduct, it is a learning curve.
Be affirming
One of the biggest fears among the LGBTQIA+ community is that of rejection by their friends, families, colleagues and society at large. In the absence of representation, being queer can be confusing for many individuals, so instead of questioning their identities, check in on friends or members of the community and validate their experiences. Unlearning and reclaiming affirmative language is an important step in being an ally.
Sensitisation
Whether it is at your place of work or education, try creating awareness by holding training and workshops to create a supportive environment focused on respect and dignity for all relationships. Sensitisation programs from a trauma-informed and affirming lens, along with open discussions with LGBTQIA+ community members to understand their narratives and lived experiences by holding space, and showing respect will help dispel myths and misinformation.
Safe spaces and networks
Studies indicate that LGBTQIA+ individuals are more likely to experience feelings of isolation and mental health issues. It is essential to create safe spaces for the expression of vulnerable thoughts and feelings. As an ally you can partake in outreach programs and initiatives that help the LGBTQIA+ community's well-being. For example, by providing mental wellness spaces such as therapy and healthcare services with queer affirmative professionals. For a shared experience, provide information on secure spaces, sharing circles and other community groups.
Also Read: Why coming out is a never ending process, not a one-time event
"Exciting news! Mid-day is now on WhatsApp Channels

Subscribe today by clicking the link and stay updated with the latest news!"
Click here! Do you consider yourself an ally to the LGBTQIA+ community?