Psychologist Shruti Suhas Padhye outlines the importance of intersectionality and nuances of providing queer affirmative counselling practice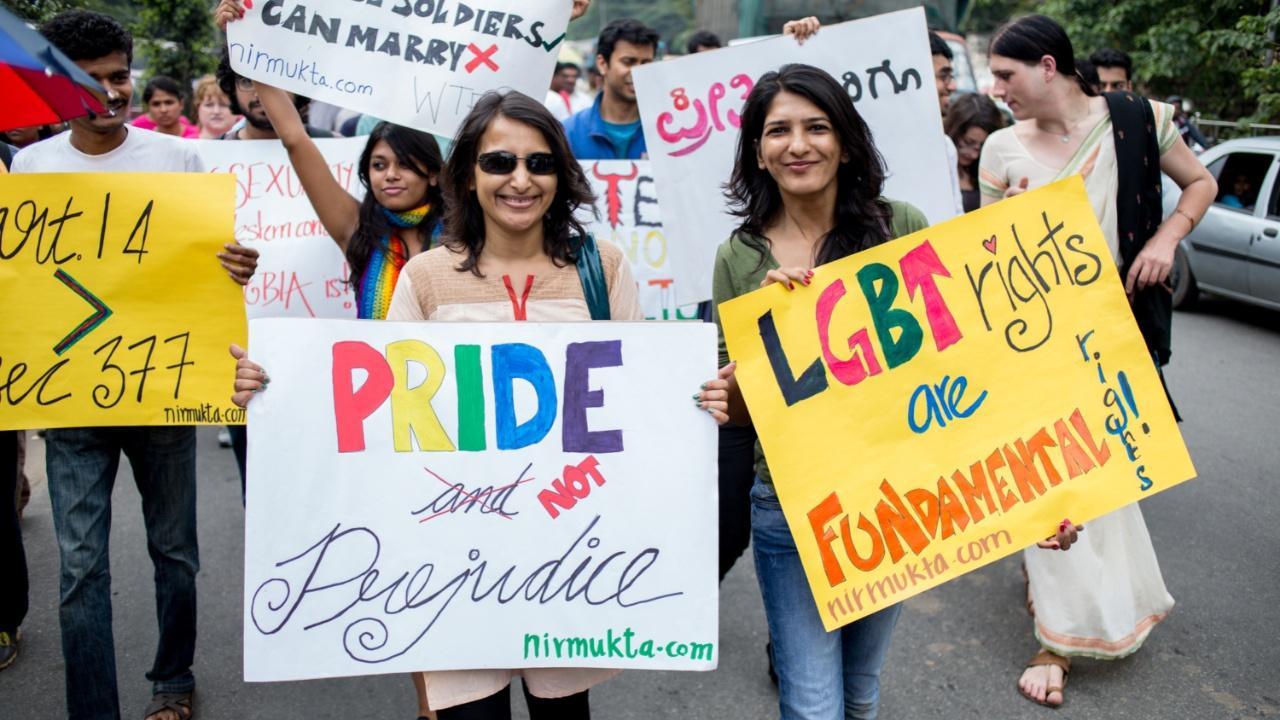 LGBTQIA+ individuals are more than twice as likely as cis-gender heterosexuals (cis-het) to have a mental health disorder in their lifetime. Photo/iStock
Mental health is a growing public health crisis across the globe. Around 20 per cent of the world's children and adolescents suffer from a mental health condition and approximately 1 in every 8 people (970 million) live with a mental health disorder, World Health Organization estimates suggest. Social and structural factors have a significant impact on mental health. Individual psychological and biological factors also contribute to the vulnerability.
According to the American Psychiatric Association, LGBTQIA+ individuals are more than twice as likely as cis-gender heterosexuals (cis-het) to have a mental health disorder in their lifetime. They are 2.5 times more likely to experience depression, anxiety and substance misuse compared with cis-het. This is because queer individuals are more likely to experience discriminatory attitude, human rights violations including violence, involuntary medical procedures and stressors. Recognising inequalities and their impact on mental health and to provide better care to LGBTQIA+ persons across the spectrum, the need for Queer Affirmative Counselling Practice (QACP) has become indisputable.
ADVERTISEMENT
"Queer affirmative mental healthcare refers to an approach that recognises, affirms and supports the diverse experiences and identities of queer individuals in the provision of mental health services. It goes beyond simply being accepting or tolerant of queer clients and actively seeks to understand and address the unique challenges they may face due to their sexual orientation, gender identity, or both," explains psychologist Shruti Suhas Padhye from Mpower Cell.
QACP interrogates and counters dominant approaches to sexuality and enables mental health practitioners (MHP) to be responsive to the particular needs of queer clients. The practice also draws on disability studies, user-survivor narratives, histories of struggles and queer feminist politics, to create ways to modify current mental health practice, according to the Mariwala Health Initiative (MHI), which has developed and offers courses in QACP. This Pride Month, we spoke to Padhye who has attained certification in QACP for group therapy by MHI, to further our understanding of queer affirmative therapy.
Intersectionality in healthcare
Intersectionality plays a significant role in the field of mental health as it helps to better understand and address the experiences and challenges faced by individuals from marginalised and intersecting identities. Here are some key reasons why intersectionality is significant in the context of mental health:
Comprehensive understanding
Intersectionality recognises that an individual's mental health is influenced by multiple factors such as race, gender, sexuality, socioeconomic status and more. It acknowledges that these intersecting identities can create unique experiences of privilege and oppression, which impact mental well-being. By considering these intersections, mental health professionals gain a more comprehensive understanding of their clients' experiences.
Addressing disparities
Intersectionality sheds light on mental health disparities and inequities faced by marginalised communities. It helps identify the specific challenges and barriers that different groups encounter in accessing quality mental health care. For example, intersectionality helps reveal the disproportionate mental health disparities faced by queer individuals, particularly those who are also from low-income backgrounds.
Culturally competent care
Adopting an intersectional approach is essential for providing culturally competent care. MHP must recognise and respect the diverse identities and experiences of their clients. Intersectionality helps practitioners move beyond a one-size-fits-all approach and tailor their interventions to address the unique needs and challenges of individuals with intersecting identities.
Challenging stereotypes and stigma
Intersectionality challenges stereotypes and stigma by highlighting the diversity within marginalised communities. It recognises that individuals from the same marginalised group may have vastly different experiences based on their intersecting identities. By understanding and acknowledging these differences, mental health professionals can work towards dismantling stereotypes and promoting more inclusive and accurate representations of marginalized communities.
To conclude, intersectionality is significant in mental health because it enables a more holistic understanding of the complexities of individuals' experiences, helps address disparities and inequities, guides culturally competent care, challenges stereotypes and stigma and serves as a catalyst for advocacy and social change. By incorporating an intersectional lens, mental health professionals can work towards creating a more inclusive and equitable mental health system.
High incidence of mental health issues
As stated above, queer affirmative healthcare is important because queer individuals are more likely to experience higher rates of mental health issues compared to their heterosexual and cis-gender counterparts. Mental health issues do not arise out of being LGBTQIA+, but it makes people more likely to experience poorer mental health due to what the community is subjected to. It is important to note that there are specific mental health issues that disproportionately impact queer individuals.
Internalised queerphobia
Queer individuals may internalise negative societal attitudes towards their sexual orientation or gender identity, leading to feelings of shame, self-hatred and low self-esteem.
Minority stress
Queer individuals often experience unique stressors related to their marginalised identities, such as coming out, family rejection, workplace discrimination or fear of violence. This chronic stress can impact mental health and well-being.
Body dysmorphia
Body dysmorphia refers to a preoccupation with perceived flaws in one's appearance. Queer individuals, particularly those who do not conform to societal beauty standards or experience dysphoria related to their gender identity, may be at a higher risk of body dysmorphia.
Depression and anxiety
Queer individuals may experience higher rates of depression and anxiety due to the societal stigma, discrimination, and lack of acceptance they may face. These mental health issues can be compounded by experiences of bullying, violence, or rejection.
How is queer affirmative practitioner different from queer friendly?
We live in a world that is built on the hierarchies of heteronormativity, the gender binary and the body binary, which an MHP must resolve by taking ethical responsibility, demonstrating a willingness to make amends, to stand with those who do not fit into the normative gender-sexuality.
Following are the different kinds of practitioners and how they might move towards being queer affirmative practitioners:
The neutral practitioner
Neutral practice with marginalised communities is a denial of the structural inequalities and the therapist's own location of privilege. The neutral practitioner genuinely accepts that people's gender sexuality is their business, and the practitioner has no say in it and won't affect the thing in my treatment.
Neutral practice can cause damage, because it upholds the normative, it will never account for lives that lie outside the norm. It does not equal providing a 'no harm zone'.
The queer friendly practitioner
The MHP who is open and curious about the issues faced by queer people and hence believes themselves to be queer affirmative, may thus claim to be queer affirmative. A queer affirmative practitioner differs from a queer-friendly practitioner in their approach and understanding of queer experiences. While a queer-friendly practitioner may be accepting and non-discriminatory towards queer individuals, a queer affirmative practitioner takes an active stance in supporting and empowering their clients.
The ally practitioner
MHP who has a lot of queer/trans friends and might know some of their problems. This social learning is used to support their queer and trans clients. For example, 'My sister is lesbian; I think I understand the pain that queer people go through, as well as what their families face. I use my personal learning in supporting my queer and trans clients."
The Affirmative Practitioner
Someone who claims and is committed to the identity of queer
Affirmative therapist and communicates this identity to clients and fellow professionals.
MHP who is self-reflexive about their own social location, personal beliefs, and professional training and practice.
Works to deconstruct the influence of heterosexism and cis-genderism in knowledge systems and practice in the lives of queer and trans clients.
Advocates for the rights of LGBTQIA+ communities in and outside the mental health system.
7 tools used by mental health practitioners to provide care to LGBTQIA+ individuals
Mental health practitioners employ various tools and strategies to adapt to the needs of and provide care to LGBTQIA+ individuals. Here are some common approaches:
Education and training
MHPs engage in ongoing education and training to enhance their understanding of LGBTQIA+ identities, experiences and specific mental health concerns. This includes learning about the diversity within the LGBTQIA+ community, terminology, cultural competency and the impact of societal stigma and discrimination.
Creating safe and affirming spaces
Practitioners establish an environment that is safe, inclusive and affirming for LGBTQIA+ individuals. This involves displaying visual cues of LGBTQIA+ support, using gender-inclusive language and creating a non-judgmental atmosphere where clients can openly discuss their experiences.
Active listening and validation
MHPs actively listen to LGBTQIA+ individuals and validate their experiences. This involves demonstrating empathy, understanding and respect for their unique challenges, such as coming out, family rejection or gender dysphoria. Validating their identities and experiences can help build trust and foster a therapeutic alliance.
Assessing for LGBTQIA+-specific concerns
MHPs include LGBTQIA+ specific concerns in their assessment process. This may involve asking questions about sexual orientation, gender identity and experiences of discrimination or minority stress. This information helps tailor treatment plans and interventions to address specific needs.
Affirmative approach
Practitioners adopt an affirmative approach that validates and supports LGBTQIA+ identities. This involves using inclusive language, respecting chosen names and pronouns and recognising the diversity within the LGBTQIA+ community. An affirmative approach also challenges heteronormative and cis-normative assumptions and fosters a sense of acceptance and validation.
Understanding intersectionality
MHPs recognise the intersectionality of LGBTQIA+ identities with other social identities, such as race, ethnicity, class and ability. Understanding how multiple identities intersect can help identify and address unique experiences of oppression and privilege.
Advocacy and support
MHPs can engage in advocacy efforts to support LGBTQIA+ individuals beyond the therapy room. This may involve promoting LGBTQIA+ rights, challenging discrimination and actively working towards creating more inclusive policies and practices.
By implementing these tools and approaches, mental health practitioners can provide culturally competent care that respects and addresses the unique needs of LGBTQIA+ individuals. The goal is to create a therapeutic environment where clients feel understood, affirmed and supported in their mental health journey.
Also Read: The macro impact of microaggressions experienced by LGBTQIA+ individuals
"Exciting news! Mid-day is now on WhatsApp Channels

Subscribe today by clicking the link and stay updated with the latest news!"
Click here!