Known by her moniker Short Haired Brown Queer, Prarthana creates relatable queer comic content that captures the nuances of lived LGBTQIA+ experiences. In an exclusive interview with mid-day.com, she talks about her inspiration, how queer comedy enhances familiarity, the male gaze and more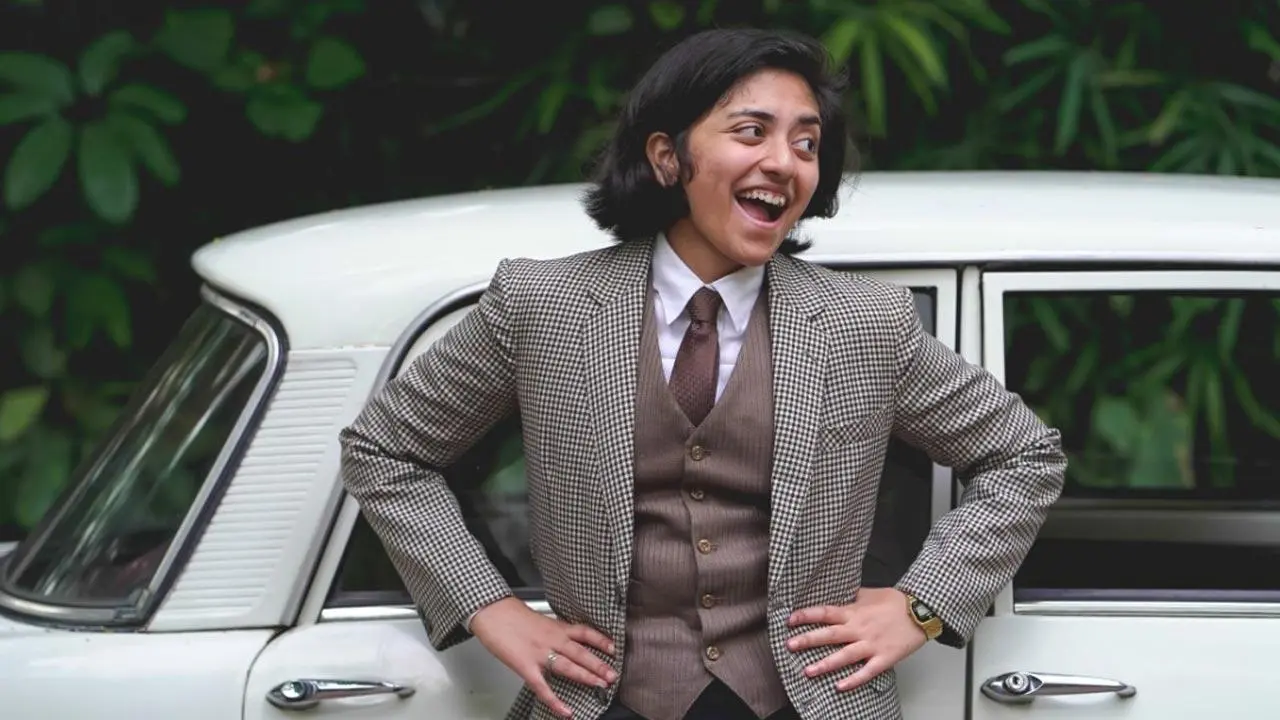 The Bengaluru native has been creating queer content, and has found a niche audience while shining a spotlight on lived experiences of LGBTQIA+. Photo courtesy: Prarthana
Self-expression may be one of the most underrated freedoms that one enjoys. For those individuals who identify as LGBTQIA+, being their authentic selves, and expressing their identities fully can be an obstacle laden journey. Twenty-four-year-old Prarthana has been creating queer content for the past 16 months across platforms, offering viewers an up-close look at the lived experiences of an Indian queer individual. While LGBTQIA+ audiences have found her humorous storytelling relatable, feedback on her social media reveals that straight allies also enjoy her content. Below, the Bengaluru-native reveals her inspiration, apprehensions, and hopes for queer comedy in India.  
  
According to you, how important is it to explore gender and sexuality with a non cis-heterosexual lens? 
  
I think the only valid way of exploring gender and sexuality is through a non cis-het lens. Looking at gender and sexuality through a cis-het lens is akin to looking at nothing at all. Male, female, blue for boys, pink for girls, femininity being the object of masculine desire, boy meets girl, girl loves boy… none of this is unknown. It's entirely known and disseminated in every story, movie, book and song. It's the unquestionable status quo that's imposed on us since we're young enough to crawl. 
  
It's not a story we get to contribute anything new to, it's an overly simplified and easily palatable version of gender and sexuality that offers little room for authenticity even to the people who are cis-gendered and heterosexual. Gender roles and stereotypes affect all of us. It's just that it might affect queer, trans and female folks more so they talk about it more. 
  
We need to also look at feminism with a queer and intersectional lens. We need to include queer and trans folks in these conversations. A transgender man or non-binary person' struggles with gender are a lot more difficult than a lot of cis-gendered woman's and that needs to be acknowledged in feminism. Otherwise it's a half done job that isn't really benefitting all the people it should. 
  
Most LGBTQIA+ artists create because they want to become the representation they never had growing up. How much of this is true in your case? 
  
It's 100% true. The purpose of my internet presence is to create the gay Indian content I wanted to see when I was growing up. There's such a lack of authentically queer stories out there. 
  
Growing up as a child, I was always the weird kid in the room. I came out in a school and college where my classmates had never met another queer person. I think one of the most marked feelings that comes along with queerness is a sense of isolation. You just truly do believe there aren't any other people out there who feel the same way you do. I thought there were five lesbians in all of India when I first started making videos: me, my ex, and possibly three others. But that's really not the case, there's so many of us out there. I receive so many messages from people younger and older than me who tell me they've never seen such an openly queer person in India and that I give them the hope to do the same. They tell me that the personal stories I share feel exactly like their own. 
  
I want to be the representation I wish I had seen when I was 14. I would never venture near social media if I was a heterosexual person. It's the lack of authentic queer and desi experiences that pushes me to add my voice to the mix.
Also read: Mumbai theatre talk: Actor Asmit Pathare's play 'Us & Them' attempts to deconstruct nationalism
ADVERTISEMENT
Social media is rife with cyber bullies, and there is a lot of hate targeted towards LGBTQIA+. What fuelled your desire to be out, and what were your biggest apprehensions? 
  
I'm someone who grew up on the internet. Since the age of 11, I've had unlimited access to everything the web could offer. My own queer journey happened with endless Google searches, LGBTQIA+ YouTubers, and 'are you gay?' quizzes. The queer media and stories I consumed on the internet were my only respite and comfort in an otherwise completely heterosexual house and society. If it wasn't for the internet, I would never have been able to find confidence in my queer identity. 
  
Once I reached my twenties, there was this strong urge I had to offer that same relatability to queer and desi audiences. That desire to be visible as an Indian lesbian when there is such little exposure of that identity, pushed me to get past the fears of trolls and homophobes. I also was very apprehensive of the mental toll that social media usage brings even without any negative backlash. I had spent the two years before starting my public profile, completely off any social media. The need for comparison, envy and anxiety that one can feel being on any social media platform was a big roadblock I had to get past. 
  
But eventually I realised that with regulated usage, the pros would definitely outweigh the cons. I was also worried that my stories would go out to an empty room. That perhaps my experiences were too foreign to actually resonate with an audience. I was quite quickly proven wrong and the feedback was overwhelmingly positive 
  
How do you walk the fine line between cracking relatable jokes versus giving into hypersexualisation of queer women? 
  
One of the most frustrating is the domination of the male gaze and sexulisation of queer women in the telling of their stories. The word lesbian is probably best recognized as porn category. Lesbians rarely ever have a hand in telling stories about queer women loving other women. 
  
Considering that the majority of this hypersexualisation of lesbians is done to please cis-het men, my masculine expression and fashion automatically removes me from the sphere of the male gaze. I'm not often seen as very attractive to men who thankfully saves me from lewd comments and inappropriate messages. 
  
I therefore see no connection with cracking relatable queer jokes and this hypersexualisation. The jokes are for a genuine queer audience, the hypersexualisation is for cis-het men that need to find another category or log out. 
  
Queer comedy has been a niche genre— only accessible to a select few—while social media has enabled comics to reach audiences beyond metros. How do you believe comedy can become a vehicle for sensitisation across the country? 
  
My intention was always to appeal to queer and desi audiences. I took my own experiences and the comedic lens I had grown to view them with (to make it easier to deal with) and put them out there. I never wanted to sensitize or educate cis-het folks. 
  
But I do think comedy takes a lot of hard to swallow topics, coats them in sugar and chocolate and makes them a lot easier to chew and get down. In getting a laugh out of someone, they've already warmed up to you, the ice has been broken and a thread of familiarity has been established. The coldness or lack of interest someone might have towards LGBTQIA+ topics melts away a little. And seeing someone you might hate as a homophobe using your insults as a punch line and laughing and thriving is a pretty strong comeback. Your homophobia and transphobia have no place if it's going to be laughed away. Information and sensitization can go a long way. But having a laugh with someone creates a sense of ease and familiarity almost immediately which can go a long way in truly changing mindsets. 
  
I think using humour as a mechanism to be okay with queerness is a pretty age old tactic. My own humour is most definitely a defence mechanism for the years of awkwardness and difficulty I had to endure as a queer teenager. It was my way of connecting with my cis-het friends and classmates who I felt I had nothing else in common with. 'We're gay and have no rights but atleast we're funny' is a pretty common sentiment amongst the queer community. 
  
Do you fear you will alienate audiences with limited opportunities? 
I don't consider myself a performer, I'm a creator, a writer and otherwise, I'm just a gay person on the internet. My stories are authentically my own and I'm not just performing them. And that matters because a lot of mainstream and Bollywood's LGBTQIA+ stories are written by cis-het folks who don't usually have a clue about the emotions and experiences queer people actually face. 
  
My social media is my creative outlet. I never hoped to appeal to the cis-het majority because they have more than enough content already appealing to them. Even queer stories that mainstream media wants to tell are made to appeal to a cis-het audience and they most often do not do any justice to the LGBTQIA+ community. 
  
I did however fear alienating audiences with my sense of humour which tends to be loaded with sarcasm, dryness and geared towards very specific queer experiences that I thought only I had ever gone through. These were jokes I'd sit around cracking in my head for a party of one, just myself. But it did resonate with people who couldn't believe someone else felt the same way 
  
I don't hope for an abundance of followers or opportunities. I just hope to come across all the right ones while staying true to myself. 
  
What changes would you like to see in the mainstream content space as a young desi queer comic? 
  
Honestly, I would love to see more variation in mainstream content. I'd love for people to make content that they like making rather than what would work for the 'gram', for example reels without trending music. I'd love for content that doesn't fit that bill to be allowed into mainstream recognition. Mainstream content is usually repetitive and overly simplified. 
  
I barely watched a reel before I started making them so I didn't have a clue about trends and dancing and music. I did whatever I liked in 30 seconds. I didn't expect to reach any milestones but I did. To have unique content about a queer experience that's not primed to a social media algorithm reach a large audience is truly a blessing. 
  
I never expected to gain the followers that I have so I hope that it encourages queer people and really anyone with a unique idea to do what they want to do and say what they want to say with no filters.