Started by Paritosh Pant, the Feeding from Far initiative has been actively delivering essentials to impoverished residents of the neighbourhood for the last one year. The 29-year-old hotelier hopes to continue the project till people can get back on their feet after the ongoing pandemic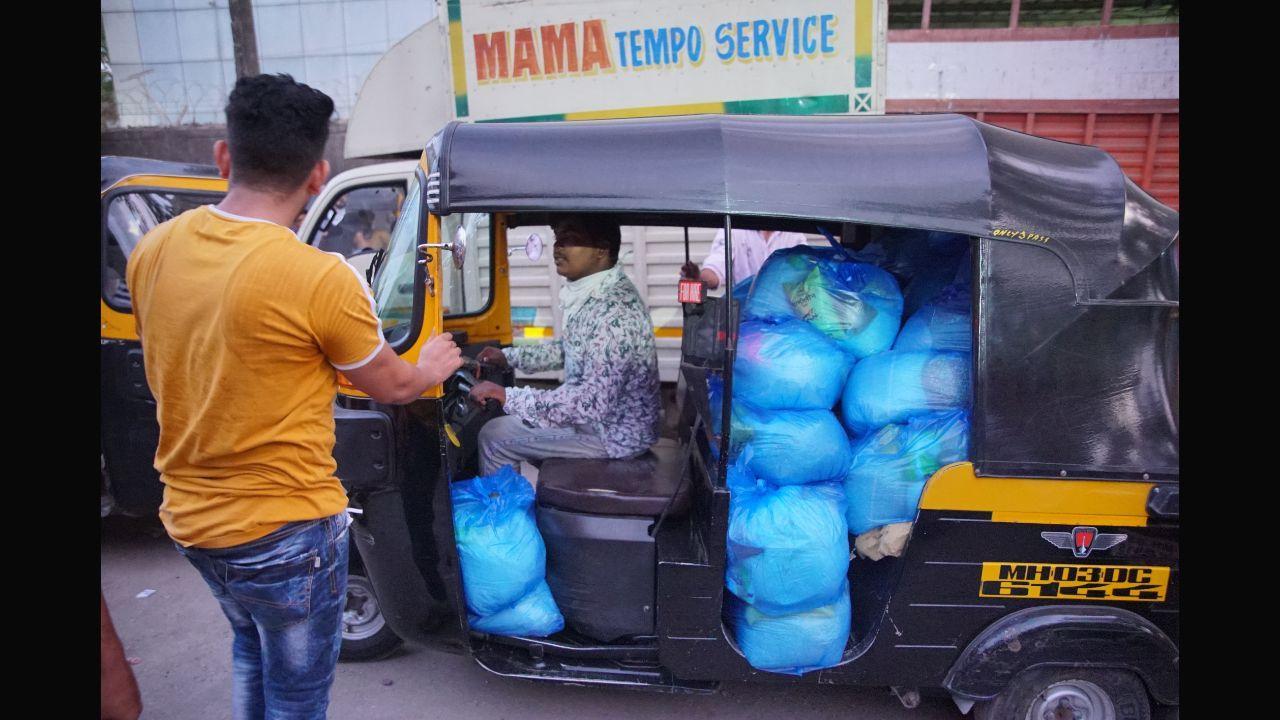 The Feeding From Far volunteers transporting the bags with ration to the locals in Govandi. Photo: Feeding From Far
From losing jobs to barely being able to make ends meet, the last one year has proven to be a testing time for many in the city. It has taken away a lot but it has also seen others coming together to help those who are in need. The young, old and privileged joined hands to start independent initiatives to reach help to under-privileged people. City-based hotelier Paritosh Pant has been one among several trying to do their bit. Using his business, culinary and acumen, he started the Feeding From Far initiative, to supply meals and ration to people in Govandi.  
The move came during a moment when Pant, like many others, had to pull down the shutters on his restaurant chain called Too Much Drama in Navi Mumbai in March 2020. Since it was an experiential space, run by hearing-impaired people, it didn't make sense for him to continue with only delivery. Being a chef himself and missing the hustle and bustle of the kitchen, he took to social media to showoff his cooking skills on Instagram Live but that is when things changed for him. "I was baking pav one day, which is a staple food for many in the city, and realised that instead of showcasing my skills online, I could just help people. It was this guilt that I wasn't doing enough to help, which made me decide to do something about it." 
ADVERTISEMENT
Feeding From Far founder Paritosh Pant meeting locals in Govandi during one of the donation drives. Photo: Feeding From Far

As many calls for help appeared online, the 29-year-old Institute of Hotel Management (IHM) Mumbai graduate also put out a message on his Instagram account offering help to those in need. "When I put out a post, a lot of people told me that Govandi is one place that needs help, as a lot of the people living there are daily-wage workers," Pant explains. "Since they had lost their jobs, they were finding it difficult to feed their families. That is when I decided to start Feeding From Far." 

The initiative, which started out as a community kitchen to empower locals, turned into a food delivery project to help them better. The inspiration behind the name is simply an extension of the Covid-19 pandemic's social distancing norm and follows a decentralised model of delivering ration to people through locals. Pant and his team of over 250 volunteers actively deliver ration on-ground once every week to 45 sub-sections within the neighbourhood. The volunteers are locals who have been living in the area for a very long time and are known to everybody. While the locals help him offline, he has another team of around 50 people from around the world, who are helping him manage the online activities. 
"The food is packed into the blue bags within a 60-hour continuous stretch during the week, and then it is delivered to the volunteers, who live within the sub-locations. The packaging is carried out in five marriage halls, depending on availability, with one currently being in Deonar. Each bag contains essential food items which can feed a family for a week," adds the Powai-based founder. Five different vendors regularly supply them with the contents that go into each bag —7 kilos of rice and wheat, 1 ½ kilo of pulses (which could include tur or chana dal), 1 kilo of salt and sugar each, 1 litre of oil, 150 grams of turmeric powder and chilli powder.


The food contents are packed in blue bags in marriage halls within Govandi and then distributed by 250 local volunteers. Photo: Feeding From Far

Since March last year, the Feeding from Far initiative has managed to deliver approximately 25 lakh meals in Govandi. While they supply on demand, they have managed to arrange for around 12 lakh meals so far this year. To deliver help strategically in response to the large demand, they have to keep a track of the numbers. Earlier this year, Pant and his team found a knowledge partner in Tata Institute of Social Sciences (TISS), who are providing helpful data to the social non-profit initiative.  
While they have raised over 4 crore and 35 lakhs through their crowdfunding initiative, they are still in active need of money. They hope to feed the people in Govandi until they get back on their feet. 


These are not just ordinary blue bags.
These blue bags are continuously supporting people in Govandi to survive the pandemic.
These blue bags give people hope.
These are Blue Bags of Hope!
INR 700 is all it takes to donate a Blue bag of hope.
Donate: https://t.co/4w2dCtURvO pic.twitter.com/yobHtGG7zD

— Feeding From Far (@FeedingFromFar) July 5, 2021
Also Read: Political rapper Dule Rocker seeks crowdfunding to record anti-caste album