The magic of theatre seems to be elusive to younger audiences with entertainment today only one click away in our homes. Yet, some of the country's younger hearts are ensuring that this magic lives on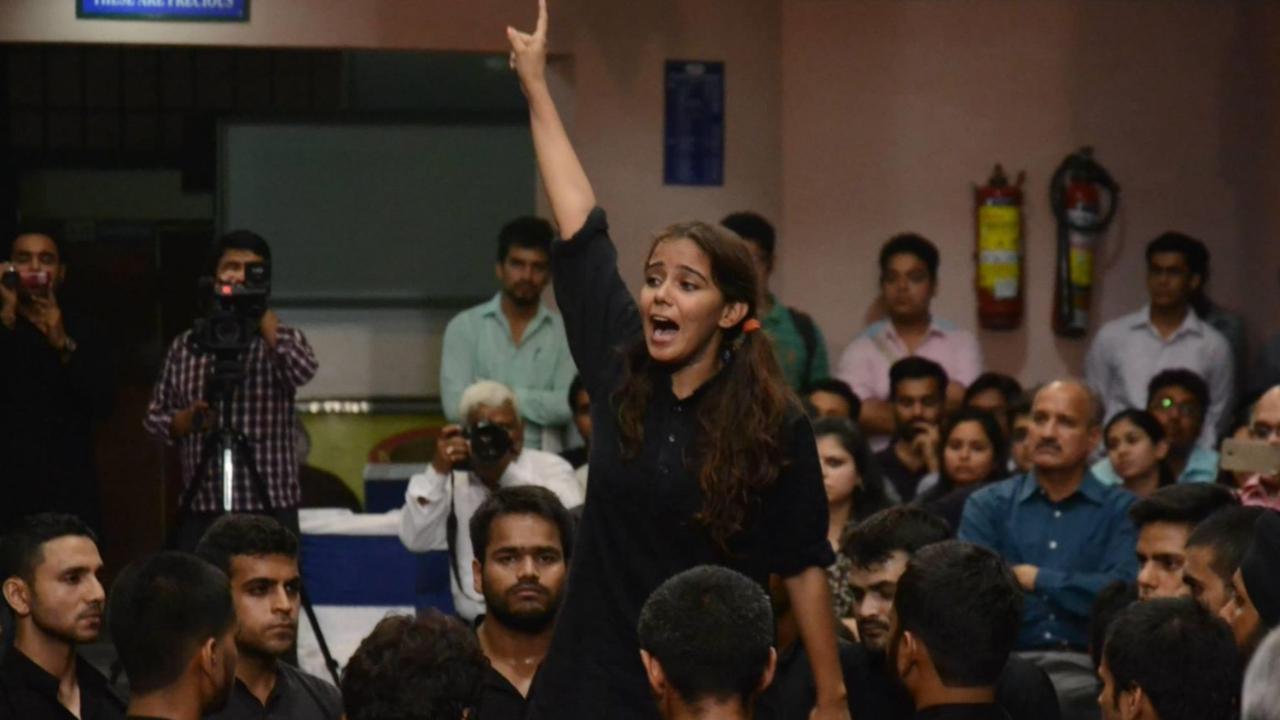 Monica Chaudhary preforming in a play during her time as a theatre artist. Picture Courtesy: Monica Chaudhary
In India, entertainment and culture have always been intertwined and have evolved greatly over the years through music, poetry, dance or theatre. Since the beginning, arts and entertainment have acted as a medium to promote and pass on our rich Indian values and culture across generations thus creating its identity and theatre has been one of these instrumental pillars.  
It is an art form that uses the medium of the stage to tell stories that leave a deep impact on the hearts and minds of the viewer. However, it seems to be elusive to younger audiences with entertainment today only one click away in our homes. Yet, some of the country's younger hearts are ensuring that this magic lives on and Monica Chaudhary is one of them.
ADVERTISEMENT
Importance of theatre
Chaudhary is a theatre artist and actor who recently delivered a striking performance playing the role of Kinchi in the recent Bollywood movie 'Tu Jhooti Mai Makkar,' credits her success in life, to theatre. Chaudhary was introduced to theatre while exploring her interest in acting after Arvind Gaur, a theatre director and her mentor welcomed the Bollywood actor into Asmita, a Delhi-based theatre group. It is from him that she learned the craft of theatre.

She says, "Theatre educated me on various socio-cultural and political issues at a very early age. It helped me learn well and I enjoyed it. It not just expanded my knowledge about India and its culture but also shaped me beautifully. I learned to be more disciplined, dedicated as well as empathetic."
Over the years, many aspiring actors who started their journey from the stage have gone on to become big actors. Abhinavanand Singh, another theatre artist from Delhi is currently pursuing a career in acting in Mumbai. He shares, "Though there isn't any hard and fast rule of doing theatre first to pursue an acting career, it does help. Having an experience with theatre, the process of acting in front of a camera becomes a tad bit easier."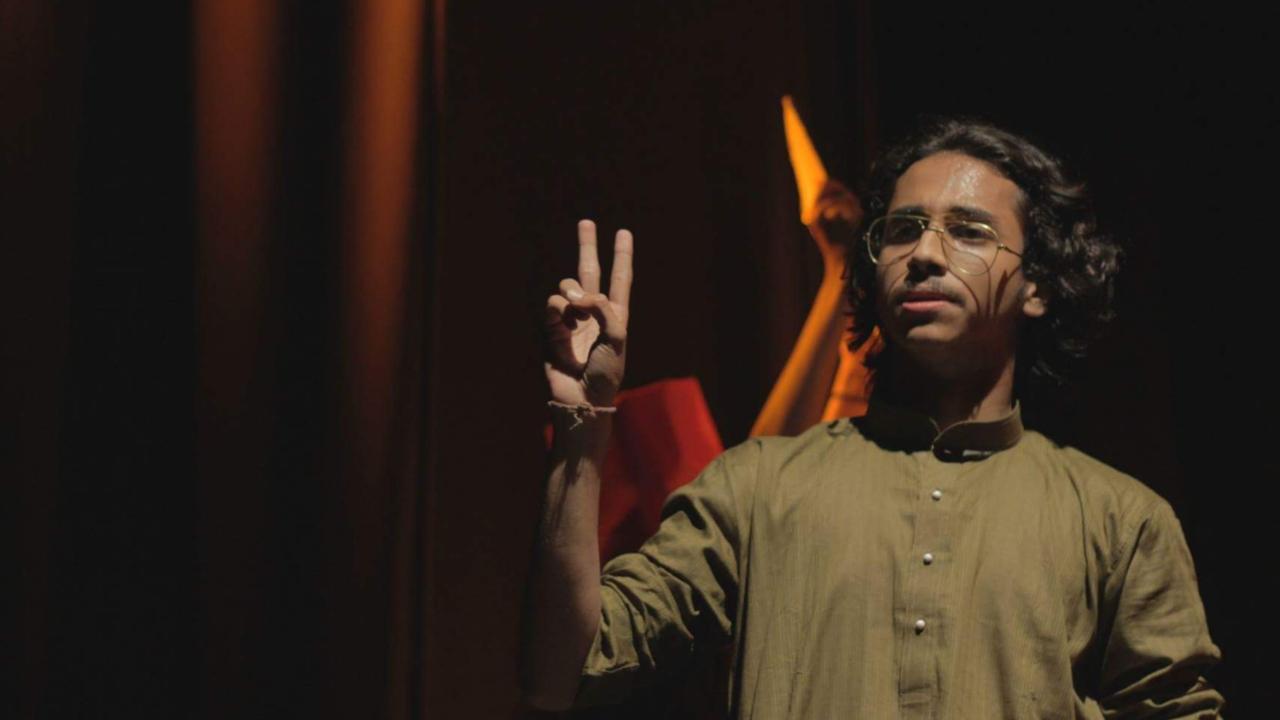 Abhinavanand Singh delivering a performance at a play. Photo Courtesy: Abhinavanand Singh

Interestingly, it is something that has not only worked for him but for Chaudhary, and that is why she urges aspiring actors to do theatre. She says, "Theatre teaches you not just to act but other skills like voice projection without the assistance of mics, diction, dancing, singing, dialogue delivery and so much more." The rehearsals for the play, she says, have helped her build the kind of discipline that is required on sets. "The shooting of the film goes on for over 16 hours which is exhausting. Doing theatres prepared me for the shoot life. I wasn't completely unaware of the process because I had experience with stage performances. So those aspiring to become actors should start with theatre," she adds.
Having dabbled with both films and theatre, she shares, "There are no cuts in theatre. Artists have to memorise the entire script. Shooting for cinema allows you to take a cut in case you forget the dialogue. If that happens on stage, you have to improve on the spot. Further, before delivering a final performance, rehearsals are conducted for months to perfect the play." The fact that the audience gives an immediate response in theatre unlike in cinema where an artist has to wait for the audience's response until the film's release, is what keeps her going.
Chaudhary recalls her former days as a theatre artist when she revelled in the applause of the audience during her performance. "My first play was based on one of the short stories by Bhisham Sahni. I remember delivering a monologue for which I received applause from an audience I couldn't even see in the dark. It was surreal. That is when I knew I wanted to do this for the rest of my life."
Setting the stage
For many aspiring actors, their very first stage is in school, or college and the latter is known to propel people into their careers. In Mumbai, quite a few colleges have their own theatre groups that offer students a platform to showcase their theatrical talents.
St. Xavier's College, which has a history of producing great talent and is one of the top colleges in the city, has its theatre group named Fitoor, established in the early 2000s, which seeks to provide interested students an opportunity to learn the art. Yash Mishra, the present co-head of Fitoor says, "There are many students from our college who wish to do theatre. We organise workshops from time to time that educates the students about what theatre is and how it works. We also organise workshops that give students valuable insights about acting, direction, voice modulations and scriptwriting." Recently, they invited prominent vocal artist Asif Ali Beg to speak on the importance of vocal range in theatre which received great feedback from the students. Further, the group's participation in inter-college competitions gives aspiring theatre artists much-needed exposure.
Shreevardhan Talegaonkar, a student at the college, aspires to be an actor. As an undergraduate student, Talegaonkar acted in my short films as a part of his academic projects, however, he always felt something was amiss. That is when he decided to attempt theatre. Speaking about the impact theatre has had on his life, Talegaonkar shares, "Theatre exposes you to literature. I was introduced to the works of playwrights I had never heard of. Reading plays taught me a lot about human nature and the culture that resides around us. Theatre helped me understand the nuances, the reason behind each word said, the intensity behind them. Another important aspect for a theatre artist is to observe lives. I believe those oblivious towards the life around them can never be actors."
Talegaonkar, who is still a student of the art, says, "Acting in theatre requires delivering a lot of expressions so that artist's emotion is conveyed to the last of the person sitting in the audience. It requires strong voice modulation, powerful dialogue delivery and much more." Acting in movies, however, he has experienced, doesn't require exaggeration because, with the cameras placed closer to you, the subtle expression of the emotion also works.
Has the interest in theatre gone down?
Although many youngsters are interested in learning this art form, the audience for theatre seems to be limited and there is an important observation that Singh makes. "People are okay with spending Rs 500 on coffee in an expensive cafe but they find a Rs 200 ticket for a play expensive. We are making a deliberate choice of not engaging with theatre. This needs to change if we are to keep the theatre art alive."  
It is not his only grouse but also the fact that OTT platforms saw immense growth during the pandemic, performing arts in India like theatre suffered quite a bit because performance venues were closed. "The situation is getting better now with more plays running in theatre halls," he says with a sigh of relief.
However, since theatre has been a significant part of Indian society, Monica Chaudhary is affirmative of the art form staying relevant even today. "I don't think the popularity of theatre has gone down. Both cinema and theatre have beautifully co-existed. To date, I go to Prithvi theatre to watch plays every weekend and see that the shows run houseful. This is because it is a different art form independent of cinema. A live performance is a live performance. Nothing can replace the joy of watching a live performance."
Mishra thinks that theatre should be viewed as a standalone art form instead of purely making it an inlet to acting in cinema. He says, "Theatre should also be given the kind of importance and love acting garners. It is on people to make this change. Everyone collectively should take the steps to widen the prospects of theatre in our country."
The fact that theatre has helped spread important messages to audiences, touch upon crucial and sensitive socio-cultural issues that are otherwise not easy to address publicly, explain complex issues to Indians by acting them out, and even highlight the Indian culture is what makes it essential in people's lives.
On a parting note, Monica Chaudhary urges everyone, especially the young to hit the theatres and watch artists perform plays. "Just like we head out for a weekend getaway, attend family dinners and even make plans to watch movies with friends, we must also watch theatre or any performing art for that matter on some weekends. This way, our ancient art forms will continue to stay relevant at all times."
Also Read: World Theatre Day 2023: A day to keep ancient art form alive in digital epoch