Indian content creator and fashion influencer Masoom Minawala offers us a sneak peek behind the glamorous world of fashion weeks, and speaks of upcoming trends, diversity, and making an impact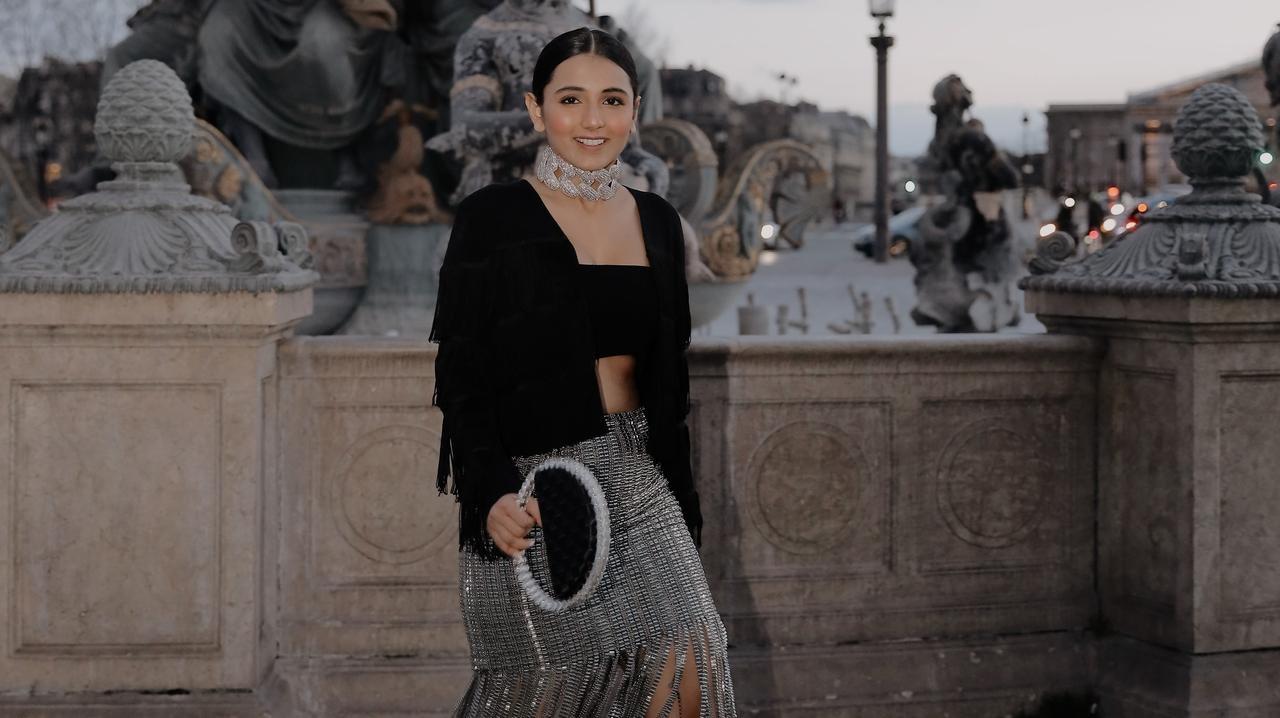 Masoom poses before attending the Christian Louboutin show at Paris Fashion Week 2022. Photo courtesy/Masoom Minawala
Nobody in their right mind would dare to understate the influence of influencers today. Be it fashion or fitness, they are everywhere—telling us what to eat, where to go, and of course what to wear. Beyond the complicated ever-changing algorithms of social media applications like Instagram, to most of us regular folk, it is something deeper that resonates with us. Maybe we are fond of their aesthetic, or how relatable their content seems to be.
Influencers like Masoom Minawala know how to walk the fine line where she creates engaging content that creates value for the global and indie brands she partners with, and her audience of over a million followers. Minawala has been blogging since 2010, and has been among the few Indian faces to work extensively with international luxury brands like Hermes, Louis Vuitton, Christian Louboutin, and Dior, and has become a regular attendee at Paris Fashion Week. She recently became the first Indian social media content creator to walk the runway as the show stopper for designer Vaishali S at Milan Fashion Week.  We speak to her about what happens behind the most glamorous closed doors, upcoming trends for the season, diversity, and how she uses her influence to create an impact.
Here are edited excerpts from her exclusive interview:
What happens at a fashion week? What is the one thing nobody knows but should know about fashion weeks?
Honestly, the exclusivity around fashion weeks has always been a mystery. The glamour and pomp around it is so unreal that nobody talks about the things that really go behind experiencing, attending or hosting a fashion week. In fact, this was the inspiration behind starting my social media exclusive reality show #MasoomTakesFashionWeek, where I wanted to break the barriers and make the nitty-gritty of fashion week accessible to everyone.
One such thing that a lot of people believe is that the brands that you collaborate with or the shows that you are invited to usually take care of your fashion week expenses. Well, here's the truth, attending the fashion week is a big investment, one that requires you to finance your entire stay and travel expenses but I can tell you one thing from experience that it is a business move that is worth it. The experience and networking with industry experts from all across the globe is different business development in itself.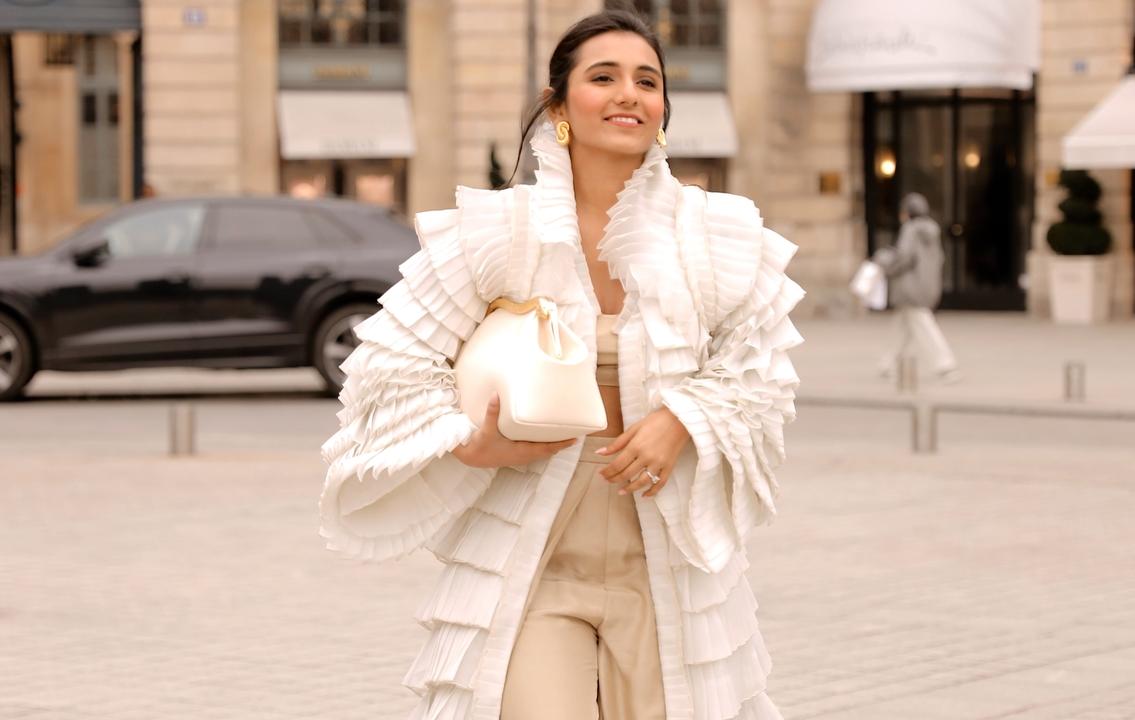 Masoom poses before attending the Bulgari show at Paris Fashion Week 2022. Photo courtesy/Masoom Minawala
You just attended the Milan and Paris fashion weeks. How similar or different are they from each other?
Would you believe me if I told you that even within Milan or Paris fashion week, no two shows or presentations are ever similar to each other? In fact, two people who can be attending the same fashion show will also have very different interpretations and takeaways from the show. As I see it, fashion weeks are like a well-planned fantasy, one that stimulates your creative senses and leaves you with a very unique experience of your own. 
How has Covid-19 changed the experience of attending fashion weeks?
Every show has a specific number of seats that are allocated but with Covid, the numbers of seats allocated were reduced even further that restricted a lot of invites. The shows also ask the attendees to present a green pass (vaccination certificate) before entering the show as a mandate. 
You are the first Indian content creator to walk the ramp at Milan Fashion Week. How was your experience?
It is always an honour to represent the intricacies of my cultural heritage. I was so proud of representing Indian craftsmanship on the runway in the Vaishali S show stopper ensemble. It's always been a pleasure to contribute to the success story of homegrown designers who are showcasing the Indian sensibility of design to the world. 
According to you, which trends are going to dominate this season?
Since the pandemic, there has been an evident shift towards fusion clothing and the Gucci X Adidas collection made an impact. The lines between comfort and statement fashion are merging. Most of the design houses are focusing on making a sustainable shift; one consciousness collection that stuck with me was 'Furla'. They crafted their bags from used plastic. According to my forecasting sense, in terms of ensembles, co-ord sets are going to be huge, they also have a great re-wear value and in terms of bags, slouchy pouches and hardware in accessories are going to be the next big thing. 
As a pioneer luxury fashion influencer from India to have made inroads globally, how have you seen diversity evolve in the fashion industry over the years?
First of all, thank you so much for the kind words. I have been attending fashion weeks consecutively for the last ten seasons and I have to admit, whether it is on the ramps or behind the scenes, representation is something that has only diversified through these years. In fact, Avanti Nagrath, the first Indian model to walk the ramps of Milan Fashion Week just strengthened my belief that the year of Indian representation kick-started with this season and would only inspire budding talents to continue the legacy.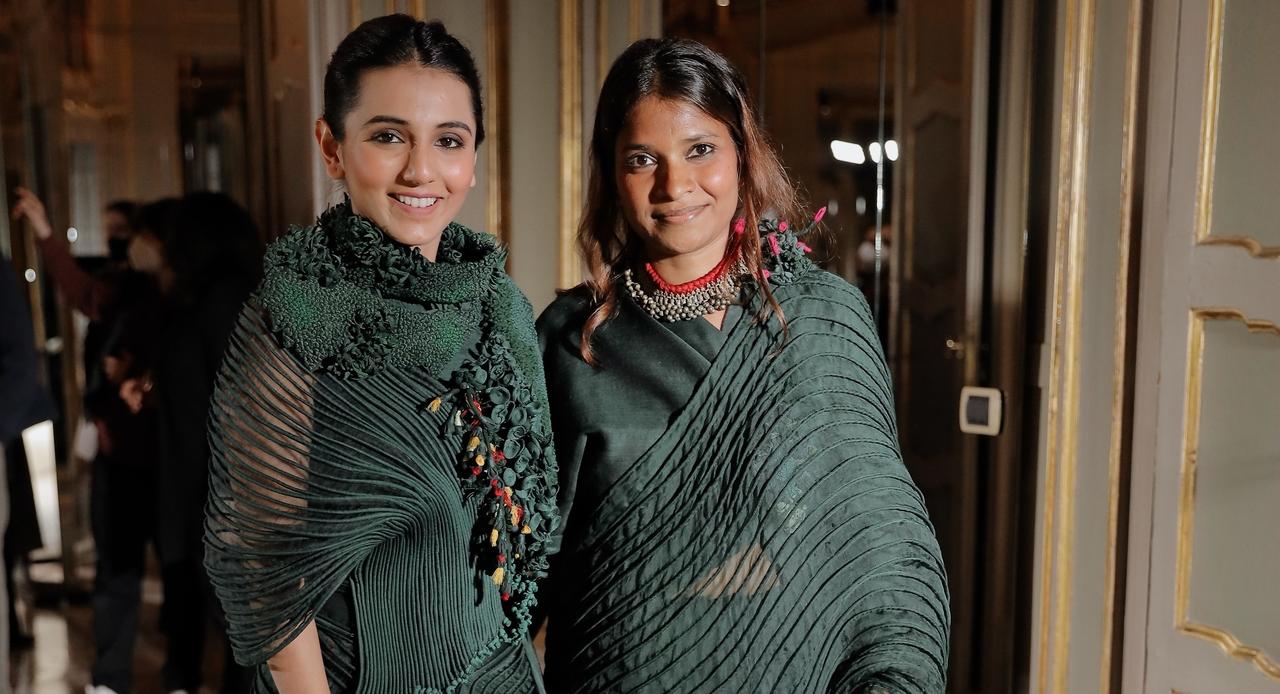 Masoom Minawala with designer Vaishali S after walking the runway at Milan Fashion Week 2022. Photo courtesy/Masoom Minawala
Do you believe being based outside of India gives you an advantage in collaborating with international brands and attending exclusive events?
Complete transparency here, I attended my first fashion week when I moved to Europe. Five years ago, a round-trip from Antwerp to Paris was costing me around 40 euros and I was enticed by the affordability and I did get a little closer to my dream of attending the fashion week. I would be lying if I said that my geographical location was not a major advantage in maintaining my streak. But that being said, collaborating with international brands has nothing to do with where I live as long as my community is the brand's target audience. To date, if I think that there is a brand that I would really like to work with and our brand ethos are aligned, I never think twice before shooting them an email and reaching out to them. 
You grew up in cosmopolitan Mumbai, where people wear a wide variety of clothes from chic to comfort. How has the city influenced your personal sense of style?
Whether it was my Dadima's intricate handloom collection, or the bustling streets of Mumbai that have taught me the value of prioritising comfort and utility over everything else, I think that Mumbai has had a huge role to play in my personal style and to date, I draw inspirations for my street style looks from there. 
Your campaign #SupportIndianDesigners has benefitted some indie fashion businesses. How did you conceptualise it?
The inception of #SupportIndianDesigners was during the first wave of the pandemic, I wanted to do something for the welfare of the small businesses and artisans that were the worst hit during those times. So, I decided to dedicate my platform and #SupportIndianDesigners was born as a non-profit campaign; I dedicate my voice to elevate my community and it got me closer to my goal. The kind of love that continues to pour in for this venture was so overwhelming that I decided to make this campaign a permanent series that will go on to promote newer homegrown brands and designers. 
You just partnered with UN Women by becoming a Generation Equality Ally, what is your vision for the same?  Also, what drives you to support women businesses?
As a woman who wanted to start her business at a very young age, I saw the tones of gender equality, whether it was the struggle of gaining investors or being taken seriously in a room full of businessmen. By virtue of being an ambitious woman, I faced a lot of gender stereotypes that were hurdles in my entrepreneurial journey. It was then that I decided that this was an issue that I wanted to use my platform to fight, that is when my series #EmpowHER was invented. #EmpowHER is a venture that aims at spreading awareness about financial literacy and financial independence for women and talks about ways in which female entrepreneurs can grow their small businesses. I believe that this is one way in which gender equilibrium can be maintained and that happens to be a shared vision with UN Women, I am extremely excited to make more of an impact with my content while being associated as a Generation Equality Ally. 
With great influence comes great responsibility. What's your biggest fear while associating with and endorsing third party brands?
I personally believe that authenticity and accountability are the qualities that every curator should hone and own. By principle, I never endorse or collaborate with a brand that is not in sync with my values.