As the civic body alerts Mumbaikars about a rise in the cases of leptospirosis in the city after over a week's heavy rainfall, Mid-Day Online reached out to city-based experts to know the symptoms and preventive measures for the disease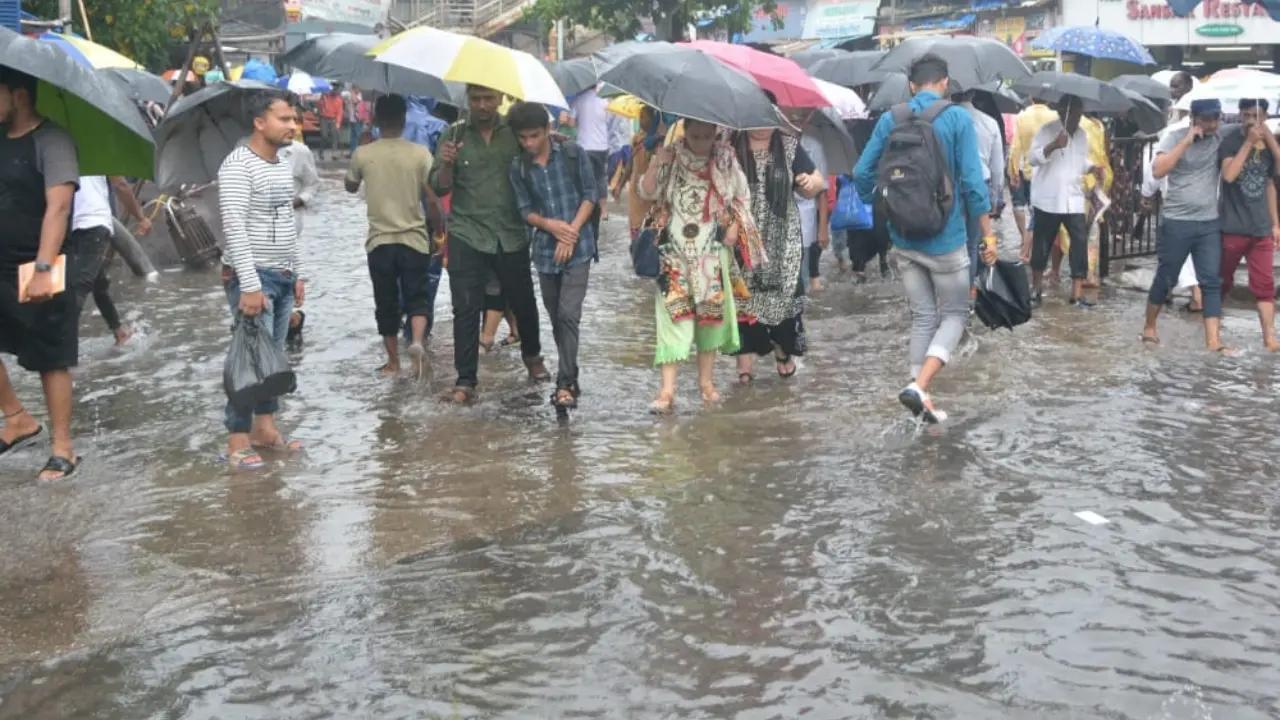 The disease is recorded in Mumbai predominantly during monsoon due to waterlogging and accumulation of contaminated water in public spaces and residential compounds. Image for representational purpose only. Photo courtesy: Mid-day file picture
The Municipal Corporation of Greater Mumbai on July 17 cautioned the residents to keep a check on diseases like dengue and leptospirosis, which are likely to record a surge in the coming weeks. According to the civic body's data, 46 cases of leptospirosis were recorded in the city between January 1 and July 17 this year, while 40 cases of leptospirosis have been recorded in Maharashtra until July 11. The civic body has surveyed around 7, 78, 709 houses providing prophylactic treatment for prevention of leptospirosis between July 7 and July 17.
According to Dr Tehsin A Petiwala, consultant gastroenterologist, endoscopist and hepatologist, leptospirosis is caused by the bacteria called 'Leptospira' and mainly spreads through exposure to urine of infected animals either through direct or indirect contact with soil or water contaminated by their urine. The bacteria can survive in freshwater for up to 16 days and in soil for almost 24 days and can invade one's body through breaks in the skin such as scratches or open wounds. It can also enter the body through nose, mouth, or genitals.
The disease is recorded in Mumbai predominantly during monsoon due to waterlogging and accumulation of contaminated water in public spaces and residential compounds, which become the primary mode of transmission of the infection to the persons wading through the water.
"Invariably wading through contaminated water during the rains and flooding gives access to the bug through certain cuts and wounds in the skin. It can be diagnosed with blood tests and high index of suspicion is important," says Dr Preeti Chhabria, director, internal medicine and general medicine at Sir HN Reliance Foundation Hospital.
According to experts Petiwala and Chhabria, symptoms of leptospirosis mainly include:
1. Headache
2. Mild cough and non-pruritic rash
3. Fever, chills
4. Muscle pain, body aches
5. Anorexia
6. Diarrhoea
7. Redness in the eyes
It may usually take between one and two weeks for the infected person to show the symptoms and in some cases, it can also take a month. The severe form of the disease also known as 'Weil's Disease' consists of high-grade fever, renal failure, jaundice, haemorrhage and respiratory distress. If untreated, it can affect other organs of the body and can even be fatal. According to the Maharashtra public health department's data, in 2021 the state had recorded 345 cases with 10 fatalities.
"The severe form of leptospirosis or Weil's Disease has a high mortality if not treated in time, hence empirical treatment with doxycycline is given in doubtful cases as a prompt treatment measure," says Petiwala. 
It is important for people having fever and a history of exposure to stagnant water or febrile illness to get checked at the earliest. As per the BMC advisory, if exposed to stagnant rainwater, take prophylactic treatment (Doxy/ Azithromycin) as per medical advice.
The most important preventive measure includes avoiding going through waterlogged areas if not necessary or one can use gum-boots or other footwear, which can help in shielding the skin from contaminants. Additionally, people must avoid eating roadside food as 'Leptospira' bacteria and other organisms from uncovered food can enter through the mucous membranes of the person consuming them.

Also Read: Explained: Mumbai doctors on why gastroenteritis peaks during monsoon
(Disclaimer: This article is not intended as a substitute for professional medical advice, diagnosis or treatment. Mid-day Online does not in any way endorse the accuracy, completeness, efficacy or timeliness of any advice or line of treatment mentioned in this article. Readers must always seek the advice of a certified medical practitioner and/or a mental health professional before deciding on or starting any course of treatment.)