It's a Doggiie Dog World, a pet-grooming salon at Lokhandwala, has introduced a Splash Pool for dogs last week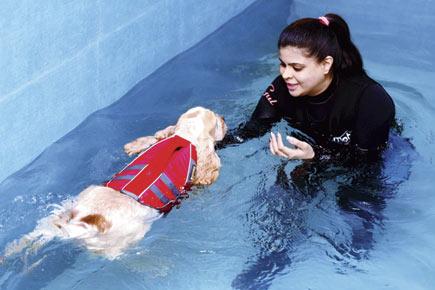 If you have been dreading the idea of taking your dog out for a walk in the rains, and are worried about its workout, there's reason to cheer. It's a Doggiie Dog World, a pet-grooming salon at Andheri, has introduced a Splash Pool, which offers hydrotherapy for dogs.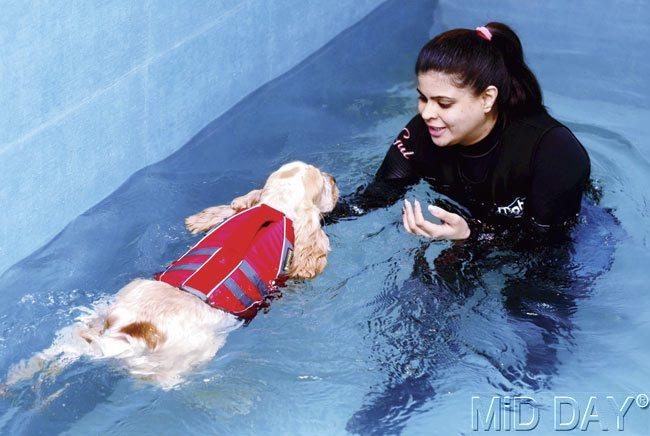 Pooja Advani, founder and owner of It's a Doggiie Dog World at Andheri, in the Splash Pool. Pic/Kaushik Thanekar
"Dogs love water and are natural swimmers. We have seen many cases of overweight dogs, and owners don't know of many activities they can do with their pets in a space-crunched city like Mumbai," says founder and owner, Pooja Advani, who has undergone training in hydrotherapy for pets in the UK.
The Splash pool offers a fitness swim for healthy dogs, pain management for dogs suffering from arthritis or hip displacia and strengthening of muscles. The pool is ideal for owners who want their pets to get a good cardiovascular workout. While no therapies are conducted inside the pool, at times, she massages the pets during breaks or after the swim.
"I get into the pool with every dog that signs up, as I can make out whether the pet is having fun or struggling to keep itself afloat. Care is taken to ensure pets, who are getting into water for the first time, don't panic," she says. The pet is checked for medical conditions, infections in the ear, ticks, fleas, cuts and bruises.
"We also consider the breed, age and weight of the dog before deciding how much time is sufficient in the pool," explains Advani, adding that a vet's approval is must before signing them up for the pool activity.
After 24 hours, Advani takes feedback from the owners. "If the pet sleeps for three to four hours and is his active self once he wakes up, it confirms that he had a good time at the pool."
The cost of the activity ranges from Rs 700 to Rs 1200.
At: It's a Doggiie Dog World, Bungalow 81, SVP Nagar, Janki Devi School lane, MHADA, Andheri West
Call: 9167242218