What's Mumbai been eating since the country earned its freedom? We taste iconic dishes that haven't been taken off the Specials list for 68 years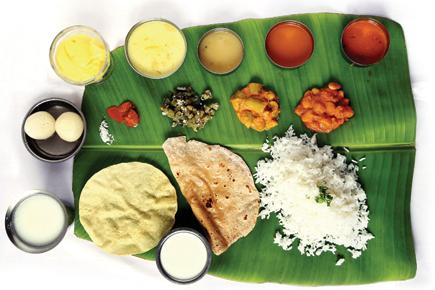 Special Thali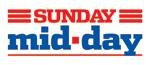 PURI BHAJI & BHOPLA PURI
For: Rs 60         
At: Pancham Puriwala
Since: 1865
There's something about daily fare and melt-in-the-mouth puris. Pancham's success is proof. "I have been told that even Mahatma Gandhi couldn't resist our fare," says Sandeep Sharma, whose family has run this eatery opposite CST for five generations.

Bhopla puri bhaji. Pics/Advait Rane
Famous for its kachori, masala puri and chole, it saw its first family customers walk in post-independence. "Families didn't eat out much back then.

Mahendra Panshikar
It was a rarity. But things gradually changed."   
SPECIAL THALI 
For: Rs 110
At: Rama Nayak Udipi, Matunga
Since: 1941
When Rama Nayak first set up Udipi Shri Krishna Boarding at Matunga, families rarely ate out.  "In those days, most of the working class ate out, and we rarely had women patrons.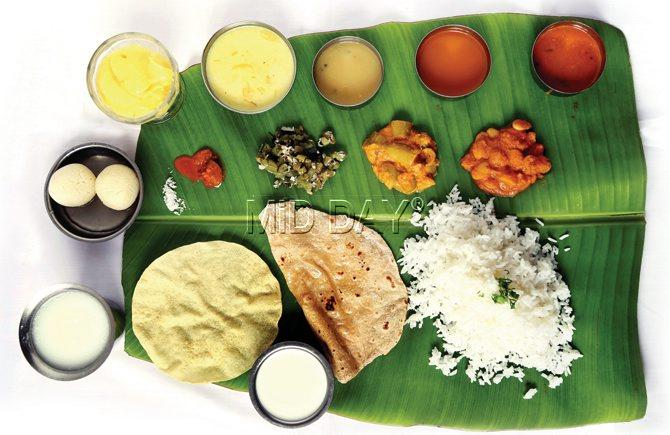 At Udipi Shri Krishna Boarding at Matunga, a different thali spread is served each day of the week
It was a taboo. So, to ensure regular customers did not get fed up eating the same dish daily, my grandfather created a different menu for each day of the week," says present owner Satish Rama Nayak, whose  son, Sashant, now mans the restaurant.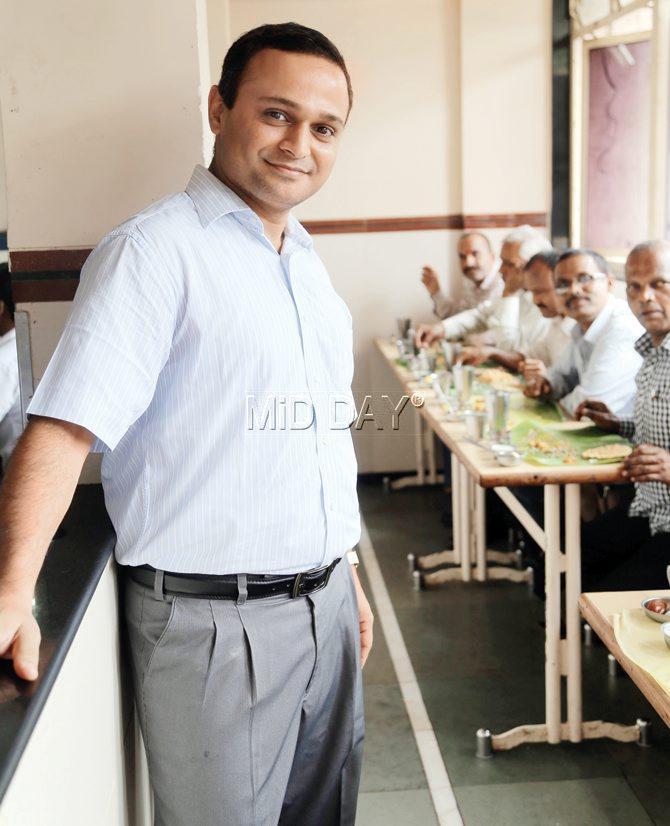 Sashant Rama Nayak. Pic/ Advait Rane
The rasam here, for instance, is a different version each day: Tuesday — kokum; Wednesday —  saaru in pic); Friday — Mysore; Saturday — lemon, etc. Interestingly, when the clock struck midnight on August 14, Rama Nayak, took a pen and paper and scribbled a menu for a free feast he'd throw his guests to celebrate the country's independence. "It was a historic day, even the boarding area was decorated."
SPECIAL BHEL FEAST THALI
For: Rs 80
At: Vithal Bhelwala, CST
Since: 1875
Third-generation owner of Vithal Bhelwala, Sunil Khadawala, says, "Forget a change in quality of food. Even vendors for ingredients have not changed in order to maintain consistency of taste."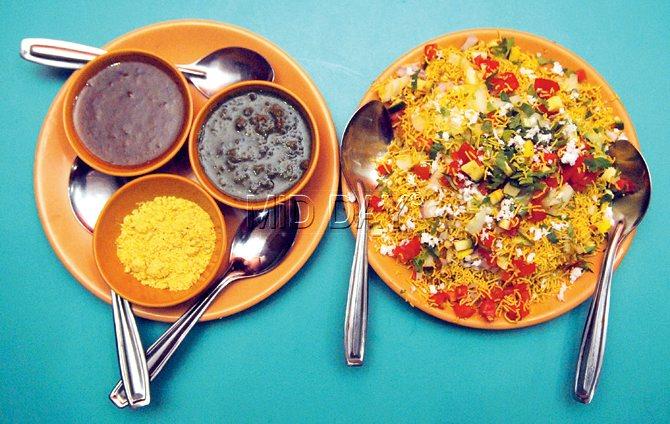 It is the two chutneys — red and green — that makes this bhel different. "Usually, red chutney is garlic infused, and the green is a Jain chutney. But here, the green has garlic and some 15-20 spices," he shares.

Sunil Khadawala. Pic/Shadab Khan
His great grandfather first hawked this bhel outside Azad Maidan, and his loyal customers included the Tatas. Before independence, they entertained Britishers too. "Their cheeks turned from white to red, according to my grandfather," laughs Khadawala.
SUTARFENI
For: Rs 480 per kg
At: Dayaram Damodar Mithaiwala, Dadar
Since: 1937
The Sutarfeni takes three days to make. First, ghee is smoothened by hand, then mixed with white flour before it is rolled and fried to get the fragile noodle texture that tastes of sugar powder and heaven.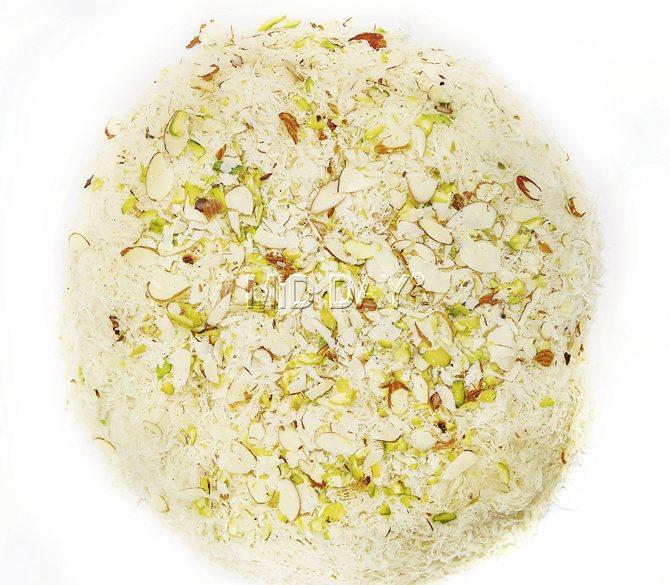 Deepak Acharya, says, "On August 15, 1947, for the first time in history, we had to shut shop in two hours of opening.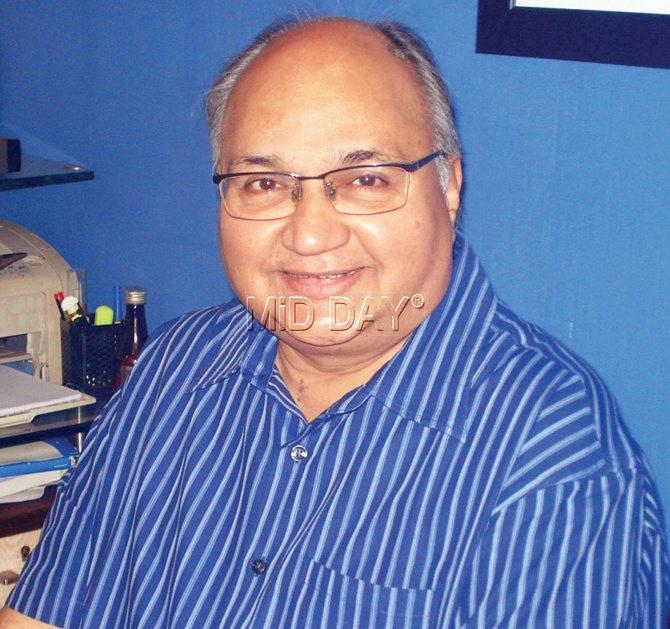 Everything, including Mahim halwa, badam halwa, sutarfeni, mohanthal and boondi, was  sold out."
KHEEMA PAV
For: Rs 70
At: Café New York, Hughes Road
Since: 1913
The slimy yolk of a half-fried egg that sits on a bed of kheema threatens to pop. This dish has seen a lot, from world wars to India's independence.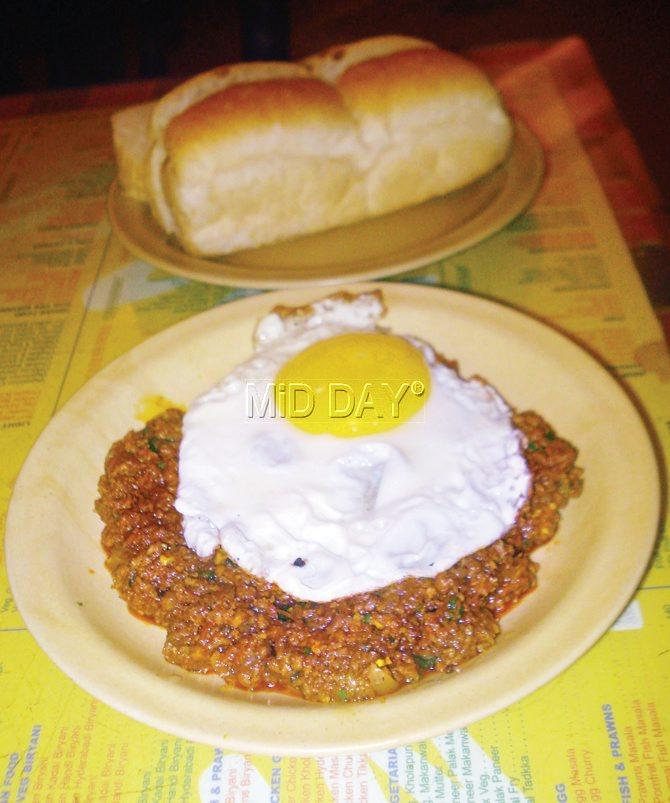 Sharp-eyed manager Diniar Forbes is quick to point out that he speaks on behalf of owner, Shahzad Bakht, who is travelling.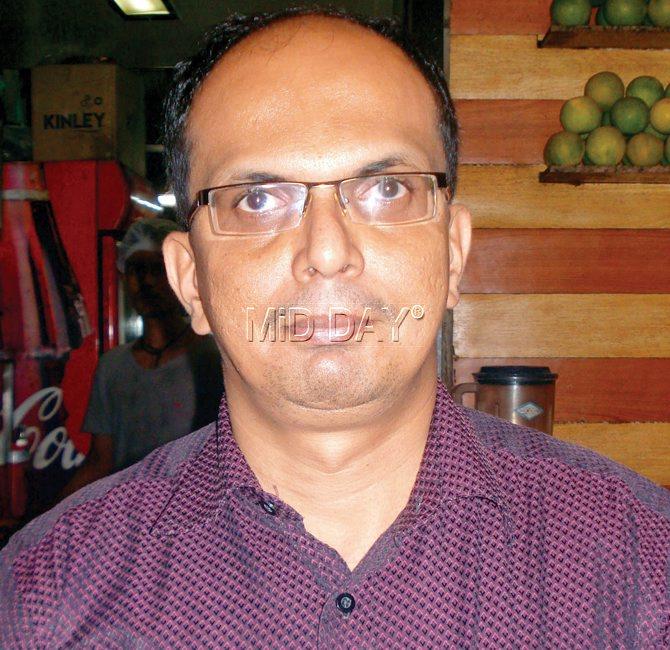 Diniar Forbes
"The café has seen change of ownership, but even before Independence, the kheema pav was a staple for mill workers. Our juke box, in working condition, dates back to before 1947."
MAHIM HALWA
For: Rs 480 onward
At: Joshi Budhakaka, Mahim Halwawala
Since: 1829
Parag Tulsidas Joshi is the ninth generation owner of this sweet shop, which was a send off gift by the Portuguese government to their chef, Jiva Joshi, when he retired. "My father and uncle used to say that the shop is older than Bombay.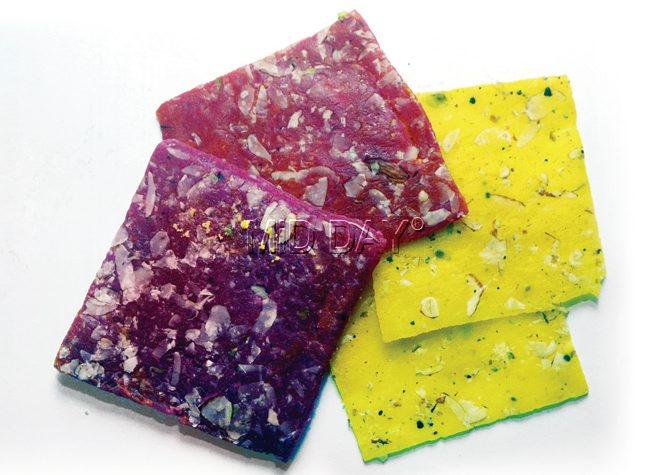 It dates back to the time Mahim was an island. During the struggle for Independence, freedom fighters would buy Mahim halwa from our store to celebrate the smallest of victories.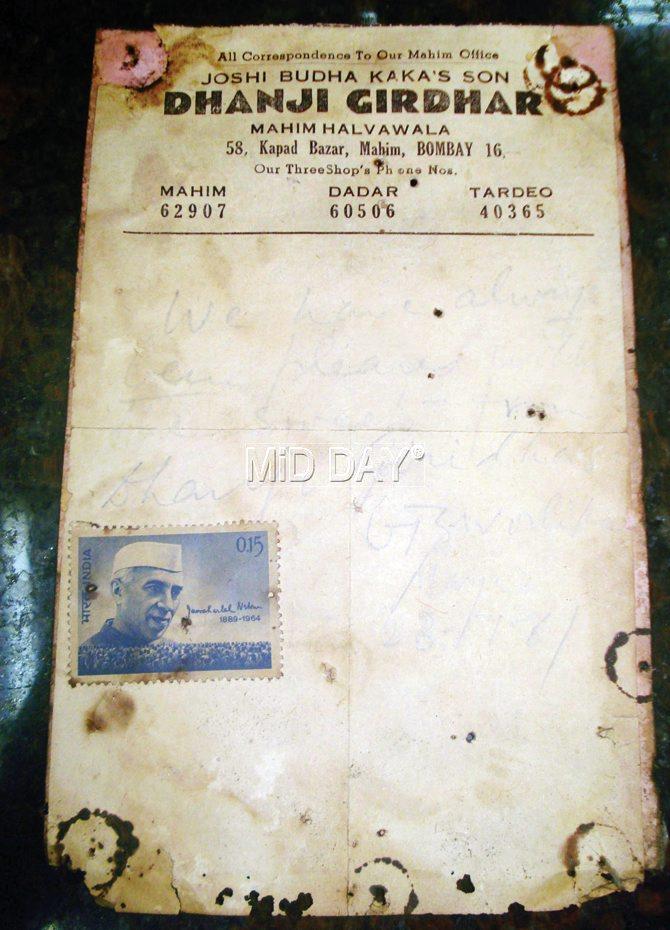 A letter that Nehru wrote to the sweetmeat selling owners
We even have a handwritten note by Jawaharlal Nehru," Joshi says showing a yellowing letter dated July 23, that reads, "We have always been pleased with the sweets from Dhanji Girdhar". On August 16, 1947, the shop distributed sev boondi and boondi laddus across all municipal schools and colleges. It's a practice that continues.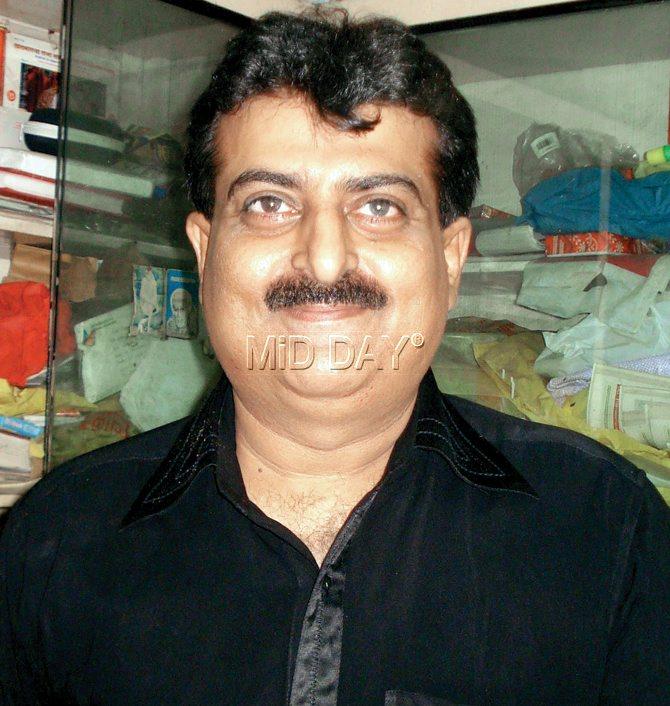 Parag Tulsidas Joshi. Pic/Pradeep Dhivar
FARALI MISSAL, SABUDANA VADA
For: Rs 55 each
At: Panshikar, Girgaum
Since: 1921
Unfortunately, Mahendra Sharma can't dip into memories from lon ago because his father is no more.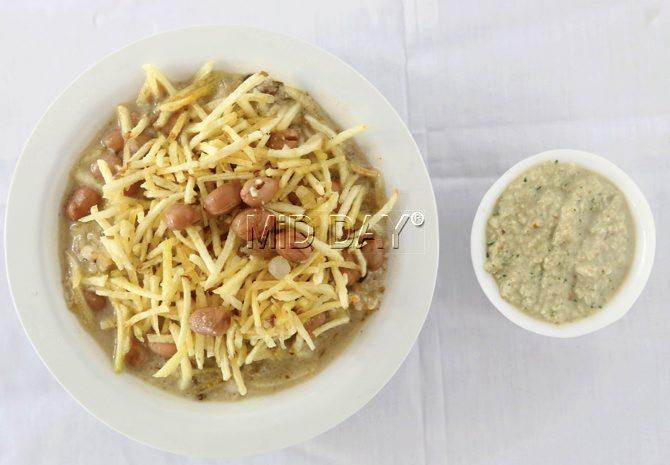 Farali Missal
"But, I can tell you this," he adds, "that my father's close friend and Congressman, Kaka Tambe, invented the piyush, which we introduced at Panshikar.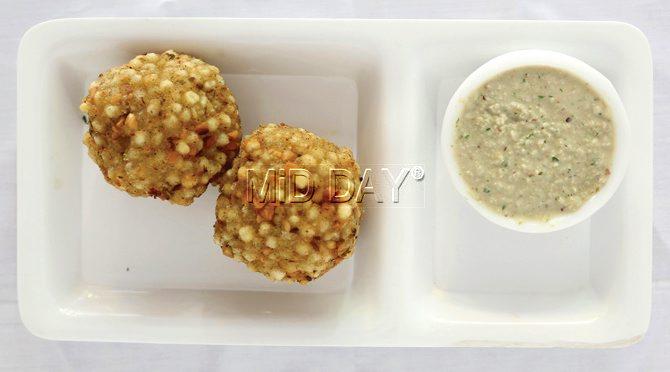 Sabudana Vada
That's how it got famous.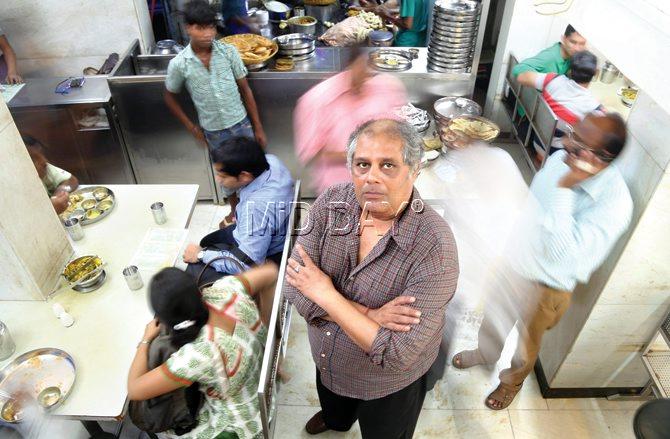 Sandeep Sharma. Pics/Advait Rane
We keep our farali or fasting menu vast, so that people don't get bored eating the same dishes."
CORN CRAB SOUP
For: Rs 180
At: Ling's Pavilion, Colaba
Since: 1945
When a ship of hungry soldiers landed in Bombay sometime while the struggle for Independence raged, all YS Ling, found in the kitchen of his Colaba eatery were a few cans of sweet corn.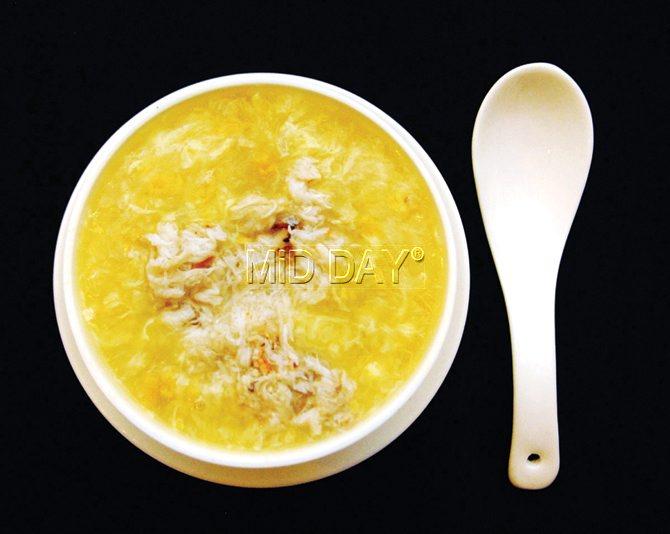 "Achen Tsang, our first chef from China, used them to make litres of soup. This was the genesis of the famous corn soup at Bombay's Chinese eateries," says his son, Baba Ling.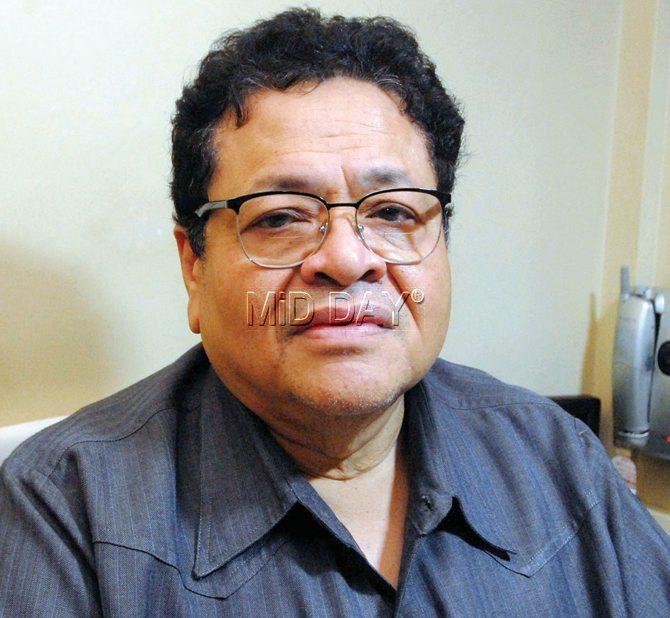 Baba Ling. Pic/Shadab Khan
The restaurant, which had simple interiors, was also famous for its prawns in sweet garlic sauce and American chopsuey. "Back then, we used to sell a big bowl of soup for Re 1. Today, the small bowl costs Rs 180."