While LA deals with the aftershock of the Oscar snafu, two organisers from the country's top awards tell all about the real challenges behind putting up a super-hit Bollywood night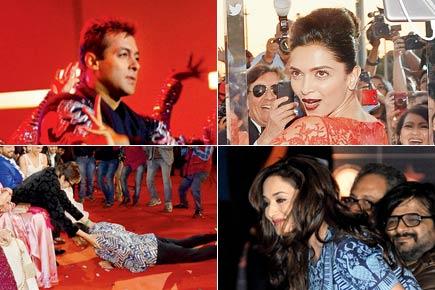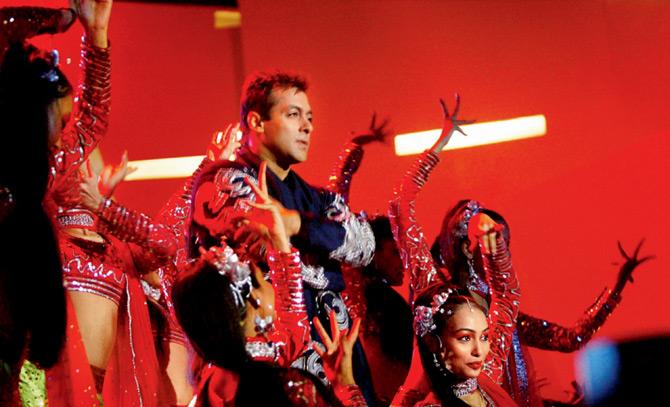 Salman Khan performs with back-up dancers. Pic/Getty Images
Pricewaterhouse Coopers accountants Brian Cullinan and Martha Ruiz have been banned from the Oscars for handing the wrong card to Best Picture presenter Warren Beatty, leading to the biggest snafu in Academy Awards history.
Back home, award shows are no different, and as insiders from two of India's top award shows, tell us, "All that could go wrong, goes wrong." It usually takes six months to plan an event of this scale, which is the result of the combined prowess of an in-house team of the parent company (handling invites, jury, awards, RSVPs, performances and bookings) and an event management firm that handles logistics (venue, furniture, stage, decorations and sound). One of them says, "Stars are the least of our problems.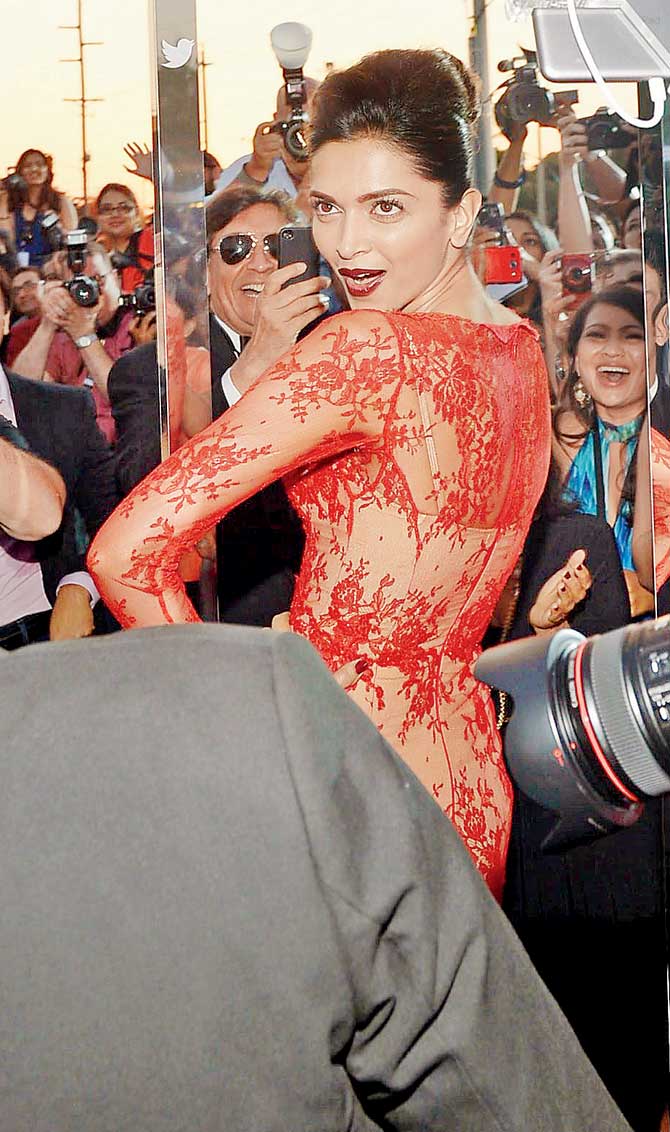 Deepika Padukone interacts with guests on the red carpet. Pics for Representation only/Getty Images
They are paid to perform, or get an award, so they do as we tell. They are like show monkeys." The other, shares, "They are now well behaved, but they still need to be handled sensitively. Egos are big and the box office is fickle. They fight for everything from front row seats to prime performance time and sometimes, even an invite."
Here is the lowdown from the horse's mouth on the five big challenges they face as they get ready to say, "And the award goes to…"
On-Ground mishaps
It's easy to understand what happened at the Oscars. They were dealing with close to 35 awards in one night. Cards got switched for the first time in 89 years of Oscar history. This is unlikely to happen here, though, because at most shows, the winners already know they are winners.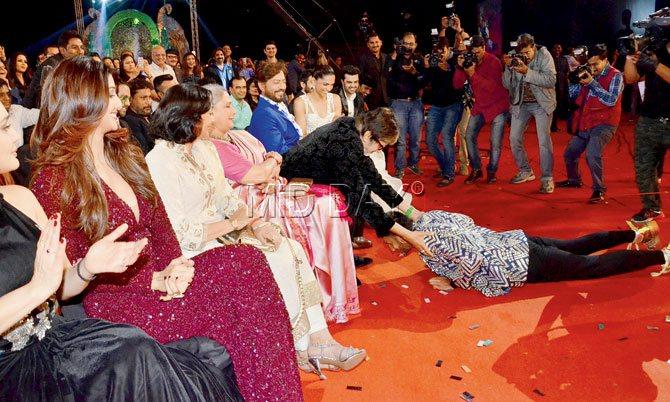 Ranveer Singh surprises Amitabh Bachchan by suddenly prostrating before him at an awards show in 2016. Pic/Yogen Shah
Recently, an award show experienced a real challenge. The tele-prompter conked, and the event management firm had to swing into action and handwrite cue cards for the emcees to read. Usually, the host for the evening is someone who has the gift of the gab and can continue chattering spontaneously, even if something of this sort were to spring up. They are the Gods of improvisation. Wardrobe malfunctions, too, are top concern. But, if someone's pants rip, like they did for a back-up dancer behind Tiger Shroff swaying to Dhooom Machale at an awards show this year, there is little you can do.
Invites and Seating
The lobbying for invites starts months before the show. For us, it's simple. The nominees get front row, which is the most wanted, of course. The rest get second, and after that, your status decides where you will be seated. Interestingly, this changes every year. Whether you are on front or second row is solely to do with how well your last movie did.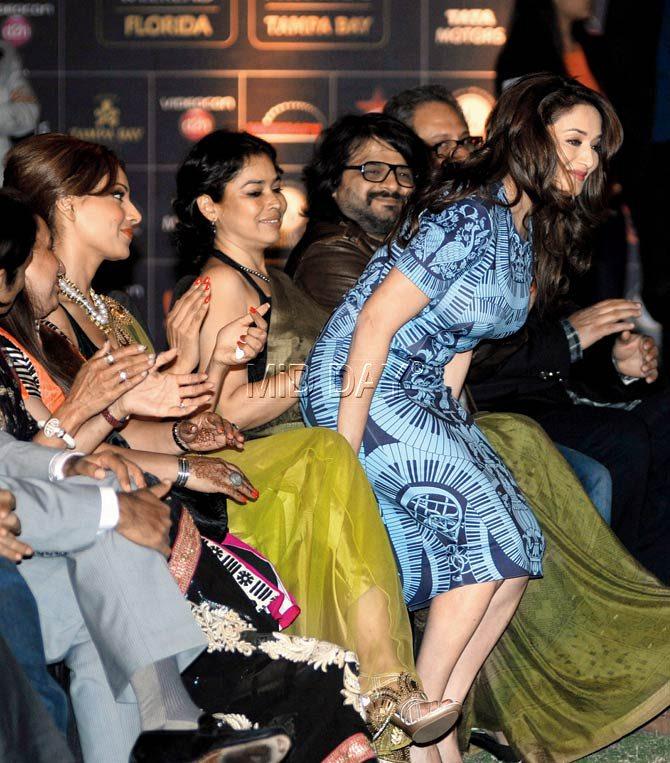 Madhuri Dixit takes a seat. Pic/Satyajit Desai
Making a fool-proof invite list is the most important of tasks. The organisers first draw up a roster of A-listers, the top stars and directors, composers, etc. A second list is kept ready in case some names on the first drop out. Sometimes, a third list has to be drawn up, if spouses of stars have to be included. So, the whole game is to get yourself on any of these lists. Actresses usually like to be seated next to the man who is behind the awards show, and they go to great lengths to sit beside him. Favours are common.
Invites for performances throw up another problem - the math of ego. Which star will perform at what point into the show is debated, and how much stage time s/he will get. Everyone wants to perform around 9 pm, which is prime time. No one wishes to dance when the crowd is getting restless as the night wears on.
The Star's Love Life
We dread the time two stars involved romantically, but secretly, are performing at the same show. They insist that their vanity vans are parked next to each other, and their rehearsal timings synced. During a lead-up rehearsal to a show, these two stars were hanging out, sharing their lunch, and more behind closed doors, guarded by their man or woman Fridays. Then, one star's wife turned up and it looked like things were heading south. The actor, a pro at this, didn't wince. But it threw the events team off kilter, now suddenly having to behave with the wife the way they had with the girlfriend, who left just an hour ago. Many were confused. It becomes team effort to keep the star's marriage, and the show going.
Miscellaneous Tantrums
If the show is being held in India, a star is almost always late for rehearsal. Overseas, we control their strings. We know what time their flights land, and by when they will be at the hotel. So, when shows are held abroad, time management is easier. But travel throws up other demons. This one star couple with a baby said the child's baby food needed a mini mixer-grinder, which was bought and sent to their hotel room. When they left, they packed the mixie with them. The hotel staff had a laugh about it. But, things have improved. Thankfully, most stars know they have to behave like professionals, not ruffians from filmy families. There are cameras everywhere, and if you behave badly, you become a meme. So, most of them toe the line.