Upcoming title Masala Mamas, in addition to sharing traditional Maharashtrian recipes, tells of how a Jewish-backed women's collective in a suburb of Mumbai is offering sustenance to thousands of underprivileged kids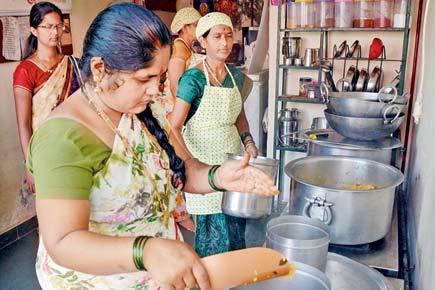 It's 8 am. Shivaji Nagar, a neighbourhood 10 minutes away from Kalwa East railway station is stirring awake to the sound of devotional music playing on a loudspeaker. Among a row of shuttered shops, a 10x15 feet kitchen witnesses a flurry of activity. Five women, wearing polka dot aprons and scrub caps, are preparing 25 kilos of dal khichdi. The simple, hearty dish will feed 100 underprivileged children who study in class 1 to 4 of Joshua Greenberger Learning Centre, a school run by non-profit Gabriel Project Mumbai (GPM).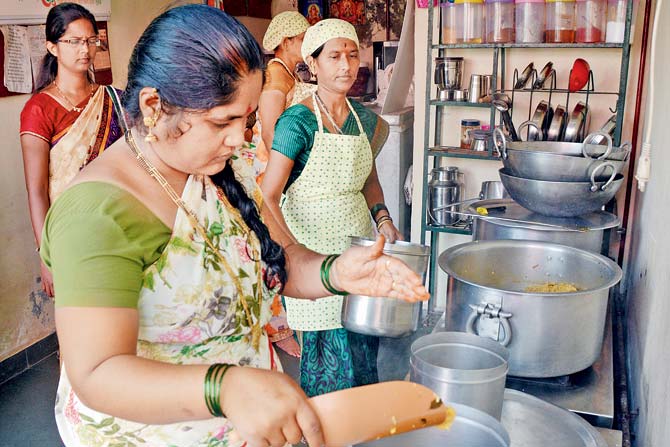 Ragini Godbole, Indu Mane and Sangita Raut at GPM's Kalwa kitchen
ADVERTISEMENT
The women work in rehearsed sync. They've known each other for eight years, first working together at Mahila Bachat Gat (Women's Economic Cooperative) supported by a local non-profit REAP (Reach Education Action Programme) and then at Delicio Food Company, a catering service they set up five years ago. It's through this that they partnered with GPM.
While Ragini Godbole and Subhadra Khose chop the onions and tomatoes into a fine heap, Sangita Raut heats the oil. Kalpana Gawde tempers it with jeera, rai and tej patta. On the side, she washes used vessels and cleans the floor between intervals. Raut suddenly cracks a joke about a neighbour and they can't help but laugh.
"This kitchen is their haven. They come here to cook, but also to indulge in lighthearted gossip. They are each other's support," says Hayley Dsouza, volunteer coordinator and educational administrator at GPM.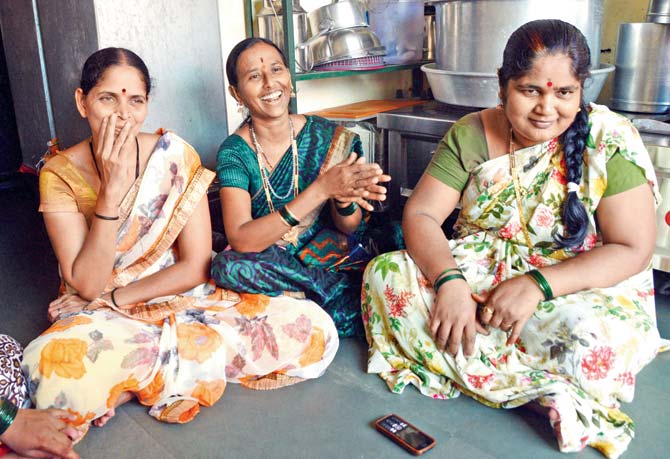 The team preps to cook 25 kg of dal khichdi. Picsa/ Satej Shinde
Hailing from various parts of Maharashtra and Karnataka, the women made this suburb on the fringes of Mumbai, with an estimated population of 2,00,000, their home close to 30 years ago. Most of them live in one room-kitchen tenements in neighbouring chawls. "When I moved here, the area didn't have pucca roads. I had to walk 30 minutes to find the nearest kirana store. There was only one tap for the entire neighbourhood, and open gutters were everywhere. Things have improved," says Indu Mane, as she cleans the rice before handing the plate to Raut, who empties it in the pot, now simmering with onion, tomato and peas flavoured with ginger-garlic paste and garam masala. All the spices that go into the recipe are made in-house leaving the kitchen fragrant.
It's only natural then that writer and anthropologist Elana Sztokman decided to name the women's collective Masala Mamas. The moniker has even made it to the title of a cookbook that releases this December, and will be available in print and ebook format.
What's in the book?
With the famous festive phrase, 'Til gul ghyaa, goad-goad bola' as its epigraph, Masala Mamas: Recipes and Stories from Indian Women Changing their Communities through Food and Love, contains 100 vegetarian recipes, mostly Maharashtrian in origin, shared by 16 women from the collective. It also includes essays that offer the reader a glimpse into their traditions and everyday lives. For instance, Khose admits that she couldn't cook. So, when her kids would ask her to make sweets, she gave them poha instead.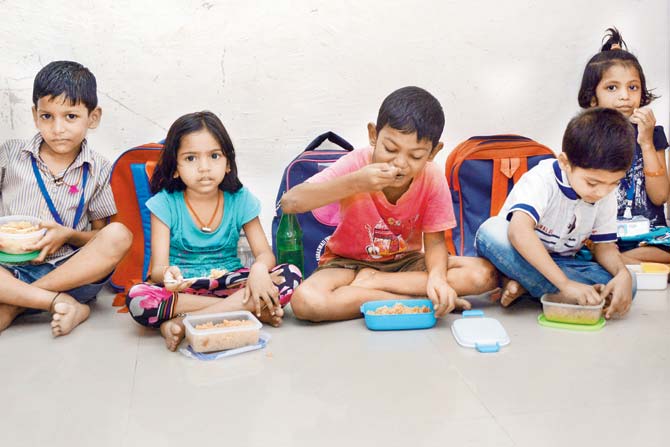 Students at Joshua Greenberger Learning Centre in Bhaskar Nagar, 15 minutes away from the kitchen, relish the dal khichdi lunch 
"They've also spoken about the experience of being a woman in India; the time they got married, when they stopped going to school, the expectations they have to live up to, and how their daughters are a little more independent than they were. The cookbook is a vehicle to share their stories, work and community recipes with the world. It also helps preserve their knowledge, which stands the chance of getting lost in urban migrtion. For instance, things like how to use turmeric for facial care or coconut oil for hair," says Sztokman, 47, in an email interview from Israel, where she lives with her husband, Jacob, a tech executive turned social entrepreneur, who founded GPM in 2012.
The journey so far
The Jewish volunteer-based initiative was launched to provide hunger relief, literacy support and empowerment to kids living in the city's slums. Over 150 volunteers from the USA, Europe, Australia, Israel and Asia have offered their services in the past five years.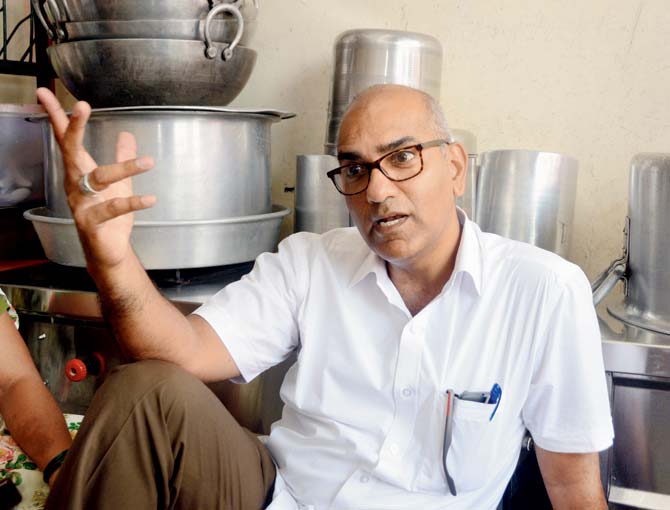 Kenneth Dsouza of GPM says the plan is to set up a restaurant in Thane or Kalwa 
Headquartered in Kalwa, GPM runs a variety of initiatives, including a drinking water project and a health and learning centre that's part of its Love2Learn school network. Local youth, mainly students pursuing a masters degree, teach the underprivileged kids, roughly 25 per class, from class 1 to 10. The medium of instruction is Hindi. "We picked Kalwa after a recommendation by members of REAP, who were working in the area," says Elana. The team's first project was called Eat to Learn. It ensured that if the kids showed up to learn, they would be served a hot, nutritious meal.
While the approach worked, finding a food supplier was challenging. That's how Khose and her colleagues came into the picture. "It's a win-win model. The children fulfil their nutrition and education requirements, and the women have a chance at economic empowerment," adds Elana.
Recipe collectors
Spending roughly half a day in the kitchen daily, the women cook six dishes through the week -- poha, chana usal, veg pulao, sheera, soyabean khichdi and dal khichdi. Each student enjoys a 250gm meal; all quantities are measured on a digital weighing scale to avoid wastage. "We picked these dishes because most kids living here are migrants from the north. So, South Indian dishes like idli and medu wada might not agree with their taste," says Mane.
Once the meal is prepared, it is packed in five steel containers and delivered to the centre. "Until a couple of years ago, we would carry the hot dabbas on our heads, sometimes wading through knee-deep water in the rains. Now, we have an autorickshaw for the job," shares Raut.
Besides the daily meal, women also make batches of Hyderabad Mix -- a grain mix developed at the National Institute of Nutrition (NIN) and given as a supplementary formula to malnourished kids -- which is supplied to various clinics in Kalwa.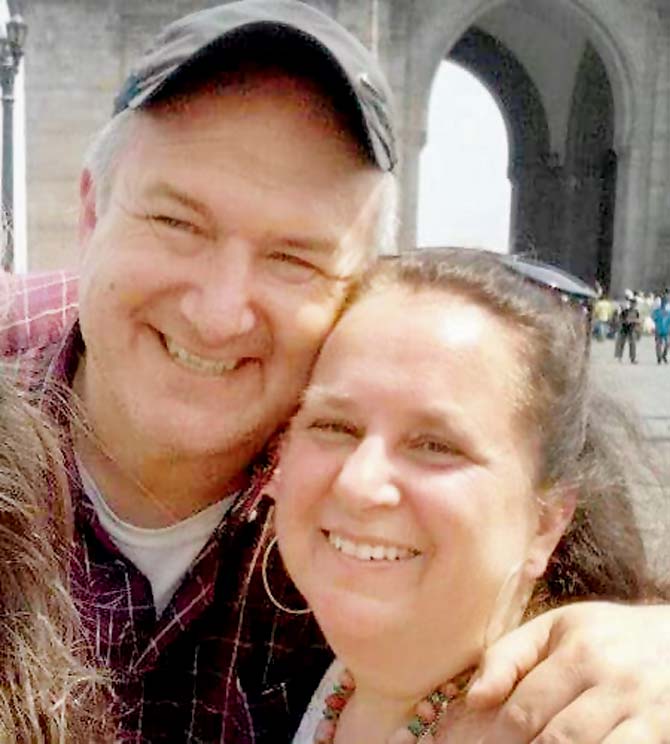 Elana Sztokman and husband Jacob 
However, it's not just school kids they feed. Under Delicio, the team receives 30 catering orders through the year. These could be for birthdays, weddings or Ganeshotsav. From upma and puri bhaji to bharli vangi, besan dhirde, alu wadi and gulab jamun, the self-taught cooks rustle up a bunch of recipes, all now recorded in the book. "Most of these are traditional recipes, passed down generations. Indu and I also learnt some dishes from our husbands who work at the BPT canteen. For instance, the Maharashtrian-style patal bhaji. Sometimes, my daughter looks up a recipe online on her mobile phone and asks me to make it. We enjoy learning new dishes," shares Raut.
They've learnt recipes from each other too, like the mas wadi, a snack that Khose grew up eating. "It's exactly like bhakarwadi, but we had never heard of it!" exclaims Mane.
During Elana's last visit to Mumbai in March this year, the team travelled to Alibaug to spend a day at celebrity chef Moshe Shek's culinary studio, A World Away. Mane reminisces, "It was beautiful. Many of us hadn't travelled by boat before. He taught us how to make chhole bhature."
Shek, who is a GPM trustee, adds, "It was a day out for them. Since they were working on the book, my only advice was that they should weigh the exact quantity of each ingredient required instead of using approximations which they are used to cooking with."
Back home in Israel, Elana has hosted recipe trials with professionals from the hospitality industry to ensure every recipe in the book works. "I loved biryani and many of the vegetable masalas and curries. Now, my kids love to eat besan dhirde for breakfast, and I also cook a variety of pakoras and bhajiyas. Once you've cooked with Indian spices, you can't go back to Western cooking. My kitchen smells different... like India."
Earn and empower
The profits from the book sales will go towards supporting the women's kitchen. Through the partnership with GPM, they currently earn Rs 16,000 per month as a group, and are share holders in Delicio Food Company. Kenneth Dsouza, director -- India, GPM, who trained the women to run a professional kitchen, says, "It gives them a sense of ownership, stokes their entrepreneurial spirit and empowers them financially. In many families, they are the sole breadwinners. In three years, we've seen a turnover of R40 lakh. By next year, we plan to launch a food stall near Kalwa railway station and a restaurant in Kalwa or Thane, where they can offer wholesome, community cuisine."
And research for it has already begun. After wrapping up the day's chores, Mane and Raut visit Thane's Viviana Mall to observe how kiosks are run at the food court. Raut sums up their labour of love: "Amhala bidding-vidding nahin jamat; fakt jevan banavna aavadto (We're not interested in offering saree fall-bidding services; we like to only cook)."
"Exciting news! Mid-day is now on WhatsApp Channels

Subscribe today by clicking the link and stay updated with the latest news!"
Click here!