Chef Pallavi Nigam who got introduced to Bhojpuri cuisine after marrying into a Bihari family, shares her culinary journey in a new book that also features her Chhat favourites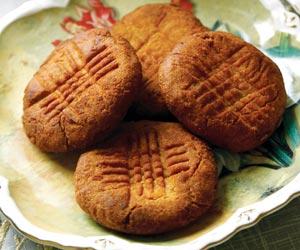 One of the first things that drew chef Pallavi Nigam Sahay to Bhojpuri cuisine were the quirky names of the dishes. Sahay, who only got introduced to the cuisine after she married into a Bihari family, says, "I found the names wonderful, and sometimes, funny. I hadn't heard of Dhuska, Peetha, Papra and Khaja." It was during the time that her wedding date was getting fixed that she realised the treasure trove that Bihari cuisine was.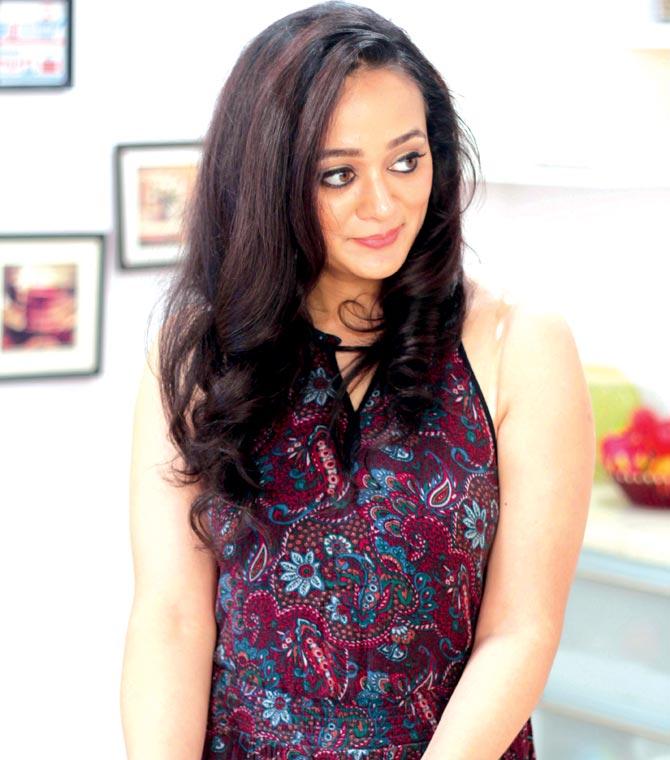 Pallavi Nigam
ADVERTISEMENT
"In fact, they are so serious about their food, that they change wedding dates to suit their taste buds, as per the flavour of the season. My wedding ceremony, for instance, was moved from Tuesday to Friday so that guests could savour non-vegetarian dishes as well." Her fascination for the cuisine has found expression in her new book, The Bhojpuri Kitchen, which features not just the recipes but also stories behind them. "Bhojpuri cuisine is not covered well in popular media. I want the book to put the spotlight on Bihari khana," Sahay says.
Being a chef, warming up to a new cuisine came easily to her. "Although, I must say learning how to make the parwal ki mithai and the khaja was tough. But I had the best teachers in the bhabhis and chachis of the family," says the chef, who has culinary diploma from Italy. Ask her to pick her favourites and she names the kachhe kele ke bhujia, machli ka sarsowala jhor and the "sinfully indulgent Halwai style mutton". "Bihari curries are usually soupy and much healthier, as they don't contain any cream or butter. And, unlike in other cuisines, sattu is liberally used — they are a staple in any Bhojpuri kitchen," Sahay adds.
Thekua
Sweet Wheat Flour Fritters
If I ever want to be thoroughly pampered by my family, then all I have to do is make Thekuas. Sweet, crumbly and crisp, thekua is one of the most important dishes in Bhojpuri cuisine, quite like the legendary Litti Chokha (Wheat Flour Balls Stuffed with Roasted Gram Flour and Served with a Spicy Potato Mash). Thekua is mandatory for almost every festival or special occasion in the region, but in my house, you can always find them in cookie jars, for I prefer them over other cookies with my morning tea. Also, for a healthier option, you can bake them instead ofdeep-frying.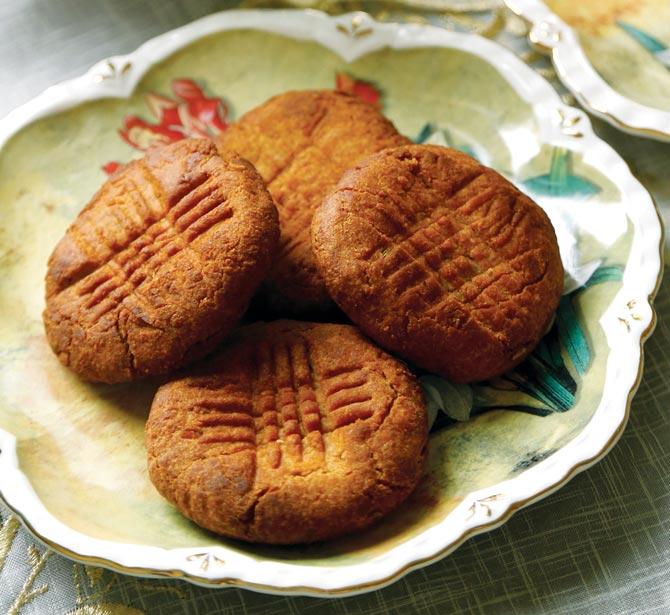 Serves: 5-6
Preparation time: 15 minutes
Cooking time: 15 minutes
Ingredients
For the dough
Water: 1 cup
Jaggery (gud), broken into small pieces: 250 g
Whole wheat flour (atta): 400 g
Desiccated coconut: 150 g
Green cardamom pods, coarsely crushed: 7-8
Fennel seeds (saunf ): 2 tsp
Ghee: 4 tbsp
For frying the thekuas
Oil: to deep-fry
Method
To knead the dough
> Put the water and jaggery in a pan over high heat and bring to a boil. Keep stirring, till the jaggery is totally dissolved.
> Sift the flour on to a large deep plate. Add the remaining ingredients for the dough and give it a good mix with your hands.
> Knead it into a stiff dough with the help of the jaggery water.
To shape the thekuas
> Make balls with the dough about the size of golf balls.
> If using a thekua mould, flatten them on top of the mould and press it gently so that it can get the required impressions.
> If not using a mould, flatten them slightly with your hands and then use a fork to draw straight or zig-zag lines on top.
To fry the thekuas
> Put the oil in a wok over moderate heat.
> Lower the heat and deep-fry the thekua in batches, till light brown.
> Drain and place on kitchen towels to absorb excess oil.
Parwal Ki Mithai
Sweetened, Stuffed
Pointed Gourd
So here we were in Patliputra Colony, Patna, enjoying Shanu Bhaiyya's wedding; a typical day with everyone chattering, singing and enjoying delicious traditional wedding snacks. Then suddenly someone served me Parwal ki Mithai and my jaw literally dropped! I was blown away instantly! Until then I could only imagine it as a vegetable, never as a dessert.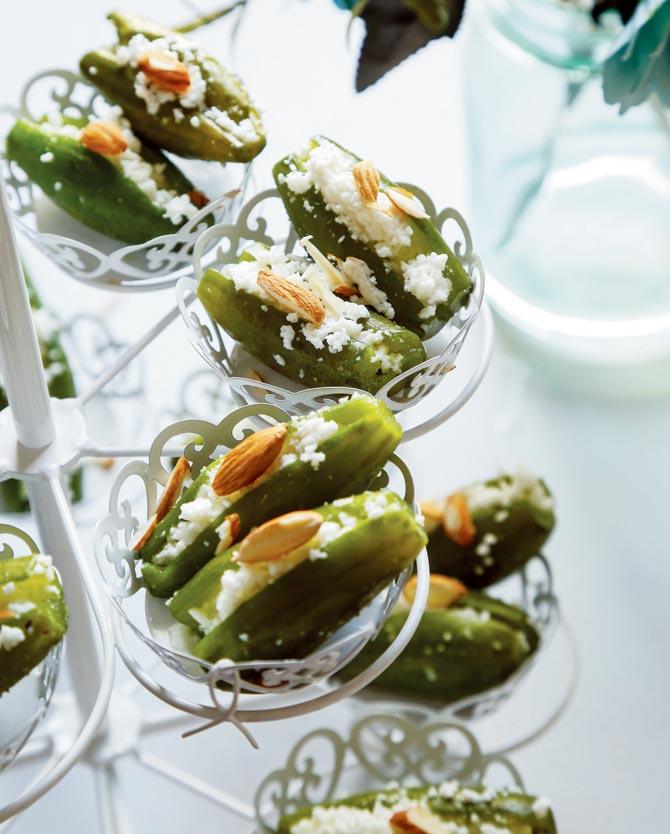 Serves: 5
Preparation time: 15 minutes
Cooking time: 30 minutes
Ingredients
Parwal (pointed gourd): 250 g
For the chashni (sugar syrup)
Granulated sugar: 2 cups
Water: 1 cup
For the stuffing
Milk solids (khoya /mawa): 100 g
Milk powder: 25 g
Powdered green cardamom: ¼ tsp
Seedless raisins: few
Almonds, finely chopped: 3 tbsp
Method
To prepare the gourds
> Clean the gourds, chop off both ends and peel them.
> Make a slit along the centre of the gourds and scoop out the flesh, to make space for the filling.
> Boil water in a pan over high heat and blanch the gourds for 5-6 minutes.
> Drain thoroughly and leave them in a colander, till the water has totally drained off.
To prepare the chashni (sugar syrup)
> Put the sugar and water in a deep, heavy-based pan. Simmer, while stirring occasionally, till the sugar is completely dissolved.
> Continue cooking for about 10 minutes without stirring, till the syrup reduces. Your chashni is now ready.
To poach the gourds
> Add the blanched gourds to the syrup and simmer, till they become translucent.
> Remove from heat, cover the pan and set aside for the gourds to absorb the syrup.
To make the filling
> Put the khoya in a shallow pan over low heat and saute, till it becomes slightly golden.
> Transfer to a bowl and set aside.
> Add the remaining ingredients for the filling and mix well.
To complete the dish
> Remove the gourds from the syrup and stuff them with the filling.
Excerpted with permission from Westland
"Exciting news! Mid-day is now on WhatsApp Channels

Subscribe today by clicking the link and stay updated with the latest news!"
Click here!