A food pop-up will introduce you to staple fare eaten by the Nepali community in Assam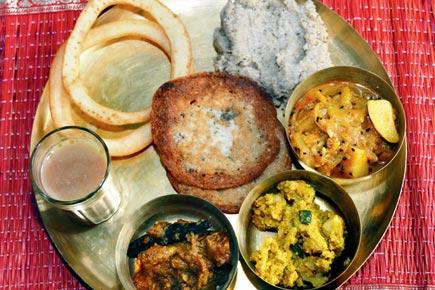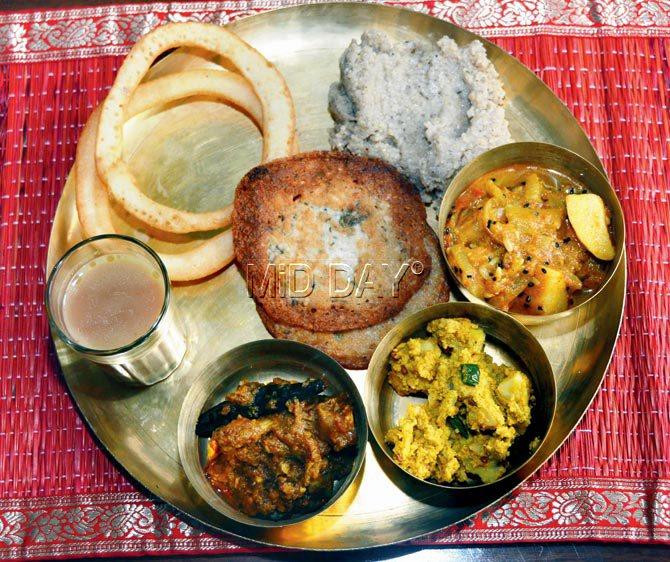 Nepali Thali. Pics/Sayed Sameer Abedi
It is Nepal's biggest and longest festival. Dashain (Durga Puja in India) is a harvest festival celebrated for 15 days, with rituals and lots of food.
ADVERTISEMENT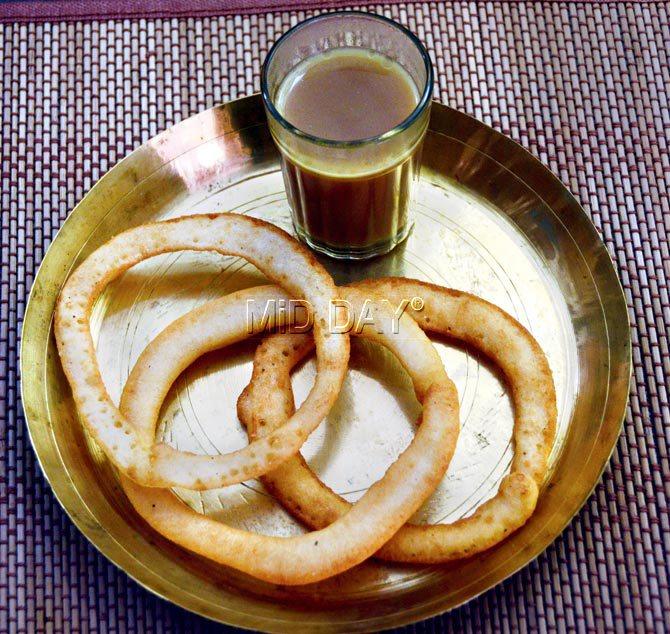 Sel Roti and Po Cha
This festive season, home chef Gitika Saikia wants to bring a glimpse of those feasts to the city. Her next food pop-up, Celebrating Dashain with Gitika Saikia, will feature the Nepali cuisine — Dashain specialties and staple Nepali fare — of Assam. "The feast is based on my experiences growing up eating Nepali food at friends' homes and participating in their festivities. I got these recipes from people I grew up with and families I visited during my last trip home," says Saikia. We break down the five-course meal.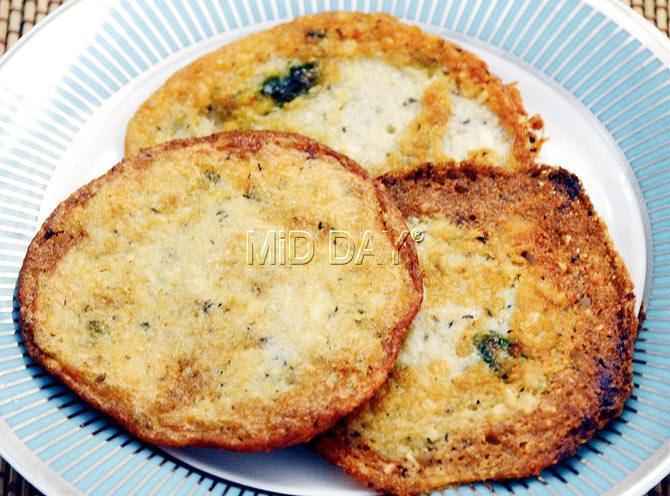 Course 1
Sel Roti and Po Cha
Sel Roti is a traditional homemade sweet that is eaten during festivals, especially Dashain. The ring-shaped doughnut has sugar, milk, ghee, rice flour and cinnamon and is deep-fried. It is best consumed hot off the pan. The crispy snack is light, crunchy and has a faint sweetness. "The Sel Roti has become a symbol of Nepali identity, and is prepared in all Nepali homes," says Saikia.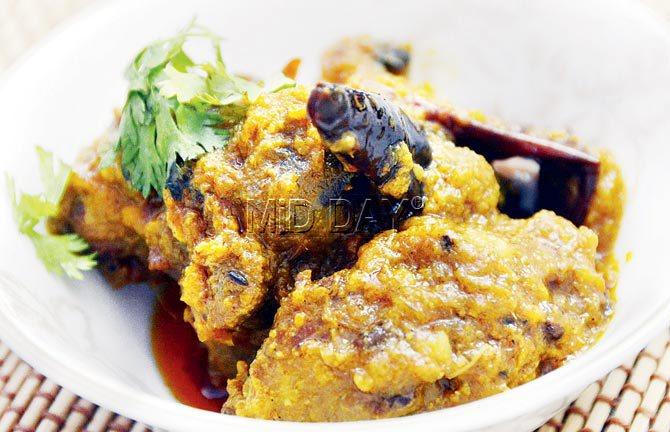 Khasi Ko Masu
She will be pairing this with Po Cha, buttered tea. "Tibetan butter is consumed frequently because it provides warmth, much needed in the colder climates," she adds. The tea has a pungent, salty flavour that pairs well with the crispy Sel Roti.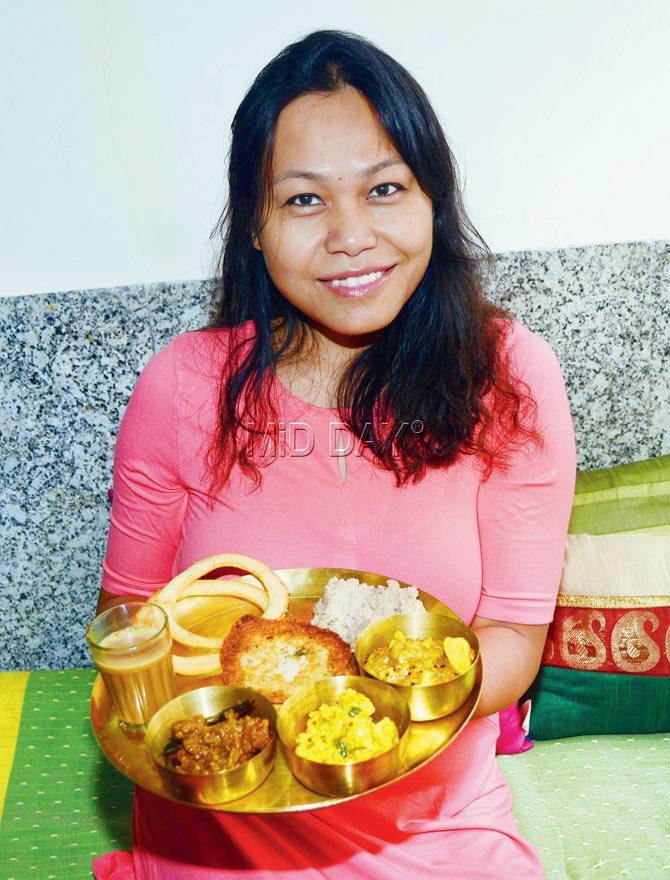 Course 2
Alu Ko Achaar, Gundruk, Saag, Wo
Saikia's second course features traditional Nepali favourites. The story behind Gundruk is fascinating. "In the old days, during periods of unrest, before leaving their farms people would cut the eaves of mustard, mooli or cabbage plant and hide them in the mud. When they returned, they would dig up the now-dried leaves, grind and ferment them to use later in vegetable dishes. This is usually paired with potatoes or bamboo shoot," she says. This process is followed today where the leaves are allowed to wilt and then fermented and stored. She will serve a chutney of mustard leaves and beans.
Saag is a simple spinach stir-fry with chillies, garlic and ginger.
Alu ko Achaar is a potato preparation, with a mild, creamy nutty taste, similar to Alu Posto. "The community eats a lot of sesame because it gives warmth — they either have it as chutney or added it to vegetable dishes," says Saikia. This tastes best when hot, and eaten with Wo (extreme left) — a lentil fritter made from black or green urad dal. Wo or Baara is also associated with religious and ceremonial occasions and during Dashain, is sometimes offered to deities.
Course 3
Dhindo, Khukura Ko Maso
Dhindo is a traditional porridge made using corn flour, buckwheat, and ghee. It is eaten as a main meal, served in the centre of a thali, with all the curries placed around it. "In those regions, rice isn't eaten much, so dhindo is preferred. It has to be eaten hot; you make a ball of the mixture, dip it in gravy and eat it," says Saikia.
She will pair Dhindo with a chicken curry, Khukura Ko Maso. This Newari (a community in Nepal) dish is a simple chicken curry made with onions, tomatoes and spices.
Course 4
Khasi ko Masu, Rice
"Mutton is the preferred meat in the Nepali community. A goat is sacrificed during Dashain and in the olden days, people would serve an entire chunk of meat. The bigger the piece of meat, the wealthier you were," says Saikia.
While she won't be serving a big chunk of mutton, Saikia will serve a Khasi ko Masu. The slow-cooked mutton dish is a rich, spicy curry that is cooked in mustard oil.
Course 5
Makhana kheer
The dessert course will feature Makhana (dried and puffed lotus seeds) kheer. This is offered to Goddess Durga during Dashain. The dessert can be eaten hot or cold.
On: October 2, 12 pm to 2 pm
At: APB Cook Studio, 301, Srishti Plaza, Saki Vihar Road, Andheri (E).
Log on to: www.insider.in
Call: 42152799
Cost: Rs 1,550