FIRST IN MID-DAY: A new space in South Mumbai which celebrates Eastern Mediterranean cuisine offers a peek into authentic Levantine food and aesthete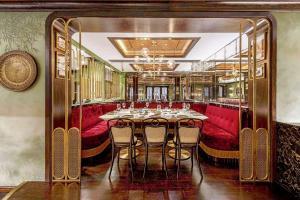 Pics/Ashish Raje
Olives? In Hommos? Never!" says chef Ali Ghadban dismissively as we marvel at our serving of the velvety dish garnished with chickpeas — its key ingredient — instead of something passe like olives. We are sitting across him tucked snuggly into the burgundy banquette inside Rue Du Liban, a new restaurant in Kala Ghoda that celebrates Levantine cuisine.
Its green walls are donned with watermarks of olive trees that boast of exquisite Arabesque brassware. The dreamy art installation behind us comprises suspended transparent olive leaves luminescent under halogen lights. In the curvy, antique wooden chairs opposite us sits Arja Shridhar, gesticulating unapologetically as she utters the words "passionate about food" one too many times.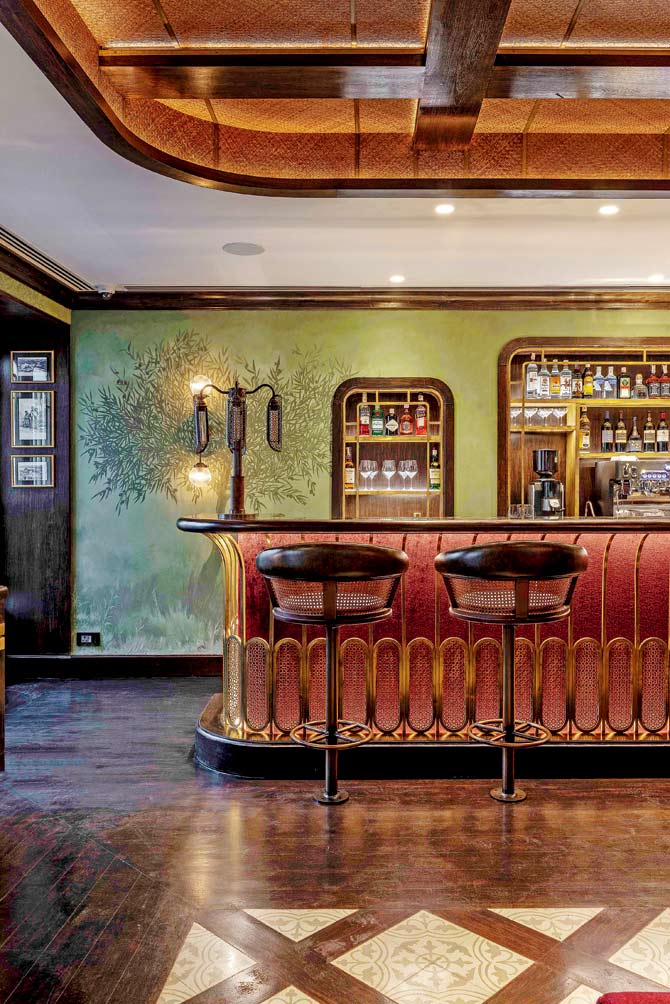 Sridhar helms Indianapoli Hospitality along with Sam Malde and actor Juhi Chawla's spouse Jay Mehta, and says her love for the simplistic, healthy and wholesome cuisine can be traced back to dining in Lebanese restaurants in London. The idea of a Levantine eatery had been incubating in her and partner Mehta's subconscious for a while and to give it shape, the two made a visit to Beirut in 2016.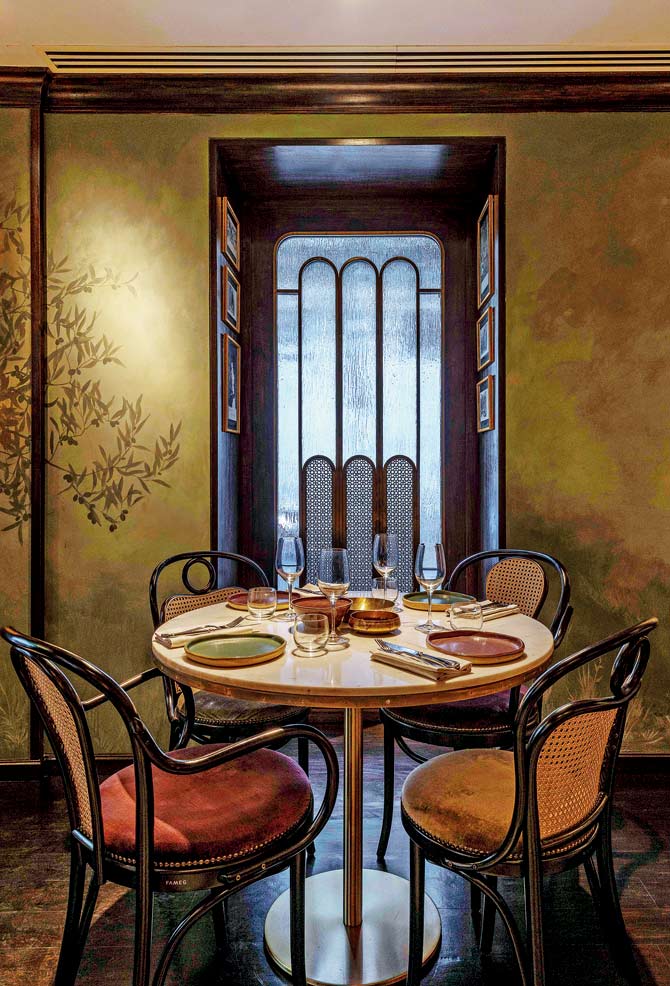 It was during that trip and through sheer serendipity that Sridhar came across Ghabdan. "On the last day of our trip, our guide mentioned that she had a friend whose husband was a consultant at a restaurant. So, we decided to give it a shot and met him. We kept in touch and now he's in India," she shares.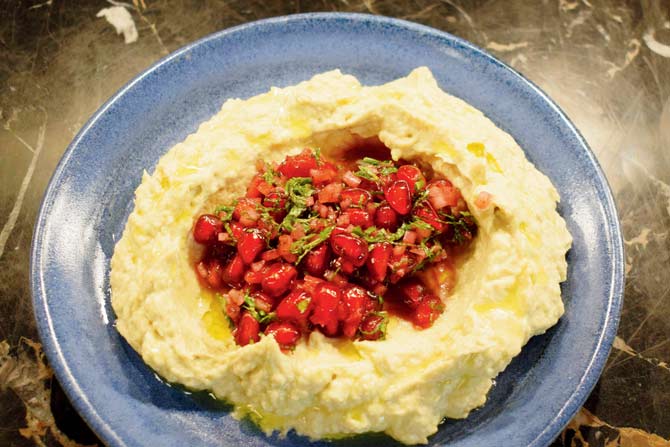 |
Moutabal baba ghanouj
For Ghabdan, the consulting chef at the eatery, Lebanese food is sacrosanct for he spends three days fine-tuning Indian potatoes for a spicy, fried dish called Batata harra (Rs 600), to achieve the balance between a crispy outside and a soft inside. "The potatoes here are too sweet, so it cooks faster," he laments in a thick accent that we struggle to decode.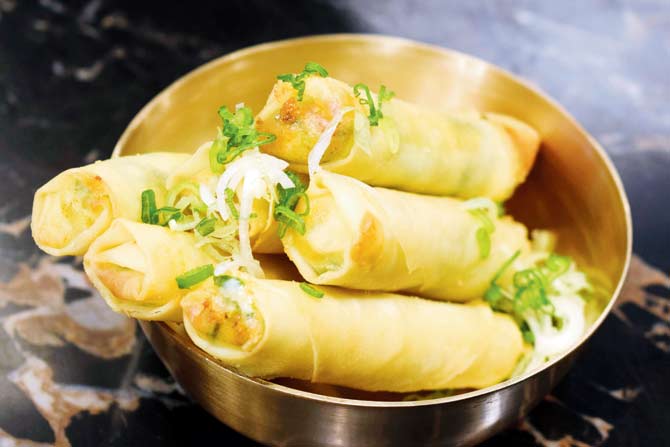 Cheese rokakat 
Despite having nurtured a dislike for eggplants we lap up the moutabal baba ghanouj (Rs 600), an aubergine and tahini purée garnished with pomegranate. He urges us to try the cheese rokakat (Rs 700) and we savour the crispy cigars with a cheesy filling made with feta, mozzarella and smoky emmental. We gasp loudly as we bite into the mamoul jebneh (Rs 450), a biscuit-y dessert with a sweet centre made with smushy and succulent dates.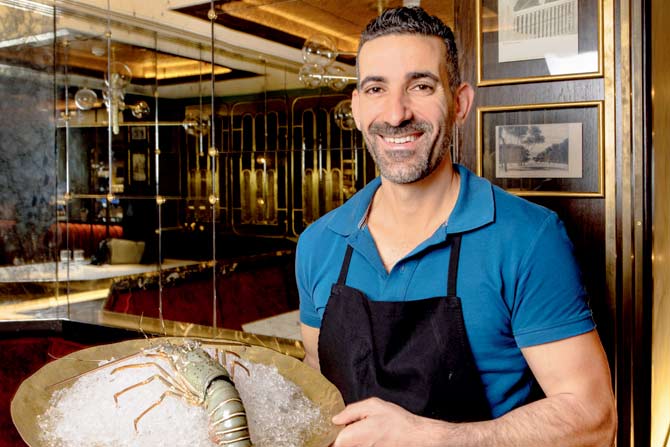 Chef Ali Ghabdan
We inquire about the difference between Levantine and Lebanese cuisine as the former includes food from countries such as Syria, Israel, Palestine and Jordan as well. "It's much the same," Ghabdan replies, explaining that staples such as hommos, moutabal, tabbouleh, mouhamara, and za'tar are common to all countries, but are tweaked primarily while garnishing. Sridhar echoes this, observing, "There's so much more to the cuisine than shawarmas, so we don't have that on the menu."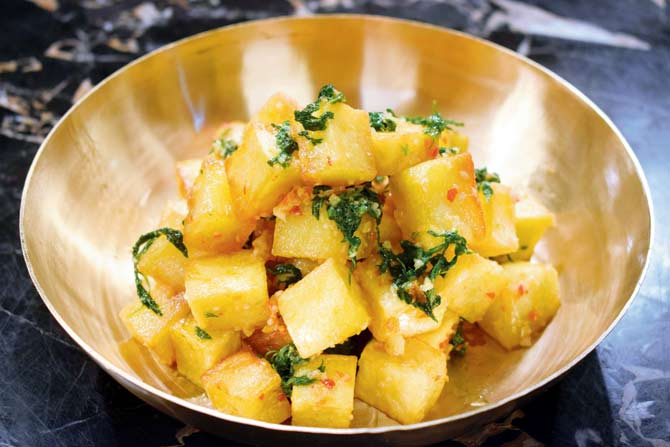 Batata harra
Be that as it may, it was this simple Lebanese roll that introduced uninitiated Indians to the cuisine. And we have a theory about how it may have arrived here. You see, it was only in the 1990s that Indo-Israel relations developed formally and this coincided with the influx of tourists from the region in India, and particularly in the state of Himachal Pradesh who brought along with them hommos, pita and falafel, now abundantly available across the idyllic villages. And the dishes trickled down to the cities, manifesting themselves in the form of rickety kiosks serving mayonnaise-laden shawarmas. But that's just us putting two and two together and as you may have heard from seasoned mathematicians before, math isn't that simple.
Opens On: September 23, 7 pm to 1 am
At: Sasoon Building, Kala Ghoda.
Call: 7045000015
Catch up on all the latest Crime, National, International and Hatke news here. Also download the new mid-day Android and iOS apps to get latest updates