Anaida, pop star of the '90s, dips into her Persian roots as she dons the chef's apron to whip up age-old, authentic dishes at an upscale Irani café–themed restaurant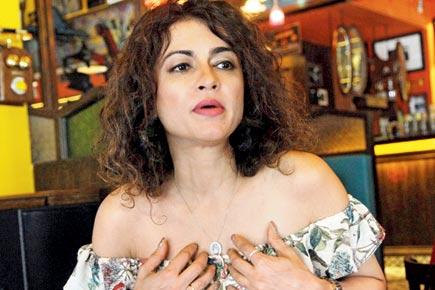 Khorak-E-Gosht with a portion of rice. Pics/Datta Kumbhar
"Iranians make haleem with honey since it's a winter breakfast staple. Try it with sugar," suggests Anaida Parvaneh, looking radiant in an off-shoulder floral dress, when we meet her at SodaBottleOpenerWala's (SBOW) newest outpost in Powai. She deftly mixes a spoonful of sugar with Irani Haleem (Rs 355). "Perfect," she says after a bite. That's our cue to try it.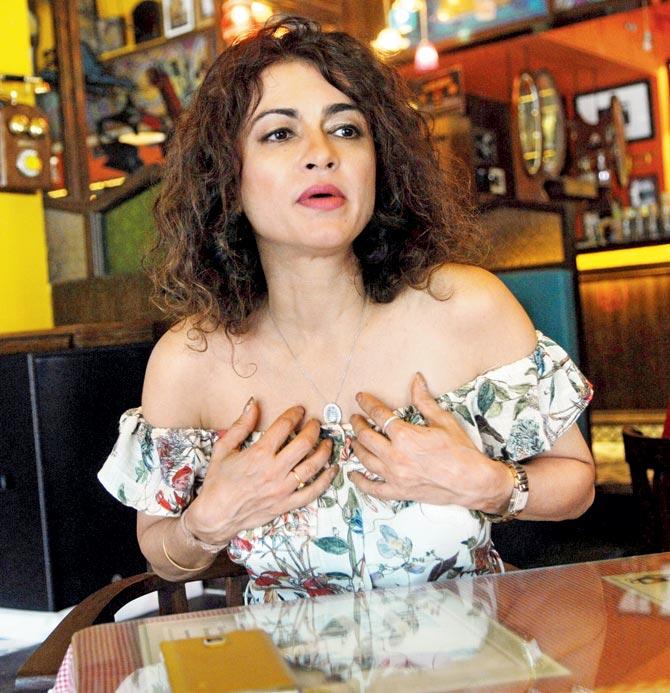 Anaida Parvaneh
Though a simple dish where the cinnamon-spiked slow-cooked lamb is whipped with wheat paste and fried onions, it weaves a silken web on our taste buds; mild flavours elevated by the sweetness. It's light, we declare. "The Hyderabadi-style haleem is tasty but heavy. Here, I use ghee just for the onions. I also avoid green chillies because they overpower the other flavours," says Parvaneh, one of India's first Pop singers of the '90s, who has been roped in as the chef and partner at the newly opened outlet, post the success of her Persian pop-ups that SBOW hosted across the country, early this year. Parvaneh has helmed Post Cards From Persia, a new section on the menu, owing to her Iranian roots of her late mother, Shamsi.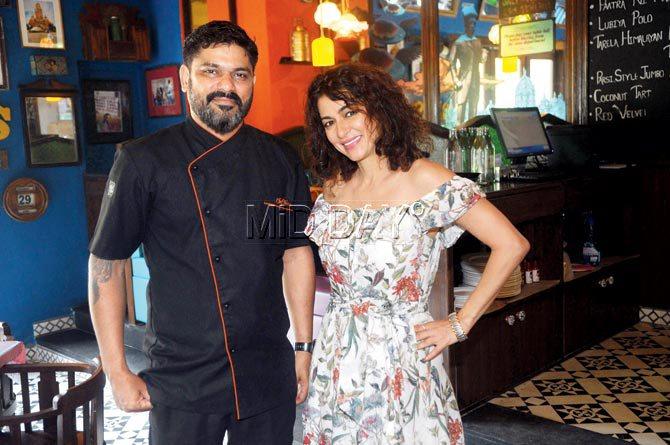 Chef Hemant Sonar with Anaida Parvaneh
In a magic soup
Parvaneh learnt the art of cooking from her mother, a naturopath, at an early age, and would often cook Iranian meals for friends and family. "Prahlad Kakkar was the first to tell me that I should open a restaurant, but I never took it seriously. Then, a few years ago, I suffered from serious health issues and decided to use food as medicine, something I learnt from my mother," she shares, as we try Anaida's Magic Soup (Rs 255), a saviour during those trying times.
The vegetarian broth comforts us with wholesome flavours of coriander, pearl barley, mixed sprouts, mushroom, carrots and turnips. "Shalgam (turnip) is an underrated vegetable, but it's rich in vitamins, minerals and antioxidants," she says, rattling off the medicinal properties of other ingredients too. "Eating healthy is a part of Iranian culture. Sabzi-Khordan, where a dozen raw greens and vegetables are tossed together, is a common side dish," adds Parvaneh. Including the soup, the menu offer 10 traditional Iranian dishes.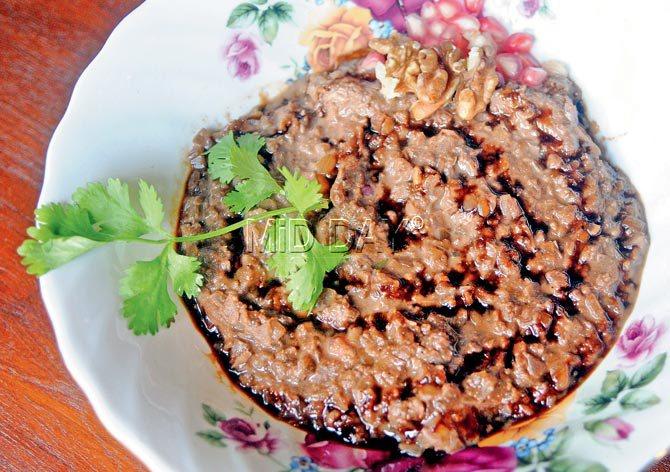 Fesenjan
A tasty cauldron Fesenjan (Rs 385), a thick stew of slow-cooked chicken mince, pomegranate molasses and walnuts, is a medley of sweet-sour flavours.
Then, chef Hemant Sonar, instructed by Parvaneh, brings out Korakh-E-Gosht (Rs 515), where fall-off-the-bone lamb shanks are soaked in a mild gravy containing a whole, dried Omani black lime, which infuses a beautiful zest in the dish. "We have sourced the pomegranate purée, limes, saffron and rose petals from Iran," says Parvaneh.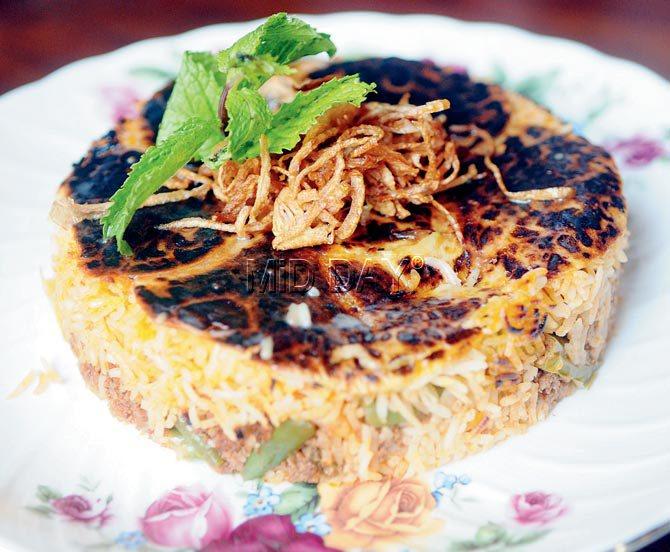 Lubiya Polo
She has also tweaked the traditional meat-laden varieties to suit the vegetarian palate. "When I asked my aunt to suggest a vegetarian polo (pulao), she shared the recipe of Cauliflower Polo, which included lamb too. She said, 'Beta, taste kahaan se aayega!' Iranians love lamb," she laughs, Instead, she created Baghali Polo, a dill and fava bean variation. We try Lubiya Polo (Rs 515), where minced lamb and French beans are layered over tomato rice, and topped with crisp-charred potato slices. She says, "It's similar to Tahdig with crisp rice at bottom of the pot. Iranians fight over it at a meal."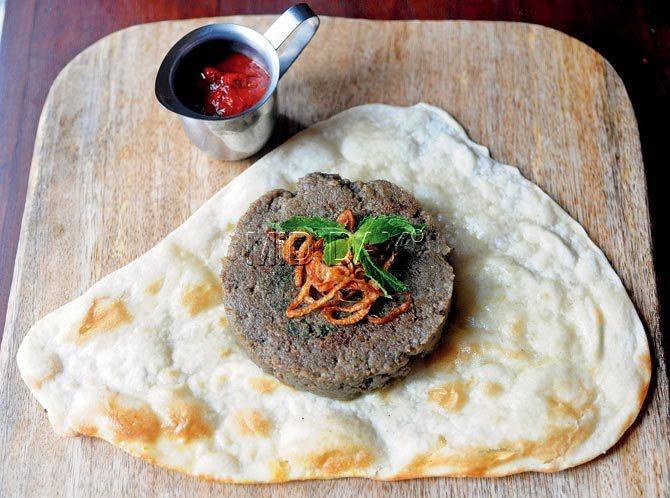 Esfahan Beryani
Biryani without rice
The highlight is Esfahan Beryani (Rs 425). It contains no rice and is served over a naan. "It's the original Persian recipe of fire-roasted minced meat. It's said that the rice was mixed in the dish to provide more carbs to the Mughal army," she informs. When we dig into a side of the minced lamb, served on a flaky, oven-baked naan, we discover it is laced with mint. From the other side, flavours of cinnamon explode in our mouth. It's enough to keep us away from our smartphone. "I like experimenting with food. The idea is to help you connect with it," she smiles.