Colaba's 58-year-old Irani café -- Piccadilly, famous for its kebabs, reopens. And there's a bonus: extra Continental and Parsi dishes, and possibly, a new name
The lady who smiles on a signboard that reads 'Piccadilly' opposite Electric House on Colaba Causeway has been smiling so since 1957. Diners walking out of the Iranian-run café with sought-after tables by French windows that offer a view of street life, wear the same look of delight after a meal of sahan mutton shawarma and fila chicken.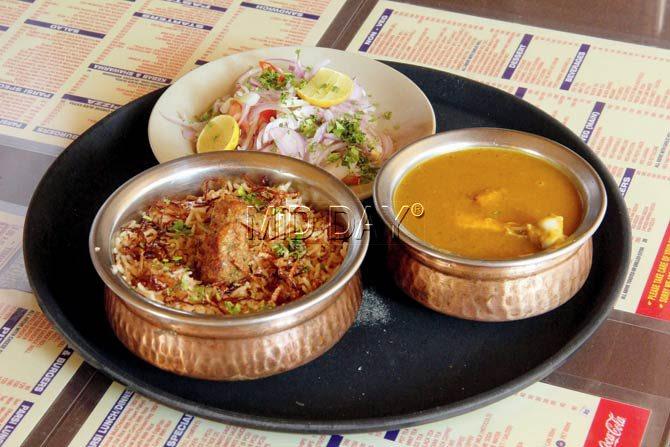 Parsi delicacy, Dhansak
After a quiet shutdown in October 2015 for renovation, Piccadilly re-opened last week, but with a few changes, says manager Parvez Buzorg, 58.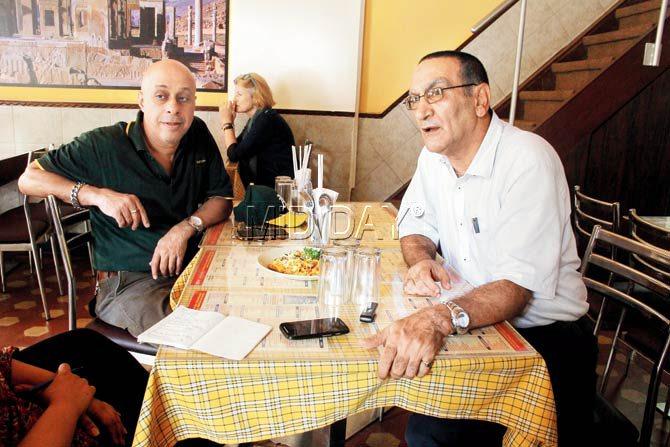 (L-R) Managers Farhang Jehani and Parvez Buzorg; the eatery's façade. Pics/Ajinkya Sawant
Wisdom sits not just in his name (Buzorg is senior, wise in Persian] but character, too. It is under his careful watch that this around-the-bend eatery gradually transformed in 1987 from the traditional keema pav-bun maska serving Irani joint to one that offered a wholesome menu, marked by a hearty breakfast and meatlovers' snacks.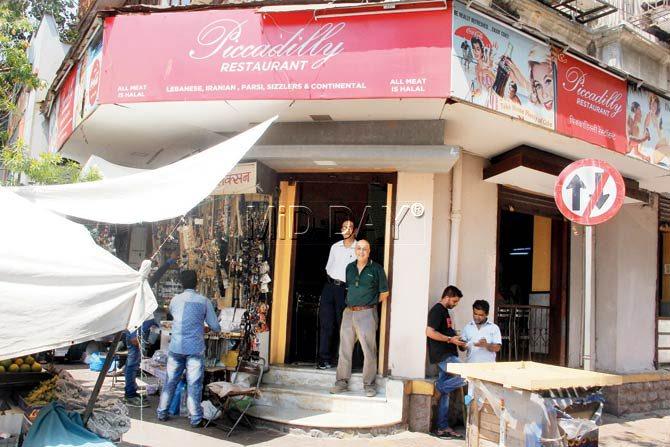 The re-opening celebrates not just a renovation but also a small victory. The eatery's four partners, one of them is Buzorg's mother, Khorshed, were involved in a legal tussle until last year. After manning the counter for 10 years, Buzorg moved as ground staff for Air Canada, but returned in 2010 with the hope of being back at the galla (billing desk).
Last October, the litigation ended, and partner Gulrokh Ardeshiri became Piccadilly's sole surviving owner.
It was time to celebrate, with a new coat of paint, and fresh introductions to the menu.
The walls are now papaya, the chequered tablecloths — a trademark of Irani joints — are bright yellow under glass tops. Lebanese dishes and kebabs will now find friends in Continental fare and a few typical Parsi dishes. Day-to-day affairs will be run by Buzorg and Farhang Jehani, better known for helming the too-popular-for-its-own-good Leopold Café down the road.
What hasn't changed is the granddad rotisserie, which when we meet the duo, is roasting chicken under a trying fire. "Parvez had imported it from Iran during his earlier stint," Jehani shares. "He stored it in his home at Cusrow Baug in 1997. Now, it is back," says the 54-year-old. "I always knew I'd return. God is great," says Buzorg, quickly changing the subject to discuss the details of the hallmark marination of garlic, salt, lemon juice, ginger and chilli flakes.
Kebabs, what else?
While the new menu includes pastas like mutton lasagna and sizzlers, the two know that it's their kebabs and shawarmas that will lure the crowds again. "A cook is on his way from Kolkata to take over the shawarma and Lebanese dishes. But Pervez manages the kebabs," says Jehani. Buzorg can take a bow because Piccadilly's kebabs are legendary. He speaks of long cars with dark tinted glasses seating film stars stopping to have drivers pick up a kebab parcel. "They'd [actors] never come in. We knew it was someone famous," he says.
"We offer authentic chelo kebab, served with barbequed tomatoes and buttered rice," he says about Iran's national dish. Explaining the two varieties, he says kebab koobideh is made minced lamb, while kebab barg is a steak. The sultani, on the other hand, is a combination of two. None of these are spicy, as Indians understand spice, but carry a dense marination of spices they are usually left to loll in for two days. "The secret to the perfect koobideh is getting the proportion of meat to fat right," Buzorg says. With his culinary expertise and Jehani's top-notch experience in hospitality, this should be the new winner.
Jamva chalo ji
The Parsi dishes they have introduced, are a homage to their lineage. Dhansak, lagan nu custard and rava, all popular eats, find mention here. "But our favourite is the patra ni machchi," he says, perhaps speaking for all Zoroastrians of Mumbai.
By next week, expect a display counter to arrive. Here, takeaway will rule, with burgers, rolls, sandwiches, sweet yogurt and lassi stocked to pick and run," says Jehani.
A new identity
While flipping the new menu, we spot the name Persepolis. "When the eatery first opened, the British ruled Bombay. Most restaurant took on English names — Edward the 8th, Union Jack at Electric House, Café Royale at Regal...Once our clientele are aware that Piccadilly is back to business, we hope to change the name to Persepolis, after the Persian city ruled by King Darius whose reign spread from Lebanon to Israel, Egypt and right through middle east."