With Durga Puja around the corner, we can't ignore khai-khai — the overwhelming urge to feast. Our in-house Bengali foodie lists out dishes and places to source them to ring in the festive fervour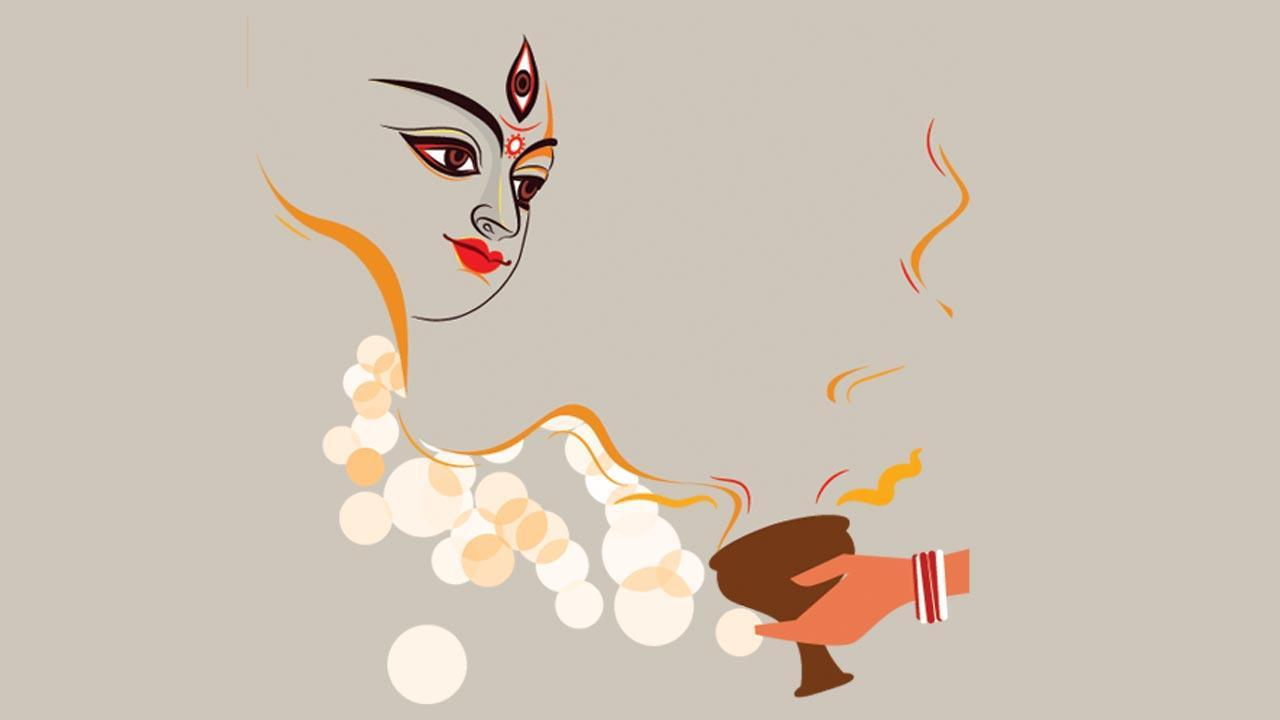 Durga
Not just fish, Bengalis take all of their food seriously. Influenced by the length and breadth of the land's boroughs and far beyond, no celebration in the community is complete without a multi-course meal. So, even after a round of modest batas, crunchy fritters, meaty pilafs and rich curries, we shake up the elbowing contents to make room for mishti.
Naturally, our biggest festival of homecoming throws a feast to daughter Durga and her four children. With only five days to be cosseted by her tribe, she assents to such overdone merry-making. And as gregarious gastronomes, we pick five adda essentials from the cuisine:
The outer crust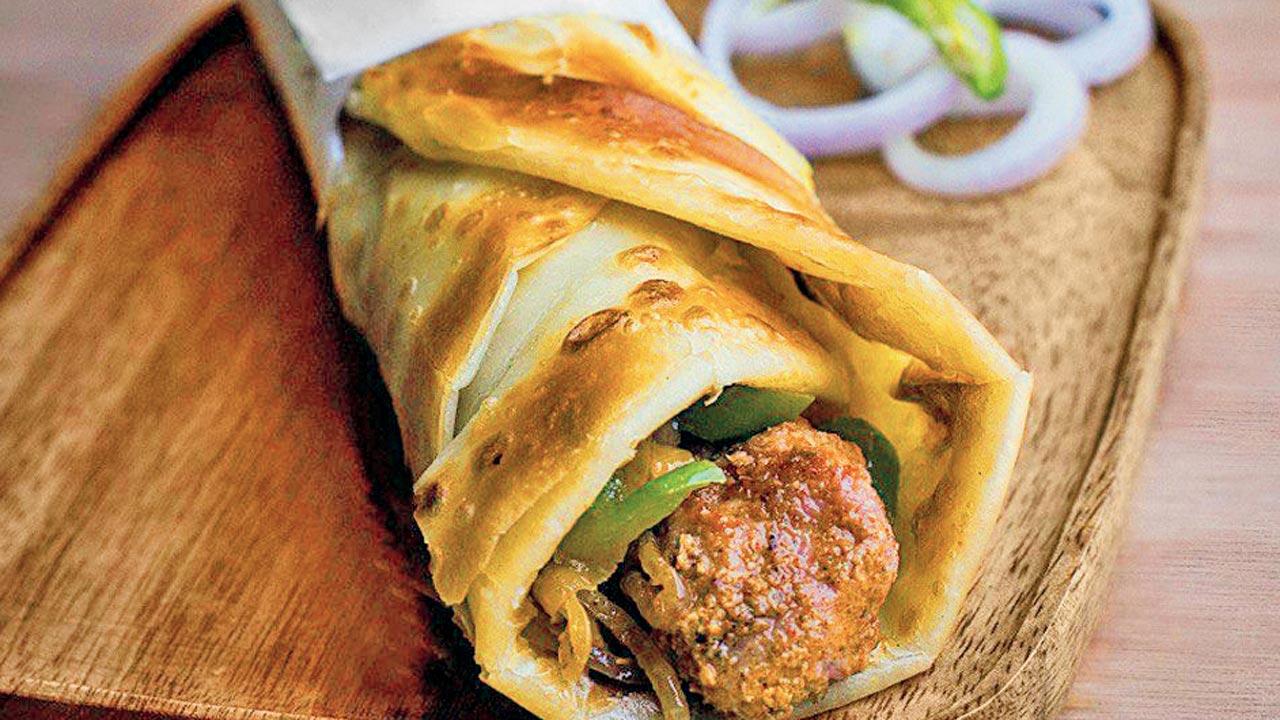 Street-style rolls. Pics Courtesy/@habudubu_official, @kitchentalesbysommaghosh, @thebonghneshel, @spicesandfriends, @ushri_homechef
Wrapped in deep-fried crunchy parathas and loaded with chunky mutton pieces, rolls kickstart playful banter. For young sweethearts, conversations may strike easy over this dish. Try kathi rolls at a Bandra pujo stall by Nandini Deb and Nirban Goswami.
ON October 1 to October 4; 
AT Notun-palli Sarbojonin Durgotsab, Bandra West. 
LOG ON TO @habudubu_official 
CALL 9321538773
ALSO TRY: Kolkata Konnection, Oshiwara; Kusum Rolls, Malad West.
No small fry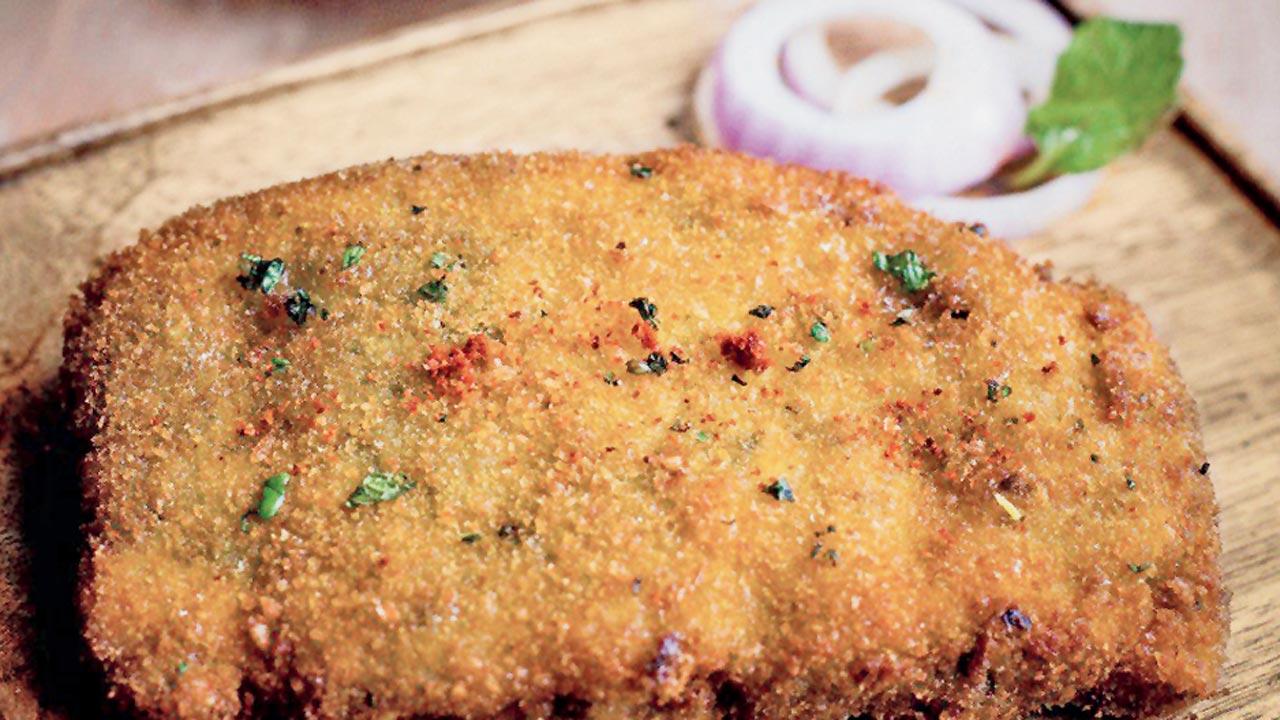 Nandini Deb's fish fry
Call it fish batter or butter fry, what matters is the taste. The kind of batter fry we recommend uses a thick bhetki fillet (no basa, please); it's juicy on the inside and crispy on the outside. Dunk it in kasundi for that piquant kick.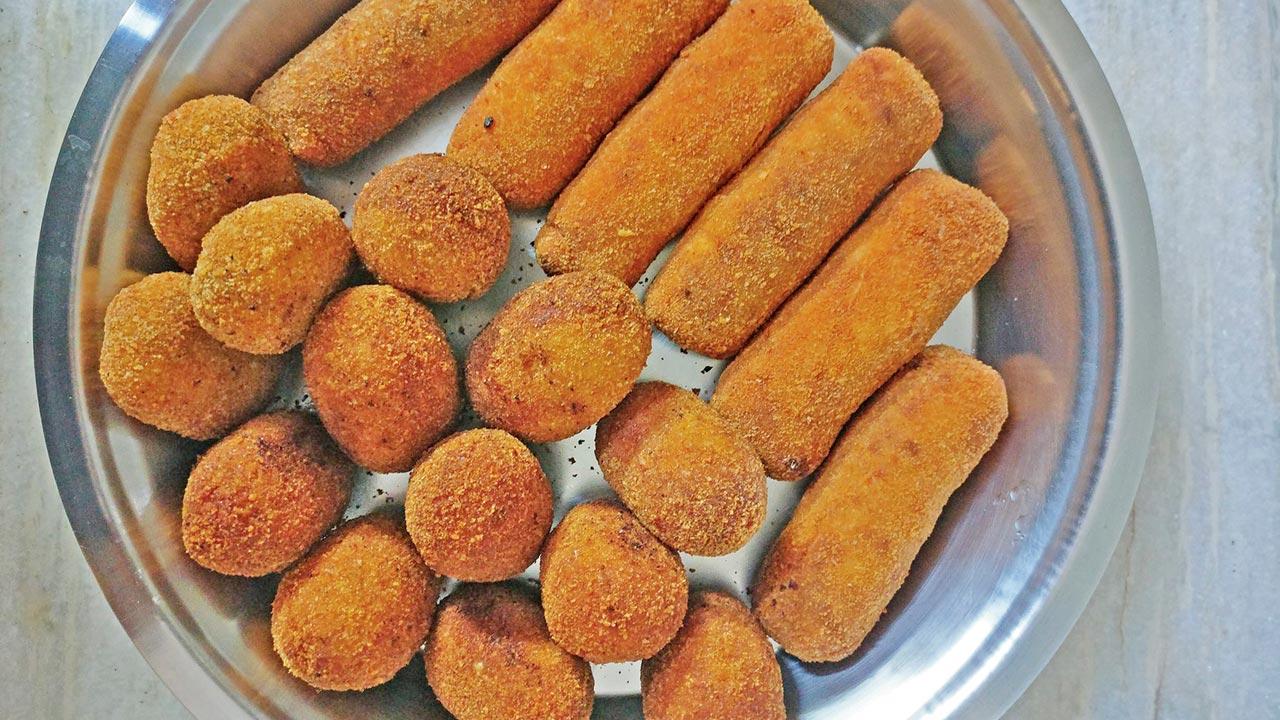 Rohini's mutton keema rolls and chops
ON October 1 to 5; (No deliveries on October 3) 
LOG ON TO @thebonghneshel
ALSO TRY: @habudubu_official; Oh! Calcutta, Andheri West; @spices- andfriends
For the love of aloo
That biryani is love, is undebatable. But an earthen pot of biryani with indulgent ingredients can fall short without a bulky piece of potato and an egg. These additions are over and above the succulent chicken and mutton pieces we already expect. Find your fix for all worldly woes in home chef Ushri Guruji's slow-cooked biryani.
ON October 1 to October 5 
LOG ON TO @ushri_homechef; call 9967468014
ALSO TRY: @thebonghneshel; Hangla's, Powai.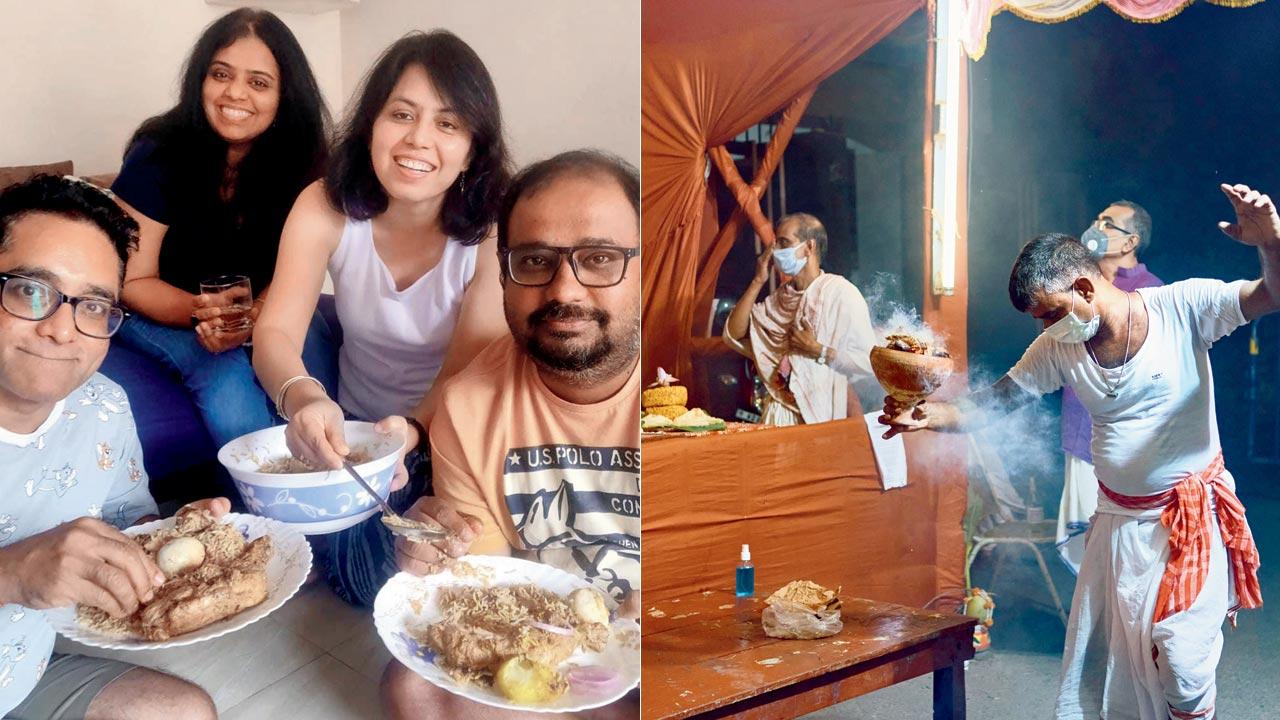 After two years, a group of Ben- gali friends meet over biryani; (right) A devotee performs dhunuchi naach after Sandhya Aarti
Sweet endings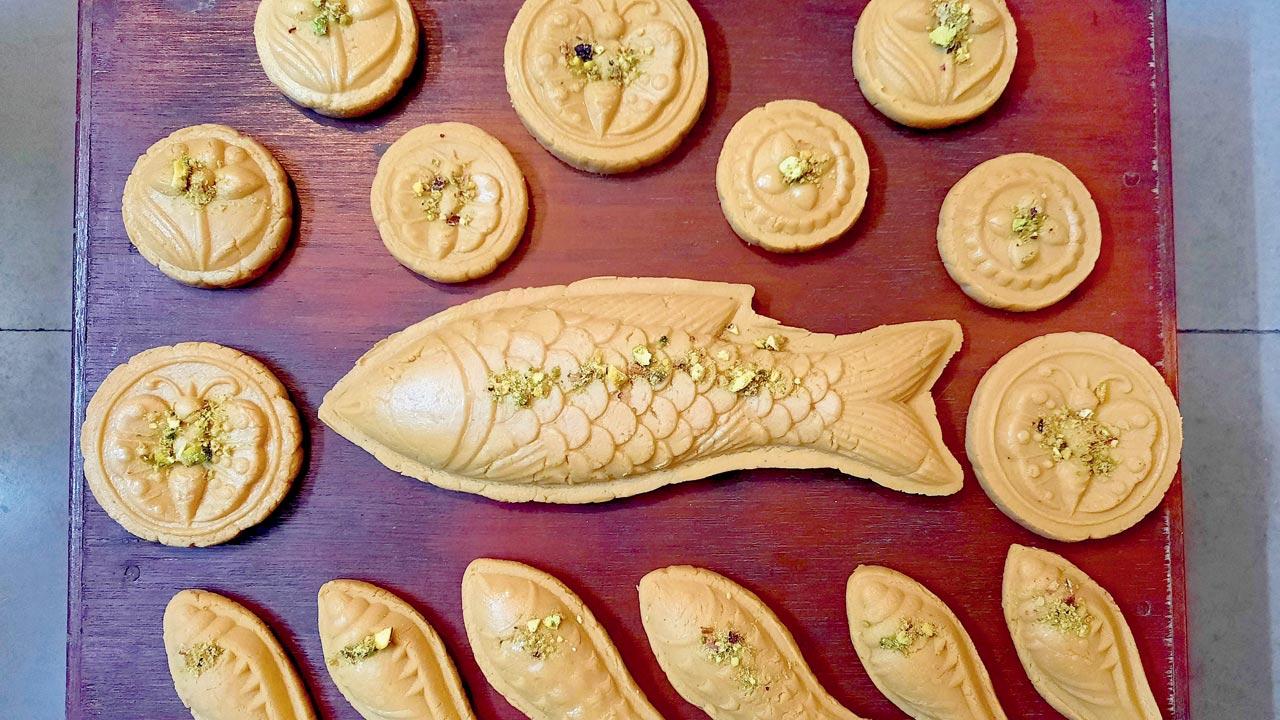 Since we must end things on a sweet note, Thane-based home chef Rohini Bhowmick is bringing back the traditional Bengali sweets, lobongo latika and gur'er sandesh. Lobongo latika particularly piques our interest as deep-fried syrupy sweets are rare finds on most menus.
ON September 30; 4 pm to 10 pm 
AT Thane Mahanagarpalika Maidan. 
LOG ON TO @spicesandfriends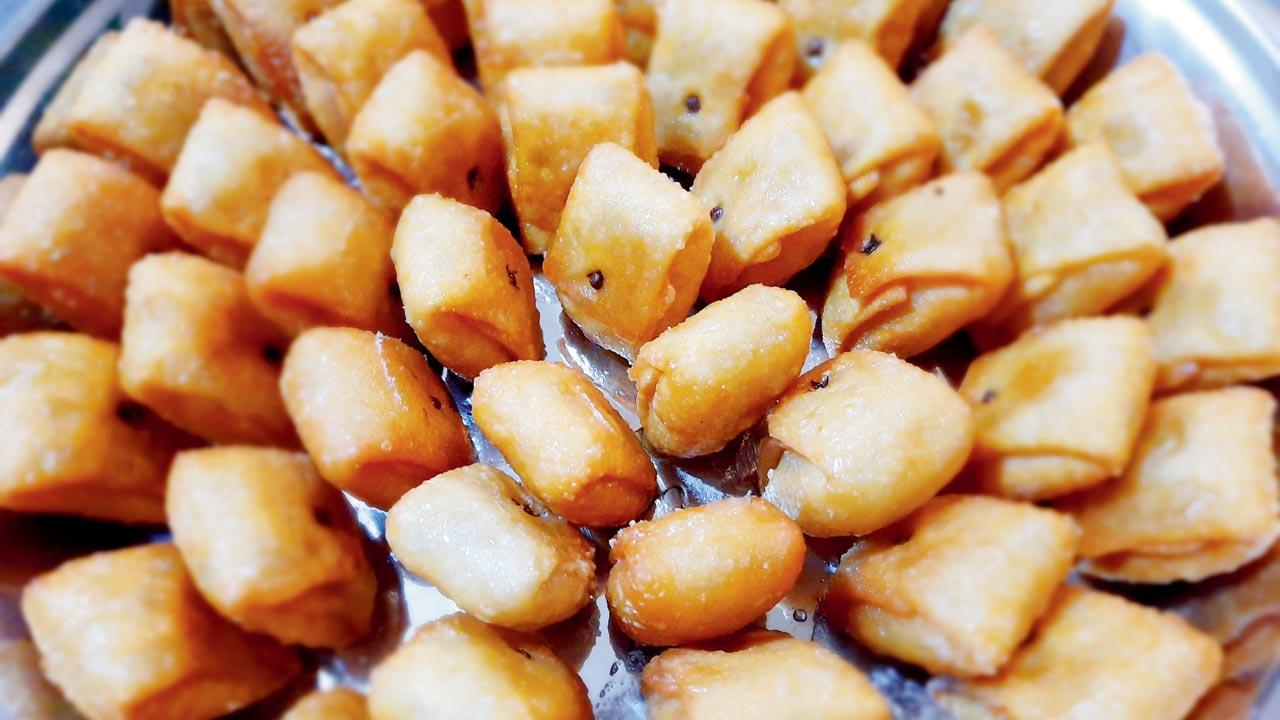 Rohini Bhowmick's lobongo latika and gur'er sandesh
A pot of gold

Robibarer mangsher jhol, Basanti polau and Kosha mangsho
Lunch — as a meal — holds the day together as it's often followed by a refreshing nap. It's therefore important to have sleep-inducing food, this 
pujo-season. A plateful of mishti polau or basanti polau with a generous helping of kosha mangsho can do the trick. It's funny how we gossip and even argue over delicious food. 
ON October 1 and October 2 
LOG ON TO @kitchentalesbysommaghosh CALL 9820462881
ALSO TRY: Jamai Shoshthi, Andheri East.
The no-meat counter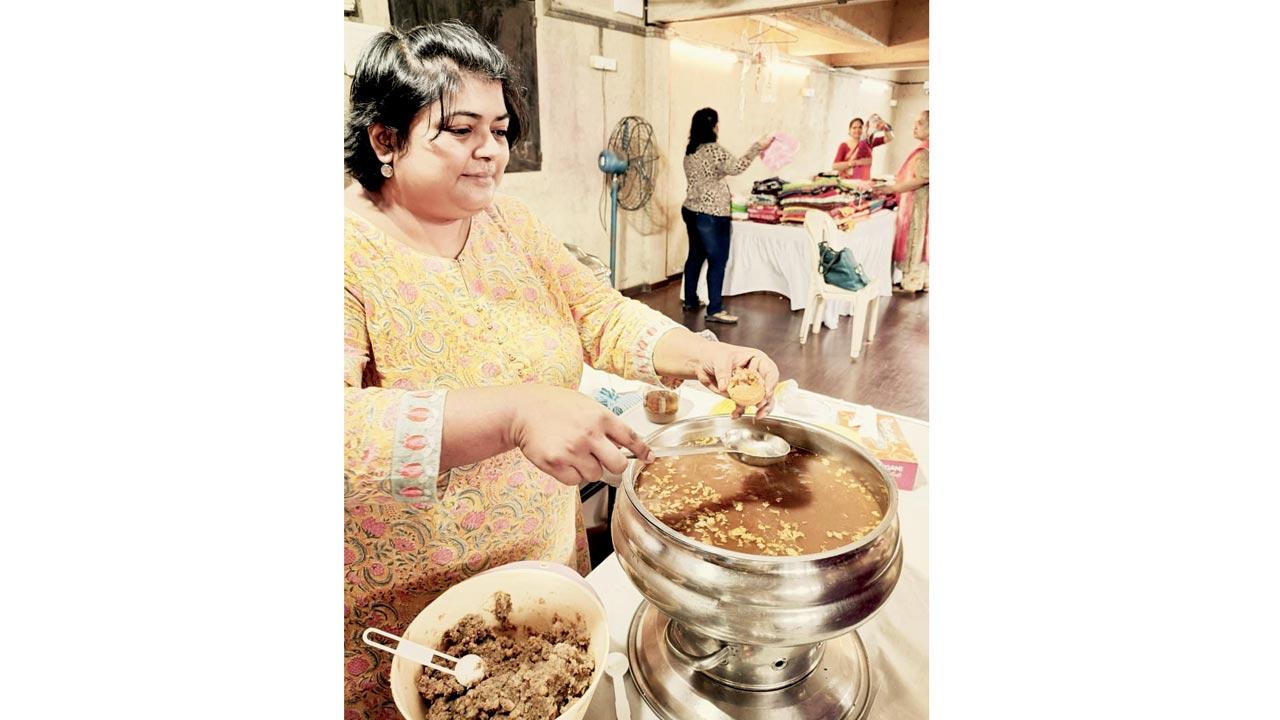 Ushri Guruji's food stall at Mira Road's Agragami Durgotsav will have phuchka, alu kabli, ghugni and vegetable chops. "You are never too old or too full for phuchkas," she says. Her stall focuses on presenting vegetarian delights that Bengalis ace with equal ease.
ON October 1 and October 2
TIME 7 pm onwards
CALL 9967468014
FATAFATI MOJA IN MUMBAI
1. Bengali folk band Bhoomi will entertain the city crowd at Bombay Durgabari Samiti, Tardeo on Shashti, October 1, 8.45 pm onwards. 
2. The members of Notunpalli Sarbojonin Durgotsab will  celebrate the committee's 50th year. There will be a lively dhunuchi dance on Navami, October 4, 7.45 pm onwards.
3. Oshiwara's Ananda Utsav Durga Puja, a celebration run by women only, will find young children performing Palashir Judhher Pala, a drama directed by Sreyasi Bandyopadhyay on Ashtami, October 3 at 8 pm.