Based on the childhood of legendary sitar and surbahar artiste Annapurna Devi, YA readers have an inspiring read to pore over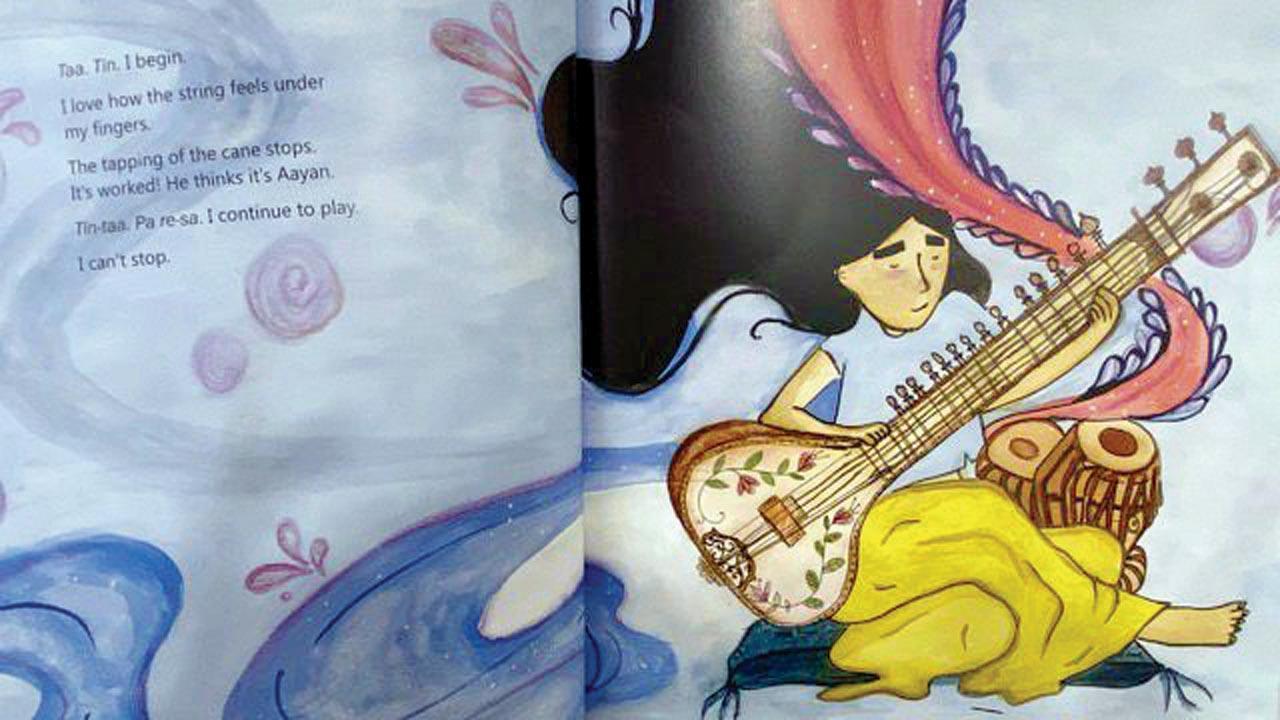 Illustrations from the book, by Nayantara Surendranath and Kanimozhi A
Rewind to a century ago, and you'll notice that in many pockets and regions across India, learning music had developed an opportunity reserved solely for the sons of the house. In those days, largely owing to the social climate, women were hidden away in kitchens and kept busy with domestic chores, with little room to grow and hone their passions. But for legendary sitar and surbahar musician Annapurna Devi, music was a kind of worship, and her devotion to the craft meant taking on the challenges that came with the time and territory. And yet, all along, she never saw herself as different from her male counterparts. 
Her life has remained a topic of interest for years and more recently, a subject of inspiration for city-based children's author Nandita da Cunha's new title, Magic In My Fingers (Karadi Tales). "Her life has many facets that I believe can be inspirational to children. I also feel that picture biographies are a wonderful way to introduce children to the kind of lives that might not be so famous in Indian history. Devi is a prime example of that," explains da Cunha.
Loosely based on true events, the book follows an instance of Devi's childhood through the fictional character of Roohi, accompanied by vibrant illustrations created by artists Nayantara Surendranath and Kanimozhi A. The book serves as an ode to the legend, and carefully through the characters of Roohi, her brother Ayaan and her Baba, the author dives into the main event that led to the birth of Devi, the musician. "As a child who grew up with a lot of fiction, I wanted to see if I could experiment with a different format to tell a story — an imaginative retelling, or a fictionalised account which is grounded in something that actually happened. I've taken one incident that children can immerse themselves into, to understand Devi's values, the way she saw music, and the one turning point in her life where she discovered the talent she had within her," da Cunha elaborates. 
Nandita da Cunha has released a new title inspired by the life of Annapurna Devi. Pics/Tina Nandi 
The book's art draws from nostalgia and provides a sense of comfort that comes from reading children's titles. The author has kept the style crisp and engaging to command the attention of otherwise easily distracted kids. All in all, the book is an inspiring read for a host of reasons. But for young female readers, especially, it might strike the right chord and stir in them a passion to pick up and pursue skills and latent talents that they may have never thought of exploring until now.
Log on to karaditales.com 
Cost Rs 250