Musician Neha Kakkar's disclosure about her anxiety being triggered by her thyroid condition has shed light on its lesser-known impacts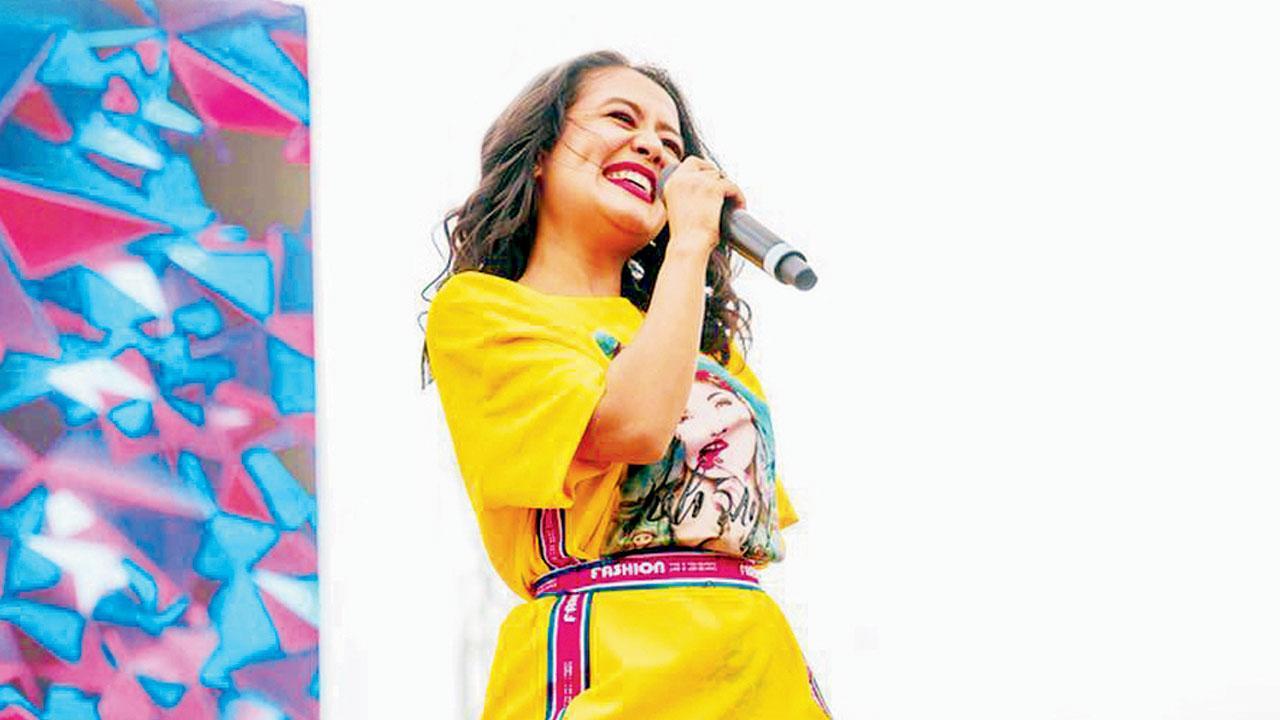 Neha Kakkar discussed her thyroid condition leading to social anxiety, especially during performances. Pic/Instagram
Recently, singer Neha Kakkar disclosed her struggles with a thyroid disorder which, she said, was causing her anxiety especially during live performances when her heart rate shoots up. While thyroid disorders are most commonly associated with fluctuations in body weight, what many people don't realise is that an underactive or hyperactive thyroid gland can bring about a gamut of symptoms that come together to significantly affect the sufferer's quality of life.

Amrita Saraf
"The thyroid gland is situated in your neck and produces hormones that regulate several bodily processes, including your metabolism, breathing, heart rate, temperature regulation and the functioning of the nervous system. Disruptions in the functioning of the thyroid gland can effectively either slow down your body's functioning or put your body in a constant state of 'overdrive'," explains Dr Samdurika Patil, a clinical endocrinologist at Vedicure Healthcare and Wellness.  

Samudrika Patil
Mind-body connect
In patients with an overactive thyroid gland, their rapid heartbeat could lead to anxiety and other related symptoms, explains Dr Sagar Mundada, a psychiatrist at Health Springs. "They tend to be hyperactive, anxious, and irritable, while also experiencing palpitations, tremors, and frequent mood swings. On the other hand, at least half of all patients who are diagnosed with hypothyroidism also have psychiatric problems - their hypothyroidism can either present through feelings of irritability, lethargy and listlessness that accompany sudden weight gain, or they could experience isolation, detachment, sleeplessness, and even clinical depression as the condition progresses," he adds. This is because their body and brain are functioning at a sub-optimal capacity.

Ankita Arya
In many cases, treating hypothyroidism alone remedies the mental health symptoms. In others, psychiatric medication is prescribed in addition to thyroid medication. In fact, many mental health professionals will prescribe a thyroid test before administering psychiatric medication, especially in cases where the individual is close to the age of 40, female and overweight, says Dr Altamash Shaikh, an endocrinologist at Masina Hospital.

Sagar Mundada
A lifelong affliction
In addition to mood disorders, hypothyroidism can lead to constipation, feelings of exhaustion at any time of the day, reduced libido, dry skin and hair, hoarseness of the voice and muscle cramps, says Dr Patil. She mentions that in young children, especially, hypothyroidism could make it harder for them to focus on and retain lessons, thereby affecting their learning. Ankita Arya, a 28-year-old marketing professional, says that her hypothyroidism caused irregularities in her periods with delays of up to four months between cycles, and made it difficult for her to focus at school. It is also common for otherwise healthy women to experience thyroid disorders during pregnancy, says Dr Vaishali Joshi, an obstetrician and gynaecologist at Kokilaben Ambani Hospital. "This has an adverse effect on the  mother and the developing baby, especially during the baby's first trimester. The thyroid hormone affects the baby's IQ development and general growth. Thyroid disorders can cause anxiety or excessive vomiting in expecting mothers. While hyperthyroidism increases the chances of a miscarriage or premature labour, hypothyroidism can lead to slow labour and bleeding after delivery. It is therefore important for pregnant women to actively check for any thyroid disorders during pregnancy," she cautions.

Karishma Chawla
Management and care
Early detection and medication play a crucial role, experts say. Regular exercise, a nutritious diet and supplementation to treat the various associated symptoms (biotin for hair fall and zinc for dry skin) can help. "Consult a mental health professional for your emotional and sexual well-being. Practice mindfulness exercises to control your stress and engage in some physical activity every day," says Dr Mundada. Amrita Sharma Saraf, a 33-year-old event management professional shares, "Although I was taking medicines regularly, I had a very hectic schedule. I took up yoga and made sure to get eight hours of sleep," she says, adding that these measures ensured no complications in her pregnancy despite her severe hypothyroidism.

Altamash Sheikh
Eating right
Nutritionist Karishma Chawla suggests eating more: 
>> Good fats such as avocados, nuts and seeds. 
>> Brazil nuts for selenium 
>> Complex and whole carbohydrates such as whole grains, and high-fibre fruits and vegetables 
>> Omega 3 fats such as walnuts, chia, flax and fatty fish 
>> Cooked (not raw) cruciferous vegetables such as broccoli, cabbage and cauliflower in moderation