As rumours of child-kidnappings raise tempers on housing society WhatsApp groups, two incidents come as a warning; police warn the public against mob mentality and vigilantism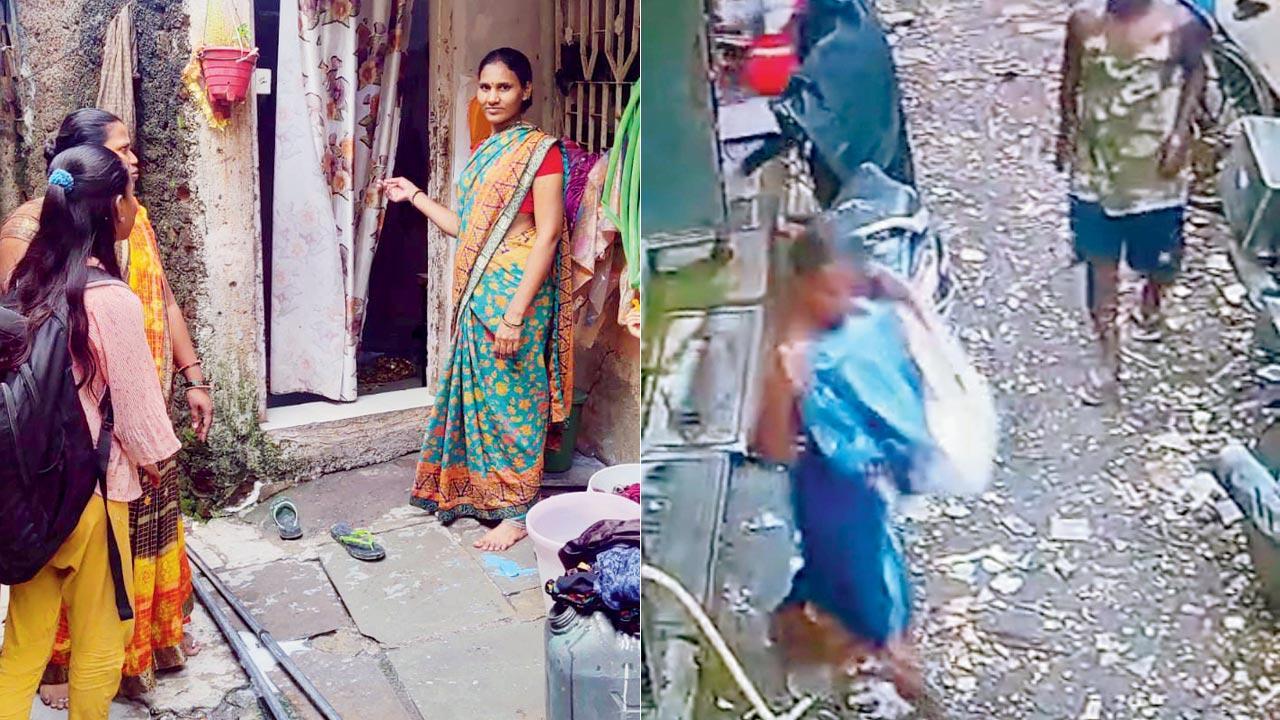 The women were caught inside the home of Mangal Kanwale on Friday morning; (right) CCTV footage showing one of the women escaping
With rumours of child abductors lurking around flying thick and fast, chaos prevailed at Malwani in Malad West on Friday after locals caught two women suspecting them to be child lifters. As they were about to take them to the police, the women took off their clothes, leaving the residents of the slum pocket baffled. The two then scurried in opposite directions and escaped the area. The drama unfolded inside the home of Mangal Kanwale at Maruti Chawl, Rathodi Village when she, her husband Vijay, their 11-year-old son and 8-year-old daughter were sleeping.
I went to buy milk at 6.30 am. On my return, I decided to rest for an hour, but I had not locked the door from inside. I woke up to some sound and saw two women in our home. Since many messages about child kidnapping gangs are doing the rounds over the past few days, I screamed to alert my husband and neighbours," said Kanwale. 
Also read: Mumbai: Fake messages about abduction of children keep police on tenterhooks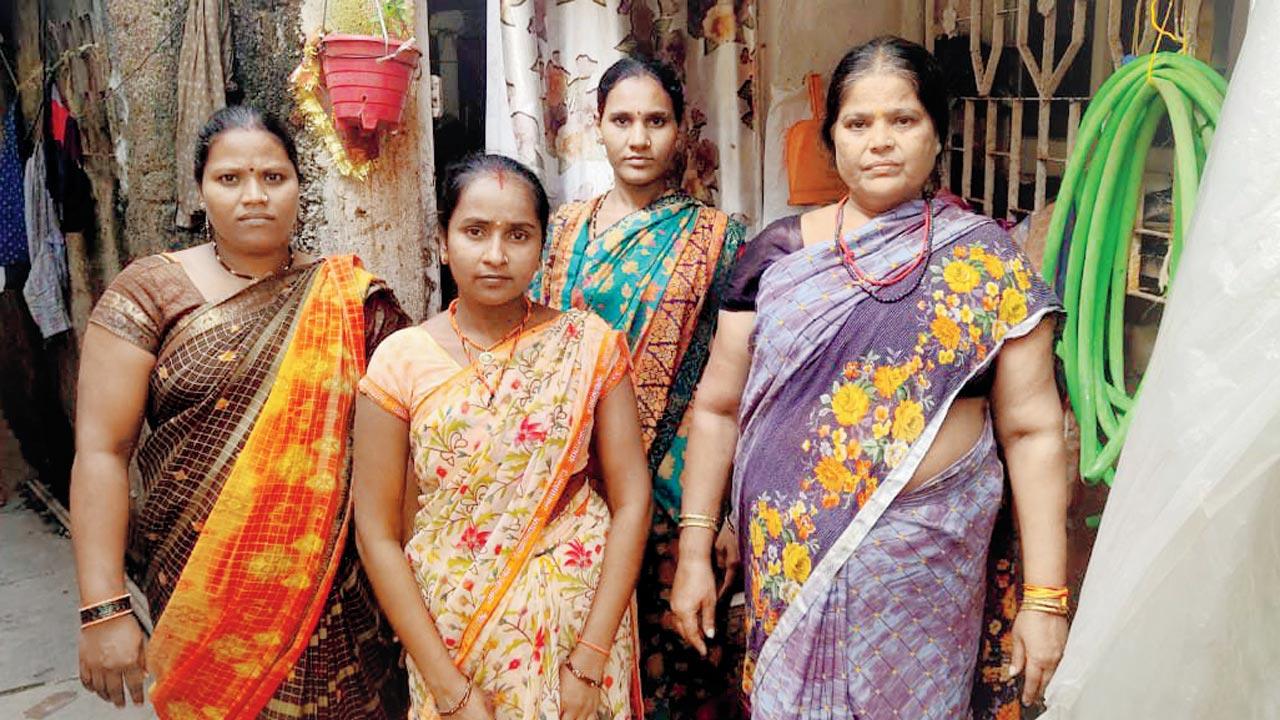 Kanwale (in green saree) with her neighbours at Maruti Chawl, Rathodi Village, Malwani
She said their neighbours caught hold of the two and thrashed them. "The women said they had come to steal in our area and were not child lifters. We didn't want to take any risk and told them that we would hand them over to the police," she said.
What happened next left everyone shocked, said Kanwale. "The women started removing their clothes and dared the men to touch them. This created panic as nobody knew how to deal with the situation. As the men backed off, they fled in opposite directions. We then informed the Malwani police about the incident," she said. Locals said the CCTV cameras of a shop captured the two women escaping from the spot.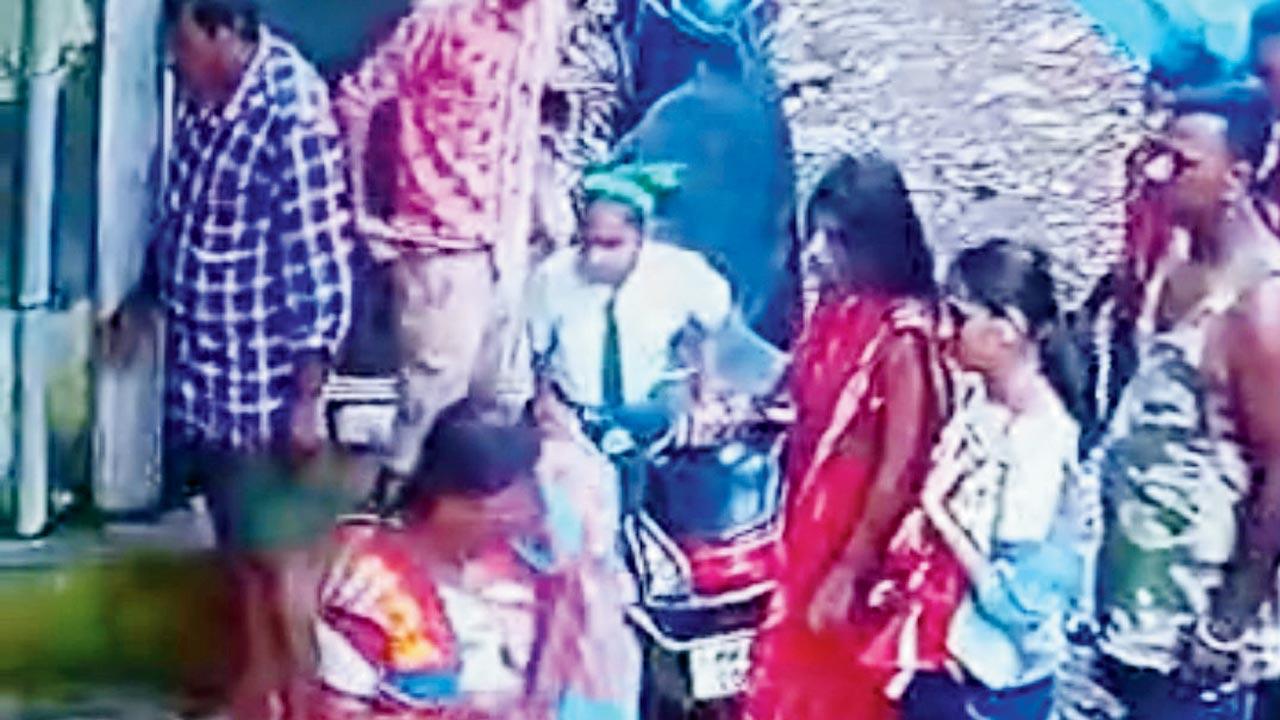 One of the intruders (left) caught in a CCTV camera at Malwani
The Malwani episode comes at a time when the city police are having a tough time dealing with rumours of child kidnapping gangs. Anxious citizens have caught hold of beggars and assaulted them suspecting them to be involved in stealing children. Over the past few days, such rumours have been reported from Borivli, Malad, Andheri, Kurla, Chembur, Ghatkopar, Thane and Vasai.
Senior Inspector Shekhar Bhalerao of Malwani police station they were informed about the two women entering a house at Rathodi village. "Our inquiry showed that they were not child kidnappers. Maybe they were there to steal. We request people not to believe in rumours and messages being shared on social media," he said.
"At Rathodi village, the two women were beaten up. They escaped after removing their clothes. We urge citizens to inform the police if such incidents happen in their neighbourhood and not create panic," the officer added.
7
Time on Friday morning when the women were spotted