Messages on WhatsApp and social media with claims about child kidnapping gangs on prowl keeping parents, kids, cops on tenterhooks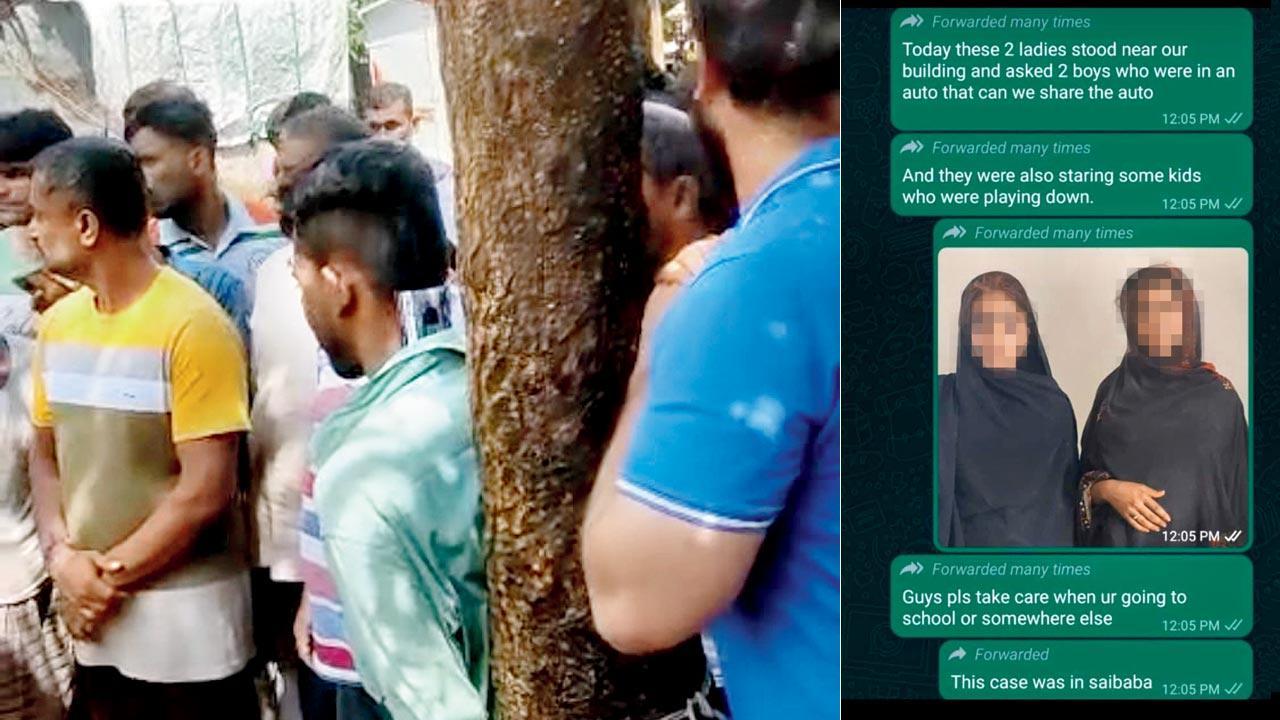 This man was caught for allegedly trying to molest a girl, but a photo of him was later circulated with a message stating that he was a child lifter. Pic/Hanif Patel (right) One of the fake messages that have gone viral in the city
Fake and unverified messages with wild claims about abduction of children have kept the city police on tenterhooks for the past week as they are being bombarded with queries from anxious parents. Joint Commissioner of Police (law and order) Vishwas Nangre Patil has appealed to citizens not to fall for such messages floating on WhatsApp or social media and asked all zonal DCPs to deal strictly with those spreading rumours.
"Fake abduction messages have been going viral across the city and almost every police station has received complaints but there is no truth to them. It's a rumour; no such gangs are active in the city. We have been keeping a close tab on this and I have instructed every zonal DCP to hold meetings with locals and ensure that it doesn't spread further," Patil told mid-day. 
Also read: Mumbai: Man rescues kidnapped daughter from Uttar Pradesh village
Cops said rumours began spreading in the city after four sadhus were recently assaulted in Sangli district on the suspicion of being child lifters. "We are investigating how rumours spread in Mumbai and from where messages that 40-50 child abductors are roaming in the city are being shared," said Patil.
Last week, a Kurla residential society sparked a scare after it issued an internal circular on September 15 that two children had been missing from the premises. "We have recorded the statement of the building manager who said that he had just read about it on social media and issued a circular to alert the residents," said Rajiv Chavan, senior inspector of Vinoba Bhave Nagar police station.
"I urge citizens not to believe in rumours. Before circulating such messages, verify with your local police station. There is no such gang active in Mumbai," added Patil.
Over the past seven days, similar fake messages have created panic across the city. 
Malad in tizzy over audio clip
An audio clip claiming that three kids from Kala Vidyalaya were kidnapped in a van at Malwani gate number 8 in Malad recently went viral on social media. It was claimed that the voice in the clip, alerting the public, was of a teacher from the school.
In no time, locals caught hold of a woman roaming in the area and thrashed her, accusing her of being the kidnapper. However, when the local police checked all CCTV camera footage of the area, they found that no child had been kidnapped. They said the woman was a beggar. Someone had clicked her photo and shared it, fuelling the rumour.
Child's story rattles Andheri 
After a 10-year-old boy from Andheri rushed home and told his parents that someone had tried to kidnap him, his worried father wrote a message to alert others: "My child was out of the house during which a man followed him and he tried to kidnap him.  My child bit his hand and managed to escape. Be aware." This gained traction on social media, worrying parents.
Senior Inspector Santaji Ghorpade of Andheri police station said, "No such incident ever happened. We checked all the possible CCTV cameras in the area and found that nobody tried to kidnap the boy. Also, nobody was following him. We requested people not to believe in such rumours."
Fake shakes Vasai 
A few days ago, a man was beaten up after he allegedly tried to molest a girl at Vasai. Someone had apparently clicked a photo of him and shared it with others with the message that he was a child lifter. The message was further twisted on social media—he was caught kidnapping a child and was thrashed by people. However, an investigation by the police showed that the messages were fake. 
Parents, kids scared
Raging rumours across the city have left parents as well as children spooked. "Over the past few days, we have received many WhatsApp messages saying that a child was kidnapped at Borivli, Kurla, Chembur and Vasai and that child-kidnapping gangs were at large in the city. We were terrified and told our five-year-old son about this. Now, he is also scared. He wakes up at night fearing that someone is trying to kidnap him. We took him to a doctor for counselling," said a parent.
Another parent said he had asked his seven-year-old daughter not to let go of his hand in public. 
"We also showed her photos of two women that we had received on WhatsApp. For the past two days, she has been silent. She is not going to school and tuition classes and has stopped playing in the society. After she kept mumbling in her sleep, we took her to the doctor who said she was scared by whatever we had told her."
Don't frighten your kids: Docs
Dr Sagar Karia, assistant professor, psychiatry department, Sion hospital, said parents continue to discuss rumours with their young children even after the police debunk them. "Parents should not scare their kids as it will badly affect their minds. They should tell their children that they are with them and nobody can touch them. Parents should keep an eye on their kids when they are playing outside or in public places. 
Doctor Avinash Desousa, a consultant psychiatrist, said, "Parents should not believe in rumours on social media. Most of the messages are social media spreads and are false. Parents must never scare their kids with all these messages as they will affect them emotionally. They will be scared of going out. Parents must keep a watch when their children are playing outside but they should not believe in rumours."