The three agents had stayed mum despite knowing that narcotics under the guise of medicines were being sent to Europe and UAE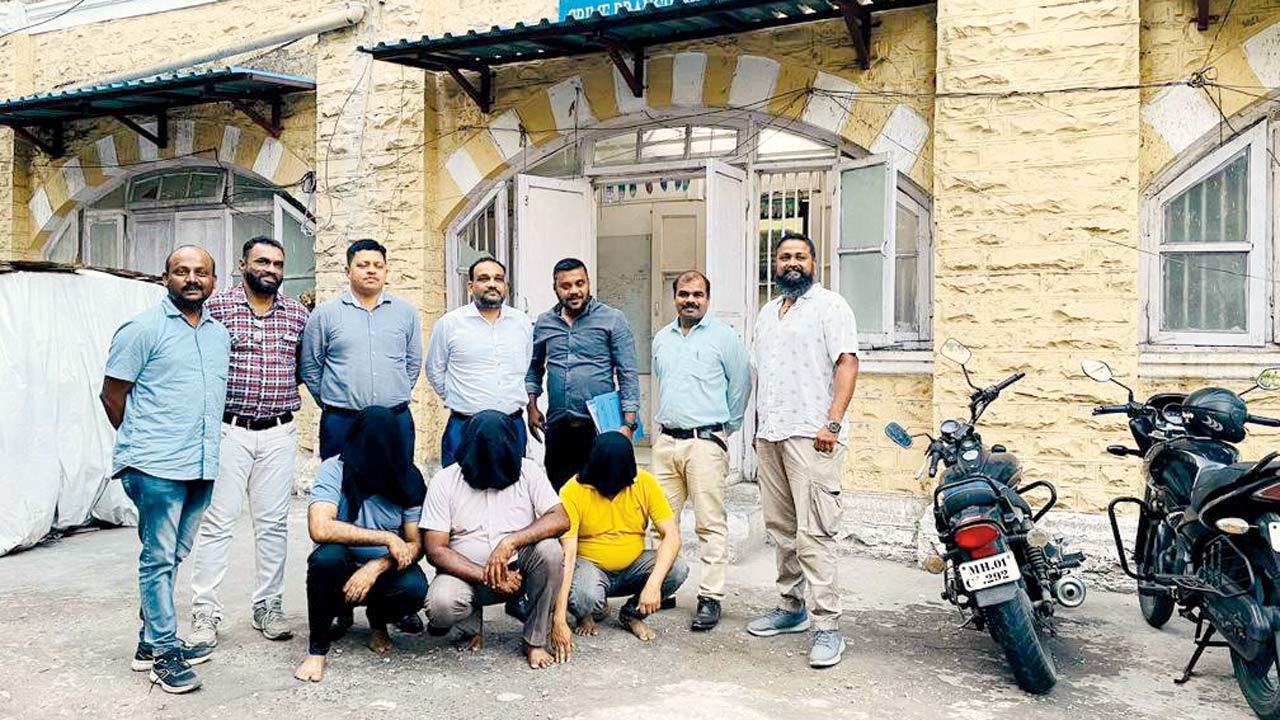 The trio in the Mumbai Crime Branch's custody on Tuesday
The Mumbai Crime Branch's anti-extortion cell (AEC) has arrested three of Mumbai airport's customs clearing agents for allegedly conniving with a drug cartel that was sending narcotics to Europe, the US and the UAE. According to officials, the gang has links with drug lord Kailash Rajput, a close associate of don Dawood Ibrahim. Rajput was recently detained in Ireland, based on the information provided by the crime branch and, is due for extradition. His henchman, Danish Mulla, is now operating the gang from Dubai. Since Rajput's arrest, this was the first consignment that was going to Europe and the UAE via Mumbai airport.
The AEC team, led by DCP Datta Nalawade and investigating officers PI Arun Thorat and Sunil Pawar and Senior PI Dyaneshwar Ghanore raided a courier firm in Andheri on March 16, which led to the recovery of Ketamine worth R8 crore and banned sexual performance enhancement tablets to be supplied to the UAE and Europe. 
ADVERTISEMENT
"Despite knowing that the drugs were going to be exported from India, the airport custom clearing agents, Abhay Jadaye, 40; Babasaheb Bajirao Kakade, 49; and Shitesh Pawar, 40, didn't raise a red flag while scanning the consignment. The cartel was supplying drugs under the name of medicines and food items," an officer privy to the investigation said.
Also read: Jogger's death: Worli cops get custody of accused
"Their links are being probed to establish the entire chain," said Lakhmi Gautam, joint commissioner (crime).
Sources have said that these agents were sitting at a very crucial point and were responsible for scanning and properly checking consignments. Customs officials, after getting these agents' clearance, allow the consignment to be shipped as cargo. "The roles of customs officials are also being examined," the officer said.
The AEC has issued a lookout circular against three accused, including Mulla, who has been manufacturing drugs at an undisclosed location in India. These narcotics were being supplied to Mumbai via a courier, and then another courier agency was used to transfer the same to abroad.
The officials are also probing the possible links between D-gang members since Rajput and his associates are involved in the racket. "So far, no direct link between Dawood and his associates has surfaced, but all the angles are being thoroughly probed," an officer said.
Who is Kailash Rajput ?
Rajput has been wanted by multiple Indian agencies in various drug-related cases. He has been smuggling drugs for D-Company for years and was once arrested at the Mumbai airport in 2012. He fled from India in 2014 after getting bail in the case. His name has appeared in almost every case related to the smuggling of synthetic drugs out of India. He was detained in Ireland in 2017 and his dossier has also been shared with Interpol via legal channels to extradite him to India.