He had sought fake currency from them, but they took his money and fled with it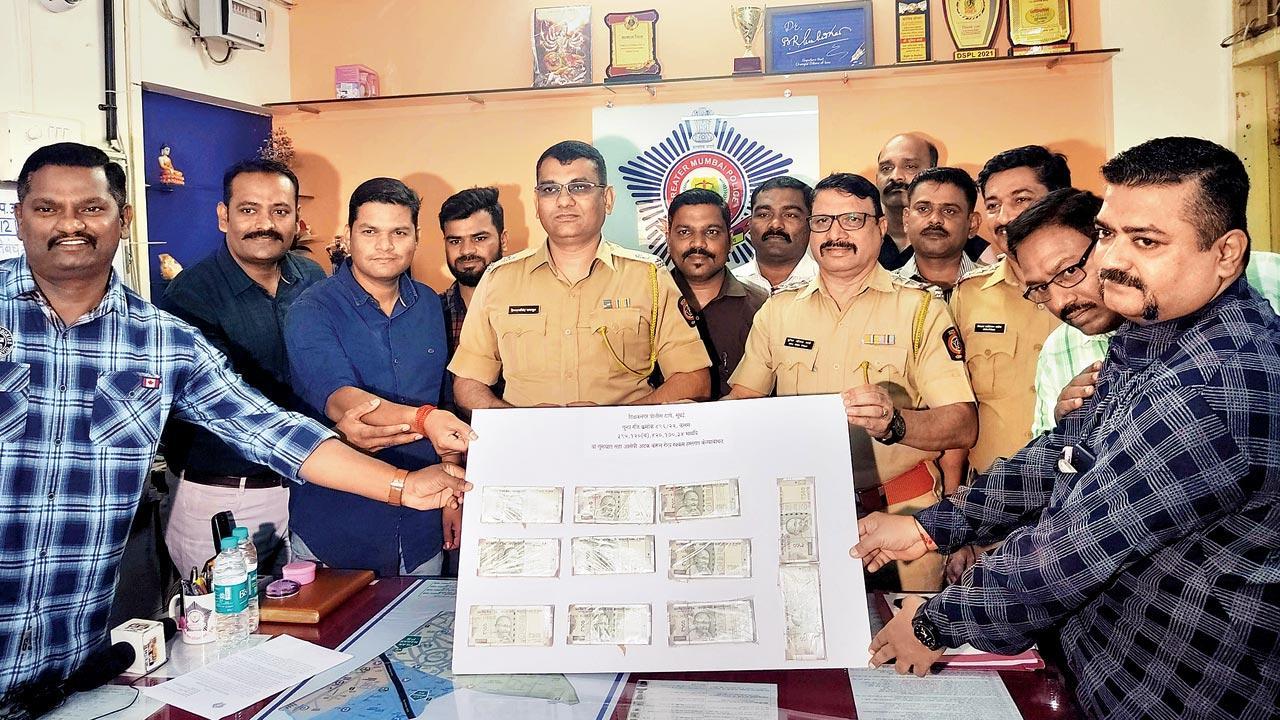 The Tilak Nagar police with the cash recovered from the accused
The Tilak Nagar police have arrested 6 persons for conning the founder of an educational institute of Rs 15 lakh, on the pretext of giving him fake currency worth Rs 75 lakh. The accused had called the complainant to Ghatkopar East with the money, where another man posing as a cop took it away. The kingpin of the racket is still at large.
The complainant is the 25-year-old founder of an educational institute in Wada, Palghar. He was told by one of his friends that if he had R25 lakh cash, he knew some persons who could give him fake notes three times the amount. The police said it was not clear yet why the Palghar resident wanted the fake notes. 
The complainant met one of these men in October 2022 in Ghatkopar.
"After he was assured about getting the money, the complainant went to Ghatkopar in the afternoon on November 25. He waited at the spot decided earlier on, to meet the person he was supposed to, but when he didn't arrive, he started walking towards the railway station. That's when the gang acted," DCP (zone 6) Hemsingh Rajput said.
Also read: Court rejects cops' plea in twins-taxi driver wedding
'Cop seizes the bag'
One of the gang members approached the complainant, asking whether he had come to make the deal. When the complainant said "yes," he was asked to sit in an auto. He was given bundles of notes which were fake currency worth Rs 75 lakh, he was told. When the complainant 'paid' and got hold of the bag having fake notes, another person approached the auto claiming to be a police officer. The complainant got scared as the person asked him to go to the police chowky with him and tried to seize the money bag from him. 
The police said when the complainant resisted, the auto driver and the fake cop snatched the money by beating him up, and fled. An FIR was registered in Tilak Nagar police station against 6 unknown persons for dacoity and cheating.
DCP Rajput instructed Tilak Nagar police station's Senior Inspector Sunil Kale to investigate the matter on priority and the police succeeded in tracking down the auto driver who was involved in the crime. The auto driver said he received Rs 30,000 as an accomplice.Assistant Inspector Rahul Waghmare, PSIs Vijaysingh Deshmukh and Ajay Golhar and their team managed to nab the 5 other accused involved in the crime. The police recovered Rs 5.23 lakh cash from them.
Complainant cons them too
Interestingly, the complainant had told the accused that he would bring Rs 25 lakh cash, but brought only Rs 15 lakh, as he knew nobody would count the money at the time of exchange. So the accused only found later that they had been conned too. Will you be changing your home decor this winter?