Mumbai Police sources said that Amruta Fadnavis had registered an FIR with the Malabar Hill Police in south Mumbai after she allegedly received messages and calls from the suspect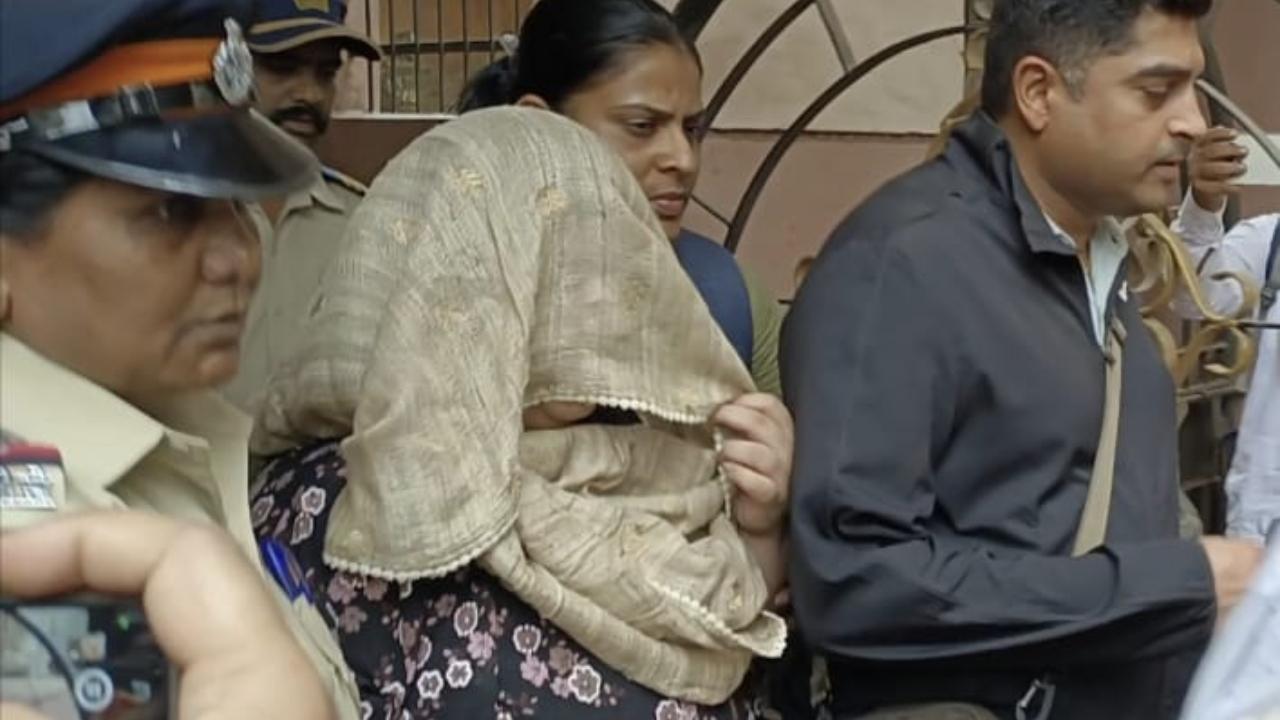 The suspect in police custody on Thursday. Pic/ Navneet Barhate
Mumbai Crime Branch on Thursday arrested a woman from Ulhasnagar city for allegedly threatening and offering to pay a bribe of Rs 1 cr to Maharashtra deputy CM Devendra Fadnavis' wife Amruta Fadnavis, police sources said.
Police sources said that Amruta Fadnavis had registered an FIR with the Malabar Hill Police in south Mumbai after she allegedly received messages and calls from the suspect.
ADVERTISEMENT
According to the police, the arrested woman is a daughter of Cricket bookie Anil Jaisinghani. She has been identified as Aniksha Jaisinghani who, a resident of camp number 1 in Ulhasnagar. She is a designer by profession.
According to police officials, Amruta Fadnavis had told the police that Aniksha met her for the first time in November 2021. Aniksha told her that she is a fashion designer. Aniksha also requested to use her designed clothes and Jwelleries in programs. Aniksha had also met Amruta Fadnavis on several occasions.
Police sources said that recently, the two had met at a program in Pune while Amruta was about to sit in her car and leave the venue. Aniksha met her and allegedly told her that Aniksha's father could give details to police about several active bookies. She also allegedly told her that they can make money with it. Upon hearing it Amruta asked her to leave.
Also Read: Mumbai: NCB raids in Kharghar, drugs, cash and gold seized; one held
Later, Aniksha allegedly told Amruta Fadnavis that her father was also booked in a case and requested her to help her in removing his name from the case. Aniksha also allegedly offered Rs 1 crore to Amruta Fadnavis over a call and Amruta Fadnavis then blocked her number. 
The police said that she again tried to contact Amruta Fadnavis from another number and sent her some video clips and voice notes on her WhatsApp. Aniksha also told Amrita Fadnavis that this is her father's mobile number. 
"Amruta Fadnavis informed the Malabar Hill Police and registered an FIR. On the basis of FIR, the Mumbai Crime Branch traced and arrested the suspect from her flat in Ulhasnagar," an official said.  
In the matter, NCP leader Ajit Pawar also raised questions in the parliament about this issue on Thursday. Will the newly created special police commissioner post help Mumbai with better policing?