According to the Mumbai zonal unit of the NCB, The Dahihanda Police Station in Akola, Maharashtra had received information that four persons were allegedly posing as officers of the Narcotics Control Bureau Department at Chohotta Bazar in Akot taluka, Akola on Thursday.  A police team went to Chohotta Bazar and detained them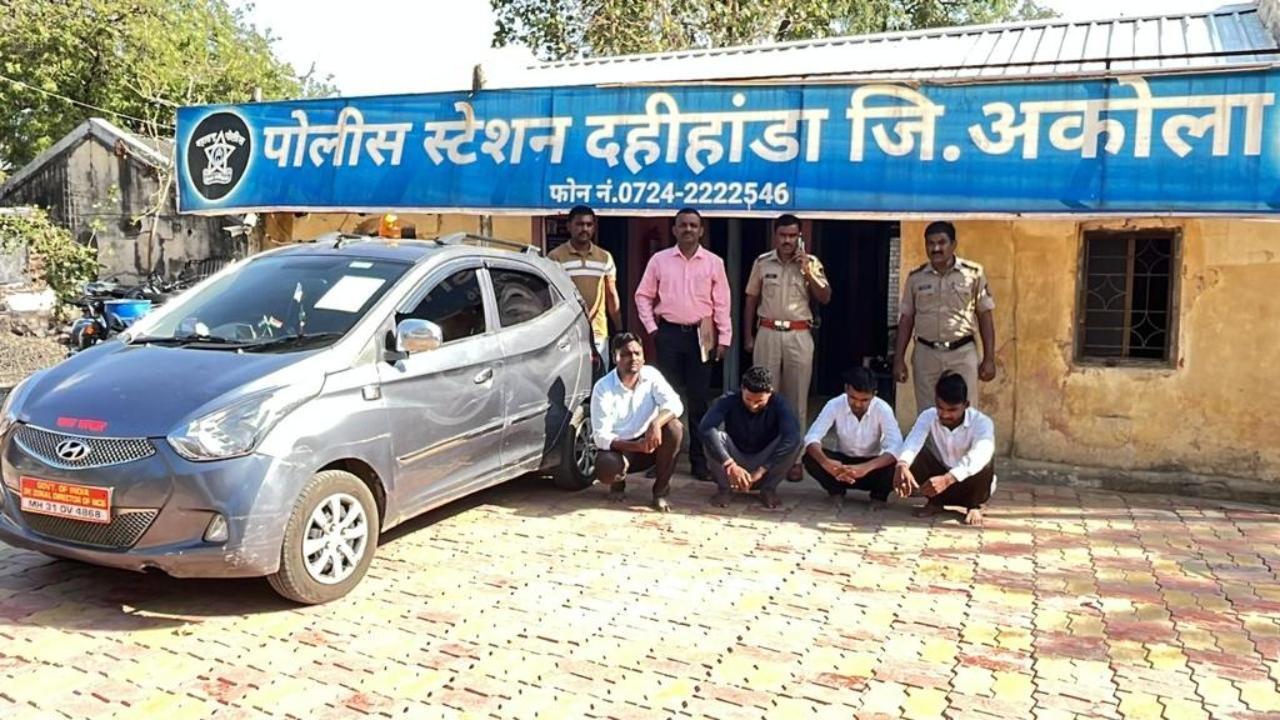 A gang that posed as NCB officers and allegedly conducted fake raids to extort money was busted by the Maharashtra Police (Photo/NCB Mumbai)
A Maharashtra based gang that posed as Narcotics Control Bureau (NCB) officers and allegedly conducted fake raids to extort money was busted by the Maharashtra Police, the NCB said on Saturday.
According to the Mumbai zonal unit of the NCB, The Dahihanda Police Station in Akola, Maharashtra had received information that four persons were allegedly posing as officers of the Narcotics Control Bureau Department at Chohotta Bazar in Akot taluka, Akola on Thursday.  A police team went to Chohotta Bazar and detained them. 
ADVERTISEMENT
The NCB said, When they were thoroughly interrogated and searched, many fake documents, stamps, visiting cards, etc. of Narcotics Control Bureau were found in their possession. 
"One Nadim Shah (30) of Chohotta Bazar, Akola was found to be posing as a fake Narcotics Control Bureau officer. Another person namely Ejaz Shah Rehman Shah (24), Mohsik Shah Mehmood Shah (23), Asiq Shah Bashir Shah (28) residents of Achalpur used to support him, and were part of the gang," the NCB said.
Also Read: Mumbai Crime: 'He tried to kill 8-year-old boy, too'
The gang had a car with a signboard that read "Bharat Sarkar" written in Hindi on the front and rear sides of the vehicle. Also, the front side number plate of the car was displayed with a logo that read "Govt. Of India" and Dy Director of NCB". The car was having an amber light on its roof, the NCB said.
The central agency further said that the accused Nadeem Shah was acting as an officer of the Narcotics Control Bureau Department, and the Dahihanda police informed the NCB officials about this. 
It said NCB officials went to Akola and after verification of documents available with them, it was found that the person Nadim Shah Diwan was allegedly claiming himself as an IRS Officer of the 2019 batch and further claiming as he joined Narcotics Control Bureau, R K Puram New Delhi as a "Junior Intelligence Officer" in the year 2019.
The NCB said He claimed that got promoted to the rank of Deputy Zonal Director of NCB. He was having fake visiting cards, letter pads, stamps etc. 
"The NCB officers lodged an FIR against the gang posing as fake NCB officers. All the four persons have been arrested and an investigation is under process," an official said. 
The NCB said the primary investigations have revealed that all four gang members used to go around the area posing as an officer of the Narcotics Division of the Narcotics Control Bureau Department. They visited many shops of gutkha and conducted random inspections at shops. They used to allegedly threaten the shop owners to take legal action and then extorted money from them. The police are conducting further investigations into the matter. Do you like to interpret your dreams?