The DN Nagar Police in Mumbai seized two firearms and two live cartridges. Both the suspects were booked under relevant sections of the Arms Act, a Mumbai Police official said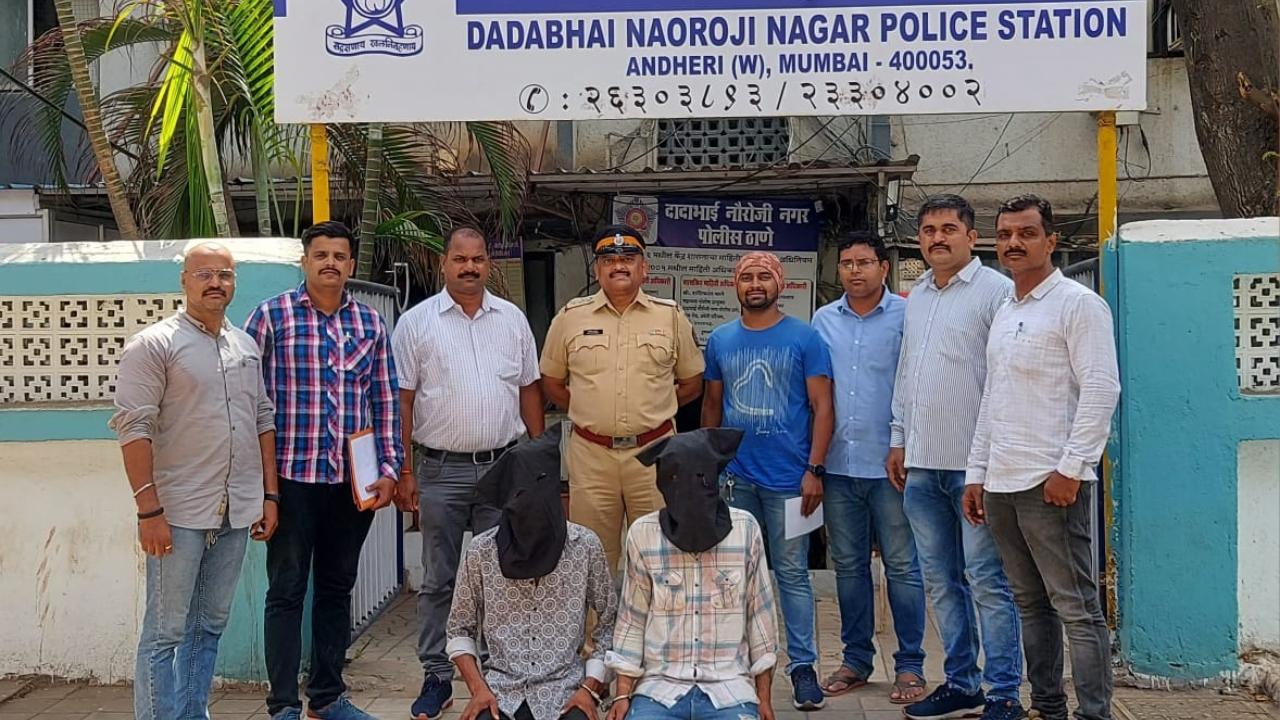 The accused in police custody. Pic/ Mumbai Police
Mumbai Police on Monday said that the DN Nagar Police in Andheri nabbed two people for allegedly being in possession of two firearms and live cartridges. The duo were held after the police received a tip-off regarding the two suspicious men reaching the guns in Andheri area of Mumbai, the police said. 
According to the police, after the police officials of DN Nagar Police got information regarding the suspects reaching Mumbai on Sunday, a special team of police officials was formed to trace and nab the suspects. The team of police officials while working on the information found that the suspects were to reach near a bank at Juhu-Versova Link Road in Andheri (west).
ADVERTISEMENT
"A trap was laid by the team of police officials and the two suspects were nabbed. The police officials checked them and found as many as two firearms which were country-made weapons. The suspects also had two live cartridges with them. The weapon and bullets were seized by the police and both the suspects were taken into custody," an official said.
A case under relevant sections of the Arms Act was registered by the DN Nagar Police and both the accused, aged 24-year-old and 22-year-old respectively, were placed under arrest, the police said.
Primary investigations in the case revealed that the accused are natives of Rajasthan and had been living in Malad area of Mumbai. Further investigations in the matter are going on, the police said. 
Meanwhile in Mumbai Police arrested the accused assailant who shot dead a 28-year-old businessman on Sunday in Kandivali West.
The accused was on the run after the incident and was arrested from Prayagraj in Uttar Pradesh, police sources said.
"Police officials from Kandivali have arrested the accused in Uttar Pradesh," officials said.
The victim lived in Prabhat Chawl, Ganesh Nagar, Kandivali West. According to police sources, the incident occurred around 7.55 am near Mahila Kalyan Kendra in Ganesh Nagar on Sunday.
Upon being informed of the incident, the Kandivali police had rushed the victim to Shatabdi Hospital, where he was declared brought dead, an officer had earlier said.
The victim lived with his elder brother in the residence of their maternal uncle. At the time of the incident, their families and uncle were in their village in Jaunpur, Uttar Pradesh, attending a family wedding. Will the newly created special police commissioner post help Mumbai with better policing?