The GRP sources said, the complainant was traveling by Virar fast local train and when the local train arrived at Dahisar railway station, the victim, who was standing at the door of the train with his mobile phone, was hit with a bamboo stick when the train left the station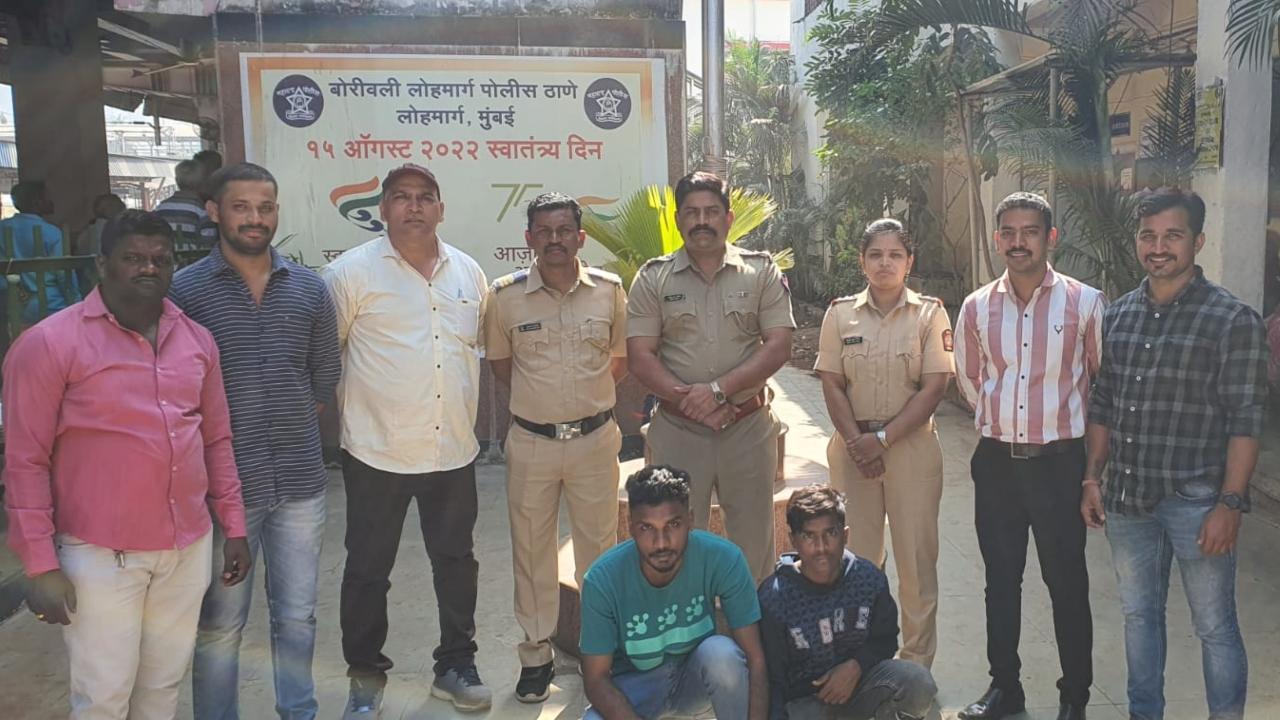 The accused in police custody. Pic/ Mumbai Police sources
The Borivli Government Railway Police (GRP) arrested two members of the 'Fatka Gang' who allegedly snatched mobile phones and valuables of passengers of local trains in the city. The duo used to target commuters of the running trains using a bamboo stick, the police sources said. 
According to the GRP sources said, the complainant was traveling by a Virar fast local train and when the train arrived at Dahisar railway station, the victim, who was standing at the door of the train with his mobile phone, was hit with a bamboo stick when the train left the station.
ADVERTISEMENT
"His phone dropped on the tracks and he noticed that the accused fled away after picking up the phone. He reached out to the police to report the matter," an official said.
He filed a complaint with the police and after registering a case, the police obtained CCTV footage of the crime spot. The officials activated their informers network on Thursday and upon receiving credible information from them, they detained the duo after laying a trap in Kopri, Virar, an officer said.
Also Read: Mega block on Harbour, Transharbour Lines; WR to operate jumbo block on Sunday 
After sustained interrogations, the duo were placed under arrest. They have been identified as Sunil Sanjay Khawde, 27 and Chandrasekhar Krishna Shetty, 19. The officials also recovered the stolen phone which is worth about Rs 42,000, sources said.
It was with the hard effort of API Dipali Kharat and his team of constables More, Jadhav, Ingle, Shaikh, Wadkar and Awale that the suspects were identified and caught. They have been booked under section 382, 34 IPC of IPC. The arrested accused were produced before the court and were remanded to police custody. We are further investigating their previous crimes," said a senior police official from Borivli GRP. Will the newly created special police commissioner post help Mumbai with better policing?