Haris Khan and his brother Saquib were arrested from their house despite being externed from city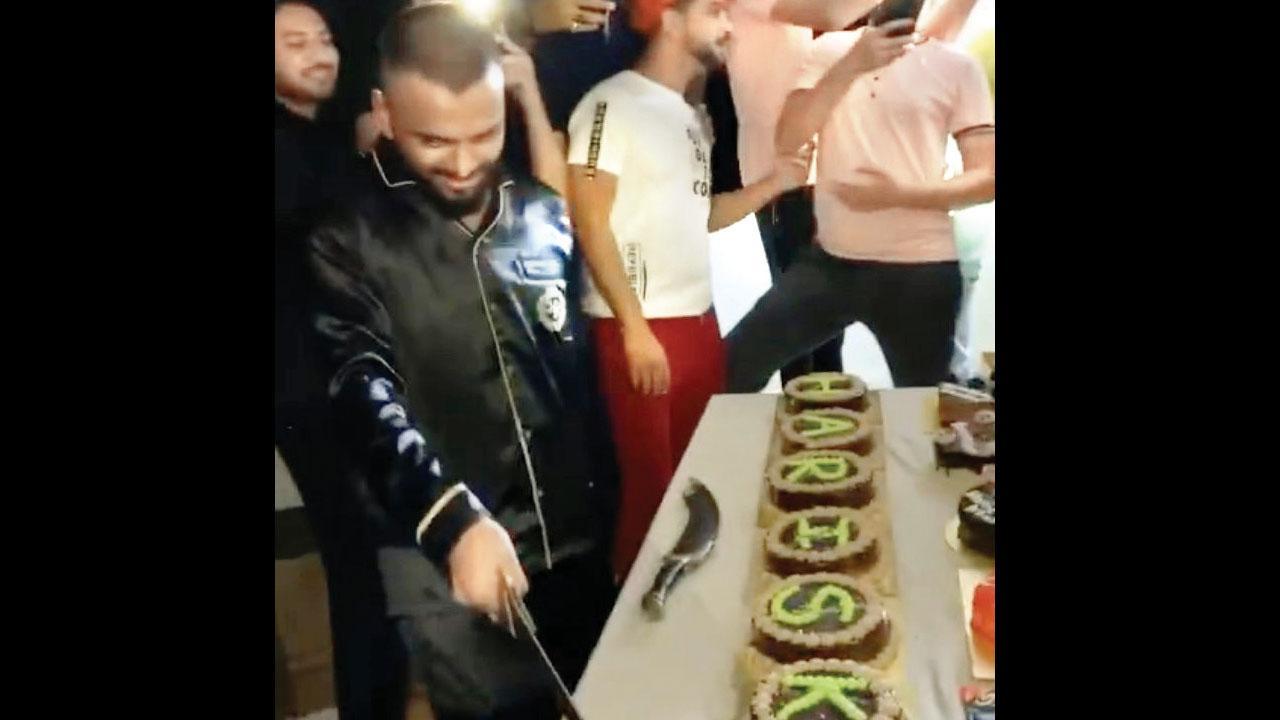 Haris Khan was arrested last year by the Bandra police, after he cut his birthday cake with a sword
The Narcotics Control Bureau's (NCB) investigation into the Sushant Singh Rajput drug case, has led the agency to a notorious criminal from Bandra. He and his brother have around 21 cases against them which include murder, attempt to murder and several NDPS cases. They were externed by the Bandra police two years back, but were found staying at their house in a Bandra reclamation society which is just a few kilometres from the local police station. The accused identified as Haris Khan, is a huge fan of gangsters like Dawood Ibrahim and Maya Dolas. The NCB has found multiple photos of the gangsters in his mobile phone, which he has merged with his own photographs.
NCB finds drug
An NCB team led by its Zonal Director, Sameer Wankhede, carried out raids in a posh society located at Bandra Reclamation, and found Khan in possession of Mephedrone on Monday. According to NCB, Khan has 12 cases registered against him while his brother, Saquib, has around nine cases. "We have handed over Saquib to Bandra police as they were externed by them. Haris has been taken into custody in the NDPS case which we are investigating. His name surfaced in the Sushant Singh, Chinku Pathan and other NDPS cases being investigated by us," Wankhede said.
Also Read: How Instagram post landed Siddharth Pithani in NCB's net
During further investigation, the agency has found that Khan had allegedly been threatening residents of his society. The people were scared and he had occupied the society's space and watchman's area which he used for his drugs business and for parties with his gang. "There are pictures of weapons found in his mobile phone but nothing was recovered during the raid. We are investigating if he has hidden them somewhere. In his Instagram profile he has clearly written that he wants to be a gangster," Wankhede added.
The agency suspects that Khan is also into illegally acquiring endangered species and they have found several of his pictures with snakes, etc. in his social media accounts and mobile phone as well. "He must have been using these species as part of his drug business but we are yet to make any recovery," Wankhede said.
'He threatened drug peddlers'
According to NCB, Khan has a tremendous fan following in the area and lives like a gangster. He was associated with the Chinku Pathan gang of Dongri which was neutralised by the agency. Khan use to take drugs from the gang and supply them. "We have also found that he has been threatening local drug peddlers and would kidnap some of them to take all the narcotic substances they had, which he would then supply to others and his own gang." Wankhede added.
Khan was arrested last year by the Bandra police, after he was found cutting his birthday cake with a sword. He used to claim that his father is a retired IAS officer. However, the agency has found that his claim is false.