MNS, Shiv Sena object to new bio-toilets being named 'Namma', which means 'ours' in Kannada; say the toilets should have a Marathi name instead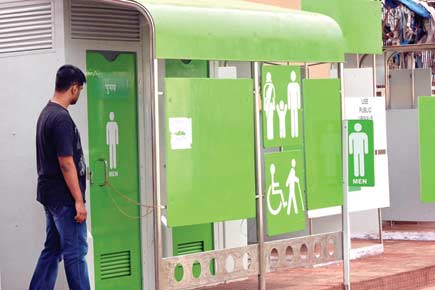 While citizens will be glad to hear that the new bio-toilet at Khar station doesn't smell, political parties are raising a stink about its name – Namma, which in Kannada means 'ours'.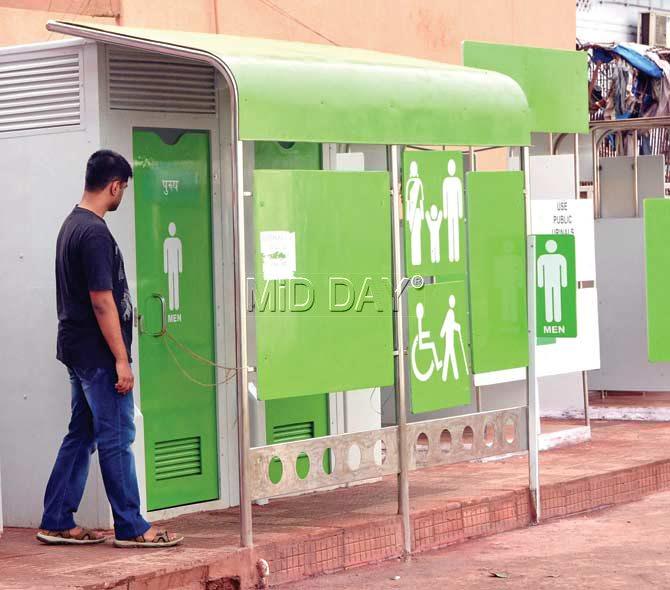 The green toilets will save water and prevent any stench. Pic/Sayyed Sameer Abedi
ADVERTISEMENT
Aamchi toilet
According to the MNS, however, the toilet isn't really ours if it doesn't have a Marathi name. "Ideally, in Maharashtra, the name should be in Marathi. Also if the concept is 'Apna or Our' toilet, how would a common man understand Kannada? We will not tolerate this," said Sandeep Deshpande, BMC group leader for MNS.
Shiv Sena MP Sanjay Raut also told mid-day, "It is unfortunate and serious, and we will raise our voice in the appropriate forum. In Maharashtra, Marathi should be given preference, there is no question about it."
The green toilets are the first of their kind in the country and could revolutionise public restrooms everywhere, but politicians have chosen to focus on the name instead. It isn't just about the language though.
Political problem
Maharashtra and Karnataka have been at loggerheads over the Belgaum border issue for years now. The Maharashtra government has been fighting to claim Belgaum and nearby areas back from Karnataka.
A committee was also formed by the Centre to iron out issues between the two states.
However, the railway authorities said there is nothing political about the toilet's name, as Namma will be the brand name for them throughout the country. "The south Indian firm that manufactured it has named it Namma," said an official from the Indian Railway Catering and Tourism Corporation (IRCTC).
Pay and use
The officials stated that the modular toilets will be operated on a Pay-and-Use model and two more are expected at Andheri and Bandra Terminus. They have also been proposed to be built at Katra, Jammu, Amritsar, Kashmir, Lucknow, Varanasi and Vijaywada railway stations.
Khar station has four separate blocks at the moment for men, women and physically challenged commuters. The authorities claim that the modular toilet design addresses issues like ventilation and natural light and privacy. Sanitary facilities have also been provided.